---
HYLES NICAEA (de Prunner, 1798)
It should be noted that although this species resembles Hyles euphorbiae (Linnaeus, 1758) in both morphology and ecology, it is more closely related to the more primitive Hyles gallii (Rottemburg, 1775) (Hundsdörfer et al., 2005b).
[Further details on this species, as well as photos of all stages, can be found on Lepiforum.]
HYLES NICAEA NICAEA (de Prunner, 1798)
UK: Greater Spurge Hawkmoth; Mediterranean Hawkmoth, F: Sphinx Nicéa; Sphinx de Nice; Sphinx de l'Esule, D: Riesenwolfsmilchschwärmer; Großer Wolfsmilchschwärmer, RUS: Nitstskii Brazhnik, H: görög szender, E: esfinge mediterranea, FIN: Välimerenkiitäjä, HR: sredozemni ljiljak.

Sphinx nicaea de Prunner, 1798, Lepid. Pedemontana: 86.

Type locality: Nice, Alpes-Maritimes [southern France].
Sphinx cyparissiae Hübner, [1805], Samml. eur. Schmett., Sphingidae: 115.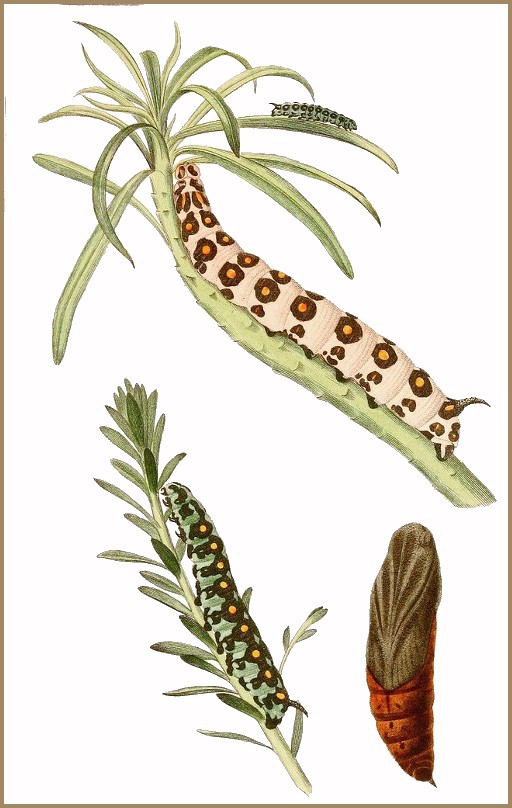 BIOGEOGRAPHICAL AFFILIATION
Holarctic; western Palaearctic region. Pleistocene refuge: Monocentric -- Pontomediterranean subsection of the Mediterranean refuge.
ADULT DESCRIPTION AND VARIATION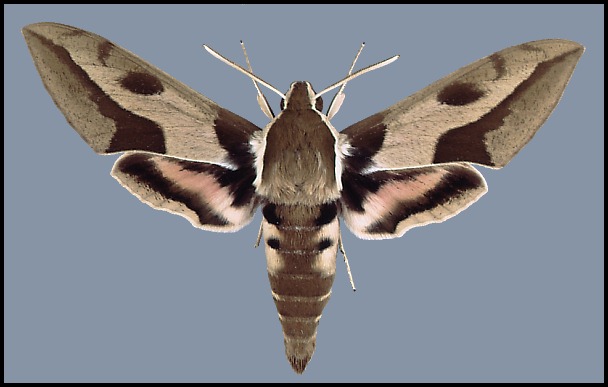 Wingspan: 80--100mm. As illustrated. Varies little except in the intensity of the coloration. A few may be pale yellowish white with very faint markings (f. albina Oberthür); others have a reddish tone (f. rubida Oberthür).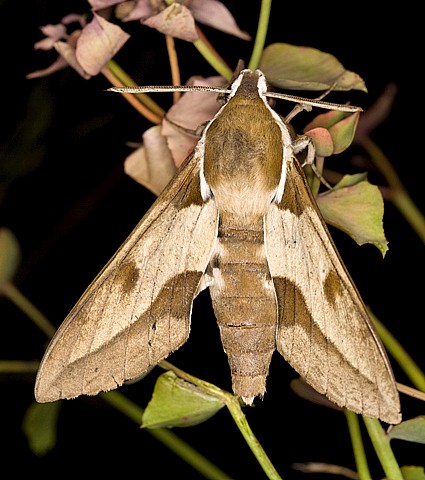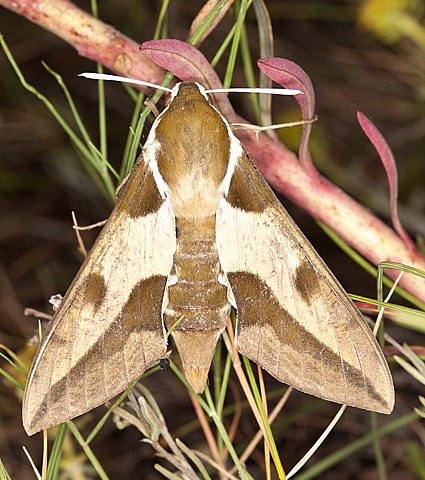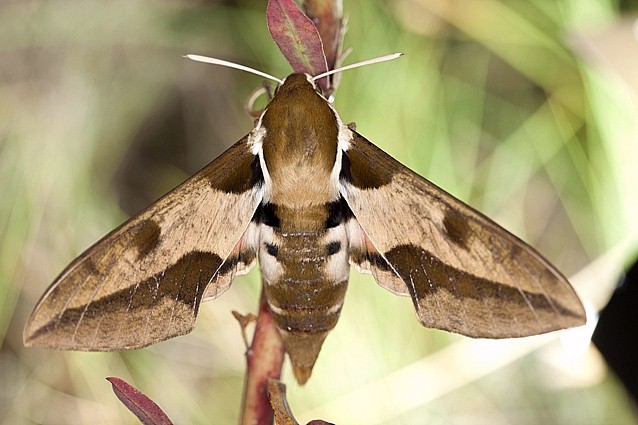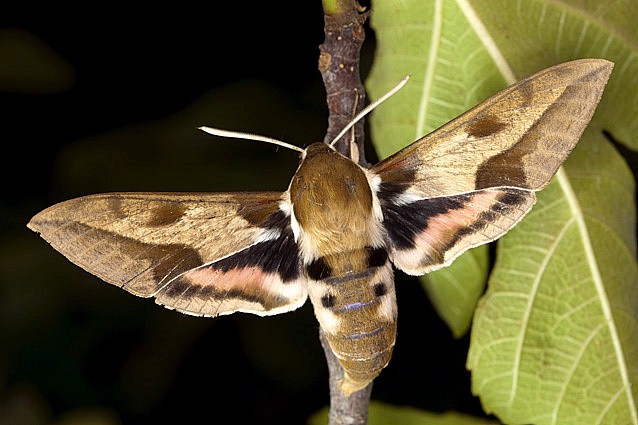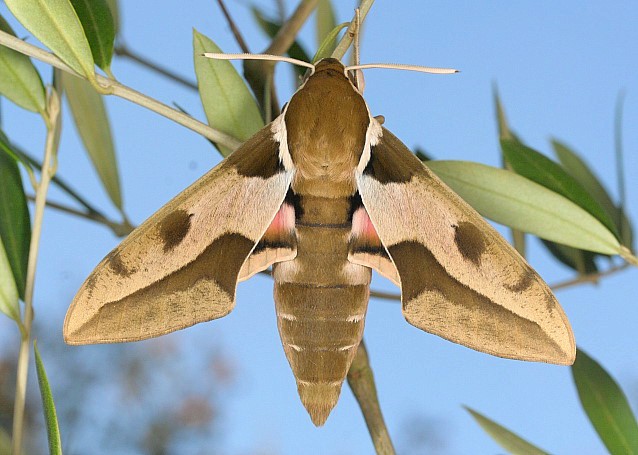 ADULT BIOLOGY
In the west of its range, mainly restricted to regions near the coast (above 500m in Spain) and, in the east, to high altitudes (2000--3000m, or sometimes higher in Turkey (de Freina, 1979) and Iran). An elusive, local and scarce species, disappearing from well known areas for many years only to appear suddenly in others. Frequents isolated, very sunny, well drained, stony limestone slopes with scattered clumps of Euphorbia.
Unlike other members of this genus, Hyles nicaea has a very characteristic, fast, powerful flight reminiscent of that of Daphnis nerii (Linnaeus, 1758). This is well demonstrated by individuals attracted to street lamps after dark.
FLIGHT-TIME
June, with sometimes a partial second generation in August/September.
EARLY STAGES
OVUM: Very similar in size (1.6 x 1.4mm) and shape to that of Smerinthus ocellatus (Linnaeus, 1758), spherical and smooth; pale shiny green. The coloration changes to green and gold prior to hatching.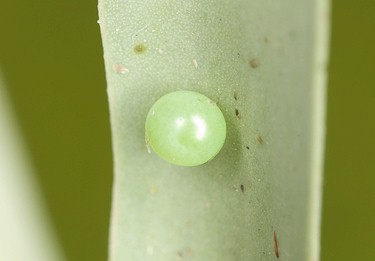 LARVA: Full-fed, 100--120mm. Polymorphic: pale grey to black.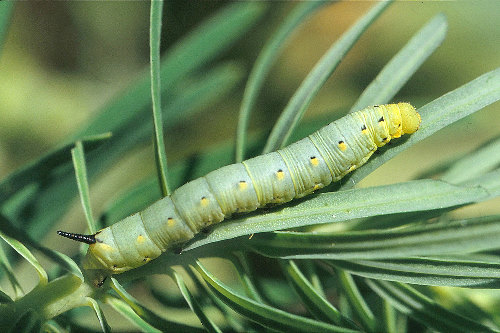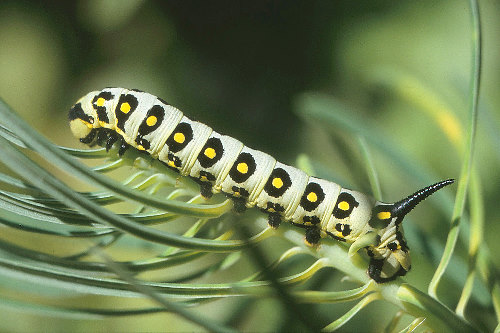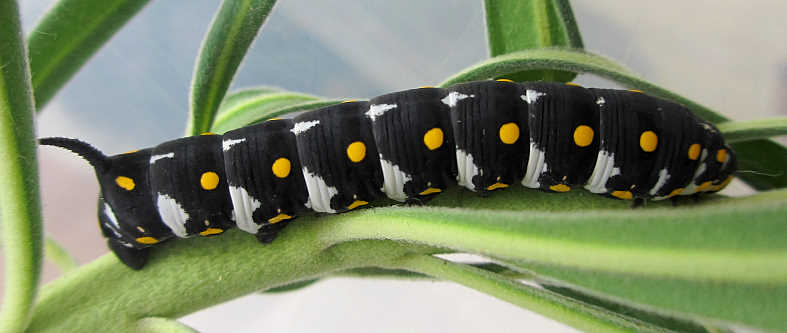 On hatching, the larva is 5mm long and a rich canary-yellow in colour, with a brownish black tail horn. With feeding, the yellow coloration is soon replaced by apple-green. This primary colour persists into the second instar, during which longitudinal rows of black dots appear; the horn and ventral surface also become black. In the third instar the final coloration of most individuals develops: pale grey with dorso-lateral and ventro-lateral rows of black-ringed yellow or red eye-spots. The horn remains black and there is no red dorsal line. However, some larvae become totally black with red eye-spots and buff lateral patches; the amount of black pigmentation is very variable.
At first, the young larva rests along the midrib on the underside of a leaf, but growth is rapid and the large larva soon rests on the stem, where it is difficult to spot.
Occurs mainly during July and August, although a few may still be found feeding in September.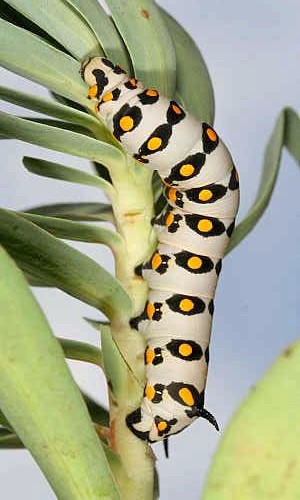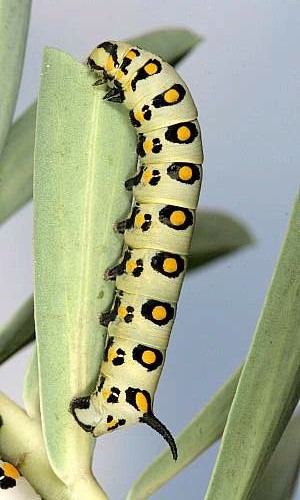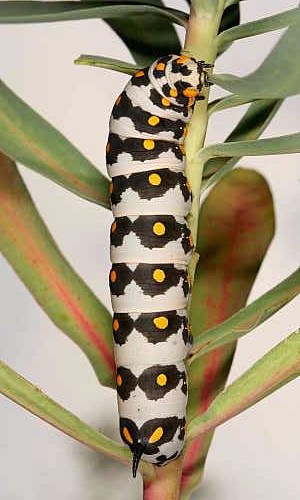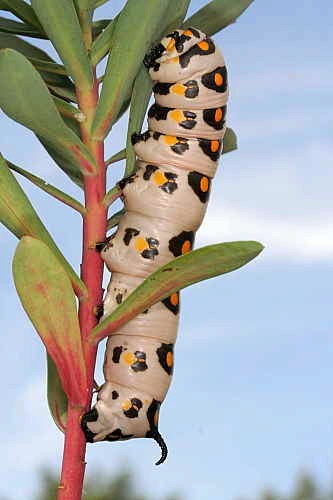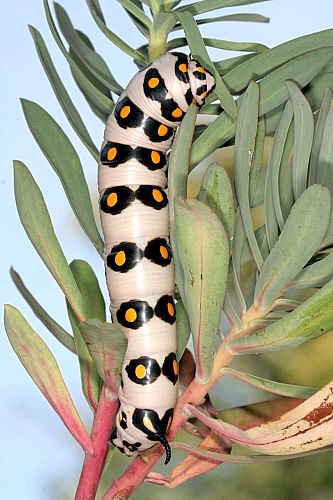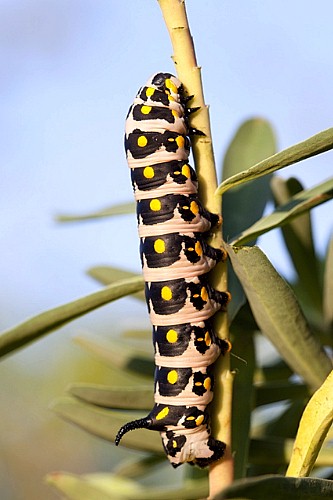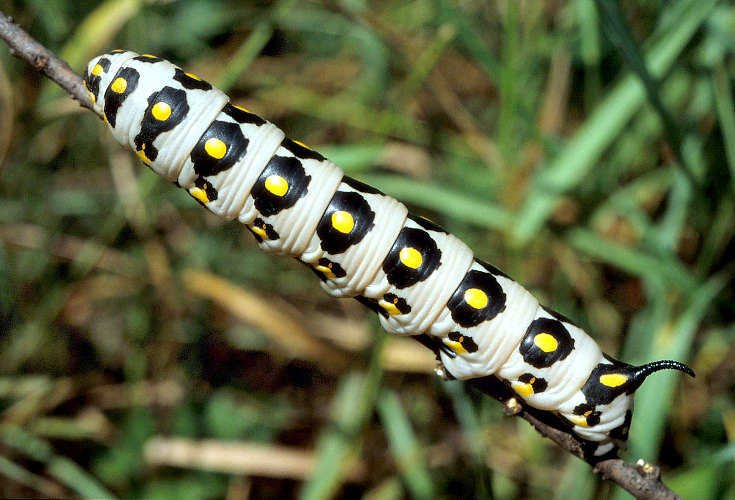 Hostplants. Herbaceous species of Euphorbia, particularly Euphorbia nicaeensis in southern France. Records of Linaria are erroneous.
[In captivity this species can be reared on Parthenocissus and Epilobium (Mark O'Neill, pers. comm. 2017).]
PUPA: 45--50mm. Yellowish brown with fine black outlines to the legs and antennae. Enclosed in a loosely spun yellow cocoon amongst dead leaves and litter. The overwintering stage.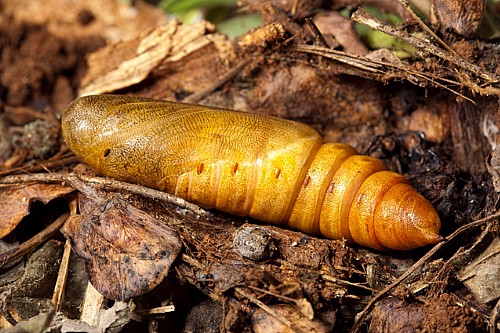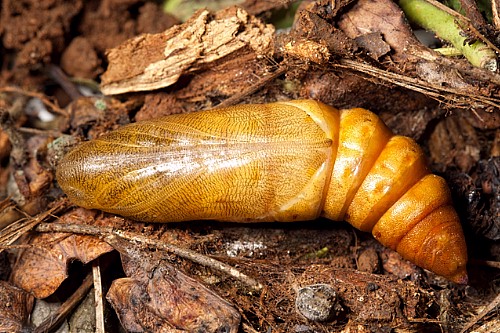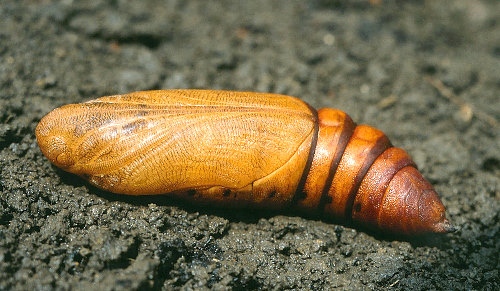 PARASITOIDS
Tachinidae: Masicera sphingivora (Robineau-Desvoidy, 1830). Many larvae are parasitized by tachinids (Pittaway, 1993), but the species involved are usually not recorded.
DISTRIBUTION
From southern Portugal and Spain (Gomez Bustillo & Fernandez-Rubio, 1974; Grustan & Redondo, 1998) across parts of southern Europe to western Turkey (de Freina, 1979; de Freina, 2012; Okyar, 2012), including the Balearic Islands, northern Greece (Lake Prespa area), the Republic of North Macedonia (Krpač et al., 2019) and south-western Bulgaria (Belasitsa Mountains (Ganev, 1984)). However, the distribution of this species in the Iberian Peninsula and Balearic Islands requires further investigation, for it may only be an intermittant resident over most of this area, or widespread but elusive. Pérez De-Gregorio et al. (2001) give confirmed records for the provinces of Estremadura (west of Setúbal) and Teruel (inland from Muniesa).
A breeding population of this subspecies has recently been found on a limestone ridge near Carcassonne, southern France (J. Haxaire, pers. comm.). This indicates that Hyles nicaea nicaea may be more widespread in this country than previously thought.
Hyles nicaea nicaea has been only recorded once with any certainty from mainland Italy, from Passo del Cane, Imperia, Liguria (P. Mazzei, pers. comm.). Reports from Sardinia require confirmation (Parenzan & Porcelli, 2006).
Two larvae of this southern European species were found in South Devon, England, in August 1954, close to the mouth of the River Avon. This is the only time Hyles nicaea has been found in the UK.
Extra-limital range. None.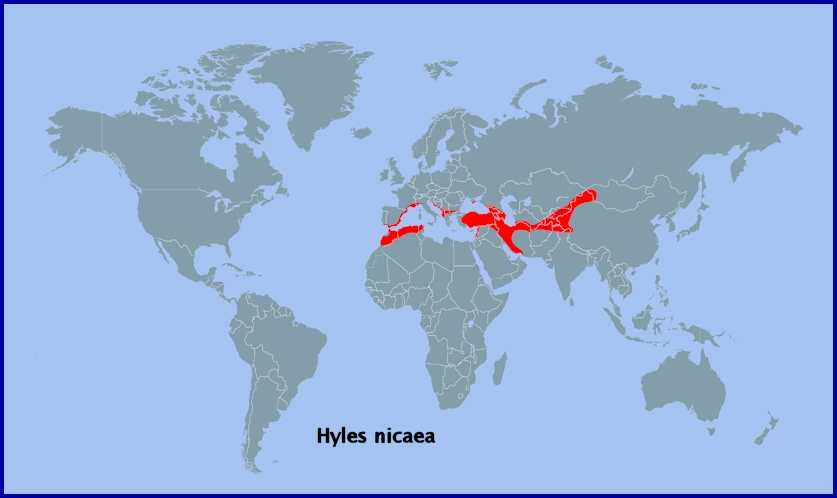 OTHER SUBSPECIES
The Atlas mountains of northwest Africa as subsp. castissima (Austaut, 1883). The southern Crimean Peninsula (Ukraine) and western Transcaucasia as subsp. orientalis (Austaut, 1905). From Lebanon, northern Israel and western Jordan across southern and eastern Turkey, northern Iraq, the northeastern Caucasus, southern Dagestan (Russia), the southern Republic of Georgia, Armenia, Azerbaijan, Iran, Turkmenistan, Uzbekistan, eastern and southern Kazakhstan, Kyrgyzstan, the Pamirs, northern Afghanistan, western Mongolia and western Xinjiang Province, China as subsp. sheljuzkoi (Dublitzky, 1928). Northeastern Afghanistan (Ebert, 1969), northern Pakistan (Rafi et al., 2014), north-west India (Kashmir) and China (Xizang Province/Tibet) as subsp. lathyrus (Walker, 1856).
---

Return to species list