---
LAOTHOE AMURENSIS SINICA (Rothschild & Jordan, 1903)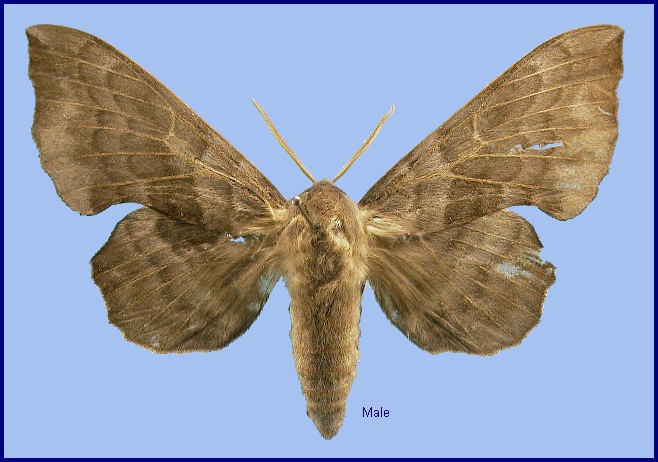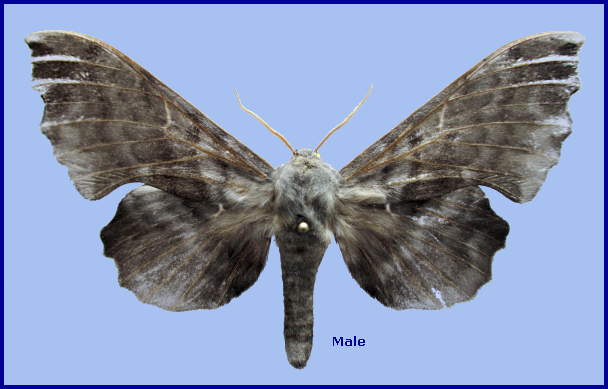 TAXONOMY
Amorpha amurensis sinica Rothschild & Jordan, 1903, Novit. zool. 9 (suppl.): 337. Type locality: [China, Sichuan,] Pou-lin [Hanyuan].
Note. Chu & Wang (1980) misidentified Cypoides chinensis (Rothschild & Jordan, 1903) as Laothoe amurensis sinica, while Zhao & Hu (1987) misidentified Laothoe amurensis sinica as Laothoe amurensis amurensis (as Amorpha amurensis). Other Chinese authors have perpetuated these errors. The single-brooded Laothoe amurensis amurensis is confined to the boreal zones of north-eastern China and the Altai of Xinjiang, and references to this subspecies from other regions of China are erroneous and refer to Laothoe amurensis sinica.
ADULT DESCRIPTION AND VARIATION
Wingspan: 75--95mm. Closely resembles Laothoe amurensis amurensis and, like that subspecies, generally lacking a rust-red patch at base of hindwing, although there may be a tint of brown or red present in some individuals.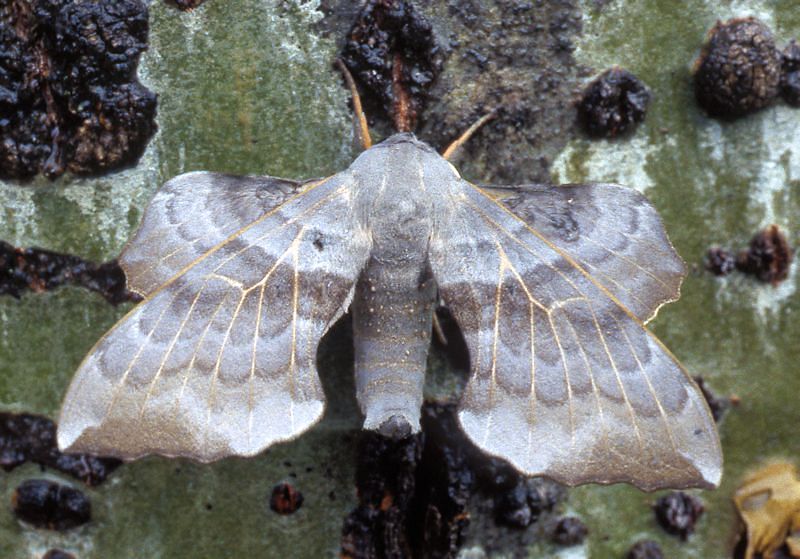 ADULT BIOLOGY
Double-brooded (Yang, 1978) and confined to temperate deciduous forests (cf. Laothoe amurensis amurensis). It is particularly common on the Loess Plateau of northern Shaanxi. For example, 30km north of Huangling, Shaanxi, it was the commonest sphingid at light during July (24.vii.1995), with all specimens being males (Pittaway & Kitching, 2000).
Little is known about the behaviour of this subspecies except that males are strongly drawn to light. Around Beijing Laothoe amurensis sinica occurs below 500m altitude.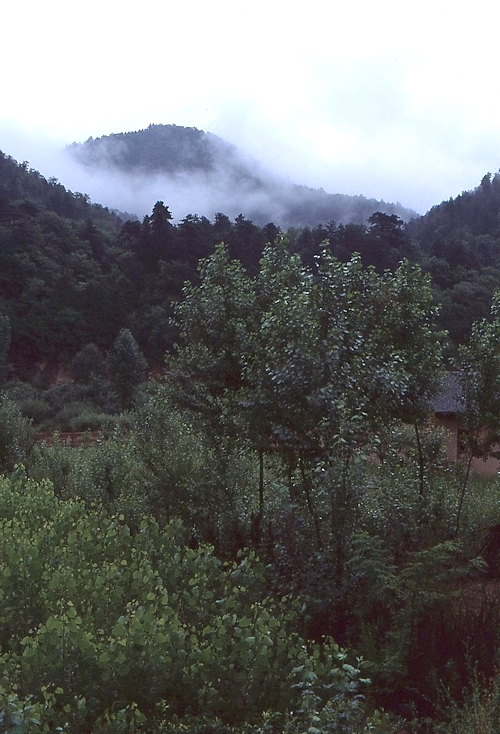 FLIGHT-TIME
China: 15.v (Beijing); 22.v (Jiulong); vi (Qinling); 15.vi (Emei Shan); 21-27.vi (Beijing, 1050m); 23.vi (Tianmu Shan; Kangding); 28.vi (Yan'an); vii (??Yankiaping; Dachangshan Island; Beijing); 24.vii (30km north of Huangling); 25.vii (Liaoning); 5.viii (Jilin); 9-17.viii (Beijing); 18.viii (Ning Xian); ix (Shaanxi). North Korea: vi (Mt. Kuwol; Muhak-san, Kilju City); vii (Jueul, 1500m). South Korea: 20-28.vi (Ulleung-do); 2.vii [(unstated locality)].
Bivoltine in China; mid May to mid June and again in July/August/early September.
Park et al. (1999) give early May until mid August as the flight period in Korea.
EARLY STAGES
OVUM: Information not available.
LARVA: Information not available.
PUPA: Information not available.
Larval hostplants. In Shanxi recorded from Salix and Populus (Li & Guo, 1990). Recorded by Chu & Wang (1980) on Salix and Ulmus. However, the latter record, which has been reiterated by subsequent Chinese authors (e.g. Wang, 1988; 1993), is dubious and may have been a misidentified larva of Callambulyx t. tatarinovii (Bremer & Grey). The records listed by Chu & Wang (1980) under Laothoe amurensis amurensis are also probably applicable to Laothoe amurensis sinica (see above).
Recorded in Korea on Populus sieboldii (Park et al., 1999).
PARASITOIDS
Unknown.
LOCAL DISTRIBUTION
China: Jilin (Changbai Shan); Liaoning (Changhai, Dachangshan Island); Beijing (Baihua Shan); Shanxi (Shuozhou; Taigu; Taiyuan; Tianzhen; Wenshui; Yuanping); Shaanxi (Huangling; Qinling, Taibai Shan; Yan'an; Xunyang, 1380m); Gansu (Ning Xian); Zhejiang (Tianmu Shan); Hubei (Luotian); Sichuan (Baoxing; Hanyuan; Jiulong; Kangding, 2540m; Yu Shan; Emei Shan, 1000m).
Previously considered endemic to the mountains of central-northern China, ranging from Shanxi, southwest through Shaanxi, the extreme southeast of Gansu, to Sichuan. Now known to also extend northeast to Beijing and Jilin, with isolated records from the Tianmu Shan, Zhejiang (specimens in IZAS).
North Korea: South Hwanghae Province (Mt. Kuwol, 950m); North Hamgyong Province (Jueul, 1500m; Gyungsung; Charyung; Muhak-san, Kilju City).
South Korea: Kyonggi Province (Suwon; Aengmubong; Gwangleung; Myungji-san); Kangwon Province (Seolak-san; Odae-san; Balwang-san; Sogumgang; Nochu-san; Chiak-san; Taebek-san; Donghae; Yanggu; Chuncheon; Bangtae-san; Jungseon); North Chungchong Province (Wolak-san); North Cholla Province (Deokyu-san); North Kyongsang Province (Seondal-san; Sobaek-san; Seongju; Ulleung-do); South Kyongsang Province (Gibaek-san; Gaji-san; Hamyang).
GLOBAL DISTRIBUTION
Endemic to China and Korea. Records from the Korean Peninsula appear to be all Laothoe amurensis sinica, as indicated by the specimens figured by Kim et al. (1982) and Park et al. (1999); however, this requires further study.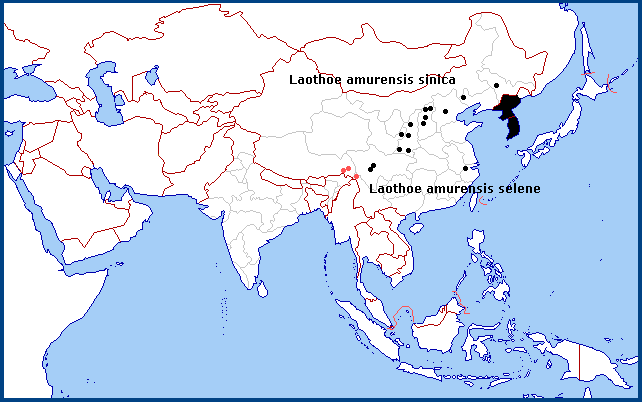 BIOGEOGRAPHICAL AFFILIATION
Holarctic; eastern Palaearctic region. Pleistocene refuge: Polycentric -- Sinotibetan and Yunnan refugia.
---

Return to Sphingidae of the Eastern Palaearctic species list
---
© A.R. Pittaway & I.J. Kitching (The Natural History Museum, London)