---
CALLAMBULYX TATARINOVII TATARINOVII (Bremer & Grey, 1853) -- Elm hawkmoth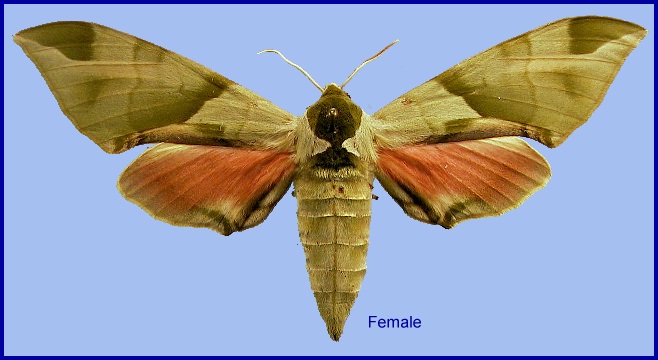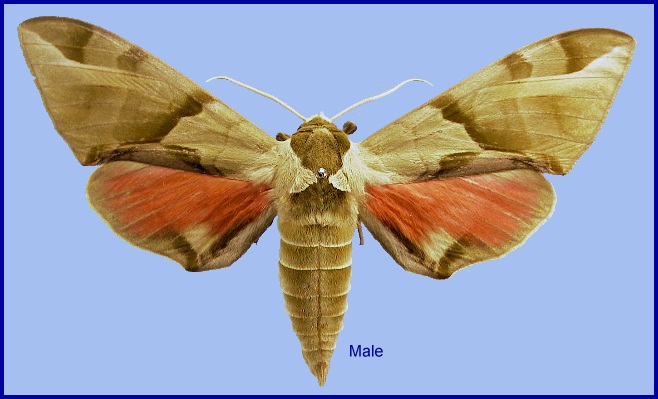 TAXONOMY
Smerinthus tatarinovii Bremer & Grey, 1853, in Motschulsky (ed.), Etudes ent. 1: 62. Type locality: [China,] Peking [Beijing] area.
Synonym. Smerinthus tatarinovii Bremer & Grey, 1853.
Synonym. Smerinthus eversmanni Eversmann, 1854, Bull. Soc. Imp. Nat. Moscou 27(2): 182, pl. 2, fig. 5.
Synonym. Callambulyx tatarinovii coreana Gehlen, 1941.
Note: Recent barcode studies suggest that Callambulyx tatarinovii is somewhat polymorphic in shape and size, and is probably derived from three refuge populations which diverged to some extent during the last ice age. Individuals from northeastern China and southern Russia tend to be smaller, with shorter, broader wings. As one proceeds south towards Guangdong, more and more individuals with longer and narrower wings appear in the population. In northwestern China and southern Russia Smerinthus tatarinovii f. eversmanni is 'sufficiently' distinct enough genetically for some taxonomists to accord it full subspecific status; however, individuals of this race, which can have both green or brown forms, can be found eastwards across southern Siberia to the Russian Far East. In fact, both brown and green forms were obtained in 2016 from larvae found in the Haidian District of Beijing, China, in July 2015. Brown adults were then subsequently reared in captivity from normal green adults (Vyacheslav Ivonin & Yanina Ivonina, pers. comm. 2022).
ADULT DESCRIPTION AND VARIATION
Wingspan: 57--82mm. Very like Smerinthus kindermannii, but with the forewing colours predominantly green and grey; however, there is a northern recessive female form in which all green coloration is replaced by brown (f. eversmanni (Eversmann, 1854)). All three specimens from Xinjiang Province, China (in the collection of the Shihezi Agricultural College (SACS)) were of this brown form (Pittaway & Kitching, 2000). This is also the dominant female form in Transbaikalia (Gordeeva & Gordeev, 2011). (The green of fresh individuals fades to yellowish brown in older/dried specimens so that they, too, can come to resemble f. eversmanni.)
In the male genitalia, uncus narrow and evenly tapered. Gnathos reduced, lacking medial lobe. Valva not broadly spatulate, instead a slender lobe but apically rounded or bluntly pointed; costal process is a broad, setose lobe. Harpe similar to that of Callambulyx rubricosa and Callambulyx poecilus and with two distal, pointed processes. Aedeagus with a narrow dentate flap-like prolongation, which is inverted when vesica is retracted. In the female genitalia, sterigma distinctive, in form of a long triangular lobe ending in two points and situated anterior to the ostium bursae.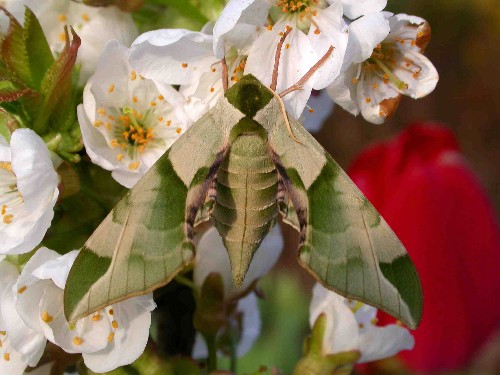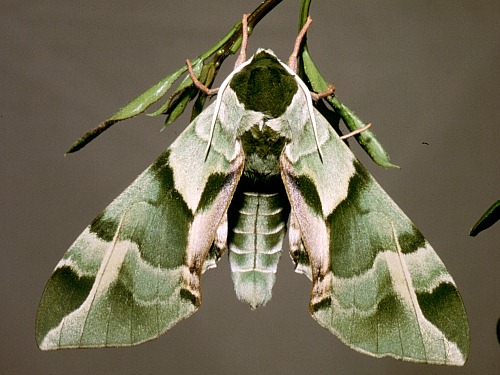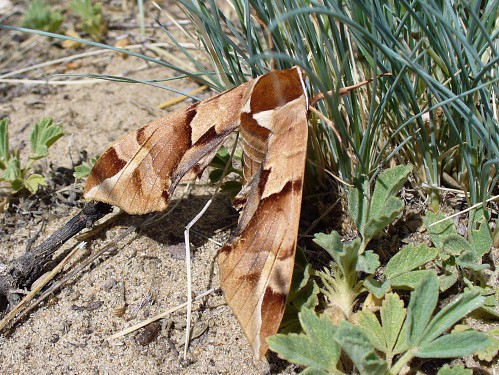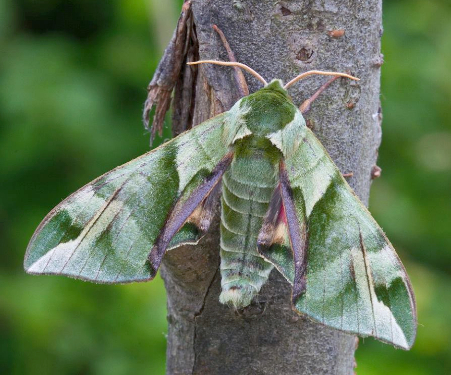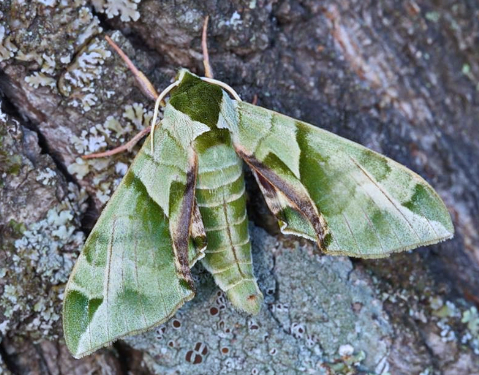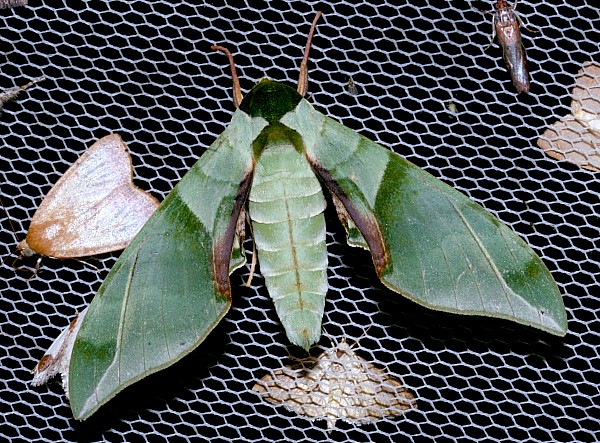 ADULT BIOLOGY
In the Russian Far East, where it frequents both coniferous and deciduous woodland, females are active between 22.20h and 00.40h, and males from 22.40h until 0230h (Izerskiy, 1999b).
In China, there can be one or two generations a year, depending upon latitude.
FLIGHT-TIME
China: iv (Guizhou); 18.v (Shaanxi, near Binzhou); 26.v (Beijing, Baihua Shan); vi (Jinan; Jilin); 11.vi (Hebei); 15.vi-25.vii (Xinjiang, Shihezi); vi-vii (Nei Mongol, Great Khingan Mountains); vi-vii (Harbin; Liaoling); vii (Nei Mongol, Great Khingan Mountains; Heilongjiang; Liaoning); 21.vii (Shaanxi); ix (Shaanxi). Mongolia: 20.vii (Prikhingan'e). North Korea: 15-29.v (Chonma-san); vi (Hamhung; Pukchong; Mt. Kuwol; Sinmi-do; Muhak-san, Kilju City); vii (Baekdu-san). South Korea: 20-28.vi (Ulleung-do); vii (Ori-Dong). Russia: 3-28.vi (Primorskiy Krai; Buryatia; Transbaikalia); vi-vii (Amurskaya); 2-27.vii (Primorskiy Krai; Buryatia); vii-viii (Primorskiy Krai); 9.viii (Buryatia).
The three specimens from Shihezi, Xinjiang, bear the dates 15.vi.1982, 12.vii.1982 and 25.vii.1983. Farther east in China this species is double-brooded and it may also be so in Xinjiang.
Park et al. (1999) give early May until mid October as the flight period in Korea.
EARLY STAGES
OVUM: Oval, 1.35 x 2.03mm. Very similar to that of Smerinthus ocellata.
LARVA: Full-fed 60--80mm. The mature larva is very like that of Smerinthus ocellata, except that it has a very noticable narrow cream dorsal line and alternate bold and faint oblique lateral stripes. The horn is almost straight and reddish. [All stages are illustrated in Koshkin, 2023] [A plate from Butler (1876)].
In eastern China, full-grown larvae are usually met with between June and July (Chu et al., 1979); however, full-grown larvae are also common in the suburbs of Beijing in late August, particularly on weeping varieties of Ulmus pumilus (Pittaway, pers. obs. 2003).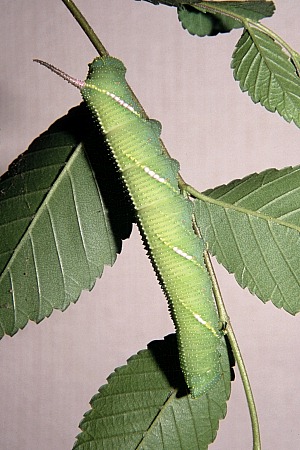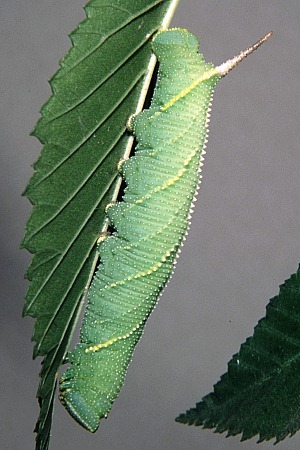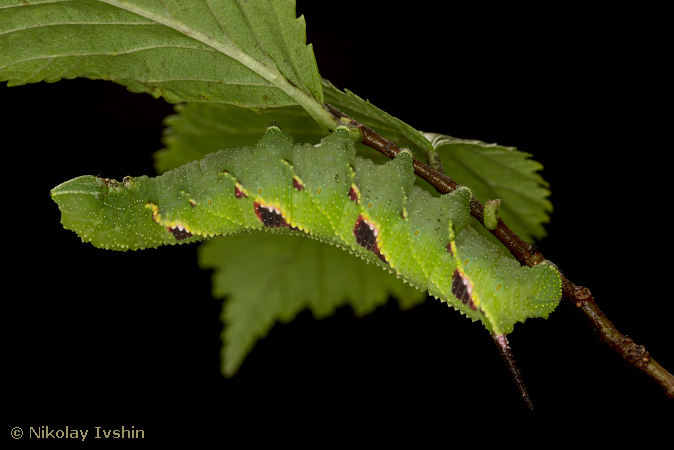 PUPA: 34--41mm. Dark mahogany brown and slightly glossy; tapering caudad from a blunt head and thorax. Proboscis not present, but replaced by a knob-like tubercle. Wings and abdominal segments finely punctate. Cremaster broadly conical, with a sharp point; tuberculate. Similar to that of Smerinthus ocellata, but less glossy. Formed in an almost silk-free cell in the soil. The overwintering stage. [Illustrated in Koshkin, 2023]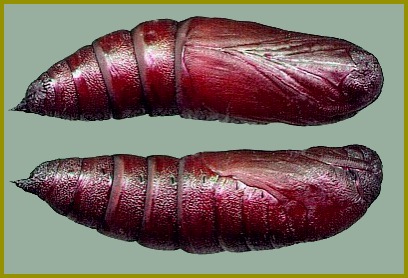 Larval hostplants. Recorded in Guangdong on Ulmus parvifolius (Mell, 1922b), and in northern China on Zelkova (Yang, 1978) and Ulmus pumilus. Most other larval hostplant records from elsewhere within the range of Callambulyx tatarinovii are also Ulmaceae. However, Yang (1978) also listed Euonymus alatus, Salix and Populus, while Xiao (1992) stated that Callambulyx tatarinovii is an occasional pest of the last of these. These, plus a single record from Prunus persica (Chang, 1989), require confirmation.
[It should be noted that with the successful rearing of Callambulyx rubricosa rubricosa Walker, 1856 on Salix caprea (Eitschberger, U. & Hoa Binh Nguyen, 2012), the above records for Salix and Populus, although odd, are probably correct.]
Recorded in Korea on Ulmus davidiana var. japonica, Zelkova serrata, Tilia amurensis and Euonymus sieboldianus (Park et al., 1999). The record of Euonymus supports the claim that this host is used in China.
In the Russian Far East on Ulmus davidiana var. japonica (Izerskiy, 1999b; Nikolay Ivshin, pers. comm. 2020). The main host in Buryatia, Russia, is Ulmus pumilus (Gordeeva & Gordeev, 2011).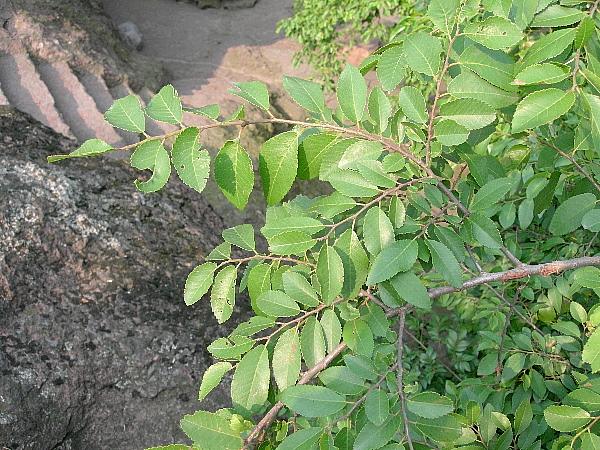 PARASITOIDS
Unknown.
LOCAL DISTRIBUTION
China: Xinjiang (Shihezi); Nei Mongol (Great Khingan Mountains, Zalantun/Butha Qi, 1100-2000m; Chifeng/Ulanhad, Daguangdingzishan, 2061m; Ongniud Qi; Urad Houqi; Hulunbuir Region, Sanhaodian); Heilongjiang (Harbin; Lalin; Lesser Khingan Mountains, Fengling Forest); Jilin (Jiaohe, Lafa Shan); Liaoning (Changhai, Dachangshan Island); Hebei (Chengde); Beijing (Haidian; Baihua Shan); Tianjin; Shandong (Jinan; Beidaihe; Weihai); Shanxi (Taiyuan; Taigu; Qixian; Xiaxian; Pingyao; Jiexiu); Shaanxi (Louguantai Forest Park; Xunyang, 1380m; Dafosi Grotto, near Binzhou, 870m); Ningxia; Qinghai (Xining); Henan; Anhui (Mt. Huang Shan); Shanghai; Zhejiang (Tianmu Shan); Hubei (Xianfeng); Sichuan (Kangding; Xichang); Hunan (Shangzhi; Wuling Mountains); Fujian (Longqi Shan); ?Xizang/Tibet (Mutu, Namjagbarwa region, 850m; Nyingchi/Linzhi, 3070m); Guizhou (Jiucai Ling).
Previously, this subspecies was known from the eastern half of China, as far south and west as Sichuan, Hunan and Fujian. The above records from near the China-Kazakhstan border (Shihezi) (SACS) represent a considerable westward extension to the known range of this eastern Palaearctic species. This is probably a result of the extensive planting of Ulmus trees across northern China, forming a habitable corridor that Callambulyx tatarinovii tatarinovii has exploited (Smerinthus planus planus (q.v.) has also reached the same area by a similar means).
Mell (1958) noted that the larval hostplant of Callambulyx tatarinovii tatarinovii, Ulmus parvifolius, did not occur south of about 24°N in northern Guangdong and he never found this hawkmoth in the south of that province (Mell 1922b, 1958). Hence, we consider that the record of Callambulyx tatarinovii from Hainan (Yang, 1978) is a misidentification of Callambulyx rubricosa rubricosa or Callambulyx diehli Brechlin & Kitching, 2012. This may also be true of lowland Tibetan records (Wang, 1988), which may turn out be a northern population of Callambulyx diehli. However, Zhang et al. (1986) illustrated a typical Callambulyx tatarinovii tatarinovii from 3070m at Nyinchi, and thus Callambulyx tatarinovii may indeed extend southwest at high altitudes from Sichuan to Xizang/Tibet. This requires further study.
Mongolia: Hövsgöl Province (Mörön); Dornod Province (Prikhingan'e); Töv Province (L&uumln Sum, 19km SW Lün); Selenge Province (Tunkhel village, Khailaast; Zuunburen Soum, Gangiin tokhoi).
North Korea: South Hwanghae Province (Mt. Kuwol, 950m); North Pyongan Province (Myohyang-san; Sinmi-do; Chonma-san); South Hamgyong Province (Seokwang Temple; Hamhung; Gyungsung; Pulgaemi ridge above Pukchong City, 1500m); North Hamgyong Province (Baekdu-san, 2500m; Charyung; Muhak-san, Kilju City).
South Korea: Baengnyeong-do & Daecheong-do; Seoul; Kyonggi Province; Kangwon Province (Jang-san); North Chungchong Province; South Chungchong Province; North Cholla Province; South Cholla Province; North Kyongsang Province (Ulleung-do); South Kyongsang Province; Cheju Province
Russia: Siberia (Lake Baikal (Slydyanka)); Buryatia (Kyachta; Kokorino; Ulan-Ude; Selenduma; Onokhoy village; Selenga River valley; Taezhnyi; Tapkhar; Kokorino; Dodo-Enkhor; Tarbagatay village); Transbaikalia (Ust'-Urlak on the Chikoy River; Daurskii Nature Reserve; Chita); Amurskaya (Belogorsk; Blagoveshchensk; Uril); Yevreyskaya (Pompeyevka; Radde; Bastak); Khabarovskiy Krai (Khabarovsk; Slavyanka; Komsomolsk-na-Amure; Pivan); Primorskiy Krai (Barabash; Jankowski Peninsula; Primorskiy; Khasan; Andreevka; Vityaz Bay; Kedrovaya Pad Nature Reserve; Ussuriysk; Novovladimirovka; near Kalinovka; near Zanadvorovka; Anisimovka; Krounovka).
GLOBAL DISTRIBUTION
From northern Xinjiang across northern China, Mongolia (Puntsagdulam et al., 2005; Knyazev, Makhov, Matov & Yakovlev, 2020; Enkhtur, Brehm, Boldgiv & Pfeiffer, 2021), southern Siberia/Transbaikalia (Chistyakov, 1988; Sergei Rybalkin, pers. comm.; Gordeeva & Gordeev, 2011; Korsun, 2023) to the Russian Far East, and then south through Korea (Kim et al., 1982; Park et al., 2014) and central China to, maybe, eastern Xizang/Tibet.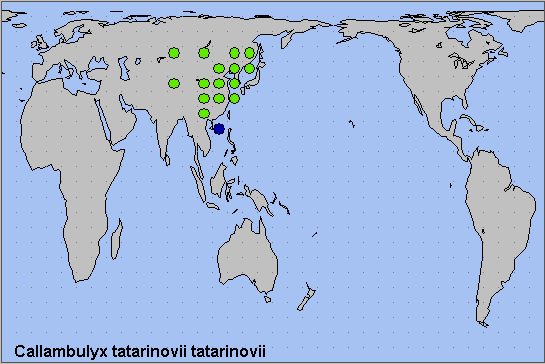 BIOGEOGRAPHICAL AFFILIATION
Holarctic; eastern Palaearctic region. Pleistocene refuge: Monocentric -- Manchurian refuge.
---

Return to Sphingidae of the Eastern Palaearctic species list
---
© A. R. Pittaway & I. J. Kitching (Natural History Museum, London)