---
LAOTHOE Fabricius, 1807
Laothoe Fabricius, 1807, Magazin Insektenk. (Illiger) 6: 287.

Type species: Sphinx populi Linnaeus, 1758.
Amorpha Hübner, [1806], Tentamen determinationis digestionis....[1].
A Palaearctic genus containing five species, of which four occur in the western part of the region.
IMAGO: Differs from Smerinthus in having a broad hindwing, sinuate between veins R1 and Sc+R1 and produced into a lobe at veins Rs and M1. Ocellus absent and anal angle strongly rounded. Male without, female with reduced frenulum; retinaculum absent. Proboscis atrophied. Male antenna less dentate than in S. ocellatus, but with long setae; terminal segment short. Abdominal tergites spiny all over, the spines weak, very dense at and near the apical edges, covered with long scales. Tibiae not spinose. Foretibia without apical thorn. Hindtibia without proximal pair of spurs. Pulvillus and paronychium present.
Genitalia. In male, sacculus bipartite at apex. Aedeagus with spines at the edge of the sheath as well as upon the membrane of the duct. In female, lamellae without processes; the proximal edge of the ostium bursae somewhat raised, wrinkled and more strongly chitinized than rest of vaginal area.
OVUM: Almost spherical, pale green and large for the size of moth.
LARVA: Typically sphingiform; very similar to that of Smerinthus, but body stouter and horn smaller.
PUPA: Matt black or dark brown, rough (not glossy), unlike that of Smerinthus. Cremaster short, dorso-ventrally flattened, broad at base and terminating in a sharp point.
HOSTPLANT FAMILIES: Shrubs and trees, mainly Salicaceae.
LAOTHOE POPULI (Linnaeus, 1758).
LAOTHOE POPULI POPULI (Linnaeus, 1758).
GB: Poplar Hawkmoth, F: Sphinx du Peuplier, D: Pappelschwärmer, RU: Topolevyi Brazhnik, S: Poppel-Nattsvärmare, NL: Populierpijlstaart, CZ: Zubokrídlec topolový, H: nyárfaszender, E: esfinge del chopo, cuerno verde, PL: Zawisak topolowiec, FI: Poppelikiitäjä, IT: sfinge del pioppo.

Sphinx populi Linnaeus, 1758, Syst. Nat. (Edn 10) 1: 489.

Type locality: not stated [Sweden, Stockholm].
Sphinx tremulae Borkhausen, 1793, Rhein. Mag. Naturk. 1: 649.
Merinthus palustris Holle, 1865, Schmett. Deutschl.: 95.
Amorpha populi intermedia Gehlen, 1934, Ent. Z., Frankf. a. M. 48: 60.
Amorpha populi lappona Rangnow, 1935, Ent. Rdsch. 52: 189.
Laothoe populi iberica Eitschberger, Danner & Surholt, 1989, Atalanta, Würzburg 20: 262-263.
(Taxonomic notes. (i) In Turkey, subsp. populi and subsp. populeti intergrade with each other to produce a number of intermediate forms, such as f. syriaca Gehlen, 1932a, and f. intermedia Gehlen, 1934a. The latter is synonymized with subsp. populi.
(ii) Under cold climatic conditions, such as in the Arctic Circle and at high altitudes in the Alps, small, dark forms sometimes occur, similar to L. amurensis f. baltica Viidalepp. These are best referred to as L. p. populi f. lappona Rangnow.
(iii) L. philerema (Djakonov, 1923), from Afghanistan and Tajikistan, is now recognized as being a valid species (Daniel, 1963), as also is L. austauti (Staudinger, 1877). Previously, both were considered subspecies of L. populi, although Eitschberger et al. (1989) did consider L. austauti to be a distinct species.
(iv) L. populi iberica is not tenable. Superficially, individuals from southern Spain and southern France cannot be distinguished. The creation of a distinct subspecies on the strength of a few less cornuti in the male aedeagus is not warranted, especially as the genitalia within the Smerinthini are naturally somewhat variable.
(v) The specimen illustrated by Danner, Eitschberger & Surholt (1998) from the Taibai Shan, central China, has recently been described as a new species, namely Laothoe habeli (Saldaitis, Ivinskis & Borth, 2010).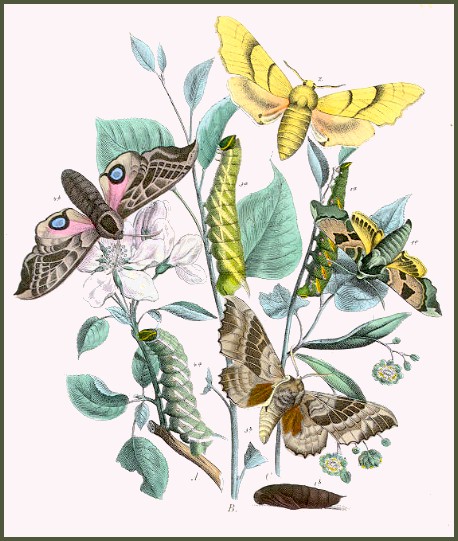 BIOGEOGRAPHICAL AFFILIATION
Holarctic; western Palaearctic region. Pleistocene refuge: Monocentric -- Pontomediterranean refuge.
ADULT DESCRIPTION AND VARIATION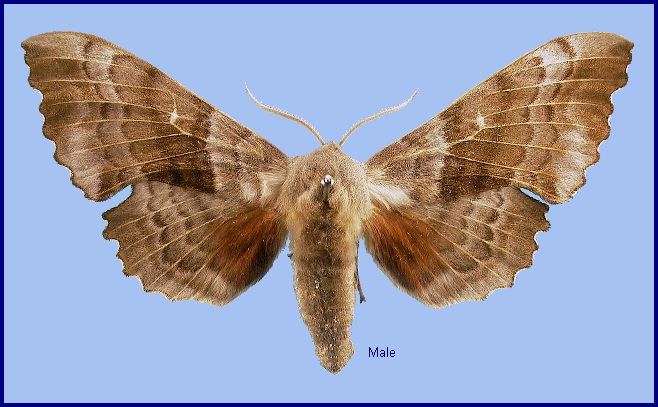 Wingspan: 70--100mm. A very distinct species with rust-red hindwing patches, confusable only with L. austauti (Staudinger), L. philerema (Djakonov) and L. amurensis (Staudinger). Ground colour of the wings varies considerably from pale buff, through pale browns, reds (mainly in females), and greys to an almost black suffusion. Likewise, the transverse lines can be either very prominent, or totally absent, while the hindwing patches may be any shade of red or brown, and any size. Gynandromorphs are common, and if each half is a different colour, the effect can be striking. Developing pupae subjected to heat produce pale buff to rose-red adults. Cold conditions can produce adults which are dark grey.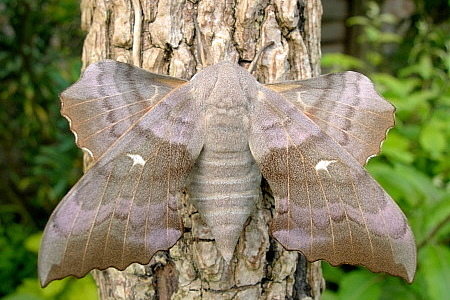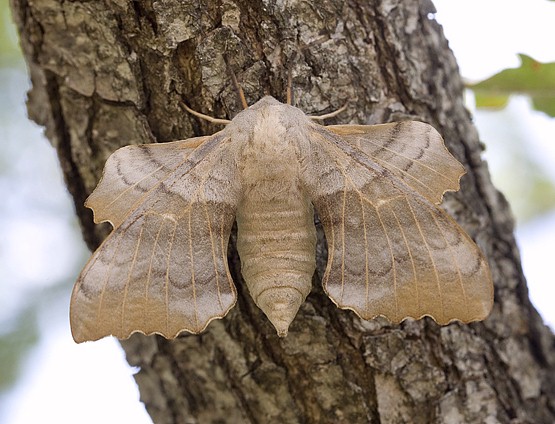 ADULT BIOLOGY
The region's commonest hawkmoth, and one of the most widespread. Frequents almost any damp, low-lying area, such as country lanes, open woodland rides, railway cuttings or town parks, particularly where Populus spp. but also Salix spp. are present; commoner where the former occurs. Up to 1600m in the Alps. Most emerge late at night or early in the morning, clambering up the tree trunk at the base of which the larva had pupated. Not until the following evening does the moth take flight, females quickly selecting a resting position amongst foliage from which the males are attracted at around midnight. Once paired, they remain coupled until the following evening when, after separation, the females start laying eggs almost immediately.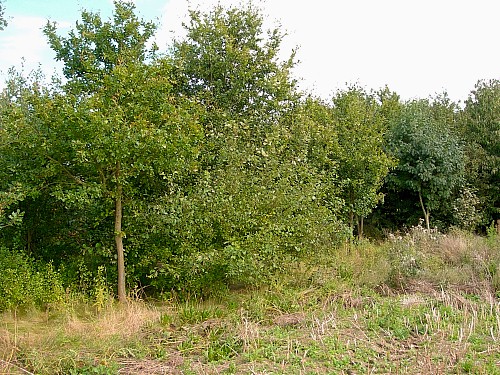 At rest, the hindwings protrude considerably beyond the forewings, so that amongst foliage this attitude, combined with their colour and cryptic pattern, creates a very good resemblance to a cluster of dead poplar leaves. However, individuals are attracted to light in large numbers and are then very conspicuous.
FLIGHT-TIME
Generally univoltine over its northern range, from mid-May to mid-July, with a peak towards mid-June in most years. However, due to the very warm weather experienced in southern England during 1990, this species peaked a month earlier and produced a second generation in August. Over southern Europe and Asia Minor, usually bivoltine in May and early June, and again in August, although in warm years and certain hot localities, adults may be found in April/May, July and early September.
EARLY STAGES
OVUM: Large (1.7 x 1.5mm), almost spherical, pale green, glossy. Between 57 and 171 can be laid per female (Williams, 1966), with these being attached, singly or in pairs, to the undersurface of leaves less than 2m from the ground. However, on the large hybrid black poplar (Populus x euramericana) and tree willows lacking side shoots or suckers, eggs are laid high in the crown. Depending on temperature, they take 11--17 days to hatch (Williams, 1966).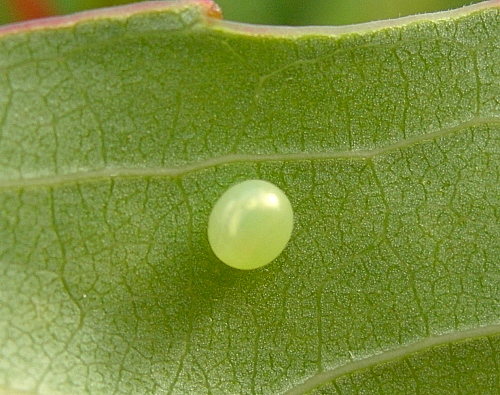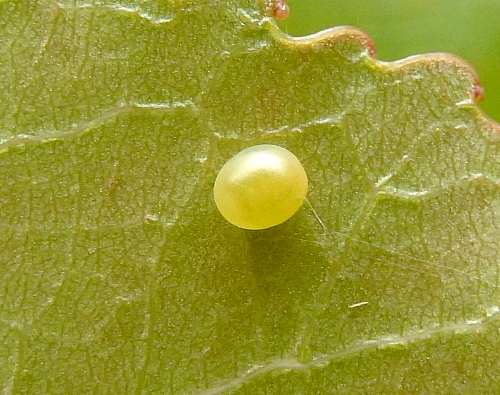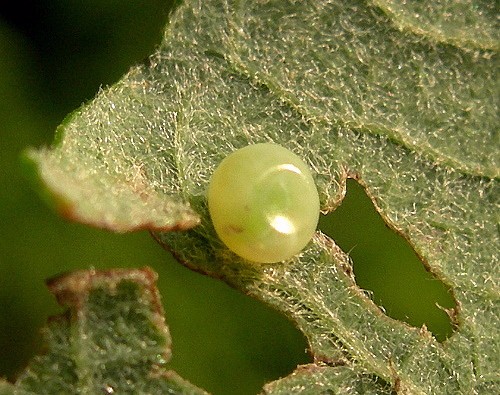 LARVA: 65--85mm. Trimorphic: green, whitish grey and bluish white.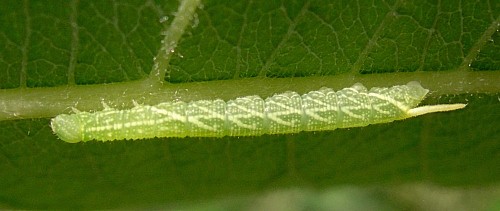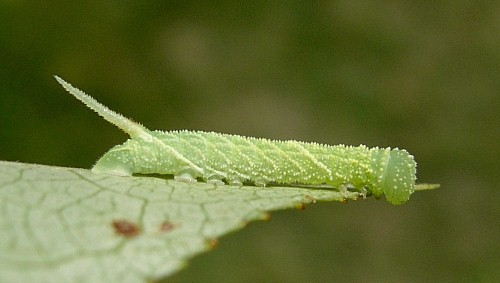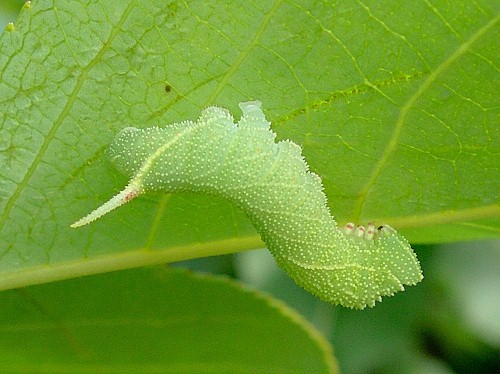 The newly-emerged 5mm-long larva, which partially devours its eggshell, is pale green, very rough, with small, yellow tubercles, and has a rounded head and a cream-coloured horn. With growth, yellow lateral stripes appear and the legs and spiracles become pink; the body colour, however, usually remains yellowish green, with yellow tubercles. Occasionally, some individuals become heavily spotted with red, especially those feeding on Salix as opposed to Populus spp. Others may be bluish white with cream stripes and tubercles instead of the basic green and yellow coloration (see Grayson & Edmunds, 1989b, for an explanation of this). Some, especially those feeding on Populus alba, can be very pale. When full-grown, all individuals are very stocky, whatever the colour form, and develop a brownish tint prior to pupation.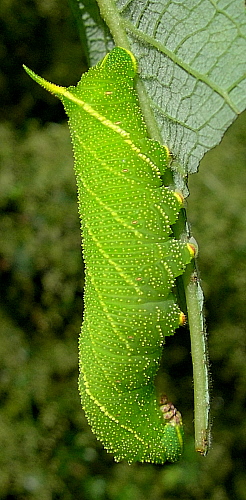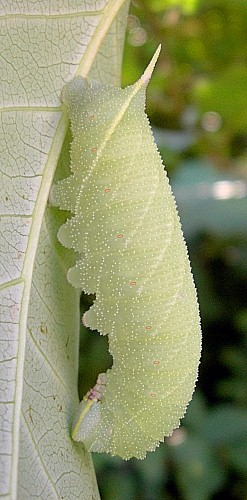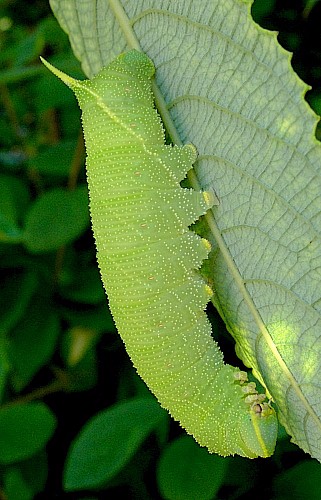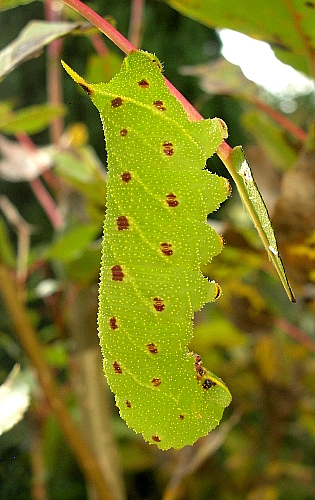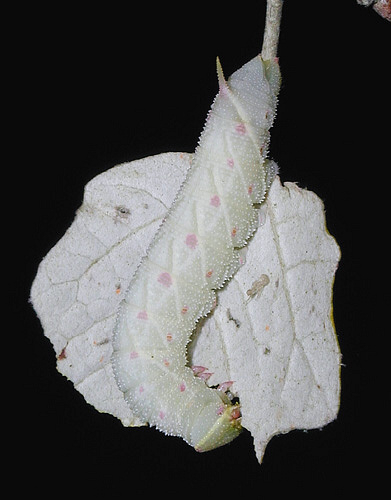 Initially, the young larva rests along a vein on the underside of a leaf but, after the second moult, it adopts a more characteristic sphinx-like posture, hanging beneath a leaf or a stalk by its last two pairs of prolegs (Williams, 1966). Not very active, it tends to remain in the same feeding area throughout its life, noticeably stripping numbers of shoots.
In northern Europe, occurs from June to early September; farther south, individuals at all stages of development can be present at any time between May and late September. An individual from Oktyabr'skoe (western Siberia, 62°30'N) was captured on 22.vi.1963 (Vladimir Dubatolov, pers. comm. 2012).
Major Hostplants. Many species and cultivars of Populus and Salix.
Minor Hostplants. Recorded from Fraxinus, Quercus, Betula, Alnus, Rosa, Crataegus, Cotoneaster, Malus, Laurus and, in Spain, Ulmus. It should be noted, however, that the ability of populations to feed on these secondary hostplants must be a localized phenomenon. Larvae from Oxfordshire, England, and/or the Czech Republic, refused Betula, Quercus cerris, Viburnum tinus, Fraxinus or Ulmus, resulting in 100 per cent mortality; all larvae of the same broods which were offered Populus completed their development (Pittaway, 1996). Records of Viburnum tinus as a hostplant (Lucas, 1895; Barrett, 1895; Tutt, 1902; Newman, 1965; Pittaway, 1993) must be erroneous; no larvae have ever been confirmed as feeding on this plant and all attempts to entice larvae from England and the Czech Republic to feed (as well as larvae of L. p. populeti from Hakkari, Turkey), have failed (Pittaway, 1996).
PUPA: 30--43mm. Matt black, rough and stout, blunt anteriorly. Cremaster triangular, terminating in a sharp, glossy spine beneath which two rough projections are present. Initially, completely covered with a fine dark brown 'skin' which peels off in strips. Formed in an earthen cell 2--3cm below soil level (or under damp leaves) at the base of its hostplant. The overwintering stage.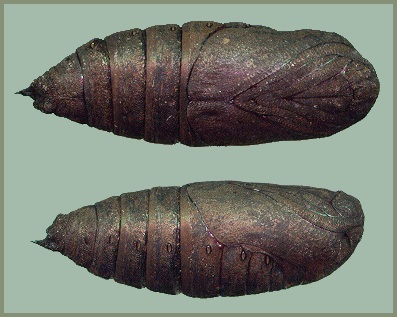 PARASITOIDS
Ichneumonidae: Amblyjoppa proteus (Christ), Amblyteles armatorius (Först.), Aphanistes ruficornis (Gravenhorst), Aritranis fugitivus (Gravenhorst), Banchus pictus Fabricius, Callajoppa cirrogaster (Schrank), Coelichneumon deliratorius (Linnaeus), Diphyus monitorius (Panzer), Heteropelma capitatum (Desvignes), Microleptes splendidulus Gravenhorst, Netelia testacea (Gravenhorst), N. vinulae (Scopoli), Pimpla illecebrator (Villers), Protichneumon pisorius (Linnaeus); Braconidae: Cotesia glomeratus (Linnaeus), Microplitis ocellatae Bouche, M. vidua (Ruthe), Aleiodes praetor (Reinhard); Eulophidae: Eulophus smerinthicida Boucek; Encyrtidae: Ooencyrtus vinulae (Masi); Trichogrammatidae: Trichogramma evanescens Westwood; Scelionidae: Telenomus punctatissimus (Ratzeburg); Tachinidae: Blondelia nigripes (Fallen), Compsilura concinnata (Meigen), Drino lota (Meigen), Exorista sorbillans (Wiedemann), Frontina laeta (Meigen), Masicera sphingivora (Robineau-Desvoidy), Thelaira nigripes (Fabricius), Winthemia rufiventris (Macquart), W. bohemani (Zetterstedt).
Cordiceps militaris (L.) has been recorded as a larval pathogen in Sweden (Lagebberg, 1922). The Encyrtidae, Ooencyrtus vinulae, was reared from an egg collected in London, UK, on 27.vii.2012 (John Noyes/David Notton, pers. comm. 2012).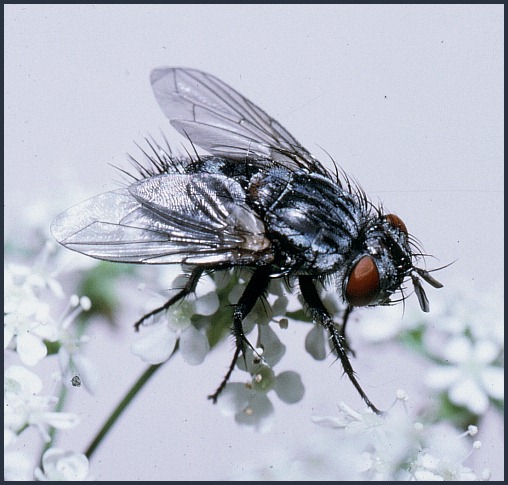 DISTRIBUTION
From Ireland (Lavery, 1991) and Portugal (Corley, 2004) eastwards across the Urals (Eversmann, 1844; Pittaway, 1983b; Derzhavets, 1984) to western Siberia and the Altai (Zolotarenko, Petrova & Shiryaev, 1978; Izerskiy, 1999), as well as northwestern China (Xinjiang Province) south to Tacheng (Pittaway & Kitching, 2000). Also the Ukraine, southern Russia, the Caucasus region and Turkey (Daniel, 1939; de Freina, 1979; de Freina, 2012). Hariri (1971) recorded this subspecies from western Syria; this has been confirmed by Talhouk (1997). This population is probably contiguous with that found in Adana Province, Turkey (Feza Doganlar, pers. comm.).
Recorded as far north as Ukhta in european Russia (Tatarinov, Sedykh & Dolgin, 2003) and Oktyabr'skoe in western Siberia (Ob' River, 62°30'N) (Vladimir Dubatolov, pers. comm 2012).
The semi-isolated population in southern and eastern Spain, described as L. populi iberica Eitschberger, Danner & Surholt, 1989, occurs in the provinces of Granada, Almeria, Cuenca and Teruel. Rambur (1942) recorded it as being common along rivers around Malaga, and Aistleitner & Aistleitner (1998) recorded it from Albacete (Murcia). It has also been confirmed from Sicily (Mina-Palumbo & Failla-Tedaldi, 1889; Parenzan, 1995) and Sardinia (Parenzan, 1995), as well as northern and central Greece.
Extra-limital range. Siberia as far east as Irkutsk (E. Berlov, pers. comm.). It is only in recent years that this species has been recorded from southern Siberia, first from Novosibirsk and Tomsk (Izerskiy, 1999), then Irkutsk. It is possible that L. p. populi is extending its range eastwards.
OTHER SUBSPECIES
The northern Middle East and southern Central Asia as L. p. populeti.
---

Return to species list