---
HYLES DAHLII (Geyer, 1827)
GB: Smoky Spurge Hawkmoth, F: Deiléphile de Dahl, IT: sfinge dell'euforbia sarda.

Sphinx dahlii Geyer, [1827], in Hübner, Samml. eur. Schmett., Sphingidae: pl. 36, figs 161--164.

Type locality: Cagliari, Sardenia [Sardinia].
Sphinx dahlii Boisduval, [1828], Eur. Lepid. Index meth.: 33 [homonym].
Celerio euphorbiae balearica Rebel, 1926, Dt. ent. Z. Iris 40: 141.
(Taxonomic notes. (i) Subsp. balearica (Rebel, 1926) is probably not tenable. Rebel described it from one specimen from Mallorca, thinking it represented an isolated form; however, most specimens from there cannot be distinguished from those from Corsica and Sardinia. This is in agreement with the findings of Meerman (1993). However, judging by the photo below (from s'Albufera des Grau) the population of Hyles dahlii on Menorca may contain a trace of Hyles euphorbiae (Linnaeus, 1758).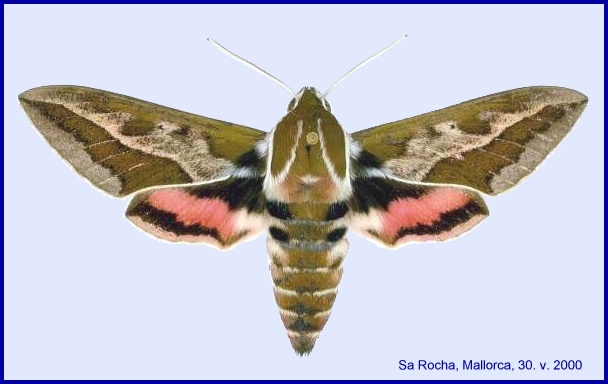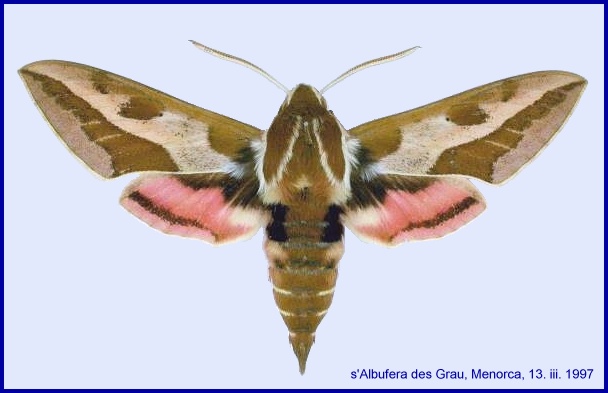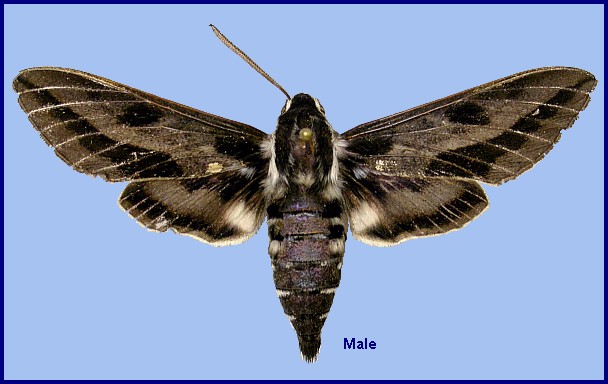 (ii) The findings of Meerman (1993) also indicate that Hyles dahlii and Hyles tithymali (Boisduval, 1834) may share a common ancestry and that Hyles dahlii evolved in isolation on Corsica and Sardinia. A near identical course of evolution appears to have been followed by the butterfly Papilio hospiton Géné, 1839, which appears to have evolved from an isolated population of the North African Papilio saharae Oberthür, 1879 (Pittaway et al., 1994).)
[Further details on this species, as well as photos of all stages, can be found on Lepiforum.]
BIOGEOGRAPHICAL AFFILIATION
Holarctic; western Palaearctic region. Pleistocene refuge: Monocentric -- the Tyrrhenian subsection of the Mediterranean refuge, from whence it appears to have colonized the Balearic Islands.
ADULT DESCRIPTION AND VARIATION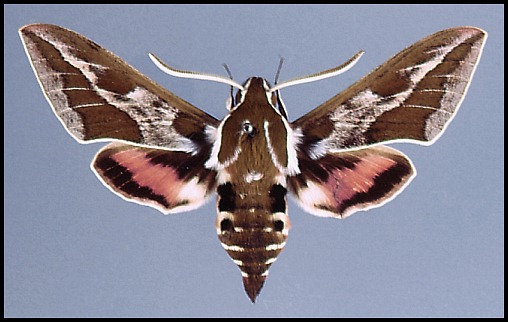 Wingspan: 65--85mm. Superficially similar to a dark, heavily blotched Hyles tithymali tithymali; not very variable, although some individuals can have all red colour on their hindwings replaced by yellow. A characteristic feature of this species is the presence of three black dots down each side of the abdomen; all related Hyles species in the area have two.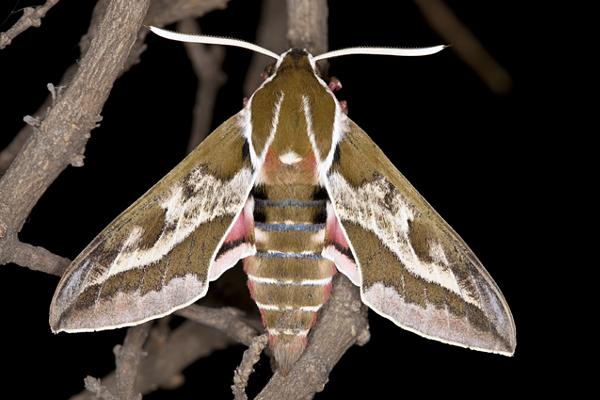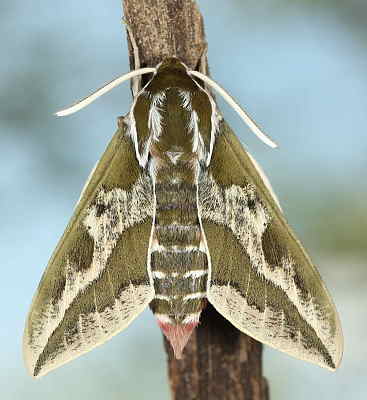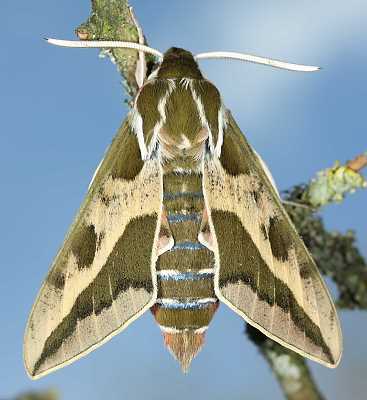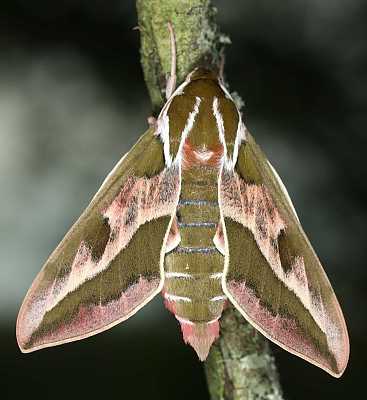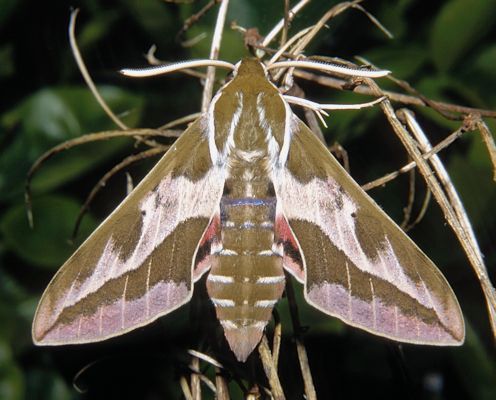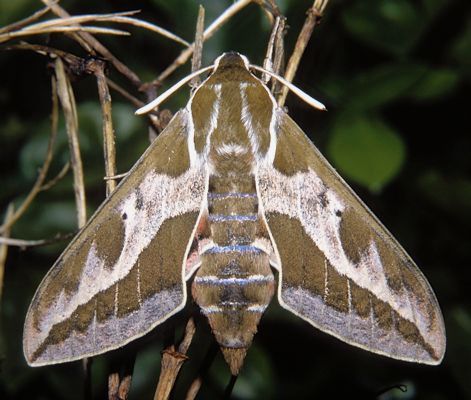 ADULT BIOLOGY
A species of rocky mountainsides and sand-dunes scattered with shrubs and pine trees.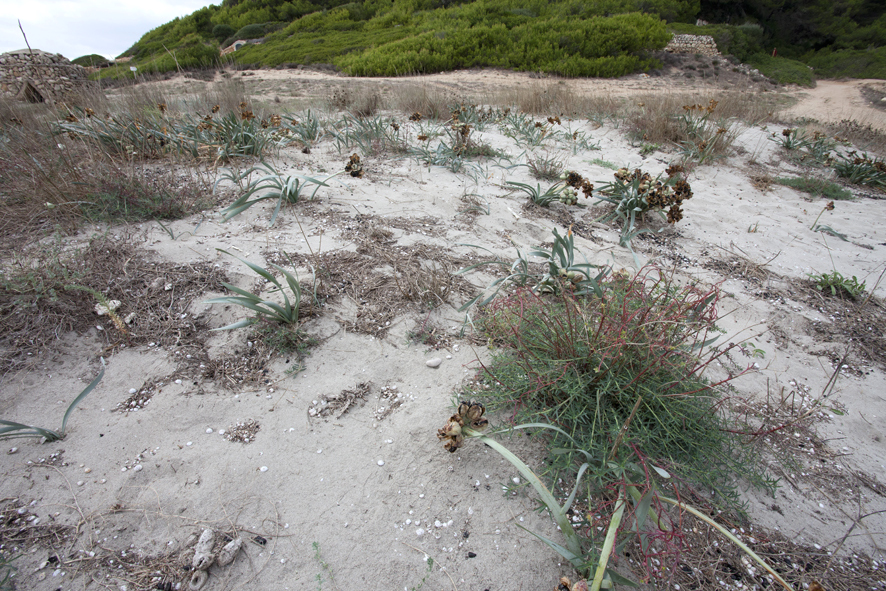 FLIGHT-TIME
May/June and August/September, in two broods, with a partial third in warm years.
EARLY STAGES
OVUM: As Hyles euphorbiae.
LARVA: On hatching, the 3--4mm-long larva is off-white.
Fully grown it is dark grey with a profusion of small, whitish spots; head usually pink and horn orange. Instead of a solid dorso-lateral line, there are two oval, white eye-spots set in a velvet-black patch on each segment. Narrow orange dorsal line; laterally, a red and yellow chequered line runs below the white spiracles. Ventral surface yellowish.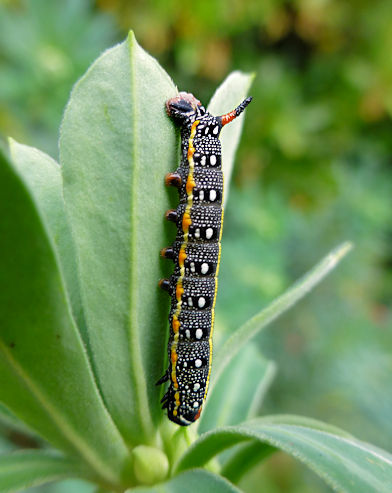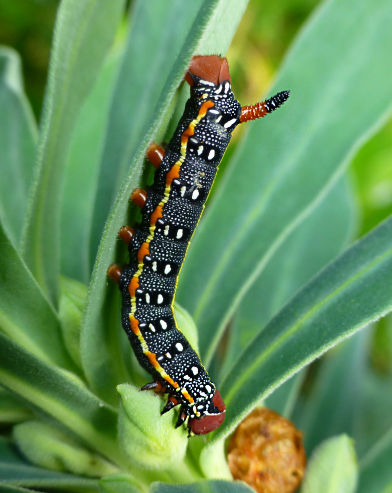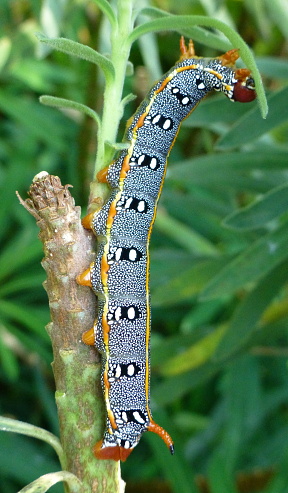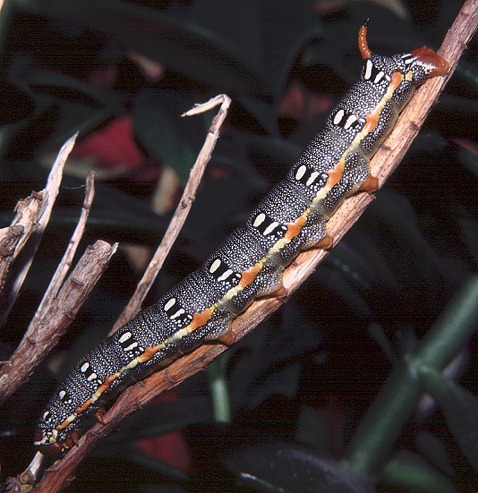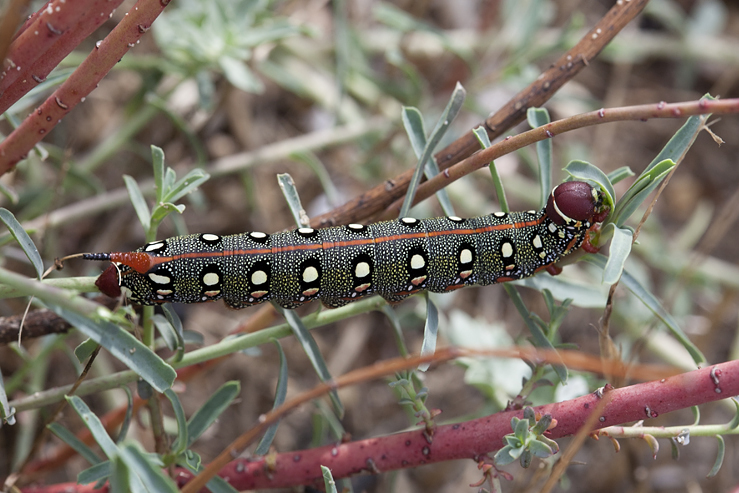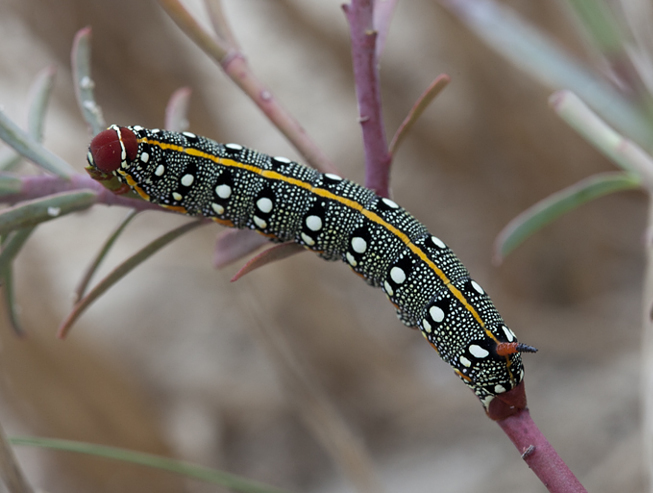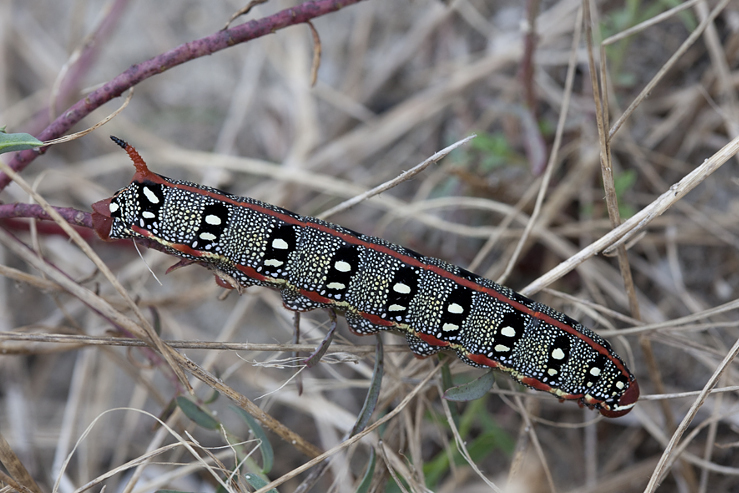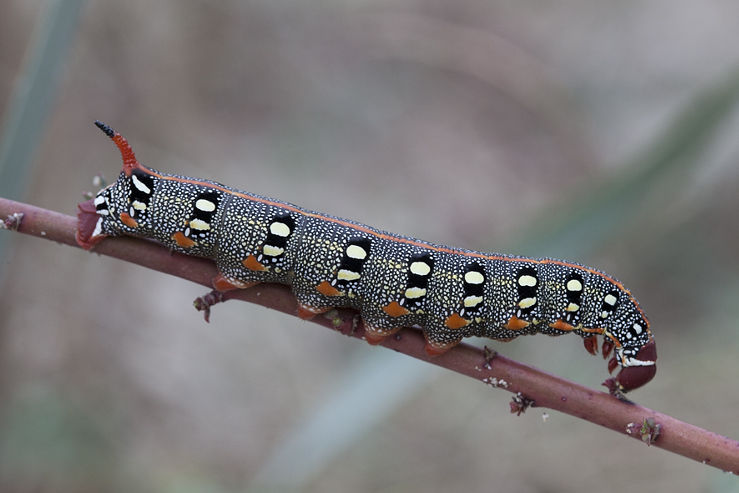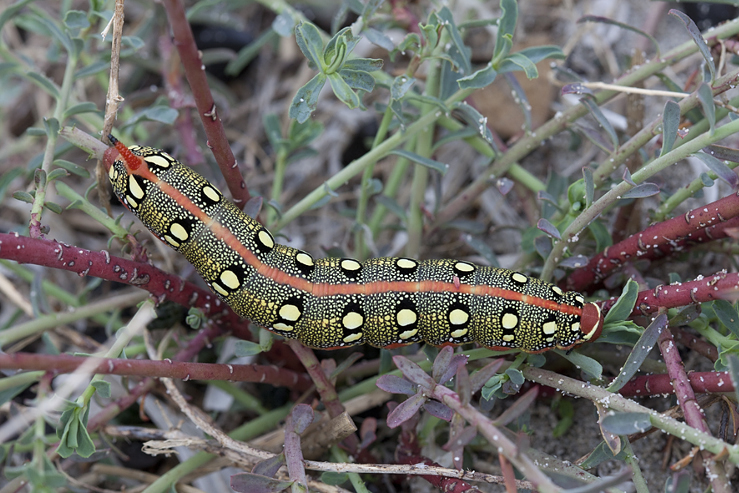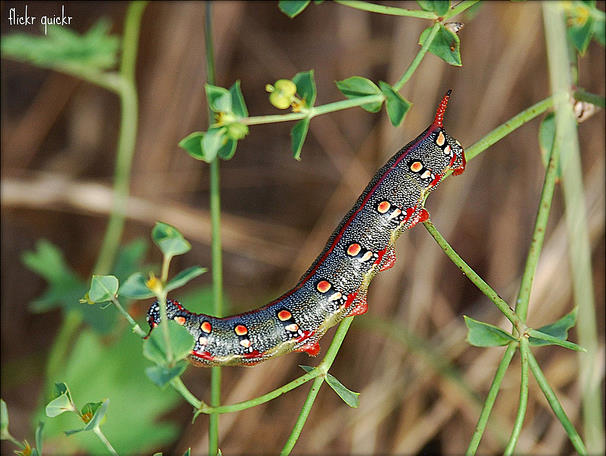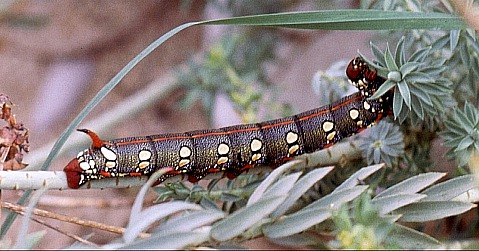 Occurs from June to October.
Hostplants. Herbaceous Euphorbia spp., especially Euphorbia paralias, Euphorbia myrsinites (Roueast, 1883), Euphorbia characias, Euphorbia dendroides, Euphorbia pityusa, Euphorbia pinea and Euphorbia terracina.
PUPA: Very similar in appearance to that of Hyles euphorbiae. Overwinters as a pupa.

PARASITOIDS
Tachinidae: Exorista larvarum (Linnaeus, 1758), Masicera sphingivora (Robineau-Desvoidy, 1830).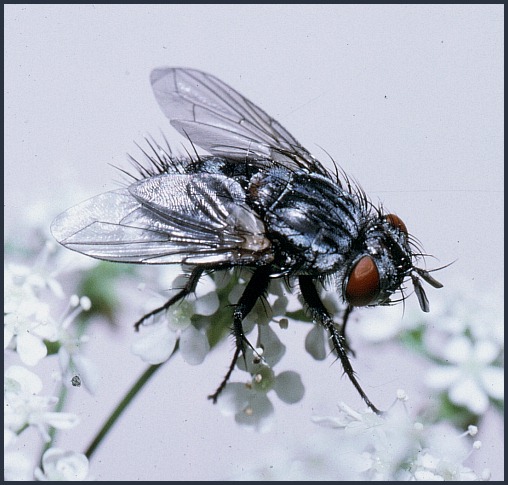 DISTRIBUTION
Corsica, Sardinia and the Balearic Island of Mallorca (Rebel, 1934). Considered to be restricted to these islands, although there are occasional reports of its occurrence in Sicily. In October 1975, several larvae of this distinctive species were also found on the Catalan coast, north-east Spain (Masó et al., 1979). Recorded in 1998 from the island of Pianosa off the Tuscan coast, Italy (Dapporto et al., 1999).
Recently reported from Tunisia, where individuals were deliberately released in the mid 1980's (Hundsdörfer, 2004).
Extra-limital range. None.
---

Return to species list