---
LAOTHOE POPULI POPULETORUM (Staudinger, 1887) -- Poplar hawkmoth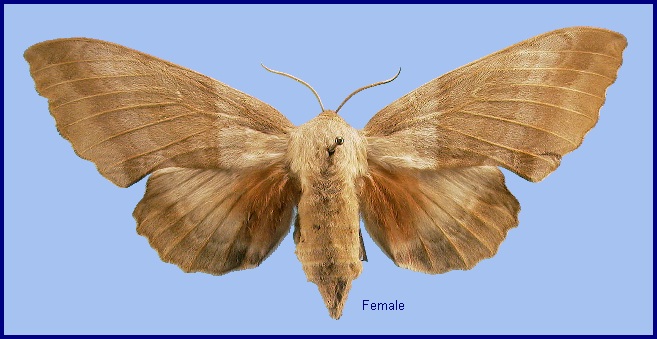 TAXONOMY
Smerinthus populi var. populetorum Staudinger, 1887, Stettiner Entomologische Zeitung 48: 65. Type locality: [Kyrgyzstan,] Osch [Osh] (Haberhauer) [MNHU]; Lectotype designated by Danner, Eitschberger & Surholt, 1998, Herbipoliana 4(1): 111.
ADULT DESCRIPTION AND VARIATION
Wingspan: 70--120mm. Very like subsp. populi. Many have a reddish tone, which is easily produced by subjecting developing pupae to heat, or grey replacing the pinkish tint.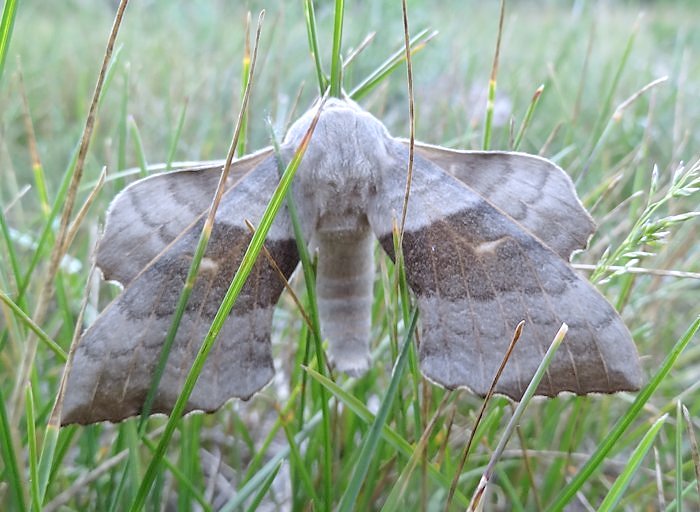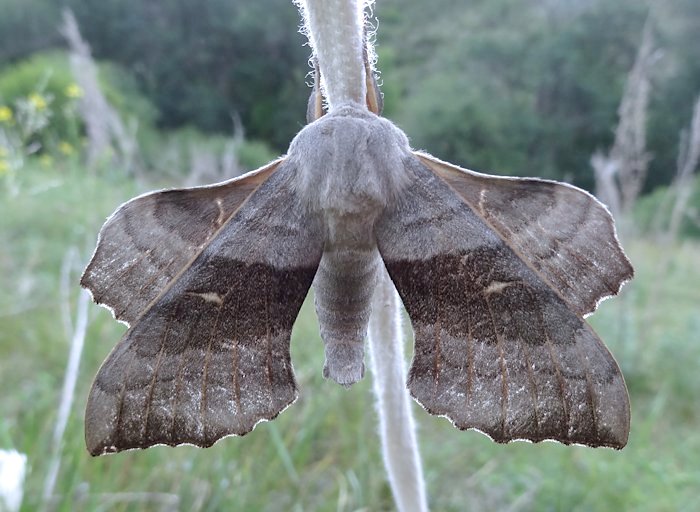 ADULT BIOLOGY
FLIGHT-TIME
China: 23.iv.-v (Xinjiang).
Probably bivoltine; April-May and again in July/August.
EARLY STAGES
OVUM: Pale green, almost sperical and large for the size of moth.
LARVA: Unknown.
PUPA: Unknown.
Larval hostplants. Unknown in China but recorded elsewhere on Populus and Salix (Pittaway, 1993).
PARASITOIDS
Unknown.
LOCAL DISTRIBUTION
China: Xinjiang (Yining/Gulja; Yili).
The above Yining/Gulja records (two specimens in SACS mistakenly recorded by Pittaway & Kitching (2000) as Laothoe populi populeti (Bienert, [1870])) confirm the occurrence of Laothoe populi populetorum in China.
GLOBAL DISTRIBUTION
River valleys in the mountains and foothills of eastern Uzbekistan, Tajikistan, Kyrgyzstan (Korb, 2018) and south-eastern Kazakhstan (south of the Kyrgyz Steppe) to northwest China (Alphéraky, 1882; Pittaway & Kitching, 2000).
In northwestern China the Dzungarian Gate/Gap and the inhospitable deserts to either side appear to separate the more northern Laothoe populi populi (Linnaeus, 1758) from the more southern Laothoe populi populetorum, although this narrow barrier may now be breaking down due to the extensive planting of poplar trees. Three other species have reached the Yining/Gulja area by exploiting planted trees, namely Smerinthus ocellata, Smerinthus planus and Callambulyx tatarinovii tatarinovii (Pittaway & Kitching, 2000).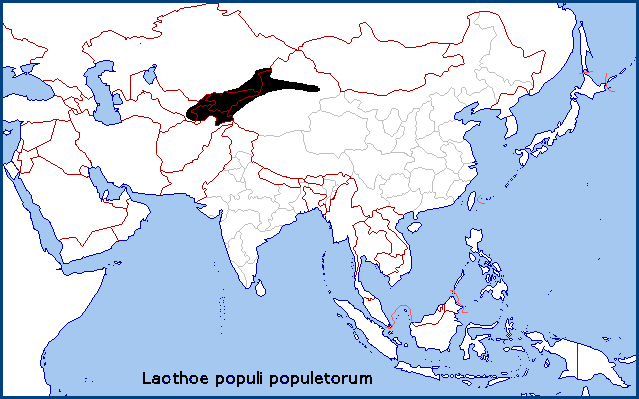 BIOGEOGRAPHICAL AFFILIATION
Holarctic; western Palaearctic region. Pleistocene refuge: Monocentric -- Turkestan refuge.
---

Return to Sphingidae of the Eastern Palaearctic species list
---
© A. R. Pittaway & I. J. Kitching (Natural History Museum, London)