---
LAOTHOE WITTI Eitschberger, Danner & Surholt, 1998
GB: Afghan Poplar Hawkmoth

Laothoe philerema witti Eitschberger, Danner & Surholt, 1998, Herbipoliana 4(1): 123--124, pl. 9.

Type locality: Paghman, 30km NW Kabul, 2100m, [Afghanistan].

(Taxonomic note. The DNA barcodes of this species differ significantly from those of Laothoe philerema, enough to indicate that it is a good species.)



BIOGEOGRAPHICAL AFFILIATION
Holarctic; western Palaearctic region. Pleistocene refuge: Monocentric -- southern Turkestan refuge.
ADULT DESCRIPTION AND VARIATION
Wingspan: 120--140mm. Very similar to Laothoe philerema in appearance, but significantly larger. Like that species, it resembles a very pale, poorly marked Laothoe populi populi, but with the rust-red hindwing patch of that species vestigial or absent.
ADULT BIOLOGY
Around Kabul, Afghanistan, it occurs at between 1800 and 2500m altitude (Danner, Eitschberger & Surholt, 1998).
FLIGHT-TIME
Adults have been captured in July.
EARLY STAGES
OVUM: Unknown.
LARVA: Unknown.
PUPA: Unknown.
PARASITOIDS
None recorded.
DISTRIBUTION
So far, only known from eastern Afghanistan (Ebert, 1969; Daniel, 1971).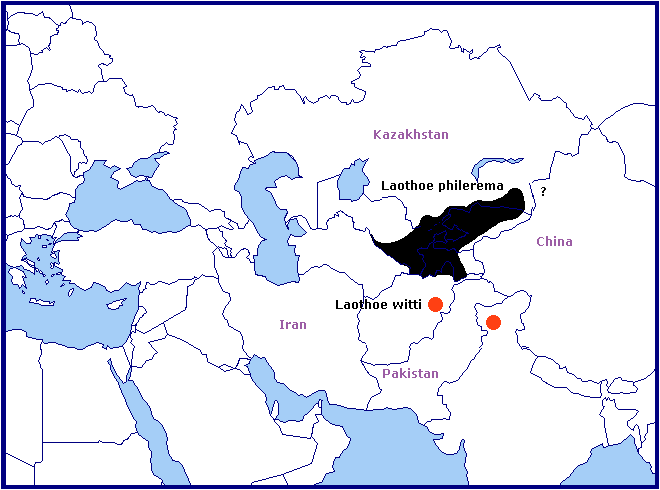 ---

Return to species list