---
CALIGULA Moore, 1862
Caligula Moore, 1862, Trans. ent. Soc. Lond. (3)1: 321.

Type species: Caligula simla (Westwood, 1847).
Dictyoploca Jordan, 1911.
A cold-tolerant genus of about 10 species endemic to the eastern Palaearctic, with one species penetrating along the himalayan foothills as far west as Afghanistan. Closely related to Perisomena Walker (1855), Neoris Moore (1862) and Saturnia Schrank (1802). Included in the latter by some authors.
HOSTPLANT FAMILIES: Many trees and shrubs, but with a preference for the Rosaceae and Juglandaceae.
CALIGULA LINDIA Moore, 1865
Caligula lindia Moore, 1865, Trans. ent. Soc. Lond. (3)2: 424.

Type locality: N.E. India.
hockingii Moore, 1888.
bonita Jordan, 1911.
sillemi Bouvier, 1935.
(Taxonomic note. Some recent taxonomic works place this species in the genus Rinaca, along with most other species of Caligula. Other works include it in Saturnia.)
BIOGEOGRAPHICAL AFFILIATION
Holarctic; eastern Palaearctic region. Pleistocene refuge: Monocentric -- Nepali refuge.
ADULT DESCRIPTION AND VARIATION
Wingspan 90--96mm.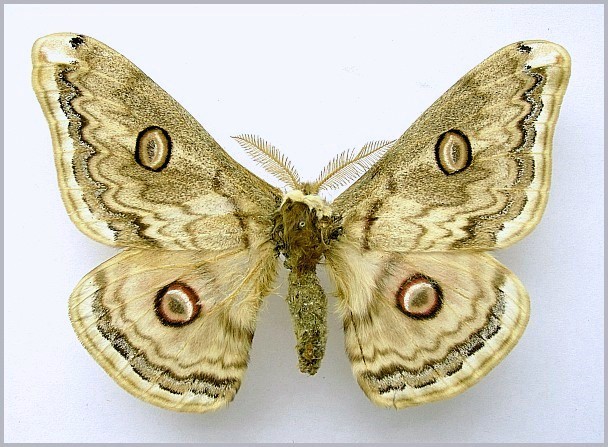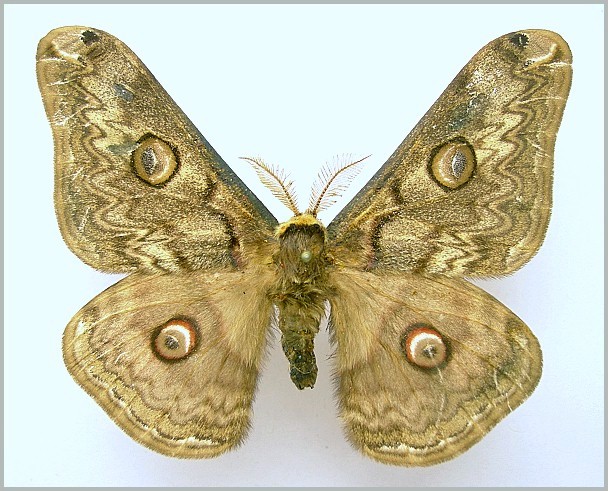 ADULT BIOLOGY
Found up to 2400m altitude.
FLIGHT-TIME
In Afghanistan, late June to early July as one generation. In Kashmir, India, until late July at altitude (5000m).
EARLY STAGES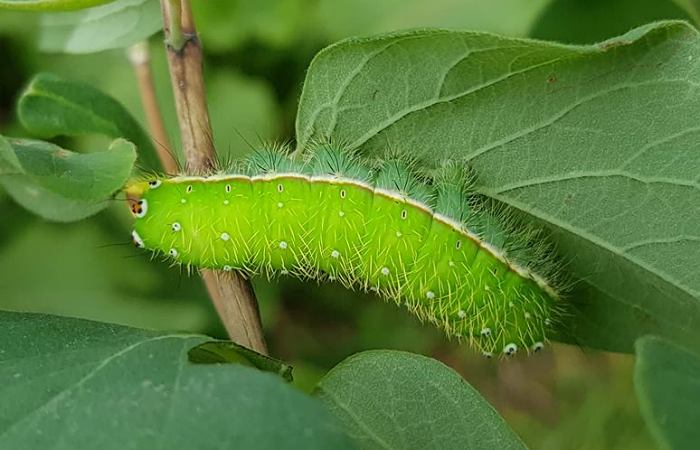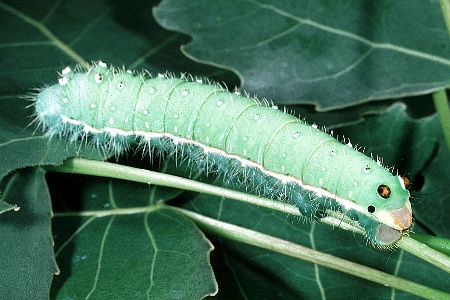 Similar to those of Neoris huttoni Moore, 1862, but with 'eye-like' tubercles on the penultimate segment.
Hostplants. Apparently polyphagous. On Lonicera in Gilgit-Baltistan, Pakistan (Serge Yevdoshenko, pers. comm 2018).
PUPA: No information available.
PARASITOIDS
Unknown.
DISTRIBUTION
Southeastern Afghanistan north to the Salang Pass, Gilgit-Baltistan, and Kashmir.
Extra-limital range. The himalayan foothills of northern India, from Kashmir to Bhutan. It also occurs in southern Tibet\Xizang Province, China, and Nepal.
OTHER SUBSPECIES
None.
---

Return to species list