---
HYLES HIPPOPHAES BIENERTI (Staudinger, 1874)
GB: Seabuckthorn Hawkmoth; Seathorn Hawkmoth, F: Sphinx de l'Argousier, D: Sanddornschwärmer, RU: Oblepikhovyi Brazhnik; Yuzhnyi Brazhnik, H: déli szender, E: esfinge del espino amarillo, FI: Tyrnikiitäjä, IT: sfinge dell'olivella spinosa.

Deilephila bienerti Staudinger, 1874, Stettin. ent. Ztg 35: 91.

Type locality: Shahrud [Imamrud], north-east Iran.
Deilephila bienerti Staudinger, 1874.
Deilephila insidiosa Erschoff, 1874, in Fedtshenko, Reise in Türkestan: 25.
Celerio hippophaes caucasica Denso, 1913, Dt. ent. Z. Iris 27: 35--37.
Celerio hippophaes caucasica Clark, 1922, Proc. New Engl. zool. Club 8: 19.
Celerio hippophaes ornatus Gehlen, 1930, Ent. Z. Frankf., a. M. 44: 174--176.
Celerio hippophaes transcaucasica Gehlen, 1932, in Seitz, Die Gross-Schmetterlinge der Erde 2 (Suppl.): 153.
Celerio hippophaes anatolica Rebel, 1933, Z. oest. EntVer. 18: 23--24.
Celerio hippophaes bucharana Sheljuzhko, 1933, Mitt. münch. ent. Ges. 23: 43.
Celerio hippophaes shugnana Sheljuzhko, 1933, Mitt. münch. ent. Ges. 23: 43.
Celerio hyppophaes malatiatus Gehlen, 1934, Ent. Z., Frankf. a. M. 48: 61.
Celerio hippophaes baltistana O. Bang-Haas, 1939, Dt. ent. Z. Iris 53: 57.
Hyles hippophaes miatleuskii Eitschberger & Saldaitis, 2000, Atalanta 31: 213.
(Taxonomic notes. (i) This subspecies can be very variable in both coloration and size where numerous climatic conditions occur in close proximity to each other, such as in mountainous areas. Many of these forms were described as distinct subspecies but this is not warranted. Subspecies ornatus, transcaucasica, anatolica, bucharana, shugnana, malatiatus, caucasica and baltistana have been synonymized with subsp. bienerti and should be regarded as forms, although there may be some justification in retaining baltistana (semi-isolated in NE Afghanistan, Pakistan and NW India) as a good subspecies. However, Patzold, Marabuto, Daneck, O'Neill, Kitching & Hundsdoerfer (2021) found no evidence for a separate mitochondrial lineage in baltistana, nor consistent phenotypic differences, to separate this taxon from Hyles hippophaes bienerti.
(ii) There is some contact between subsp. Hyles hippophaes hippophaes (Esper, 1789) and subsp. bienerti in the Crimea and in western and southern Turkey. This produces intermediate hybrids, such as f. malatiatus Gehlen, 1934a, and f. kiortsii Koutsaftikis, 1974. The Aegean population is most certainly subsp. hippophaes, but with a trace of subsp. bienerti visible in many examples. Some adults of the Crimean population are intermediate in coloration and pattern between subsp. hippophaes and subsp. bienerti.)
BIOGEOGRAPHICAL AFFILIATION
Holarctic; Palaearctic (both eastern and western subregions). Pleistocene refuge: Polycentric -- Caspian, Iranian, Turanoeremic, Turkestan and Mongoloeremic refugia.
ADULT DESCRIPTION AND VARIATION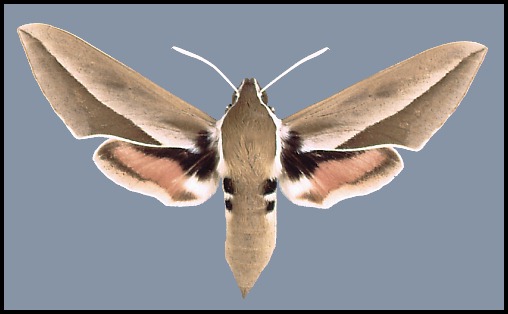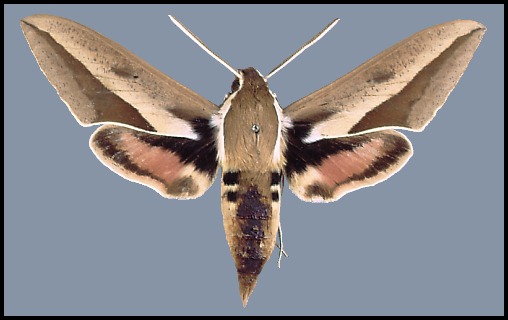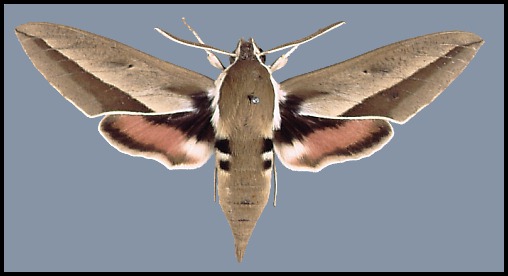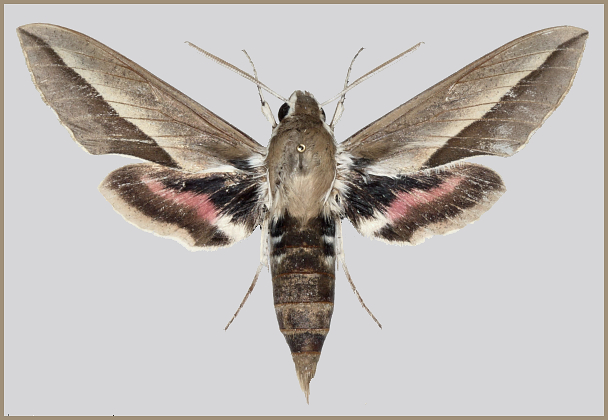 Wingspan: 65--80mm. Can be considerably paler and browner than related subspecies. A pale, oblique median line is noticeable on the underside of the forewing; hindwing patches more orange than red. Some large specimens found above 2000m in north-west Iran and Kashmir tend to f. caucasica in coloration.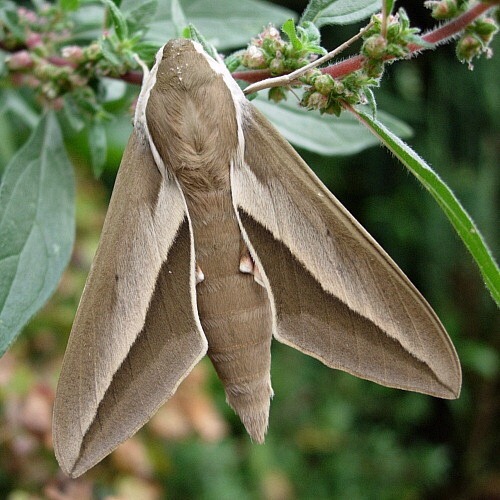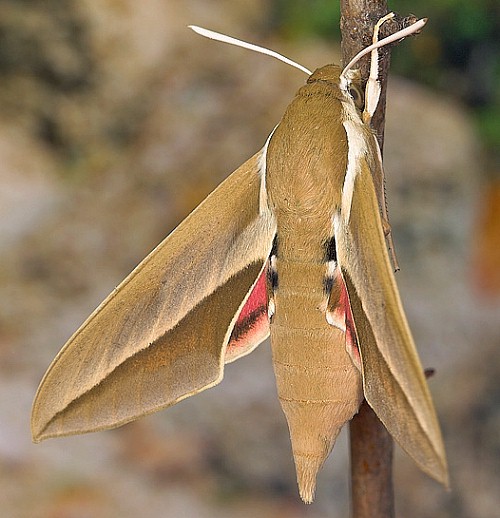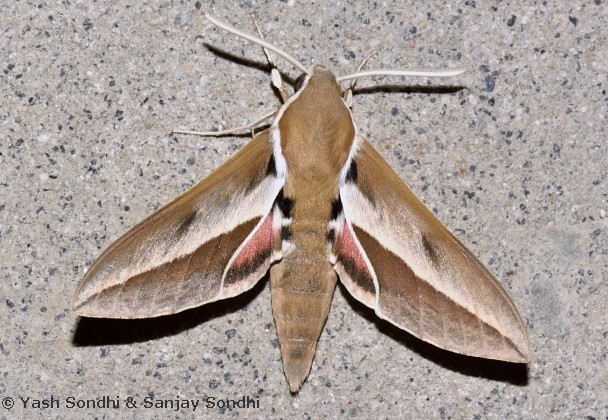 ADULT BIOLOGY
Often common in mountainous, arid steppe, especially along rivers overgrown with Hippophae or Elaeagnus. Although found at any altitude from 400--3000m, most populations occur from 1000--2000m where Hippophae rhamnoides often forms discrete thickets away from rivers. Attracted to the flowers of Cistanche at dusk (Shchetkin, 1956).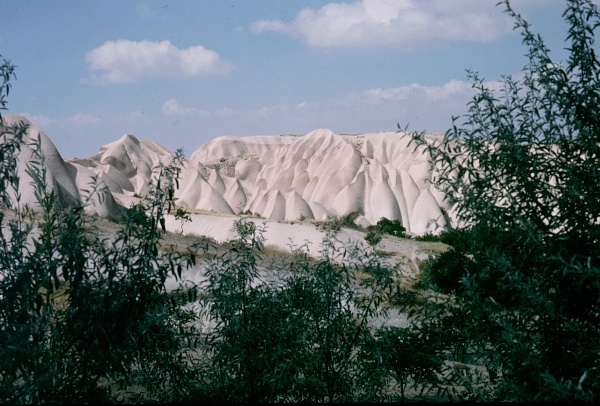 FLIGHT-TIME
April to September, in two or three overlapping generations.
EARLY STAGES
OVUM: As subsp. Hyles hippophaes hippophaes, with up to 500 being laid by each female.
LARVA: Full-fed, 75--85mm. Dimorphic: unstriped or striped.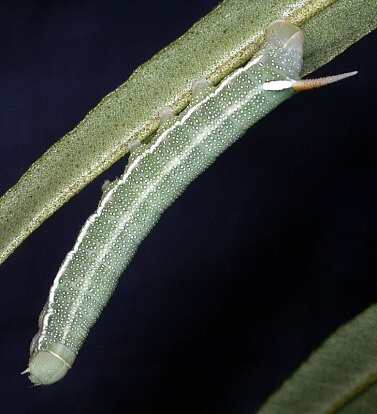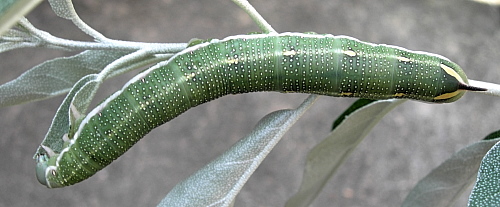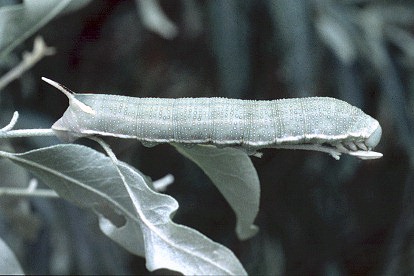 The early stages are very similar to subsp. Hyles hippophaes hippophaes. Fully grown, usually also very similar to those of subsp. hippophaes; however, some are dark green with a dorsal lilac tint on the anterior segments and a broken, white ventro-lateral streak. In others, the basic body colour may even be dark grey/black.
This stage lasts as little as 28 days, during which the larva basks quite openly on the topmost branches of its hostplant.
Often abundant from April to August.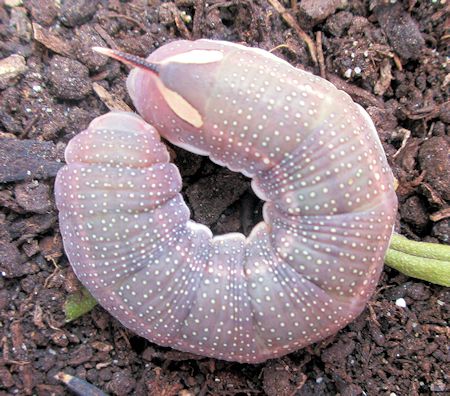 Major Hostplants. Hippophae rhamnoides and Elaeagnus spp., especially Elaeagnus angustifolia and Elaeagnus hortensis in Tajikistan (Shchetkin, 1956). In the Crimea it is found on Elaeagnus argentea (Efetov & Budashkin, 1990).
Minor Hostplants. Possibly species of Daphne (Thymelaeaceae).
PUPA: Similar to subsp. Hyles hippophaes hippophaes; during the summer months it remains in this stage for no more than 20 days. Formed in a chamber in the soil, often up to 10cm deep (Chu & Wang, 1980b). Overwinters as a pupa.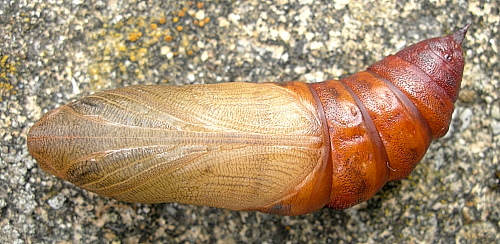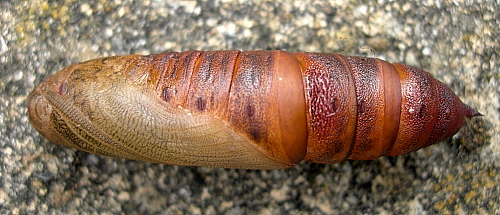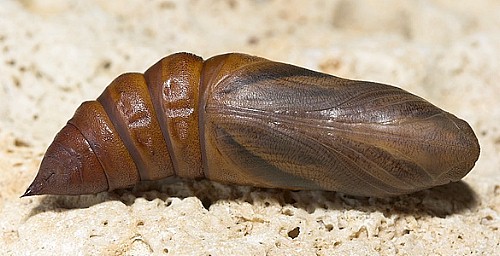 PARASITOIDS
None recorded.
DISTRIBUTION
Central (Rebel, 1933), south-eastern and eastern Turkey (Daniel, 1932; Daniel, 1939; de Freina, 2012; Kemal & Koçak, 2014; Kemal & Koçak, 2016; Koçak & Kemal, 2018), southern Ukraine (Efetov & Budashkin, 1990; Zolotuhin, pers. comm.; Vasilyuk & Inozemtseva, 2003), the Caucasus and southern European Russia (Zolotuhin, pers. comm; Poltavsky, pers. comm. 2003; Anikin, 2004), the Republic of Georgia (Didmanidze, Petrov & Zolotuhin, 2013), Armenia (Wąsala & Zamorski, 2015) and Azerbaijan (Didmanidze, Petrov & Zolotuhin, 2013; Snegovaya & Petrov, 2021), northern and central Iran (Bienert, 1870; Barou, 1967; Kalali, 1976; Ghassemi, Alemansoor & Alehossein, 2009; Lehmann & Zahiri, 2011), Turkmenistan (Danov & Pereladov, 1985) and Uzbekistan (Derzhavets, 1984), the southern Urals to Omsk (Nupponen & Fibiger, 2002; Dubatolov, 2012; Knyazev, 2020), eastern Kazakhstan (Kondratiev coll., NHMUK; Shovkoon, 2015), western Xinjiang Province, China (Pittaway & Kitching, 2000), Tajikistan (Shchetkin, 1956), Afghanistan (Ebert, 1969; Daniel, 1971), northern Pakistan - Gilgit–Baltistan (Khalti Lake, 10.vi.2008), northern Pakistan - Azad Kashmir (Karakoram Mountains, Juglot Valley, 2550m, 26.vii.2011 (leg. Balázs Benedek) (Rafi et al., 2014)), and north-west India - Jammu & Kashmir (O. Bang-Haas, 1939; Sidhu, Nair & Kubendran, 2018) and Himachal Pradesh (Sidhu, Nair & Kubendran, 2018), to the western Tian Shan.
As Elaeagnus angustifolia is widely planted as a hedge and windbreak throughout eastern Europe and Central Asia, this moth has not only expanded its range northwards (Dubatolov, 2012) but may turn up as a vagrant far from its resident range, e.g. the northern Ukraine (Plyushch & Sheshurak, 1997).
The Anatolian plateau forms the western resident limit of this subspecies, although individuals can penetrate as far west as Istanbul.
Extra-limital range. In China, from Xinjiang Province (China) north to the Altai Mountains (Izerskiy, 1999) and eastwards across the provinces of Ningxia, Gansu, Shaanxi and Nei Mongol (Inner Mongolia) to Liaoning (Chu & Wang, 1980b; Pittaway & Kitching, 2000), and also Mongolia (Derzhavets, 1977; Yakovlev & Doroshkin, 2017). From these areas north into Russia to Karasuk (Dubatolov, 2012), the Tuva A.S.S.R. (Viidalepp, 1979; Izerskiy, 1999), the Altai Krai (Yakovlev, Dubatolov & Titov, 2013) and Lake Baikal (Kondratiev coll., NHMUK).
OTHER SUBSPECIES
As subsp. Hyles hippophaes hippophaes (Esper, 1789), northern Spain, southern France, southern Switzerland and northern Italy to Slovenia. Then, as a separate population, Romania, Bulgaria, Moldova, northern Greece, the Aegean Islands and western Turkey.
---

Return to species list