---
SMERINTHULUS WITTI Brechlin, 2000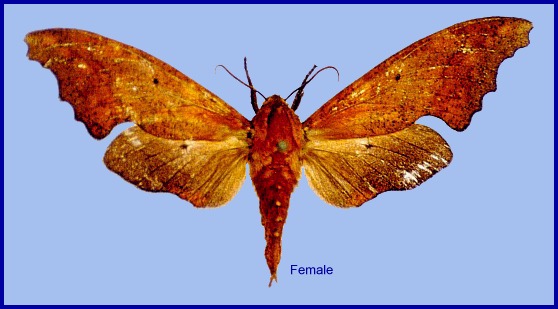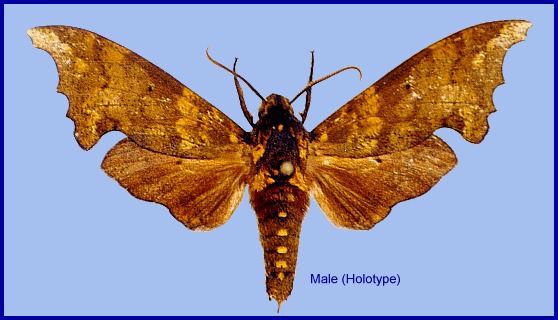 TAXONOMY
Smerinthulus witti Brechlin, 2000, Nachr. ent. Ver. Apollo (N.F.) 21: 103. Type locality: China, Yunnan, Dali Bai Autonomous Prefecture, Yunlong County, Fengshuining Mts, 13km north of Caojian, 25°46'N 99°06'E, 2460m.
ADULT DESCRIPTION AND VARIATION
Smerinthulus witti is immediately recognizable by its large size, a third larger than the largest of Smerinthulus perversa, and the extremely contrasting coloration of the male forewing upperside, on which the most distinctive feature is the sinuate orange-yellow antemedial band (Haxaire, Melichar, Kitching & Brechlin, 2022).
The female of Smerinthulus witti shows the usual differences seen in other species of the genus. It is larger than the male, with broader and more rounded wings. Although the pattern of the underside is exactly the same as that of the male, the upperside of the wings is more uniform, with a more reddish coloration (Haxaire, Melichar, Kitching & Brechlin, 2022).
The male genitalia show several features seen only in this species and the related Smerinthulus arunachalensis Melichar & Haxaire, 2022, and Smerinthulus taiwana Haxaire & Melichar, 2022. The uncus is elongate and tubular, much longer than in other Smerinthulus, with a shallow apical excavation flanked by a pair of short, triangular, strongly sclerotized points. The gnathos is triangular, with straight or slightly convex sides and apically bluntly pointed or truncate. The saccus is short and tubular. The valves are short, broader than long, and the two apical processes are very peculiar. The spatulate ventral lobe is more developed than in all the previous species and is entirely covered by tiny bristles that darken the lobe to give a 'mouse ear' appearance. The terminal claw is short and massive and does not bend around following the edge of the valve, but rather is curved outwards (Haxaire, Melichar, Kitching & Brechlin, 2022).
ADULT BIOLOGY
Unknown.
FLIGHT-TIME
China: v.2022 (Ya'an, Sichuan); vii.2022 (Ya'an, Sichuan).
EARLY STAGES
OVUM: Unknown.
LARVA: Unknown.
PUPA: Unknown.
Larval hostplants. Possibly a species of oak (Quercus sp.).
PARASITOIDS
Unknown.
LOCAL DISTRIBUTION
China: Sichuan (Ya'an); Yunnan (13km N Caojian, 2460m); Guangxi (Jinxiu, Dayao Shan, 1700m).
GLOBAL DISTRIBUTION
Endemic to Sichuan, Yunnan and Guangxi, China.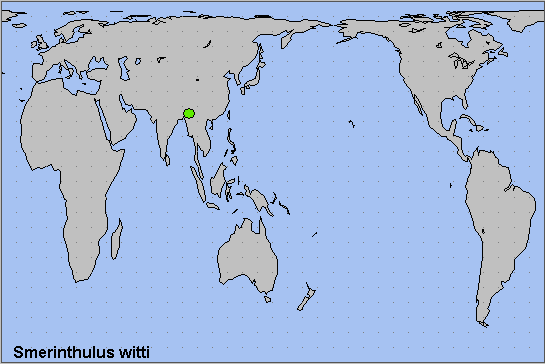 BIOGEOGRAPHICAL AFFILIATION
---

Return to Sphingidae of the Eastern Palaearctic species list
---
© A. R. Pittaway & I. J. Kitching (Natural History Museum, London)