---
SMERINTHUS TOKYONIS Matsumura, 1921 -- Japanese eyed hawkmoth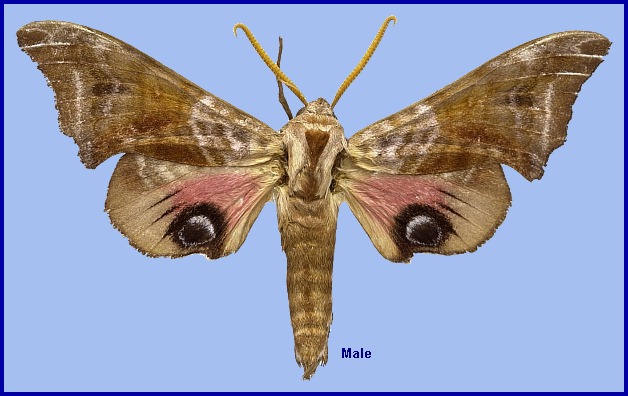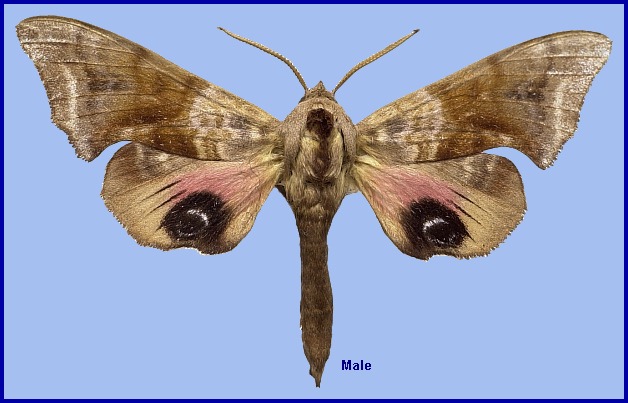 TAXONOMY
Smerinthus tokyonis Matsumura, 1921, Thousand Insects Japan (Additam.) 4: 751. Type locality: Japan: Honshu, Tokyo.
[Further details on this species in Japan, as well as photos of many stages, can be found on Digital Moths of Japan.]
ADULT DESCRIPTION AND VARIATION
ADULT BIOLOGY
A rare montane species.
FLIGHT-TIME
Japan: 14.iv (Honshu, Ibaraki Pref.); 25.iv-21.v (Honshu, Kanagawa Pref.); 8-9.v (Honshu); 18.v-29.vii (Honshu); 6.viii-4.ix (Hokkaido, Nari-gawa); 13.ix (Honshu, Yokohama).
The peak of emergence appears to be in June/July, but individuals can be met with from mid April to mid September, indicating a partial second brood in some years.
EARLY STAGES
OVUM: Undescribed.
LARVA: Very similar to that of Smerinthus ocellata (Linnaeus, 1758), but smaller. Basic body colour apple-green, with seven yellow oblique lateral stripes, that extending down from the lilac-blue horn being very pronounced and more white.
PUPA: Undescribed.
Larval hostplants. Apparently confined to Enkianthus campanulatus (Ericaceae).
PARASITOIDS
Tachinidae: Exorista sorbillans (Wiedemann, 1830).
LOCAL DISTRIBUTION
Japan: Southern Hokkaido (Nari-gawa); Honshu (Tokyo; Kita-Karuisawa; Gozaishodake; Karuizawa; Bushi; Mitsumine; Kiyosato, 1300m; Fujisawa; Yokohama; Yabuki; Toyama; Osaka); Shikoku; Kyushu (Miyasaki; Nagasaki Pref.).
The distribution of this species in Japan is patchy and restricted to certain montane areas. On Honshu, the only confirmed records are from the Prefectures of Fukui, Toyama, Kanagawa, Ibaraki, Fukushima, Chiba, Gifu, Aichi, Mie and Miyagi.
GLOBAL DISTRIBUTION
Endemic to Japan.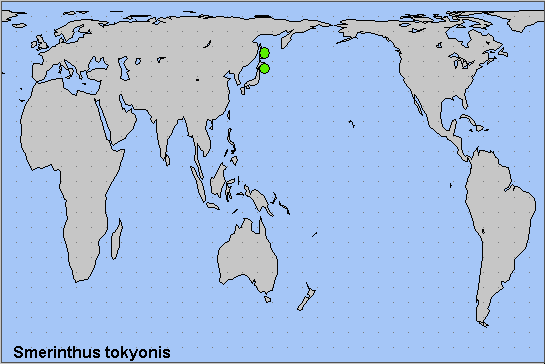 BIOGEOGRAPHICAL AFFILIATION
---

Return to Sphingidae of the Eastern Palaearctic species list
---
© A. R. Pittaway & I. J. Kitching (Natural History Museum, London)