---
SMERINTHULUS PERVERSA PERVERSA (Rothschild, 1895) -- Lichenous hawkmoth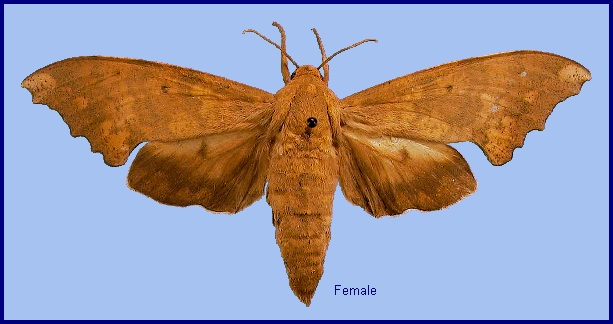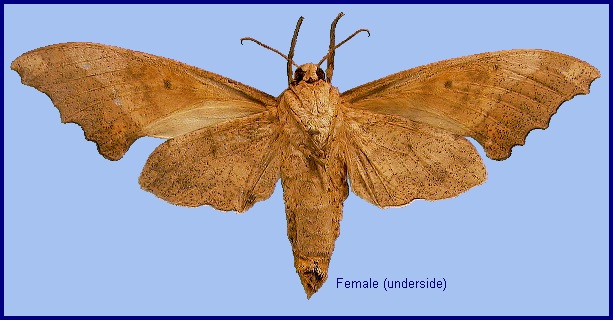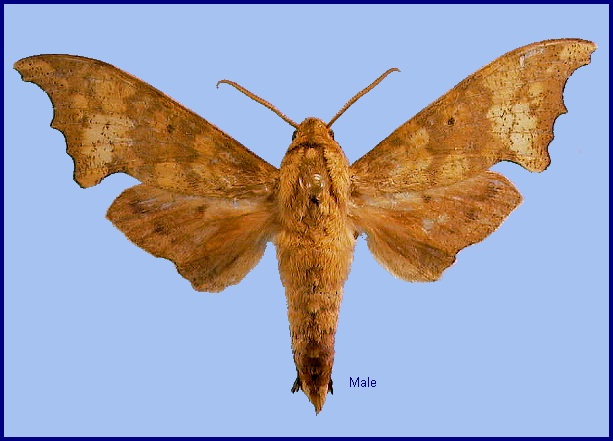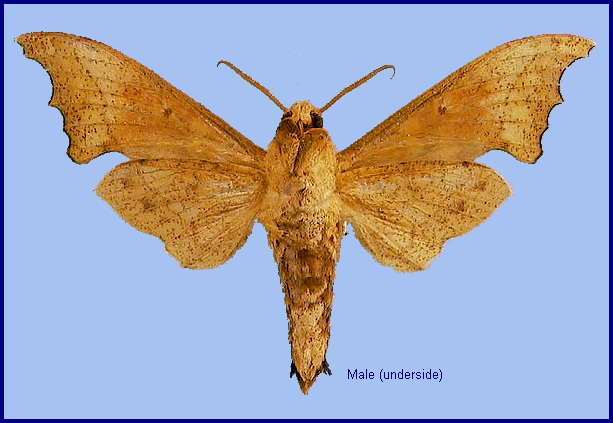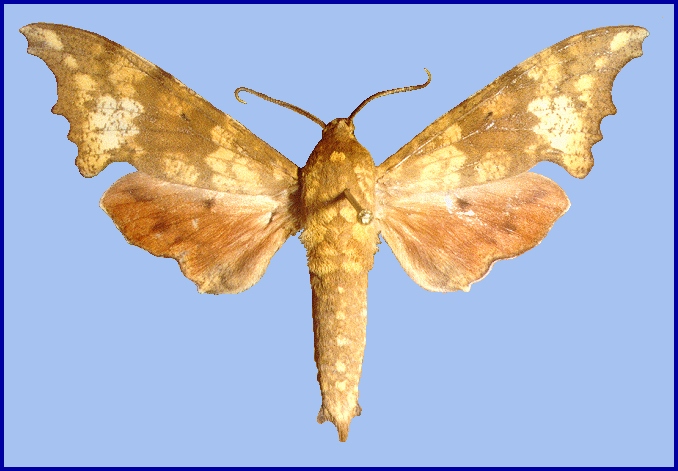 TAXONOMY
Cypa perversa Rothschild, 1895, Novit. zool. 2: 28. Type locality: [India,] Assam [Meghalaya], Khasia Hills [Khasi Hills].
Synonym. Cypa perversa Rothschild, 1895.
Synonym. Smerinthulus doipuiensis Inoue, 1991.
Note. Very similar to Smerinthulus baonganae Brechlin, 2016 from Vietnam.
ADULT DESCRIPTION AND VARIATION
Wingspan: 62--90mm. Larger and more brightly coloured than Cypa decolor; anal angle of forewing more pointed than in that species. In the male, forewing upperside with large creamy postdiscal patch; underside with postdiscal line not prominent. Hindwing cinnamon-red with a blackish submarginal band. Abdomen with black stigma-dots. Thus similar in appearance to Smerinthulus dohrni, but hindwing upperside with a blackish shadowy postdiscal band.
In the male genitalia, uncus broad, constricted at base and in middle, with apex divided into two short pointed lobes. Gnathos with small medial element the apex of which is undivided. Valve with apex excavated and produced into a large spine-like process; basally with two sharp, long teeth and a smaller tooth below these; ventrally folded and with a boot-shaped process above fold. Aedeagus lacking armature. In the female genitalia, tergum A8 crescent-shaped, apical margin strongly rounded. Sterigma large, distal margin emarginated with angles rounded. Ostium bursae proximal and with a low ridge before it.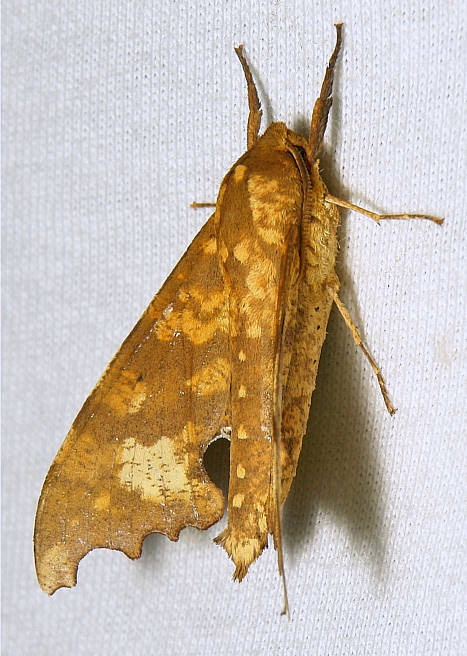 ADULT BIOLOGY
In Nepal in mixed forest at 1550-1700m altitude.
FLIGHT-TIME
China: 28.ii.2013 (Yunnan); 30.iii.2014 (Yunnan); 19.iv.2014 (Yunnan); iv.2022 (Yunnan); 26.v.2017 (Yunnan); vii.2022 (Sichuan).
Mid May in Nepal.
EARLY STAGES
OVUM: Unknown.
LARVA: Unknown.
PUPA: Unknown.
Larval hostplants. Unknown.
PARASITOIDS
Unknown.
LOCAL DISTRIBUTION
China: Sichuan (Pingdijie, nr Panzhihua); Yunnan (Simao/Pu'er; Gaoligong Shan).
GLOBAL DISTRIBUTION
Nepal, northeastern India, Bhutan, northern Burma/Myanmar, southwestern China, northern Laos (Houaphan Province), northern Vietnam and northern Thailand.
In SE Asia, Smerinthulus perversa is an extremely widespread insect and probably the only common species of Smerinthulus at light traps (Haxaire, Melichar, Kitching & Brechlin, 2022).
Barcodes and male genitalia of specimens collected at Yiyang and Ya'an indicate that these populations are closer to the Vietnamese Smerinthulus baonganae Brechlin, 2016, and are not Smerinthulus perversa as originally thought. Further work is needed to unravel this situation (Xu ZhenBang, pers. comm. 2023) and the true distribution of both these species in China.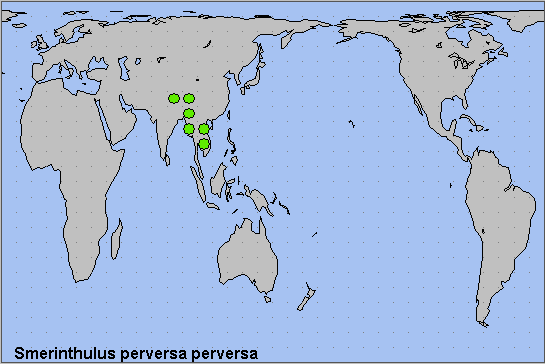 BIOGEOGRAPHICAL AFFILIATION
---

Return to Sphingidae of the Eastern Palaearctic species list
---
© A. R. Pittaway & I. J. Kitching (Natural History Museum, London)