---
SMERINTHUS PLANUS JUENNANUS Mell, 1922 -- Oriental eyed hawkmoth
TAXONOMY
Smerinthus planus f. juennanus Mell, 1922, Beitr. Fauna Sinica 2 (Biol. Syst. sudchin. Sphingiden): 189. Type locality: China, Yunnan, Yunnan-fu [Kunming] to Tali-fu [Dali].
Note. Indications are that this 'subspecies' is no more than a pale high altitude form. Mell (1922a) described Smerinthus planus juennanus from Yunnan. We were unable to examine any Yunnanese material. However, specimens from Sichuan in the CMNH, IZAS and collection of J.-M. Cadiou, as well as those illustrated as Smerinthus planus juennanus by Chu & Wang (1980), are generally greyer than Smerinthus planus planus, with a larger black surround to the hindwing eyespots and a weaker forewing pattern in many. Furthermore, Wang (1988) reported both Smerinthus planus planus and Smerinthus planus juennanus from the Namjagbarwa region of Xizang/Tibet, but recorded the former from Mutu at 850m and the latter from Nyingchi/Linzhi at 3050m. However, it is presently unclear whether this taxon is a valid subspecies or is simply a montane form (Kitching & Cadiou, 2000). The latter may well prove correct because bred pupae of Smerinthus planus planus from Xi'an, Shaanxi, that were chilled produced greyish adults similar to Smerinthus planus juennanus, whereas pupae exposed to dry heat produced typical brownish Smerinthus planus planus (Pittaway & Kitching, 2000).
ADULT DESCRIPTION AND VARIATION
ADULT BIOLOGY
FLIGHT-TIME
EARLY STAGES
OVUM:
LARVA:
PUPA:
Larval hostplants.
PARASITOIDS
LOCAL DISTRIBUTION
China: Yunnan (Dali; Kunming; Dabaoshan, Huaping County)
GLOBAL DISTRIBUTION
Endemic to Yunnan, at altitude.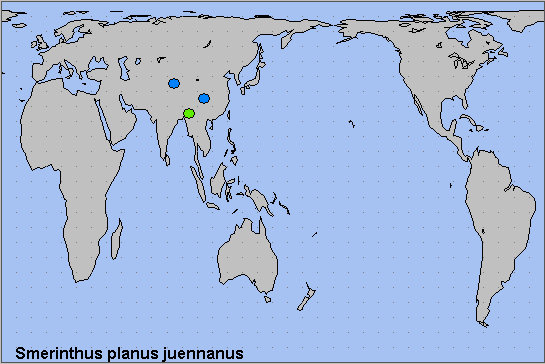 BIOGEOGRAPHICAL AFFILIATION
---

Return to Sphingidae of the Eastern Palaearctic species list
---
© A. R. Pittaway & I. J. Kitching (Natural History Museum, London)