---
SPHINX FORMOSANA Riotte, 1970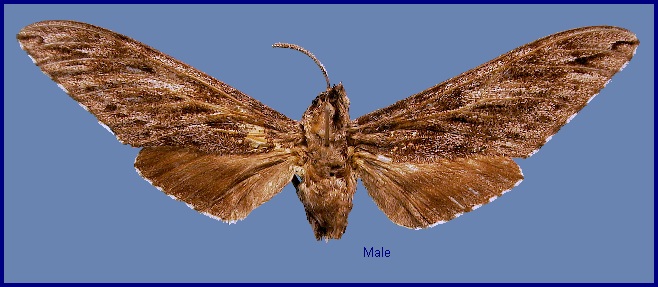 TAXONOMY
Sphinx formosana Riotte, 1970, Ent. Z., Frankf. a.M. 80: 14. Type locality: Central Formosa [Taiwan, Nantou Hsien], Wushai [Jenai].
ADULT DESCRIPTION AND VARIATION
A close relative of Sphinx crassistriga crassistriga (Rothschild & Jordan, 1903) from Japan, but wings much narrower, forewing with apex falcate, hindwing with apex pointed. Forewings with a general dusting of pale grey scales over the upperside.
Male genitalia similar to those of Sphinx crassistriga crassistriga, but: valve more robust; harpe with outer margin dentate at dorsal half, ventral edge more produced; saccus longer; sacculus characteristically with a strongly toothed outer edge; aedeagus sigmoidal, ending in a curved point and with a subapical lateral convexity.
ADULT BIOLOGY
A montane species, occurring above 2000m altitude.
FLIGHT-TIME
Taiwan: vi (Nantou Hsien; Taichung Hsien); 2.vii (Ilan Hsien).
EARLY STAGES
OVUM: Unknown.
LARVA: Unknown.
PUPA: Unknown.
Larval hostplants. Unknown.
PARASITOIDS
Unknown.
LOCAL DISTRIBUTION
Taiwan: Nantou Hsien (Jenai); Ilan Hsien (Taipingshan); Taichung Hsien (Tashiiehshan, Anmashan, 2230m).
GLOBAL DISTRIBUTION
Endemic to the northern central mountains of Taiwan.
Part of the relict eastern Palaearctic fauna of montane Taiwan. Closely related species are found in Japan (Sphinx crassistriga crassistriga Rothschild & Jordan, 1903) and southwest mainland China (Sphinx centrosinaria Kitching & Jin, 1998).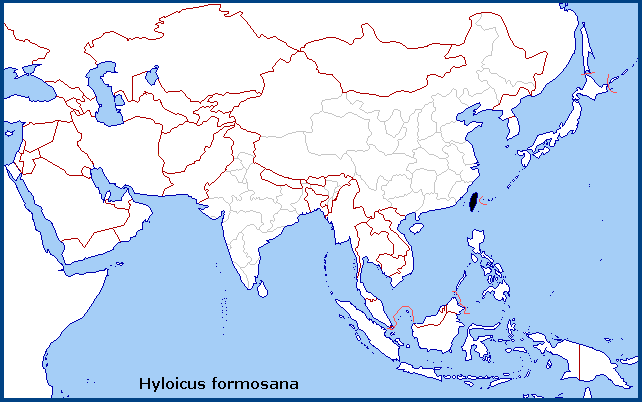 BIOGEOGRAPHICAL AFFILIATION
---

Return to Sphingidae of the Eastern Palaearctic species list
---
© A.R. Pittaway & I.J. Kitching (The Natural History Museum, London)