---
SMERINTHULUS PERVERSA FLAVOMACULATUS Inoue, 1990 -- Lichenous hawkmoth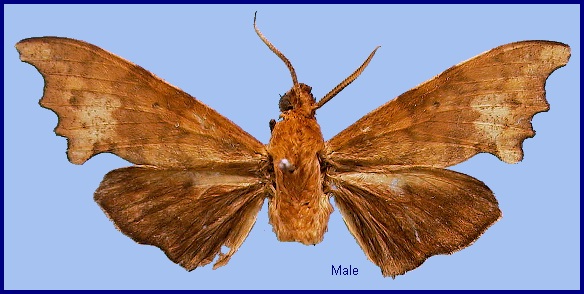 TAXONOMY
Smerinthulus flavomaculatus Inoue, 1990, Tinea 12: 252. Type locality: Taiwan, Nantou Hsien, Lushan Spa, 1200m.
ADULT DESCRIPTION AND VARIATION
ADULT BIOLOGY
FLIGHT-TIME
Taiwan: 14-16.vi (Taichung Hsien); 24-27.viii (Nantou Hsien); 27.ix (Taichung Hsien).
EARLY STAGES
OVUM:
LARVA:
PUPA:
Larval hostplants.
PARASITOIDS
LOCAL DISTRIBUTION
Taiwan: Taipei Hsien; Nantou Hsien (Lushan spa, 1200m; Tsueifeng, 2200m); Kaohsiung Hsien (Shanping, 640m); Taichung Hsien (Kukuan; Anmashan, 1230m).
GLOBAL DISTRIBUTION
Endemic to Taiwan.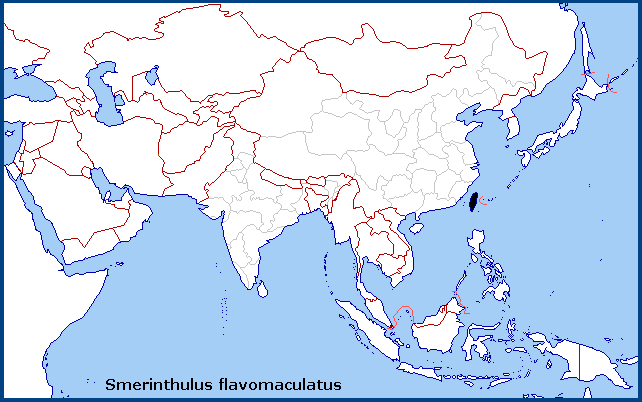 BIOGEOGRAPHICAL AFFILIATION
---

Return to Sphingidae of the Eastern Palaearctic species list
---
© A.R. Pittaway & I.J. Kitching (The Natural History Museum, London)