---
SMERINTHULUS FLAVOMACULATUS Inoue, 1990 -- Lichenous hawkmoth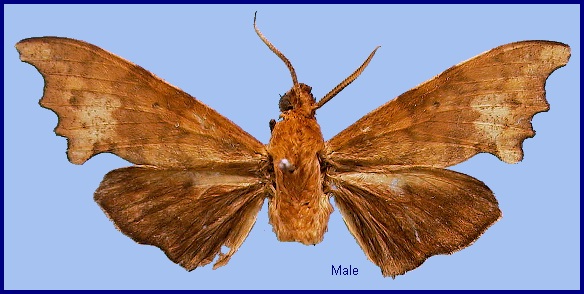 TAXONOMY
Smerinthulus flavomaculatus Inoue, 1990, Tinea 12: 252. Type locality: Taiwan, Nantou Hsien, Lushan Spa, 1200m.
Synonym. Smerinthulus perversa subsp. flavomaculatus Inoue, 1990.
Note. Synonymized with Smerinthulus perversa as a subspecies by Kitching & Cadiou, 2000, Hawkmoths of the World: 66. Re-instated as a species by Haxaire, Melichar, Kitching & Brechlin, 2022, European Ent. 14(1+2): 10, based on genitalial differences, as well as a mtDNA barcode that is much more divergent than is seen among the subspecies of Smerinthulus perversa.
ADULT DESCRIPTION AND VARIATION
ADULT BIOLOGY
Unknown.
FLIGHT-TIME
Taiwan: 14-16.vi (Taichung Hsien); 9.viii (Nantou Hsien); 12.viii (Kaohsiung Hsien); 24-30.viii (Nantou Hsien); 18.ix (Yilan Hsien); 27.ix (Taichung Hsien); 7.xii (Nantou Hsien).
EARLY STAGES
OVUM: Unknown.
LARVA: Unknown.
PUPA: Unknown.
Larval hostplants. Unknown.
PARASITOIDS
Unknown.
LOCAL DISTRIBUTION
Taiwan: Taipei Hsien; Nantou Hsien (Lushan spa, 1200m; Xinyi township, 2300m; Jenai township; Ren'ai township, Huisun Forest Farm, 800m; Wuling Farm/Sakuma Pass); Kaohsiung Hsien (Shanping, 640m; Jongjhihguan, 1934m); Taichung Hsien (Kukuan; Anmashan, 1230m); Yilan Hsien (Cueifong Lake, Taipingshan National Forest Recreation Area, 2000m).
GLOBAL DISTRIBUTION
Endemic to Taiwan.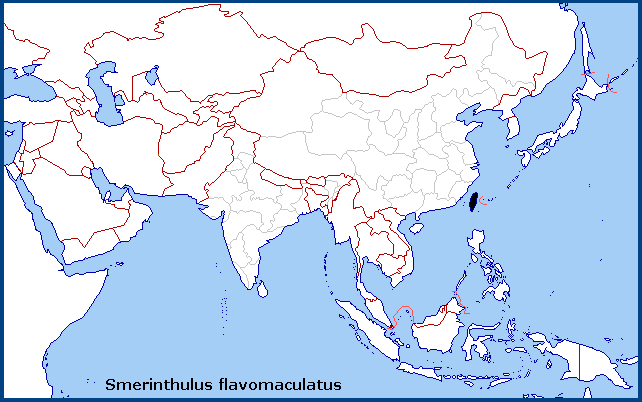 BIOGEOGRAPHICAL AFFILIATION
Holarctic; eastern Palaearctic region. Pleistocene refuge: Monocentric -- Taiwan refugium.
---

Return to Sphingidae of the Eastern Palaearctic species list
---
© A. R. Pittaway & I. J. Kitching (Natural History Museum, London)