---
SPHINX CRASSISTRIGA AINO Kishida, 1990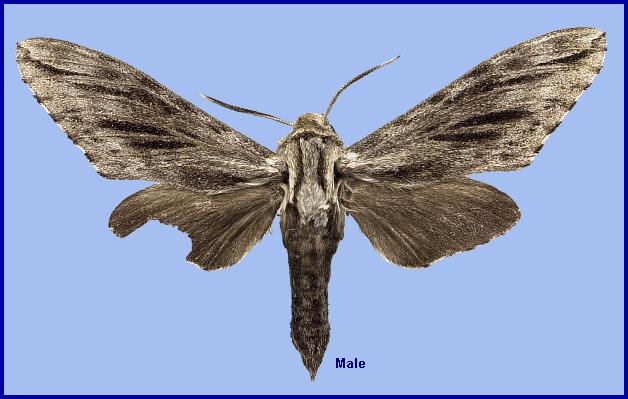 TAXONOMY
Sphinx crassistriga aino Kishida, 1990, Gekkan-Mushi 231: 10. Type locality: Japan: Hokkaido, Shari-gun, Koshi-mizu-cho.
ADULT DESCRIPTION AND VARIATION
Differs from Sphinx crassistriga crassistriga in being smaller; forewing upperside tinged with bluish grey, and the two black streaks posterior to veins M3 and Cu1 narrower but more conspicuous.
ADULT BIOLOGY
FLIGHT-TIME
Japan: 11.iv (Hokkaido); 15.v (Hokkaido (Shari-gun)); 14.vi-31.vii (Hokkaido). The peak is from late June to mid/late July (Masui, 2012), indicating a single annual brood in most years.
EARLY STAGES
OVUM:
LARVA:
PUPA: 30--40mm. Very similar to that of Sphinx pinastri, except that the free tongue-case is replaced by a small, blunt knob.
Larval hostplants. Larvae have been found on pines (Pinus sp.), but there are also records from Larix and Abies (Masui, 2012).
PARASITOIDS
LOCAL DISTRIBUTION
Japan: Hokkaido (Shari-gun (Koshi-mizu-cho; Miwa-cho); Nukabira Tokachi; Tokachi; Sorachi, Yamabe village; Chitose; Fujishiro; Nari-gawa).
GLOBAL DISTRIBUTION
Endemic to Hokkaido, Japan.
BIOGEOGRAPHICAL AFFILIATION
---

Return to Sphingidae of the Eastern Palaearctic species list
---
© A.R. Pittaway & I.J. Kitching (The Natural History Museum, London)