---
RHODAMBULYX XINYUAE Xu, Melichar & He, 2022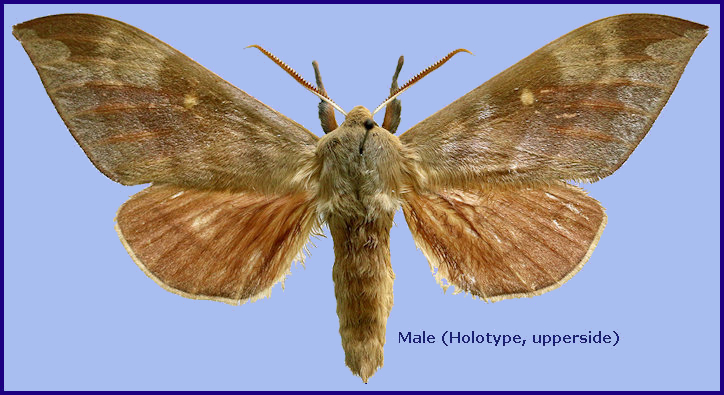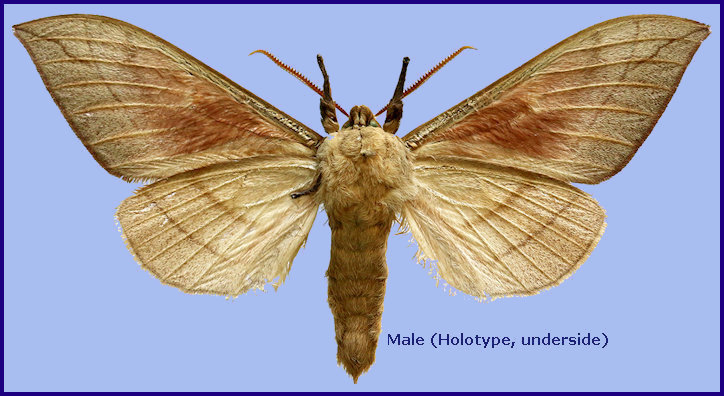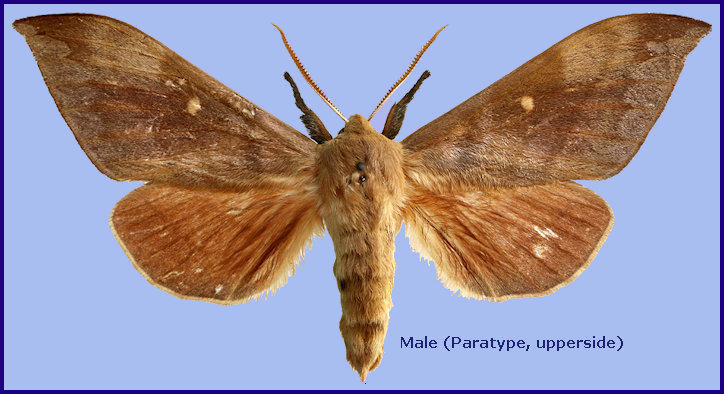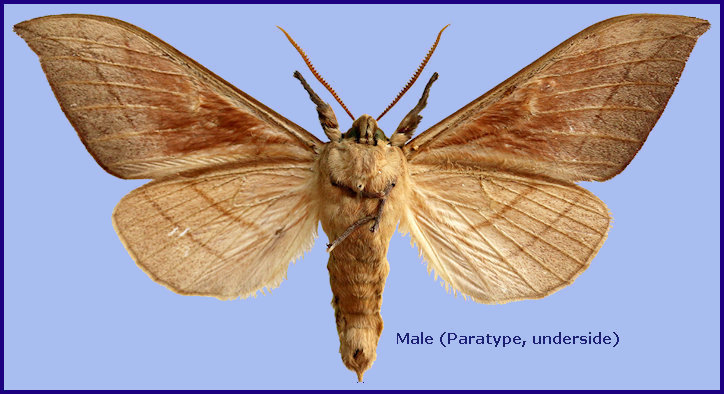 TAXONOMY
Rhodambulyx xinyuae Xu, Melichar & He, 2022, Zootaxa 5105(1): 53. Type locality: China, SW Chongqing, Jiangjin District, Simianshan National Scenic Resort, Dawopu.
Note. The genus was originally established for a single species, Rhodambulyx davidi Mell, 1939, described from Fujian, China, and which has since also been found in Guizhou, Hunan, Guangxi and Guangdong. Subsequently, four more species have been described: Rhodambulyx schnitzleri Cadiou, 1990 from Doi Inthanon, Chiang Mai, Thailand (also found in western Yunnan (Chen & Ou, 2008) and northern Laos); Rhodambulyx hainanensis Brechlin, 2001 from the Wuzhi Shan, Hainan (currently endemic to the mountains of Hainan Island); Rhodambulyx haxairei Melichar, Řezáč & Horecký, 2014 from the Ba Na Hills near Da Nang south to Lam Dong, Vietnam; and Rhodambulyx kitchingi Brechlin, 2015 (from the mountains of central Vietnam). In addition, Eitschberger & Nguyen (2017) described Rhodambulyx namvui from the border hills of northern Vietnam, but this was later synonymized with Rhodambulyx kitchingi by Eitschberger (2018) without stating any reasons for so doing (Xu, Melichar, He, Zhang, Zhang, Feng & Hu, 2022).
Note. The Kimura two-parameter (K2P) genetic distance (calculated from DNA COI barcode sequences) between Rhodambulyx xinyuae and Rhodambulyx kitchingi Brechlin, 2015 is small (2.16%) for two species of Smerinthini. This is well below the threshold normally required to separate many Smerinthini at the species level (which often exceeds 4%). Indeed, maximum intraspecific divergences within species of this tribe can be even higher, e.g., Smerinthus szechuanus (5.15%), Laothoe populi (5.65%) and Smerinthus kindermannii (6.59%), where the higher-end divergences are associated only with subspecific differentiation at most. However, Xu et al. (2022) considered that the evidence from the morphological analyses of the genital structures and wing patterns, and the monophyly shown in the phylogenetic analysis, was sufficient for Rhodambulyx xinyuae to be treated as a good species and not as a subspecies of Rhodambulyx kitchingi.
ADULT DESCRIPTION AND VARIATION
Forewing length 39-42 mm, ground colour brownish,with some individuals more reddish. Body brownish. Antenna about one-third of forewing length, beige with brownish pectinations. Forewing upperside: Ground colour brownish-beige, with three transverse darker brown bands overlain by a faintly silvery sheen. Discal spot creamy yellow. Subapical patch paler, running from costa to vein M3, crossed by the postdiscal band, immediately adjacent to which is a brownish apical patch. Terminal band inwardly wavy with silvery sheen. Forewing underside: Light buff-brown peppered with darker scales, basal half covered with reddish hair forming a patch. Discal band darker, running from costa into the basal reddish patch. Submarginal line rather thin, Y-shaped running from apex and costa to cell CuA1, bifurcating in cell M1. Hindwing upperside: Ground colour brownish-red. Darker postmedial line rather obscure. Narrow black outer margin fades inwardly. Hindwing underside: Postmedial and submarginal bands brownish-red, distinctly delineated. Cilia creamy yellow (Xu, Melichar, He, Zhang, Zhang, Feng & Hu, 2022).
Male genitalia heavily sclerotized. Tegumen and vinculum broad, the latter with a very short saccus; uncus broadest at base, elongate, gradually narrowing towards a slightly bifurcate tip; apical third ventrally with a median ridge that bifurcates into two apical ridges, and which is individually variable in shape. Valve broad in basal half, nearly rectangular, elongate and more membranous in the distal half, covered with dense setae, harpe triangular, broad at base and gradually narrowed, then abruptly upturned into hooked tip. Juxta thin, rising from base of valve. Aedeagus of moderate length, straight; basal half narrower, distal half approximately of equal width; tip pointed with smooth cornuti (Xu, Melichar, He, Zhang, Zhang, Feng & Hu, 2022).
Rhodambulyx xinyuae is similar to Rhodambulyx davidi Mell, 1939. However: (1) The delimited subquadrate creamy yellow patch on the forewing in Rhodambulyx xinyuae is more evident than that in Rhodambulyx davidi. (2) The postdiscal band of the forewing upperside in Rhodambulyx xinyuae is straighter than that in Rhodambulyx davidi. (3) The postmedial and submarginal bands on hindwing underside of Rhodambulyx xinyuae are more distinct than those of Rhodambulyx davidi. (4) The narrow black outer margin of the hindwing fades inwardly in Rhodambulyx xinyuae, which is not obvious in Rhodambulyx davidi. In male genitalia, the diagnostic differences are: (1) The pointed triangular tip in the uncus of Rhodambulyx davidi is far less obvious, appearing almost rounded. (2) The harpe is sharper in Rhodambulyx davidi than in Rhodambulyx xinyuae (Xu, Melichar, He, Zhang, Zhang, Feng & Hu, 2022).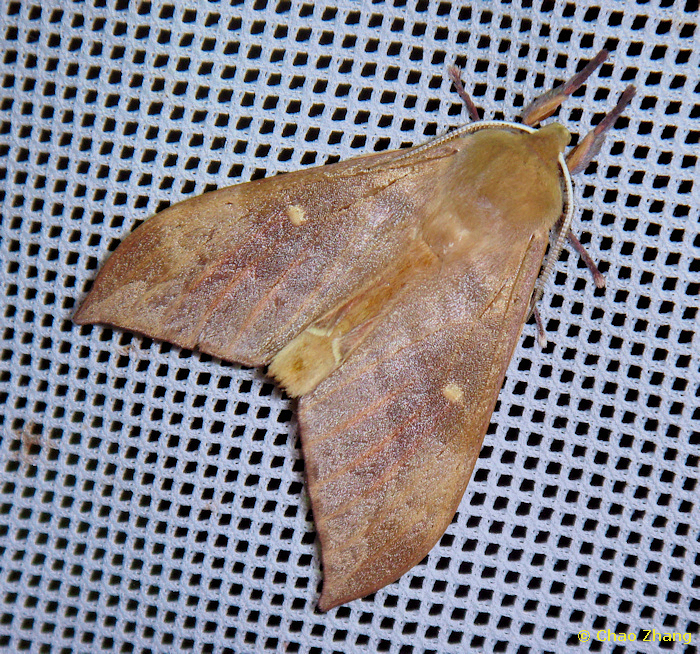 ADULT BIOLOGY
Nothing known except that it flies during late February and early March at 1200-1300m altitude in damp, foggy, subtropical evergreen broad-leaved forest (Xu, Melichar, He, Zhang, Zhang, Feng & Hu, 2022).
FLIGHT-TIME
China: 22.ii-3.iii (Simian Mountain National Scenic Resort, Chongqing).
EARLY STAGES
OVUM: Unknown.
LARVA: Unknown.
PUPA: Unknown.
Larval hostplants. Unknown.
PARASITOIDS
Unknown.
LOCAL DISTRIBUTION
China: Chongqing (Simian Mountain National Scenic Resort).
Rhodambulyx xinyuae is only known from its type locality, and its full geographic range is thus still unclear. It is the northernmost species of the genus, relatively isolated from the other species, which occur further south in southern China and northern Indochina. The presence of a species of Rhodambulyx in this region of southern Chongqing may be attributable to the Simian Mountains being a transition zone between the Yunnan-Guizhou Plateau and the Sichuan Basin. By reason of a favorable climate and sufficient rainfall, the entire zone is clothed in luxuriant subtropical evergreen broad-leaved forest suitable for these tropical hawkmoths (Xu, Melichar, He, Zhang, Zhang, Feng & Hu, 2022).
GLOBAL DISTRIBUTION
So far, only known from southwestern Chongqing, China.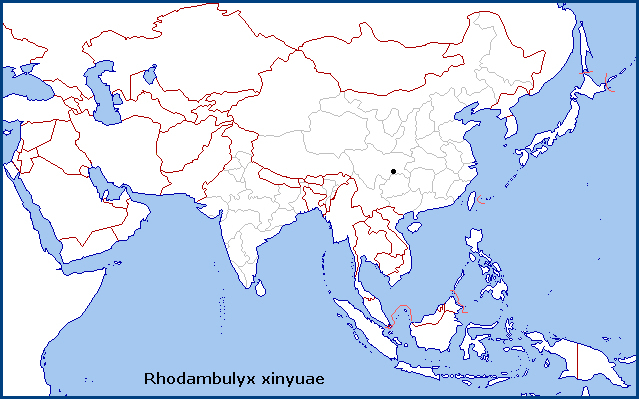 BIOGEOGRAPHICAL AFFILIATION
Unknown.
---

Return to Sphingidae of the Eastern Palaearctic species list
---
© A. R. Pittaway & I. J. Kitching (Natural History Museum, London)