---
RHAGASTIS MONGOLIANA (Butler, [1876])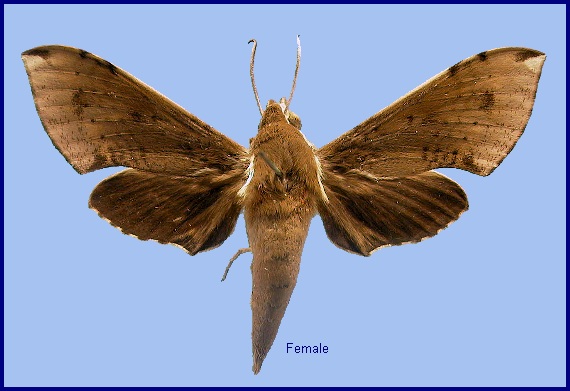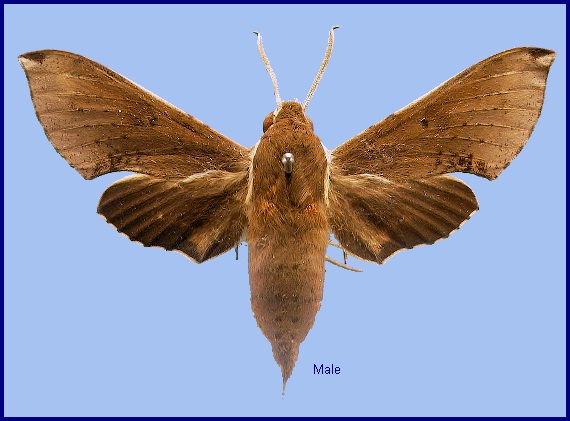 TAXONOMY
Pergesa mongoliana Butler, [1876] 1875, Proc. zool. Soc. Lond. 1875: 622. Type locality: "Nankow Pass between China and Mongolia" [this is the rail pass through the Great Wall, northwest of Beijing; the 'Mongolia' referred to is Inner Mongolia (Nei Mongol)].
Synonyms. Pergesa mongoliana Butler, [1876].
Synonyms. Rhagastis mongoliana pallicosta Mell, 1922.
Note. Rhagastis mongoliana centrosinaria Chu & Wang is a synonym of Rhagastis albomarginatus dichroae Mell (Kitching & Cadiou, 2000).
[Further details on this species in Japan, as well as photos of many stages, can be found on Digital Moths of Japan.]
ADULT DESCRIPTION AND VARIATION
Wingspan: 47--63mm. Forewing outer margin more convex than in other species of Rhagastis, except Rhagastis lambertoni, which is easily distinguishable by the strongly falcate forewing apex. Forewing upperside with four postmedian lines (or rows of vein dots) that are more distinct posteriorly, beyond which are two small pale brown patches between Rs4 and M1, and M3 and Cu1, with a similar patch at the wing apex; fringe distinctly black and white spotted. In some specimens, the outer postmedian area is buff-coloured near the costal and inner margins, as in Rhagastis acuta, Rhagastis castor aurifera and Rhagastis velata. Forewing underside with brown submarginal band dilated posterior to vein M2, mostly reaching the basal area. Hindwing underside without a small black discal spot. Labial palp segment 1 apical cavity vestigial; segment 2 about as long as broad, not narrowed to base. Metanotum with a conspicuous tawny patch at each side. Upperside of abdomen without a pair of lateral golden stripes. Outer row of forebasitarsal spines doubled and trebled.
In the male genitalia, harpe slender, somewhat sigmoid. Aedeagus intermediate between Rhagastis velata and Rhagastis castor aurifera; the left process more slender and multidentate near the proximal edge; the right process long, also multidentate at and near the proximal edge, especially near the apex.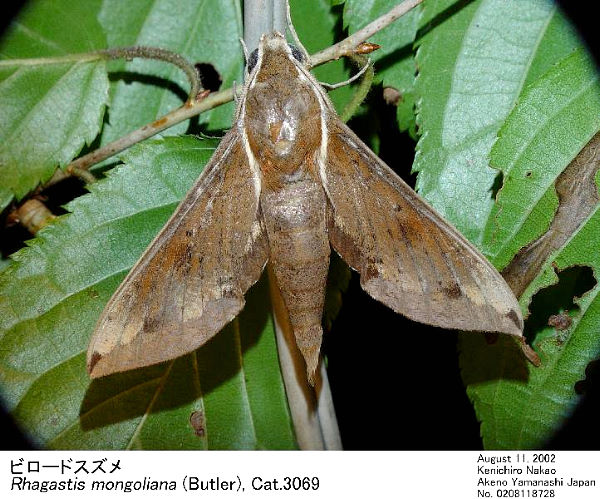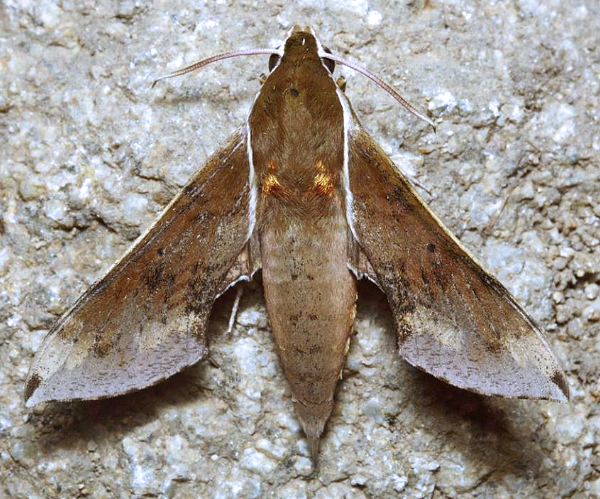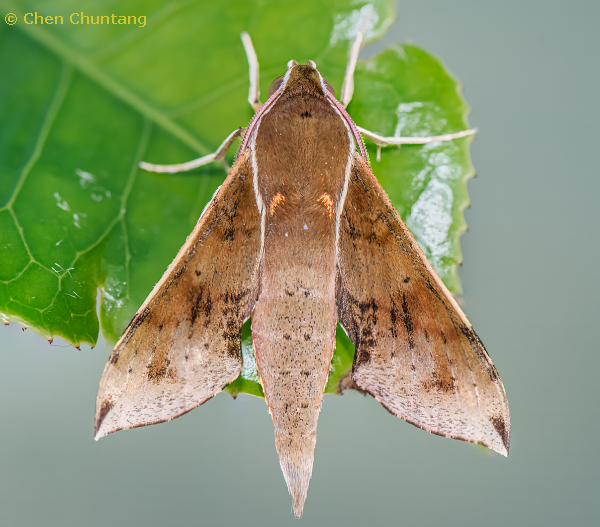 ADULT BIOLOGY
A woodland species in the Russian Far East, with females active from 23.10h until 01.30h, males from 00.20h until 02.30h (Izerskiy, 1999b).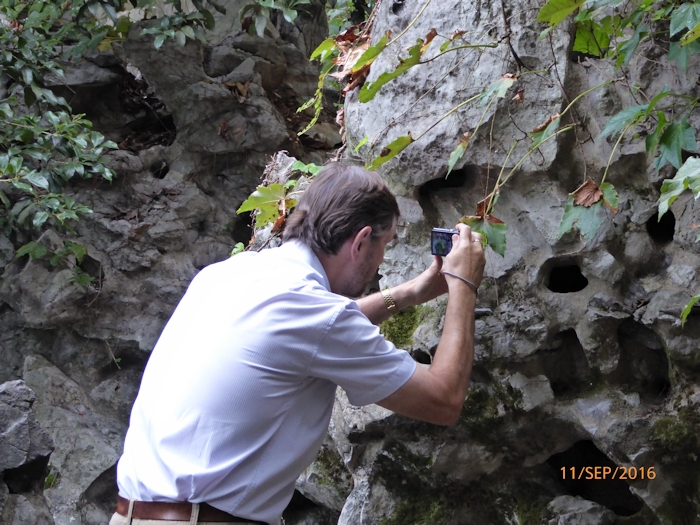 FLIGHT-TIME
China: v-viii (Jiangxi); 21-24.v (Zhejiang); 25.v (Shanghai); 29.v-2.vi (Hunan); 20.vi (Beijing); 24.vi.-11.vii (Zhejiang); 10.viii (Fengning, north of Beijing); 14.viii (Zhejiang). South Korea: 12.vii. Japan: 1.v-10.vii (Yakushima); 15.v-27.vi (Honshu; Kyushu; Shikoku); 15.vii-31.viii (Takushima; Honshu). Russia: 22.vi-20.vii (Khabarovskiy Krai); 22.vi-1.viii (Primorskiy Krai).
In northeastern China, there are two generations a year, with adults flying between late April and August (Yang, 1978). Larvae are usually found in June and September (Chu et al., 1979).
Park et al. (1999) give early May until late August as the flight period in Korea.
EARLY STAGES
OVUM: 1.5 x 2.00mm.
LARVA: Full-fed 47--84mm.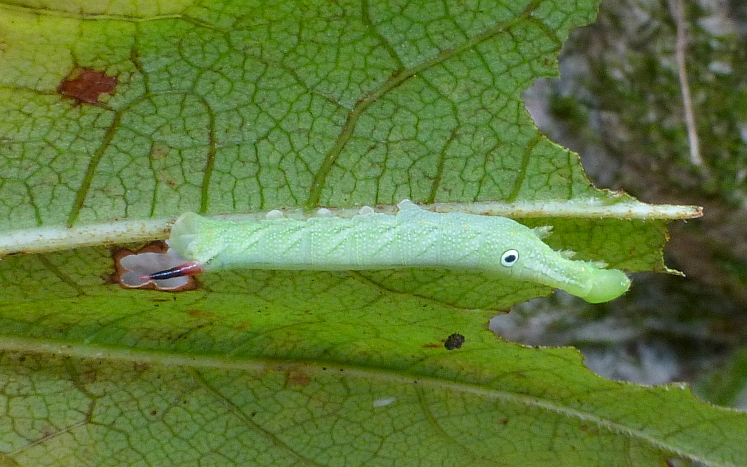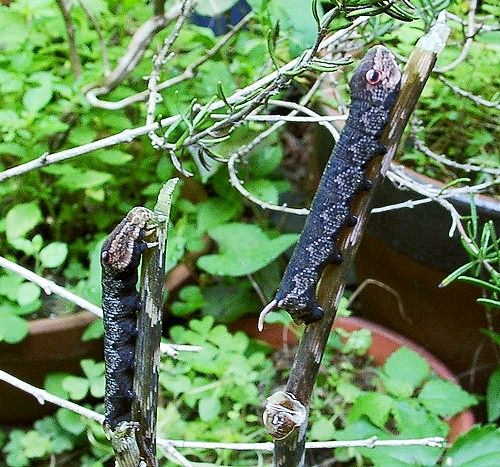 PUPA:

Larval hostplants. Recorded in China on Berberis, Cayratia, Impatiens, Polygonum, Parthenocissus tricuspidata and Vitis (Mell, 1922b; Yang, 1978; Chu & Wang, 1980). Records on Hedera nepalensis var. sinensis (Yang, 1978) and Viburnum macrocephalum (Wang, 1992) are certainly erroneous.
Recorded on Taiwan from Impatiens walleriana, Arisaema ringens and Psychotria serpens.
Recorded in Japan on Cayratia japonica, Impatiens balsamina (Nozakai & Miyata, 1989), Zantedeschia aethiopica and Parthenocissus tricuspidata.
Recorded in Korea on Impatiens balsamina and Galium verum var. asiaticum (Park et al., 1999).
Recorded from the Russian Far East on Vitis amurensis (Izerskiy, 1999b; Koshkin et al, 2021).
Recorded elsewhere on Cissus, Damnacanthus, Galium, Oenothera and Parthenocissus.
PARASITOIDS
Ichneumonidae: Amblyjoppa cognatoria (Smith, 1874); Tachinidae: Exorista sorbillans (Wiedemann, 1830).
LOCAL DISTRIBUTION
China: Heilongjiang; Liaoning (Changhai, Dachangshan Island); Beijing (Nankow Pass/Xuanhua; Baihua Shan; Badaling National Forest Park); Shanxi (Taiyuan); Qinghai (Nangqian County); Anhui (Mt. Huang Shan); Shanghai; Zhejiang (Tianmu Shan; Hangzhou; Kuocang Mountain Nature Reserve); Hubei (Lichuan); Sichuan (Kangding; Pengshui); Guizhou; Hunan (Cili); Jiangxi (Jiujiang); Fujian (Longqi Shan); Guangdong (Guangzhou; NanLing National Forest Park); Guangxi; Hainan.
Taiwan: Taipei (Yangmingshan; Sindian); Kaohsiung Hsien (Shanping); Nantou Hsien (Jenai); Tainan Hsien (Kuantzuling); Taipei Hsien (Fushan; Wulai).
Mongolia.
North Korea: Kangwon Province (Keumgang-san); Kyonggi Province (Gaeseong/Kaesong).
South Korea: Baengnyeong-do & Daecheong-do; Seoul; Kyonggi Province; Kangwon Province; North Chungchong Province; South Chungchong Province; North Cholla Province; South Cholla Province; North Kyongsang Province; South Kyongsang Province; Cheju Province
Japan: Honshu (Tokyo; Nashimoto; Yokohama; Mikaboyama, 750m; Yunotaira Spa; Nii-jima; Ikura; Bushi; Akana; Ohara); Shikoku (Chunan; Shioemachi); Kyushu (Kitakyushu; Mt. Takakuma); Yakushima (Aikodake; Kuromidake; Kusukawa; Miyanoura); Tsushima (Izuhara).
Russia: Amurskaya (Arkhara area, 4.5 km NW Rachi railway station); Khabarovskiy Krai (Bolshekhekhtsyrskii Nature Reserve, Khabarovsk suburbs; Bikin area; Imeni Lazo area; Anyuysky National Park); Primorskiy Krai (Kaymanovka; Vladivostok; Jankowski Peninsula; Khasan; Primorskiy; Kedrovaya Pad Nature Reserve; Ussuriysk; near Zanadvorovka; Andreevka).
GLOBAL DISTRIBUTION
Found throughout China, north to Mongolia (Puntsagdulam et al., 2005), Korea, and Amurskaya and Primorskiy Krai, Russia, and east to Taiwan and Japan.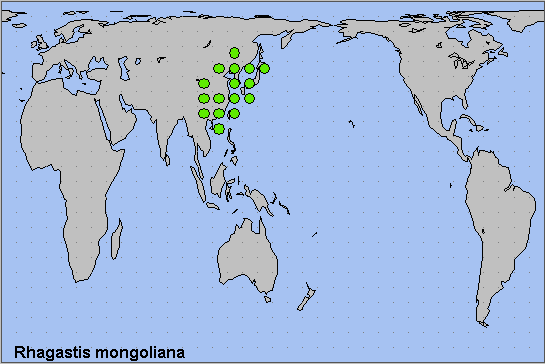 BIOGEOGRAPHICAL AFFILIATION
Holarctic; eastern Palaearctic region.
---

Return to Sphingidae of the Eastern Palaearctic species list
---
© A. R. Pittaway & I. J. Kitching (Natural History Museum, London)