---
RHAGASTIS GLORIOSA (Butler, 1875) -- Crimson mottled hawkmoth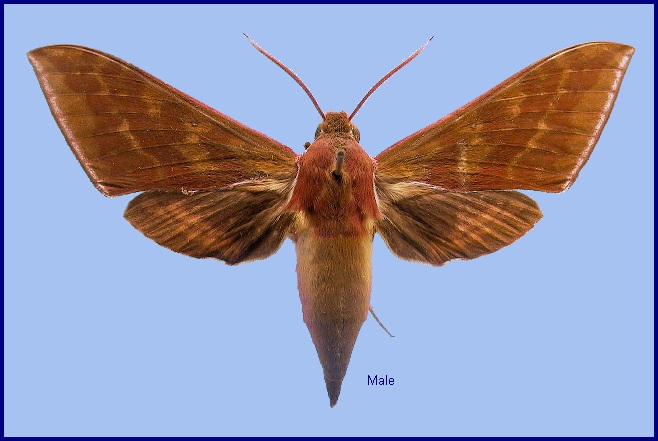 TAXONOMY
Pergesa gloriosa Butler, 1875, Proc. zool. soc. Lond. 1875: 246. Type locality: [India, West Bengal,] Darjiling [Darling].
Synonyms. Pergesa gloriosa Butler, 1875.
Synonyms. Rhagastis gloriosa orientalis Bryk, 1944.
Synonyms. Rhagastis yunnanaria Chu & Wang, 1980, Acta zootaxon. sin. 5: 422. Type locality: China, Yunnan, Jinping.
ADULT DESCRIPTION AND VARIATION
Wingspan: 82--92mm. An unmistakable species with the olive-green forewing overlain by broad, dark red and partially merged transverse bands. Head, and thorax and abdomen mesially, olive-green; antenna, palpus and sides of thorax and abdomen crimson. Forewing olive-green; costa, antemedian, median, postmedian and submarginal maculate irregular bands crimson; outer margin darker olive; a marginal pale pink line; cilia crimson; a black speck at end of cell. Hindwing smoky-black suffused with blood red towards outer margin. Underside of palpus, head, body and wings rosy-red, forewing with a black patch towards base; both wings with three transverse waved lines. Second segment of labial palp not narrowed towards base; segment 1 apical cavity distinct. Outer row of forebasitarsal spines simple (Bell & Scott, 1937).
In the male genitalia, uncus weakly dilated apically, slightly sinuate. Gnathos narrow, obtusely pointed. Valve with about 6 very large stridulatory scales. Harpe slender, horizontal, slightly spatulate in dorsal view, weakly upcurved apically. Aedeagus similar to Rhagastis olivacea, the left process short and broad.
ADULT BIOLOGY
FLIGHT-TIME
China: v (Songzhishanding); 14.v (Jinping); 24-26.v (Xiaguan); 12.vi (Xima).
EARLY STAGES
OVUM: Unknown.
LARVA: Unknown.
PUPA: Unknown.
Larval hostplants. Unknown.
PARASITOIDS
Unknown.
LOCAL DISTRIBUTION
China: Yunnan (Xiaguan, 2020m; Jinping, 1700m; Changning Co., Songzhishanding, 2500-2800m; nr. Yingjiang, Xima, 2080m; Gaoligong Shan); south Xizang/Tibet (Nyingchi; Zhangmu, 2200m).
GLOBAL DISTRIBUTION
Occurs along the southern slopes of the Himalaya in Nepal (Haruta, 1992), Xizang/Tibet, Bhutan (Irungbam & Irungbam, 2019), northeastern India and northern Burma/Myanmar, east to central Yunnan, China. Also recorded from the extreme northwest of Thailand (Inoue, Kennett & Kitching, [1996] and northern Vietnam.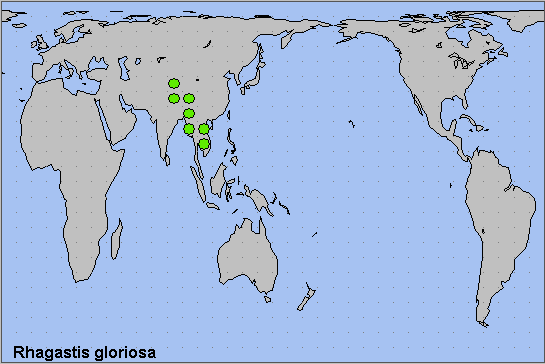 BIOGEOGRAPHICAL AFFILIATION
Holarctic; eastern Palaearctic region. Pleistocene refuge: Polycentric -- Sinotibetan and Yunnan refugia.
---

Return to Sphingidae of the Eastern Palaearctic species list
---
© A.R. Pittaway & I.J. Kitching (The Natural History Museum, London)