---
RHAGASTIS ACUTA (Walker, 1856) -- Plain mottled hawkmoth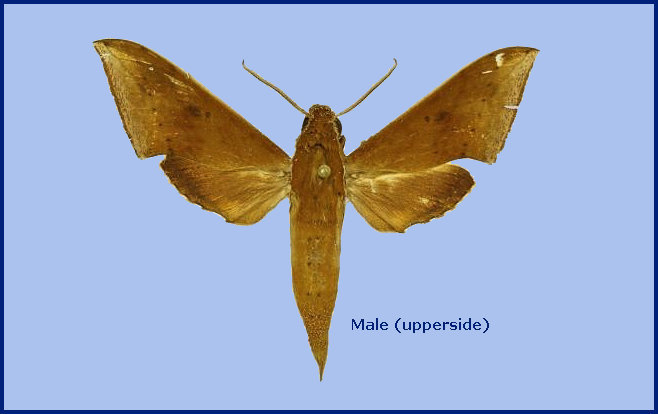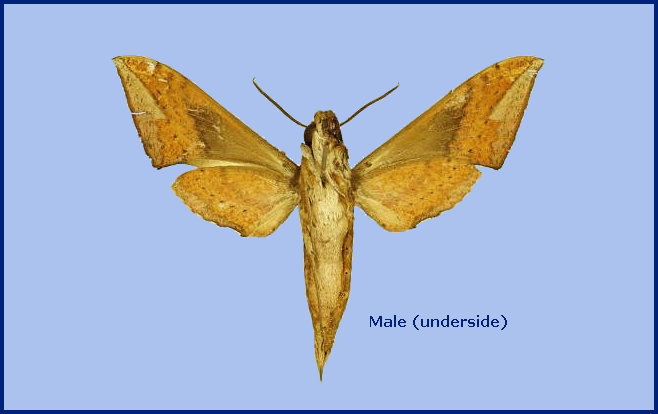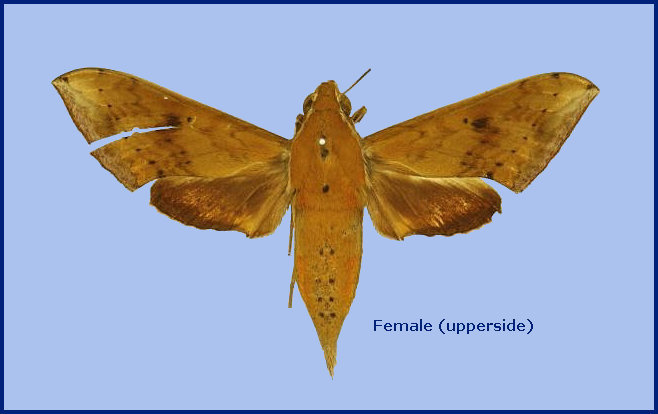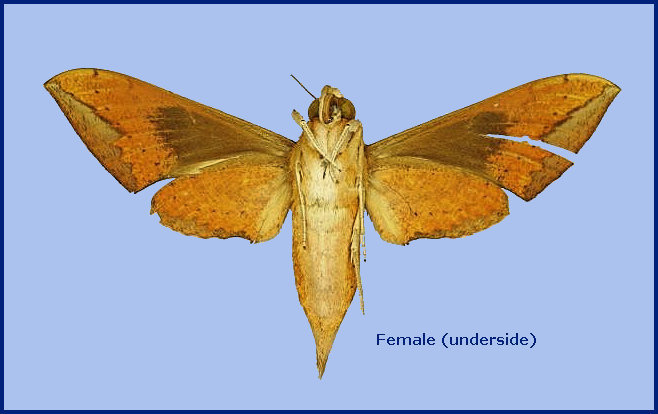 TAXONOMY
Zonilia acuta Walker, 1856, List of the specimens of lepidopterous insects in the collection of the British Museum 8: 195. Type locality: Hindostan [India].
Synonym. Zonilia acuta Walker, 1856.
Synonym. Rhagastis hayesi Diehl, 1982.
Note. Synonymized with Chaerocampa velata by Hampson, [1893], Fauna Brit. India 1: 91. Reinstated as a species and transferred to Rhagastis by Rothschild & Jordan, 1903, Novit. zool. 9 (suppl.): 792 (key), 794.
ADULT DESCRIPTION AND VARIATION
Wingspan: 66-72mm. Superficially similar to Rhagastis velata but immediately distinguishable by the shape of the labial palp segment 2. Labial palp segment 1 with large apical cavity; segment 2 strongly narrowed towards the base, triangular. Forewing apex slightly falcate. Upperside of abdomen with a pair of vestigial or well-developed lateral golden stripes. Outer row of forebasitarsal spines doubled and trebled. Forewing upperside similar to Rhagastis castor aurifera; in fresh specimens, there is an olive-green tone that is lost with age, the ground colour fading to orange-brown. Forewing underside with postmedial dots smaller than in Rhagastis castor aurifera; submarginal band not joined to the basal area. Hindwing upperside with submarginal band narrower than in Rhagastis castor aurifera, less dilated anterior to M3. Hindwing underside without a small black discal spot (Sphingidae Taxonomic Inventory, 2021).
Male genitalia: Valve with 5-7 large stridulatory scales in two irregular rows that appears as a single row. Harpe longer and more slender than Rhagastis castor aurifera. Aedeagus asymmetrical, the left process narrow and often very short, the right process long, rather broad, somewhat palmate and multidentate apically (Sphingidae Taxonomic Inventory, 2021).
ADULT BIOLOGY
From 500 to 600m altitude in China, higher in India (above 1200m).
FLIGHT-TIME
China: 13.iv (Hainan); 28.iv (Guizhou); 8.vii (Guizhou).
EARLY STAGES
OVUM: Unknown.
LARVA: Unknown.
PUPA: Unknown.
Larval hostplants. Unknown.
PARASITOIDS
Unknown.
LOCAL DISTRIBUTION
China: Guizhou (Maolan Natural Reserve, Libo County, 560m; Banzhai, 580m); Yunnan; Hainan (Jianfengling National Forest Park, Ledong County).
GLOBAL DISTRIBUTION
India (Western Ghats, Karnataka; Uttarakhand; Sikkim; Assam; Meghalaya), Nepal, Bhutan, China (Guizhou; Yunnan; Hainan), eastern Bangladesh, Myanmar/Burma, Thailand, Kampuchea/Cambodia, Vietnam, Philippines (Palawan), Malaysia (Peninsular), Indonesia (Sumatra; Java).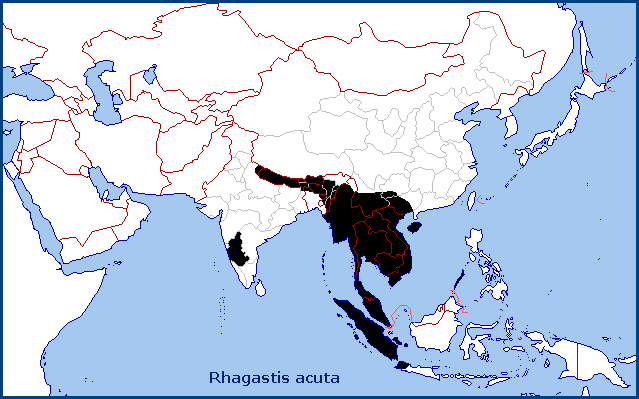 BIOGEOGRAPHICAL AFFILIATION
Oriental region. Pleistocene refuge: Tropical South East Asia.
---

Return to Sphingidae of the Eastern Palaearctic species list
---
© A.R. Pittaway & I.J. Kitching (The Natural History Museum, London)