---
PHYLLOSPHINGIA DISSIMILIS DISSIMILIS (Bremer, 1861) -- Buff-leaf hawkmoth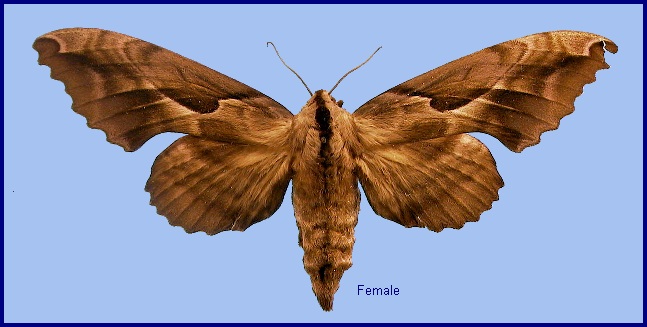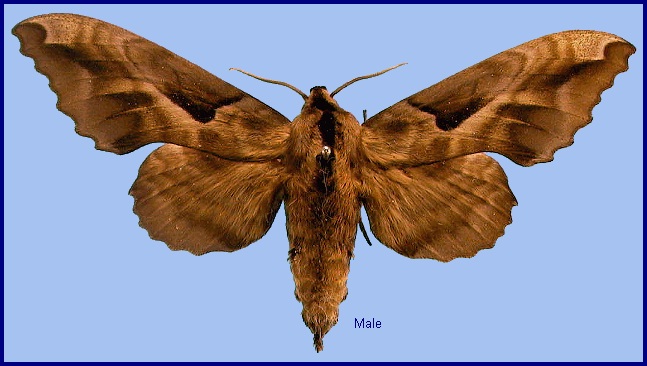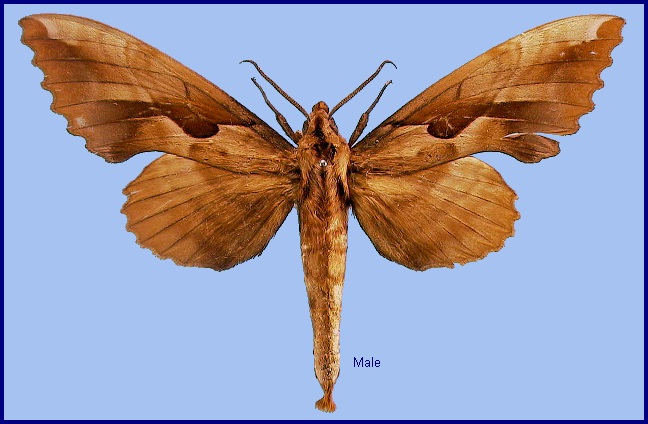 TAXONOMY
Triptogon dissimilis Bremer, 1861, Bull. Acad. Sci. St. Petersburg 3: 475. Type locality: [Russia, Khabarovskiy Krai,] Ussuri, between the mouth of the Ussuri river and the Noor [He] river.
Synonym. Triptogon dissimilis Bremer, 1861.
Synonym. Phyllosphingia dissimilis sinensis Jordan, 1911.
Synonym. Phyllosphingia dissimilis hoenei Clark, 1937.
Synonym. Phyllosphingia dissimilis jordani Bryk, 1946.
Note. Recent studies indicate that Phyllosphingia perundulans may be a distinct species and not a subspecies of Phyllosphingia dissimilis, but this still requires further investigation (see below). Additionally, the work of Zolotuhin and Ryabov (2012) indicates that the isolated Vietnamese population may represent a third distinct species of Phyllosphingia. However, with no molecular evidence available, the two authors have in the interim assigned a subspecific rank to the latter, namely Phyllosphingia dissimilis berdievi.
There is very little divergence in DNA barcodes (0.00–0.83%, average = 0.45%) between samples of Phyllosphingia dissimilis dissimilis from localities as distant as Honshu, Primorskiy Krai, Taiwan, Shaanxi, Sichuan and Xizang/Tibet. In contrast, a single sample of Phyllosphingia perundulans from Doi Inthanon, Thailand, is 3.78–4.37% divergent from the more northeastern samples. Although, this level of divergence is widely considered to be indicative of species-level taxonomic separation, it seems not to be unusual within species of Smerinthini. Indeed, maximum intraspecific divergences within species of this tribe can be even higher, e.g., Pseudoclanis postica (3.96%), Smerinthus szechuanus (5.15%), Laothoe populi (5.65%) and Smerinthus kindermannii (6.59%), where the higher-end divergences are associated only with subspecific differentiation at most. Consequently, in the absence of any consistent morphological differences, there may be no justification for treating Phyllosphingia perundulans as a good species.
[Further details on this species in Japan, as well as photos of many stages, can be found on Digital Moths of Japan.]
ADULT DESCRIPTION AND VARIATION
Wingspan: 93--130mm.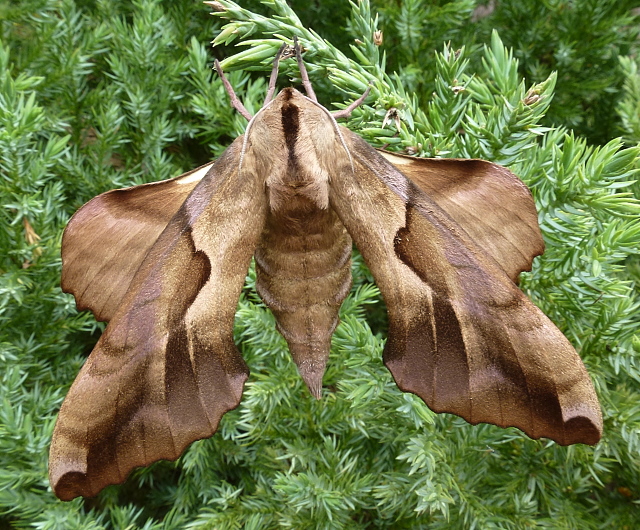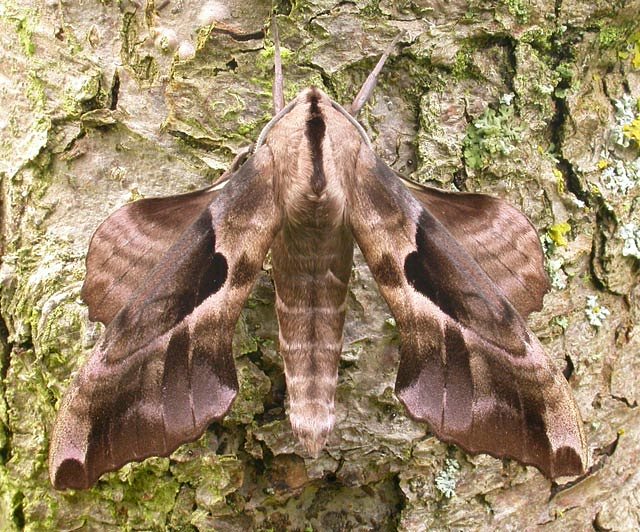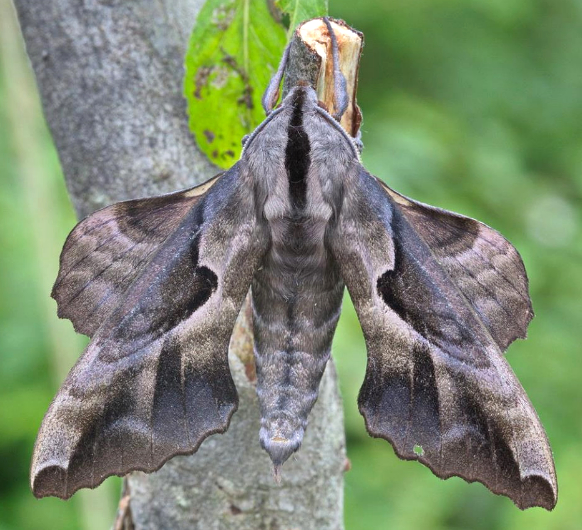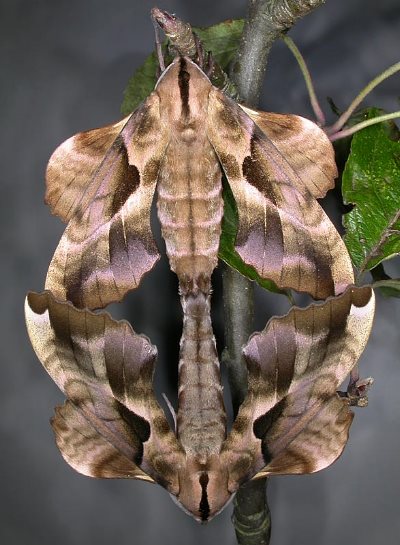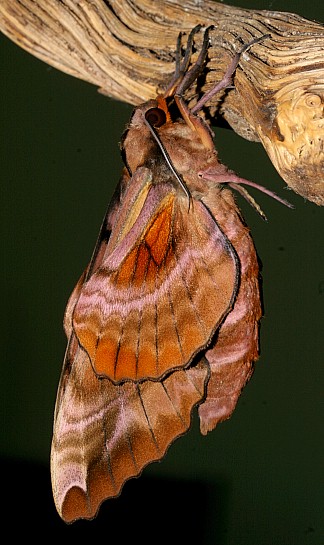 ADULT BIOLOGY
A species of open parkland and forest edge.
FLIGHT-TIME
China: iv-vi (Zhejiang); v (Sichuan; Beijing); 8-19.vi (Nei Mongol; Beijing; Zhejiang); vii-viii (Beijing; Zhejiang; Liaoning); viii (Jiangxi; Fujian); ix (Shaanxi; Guizhou). Taiwan: iii (Hualien Hsien). North Korea: 15-29.v (Chonma-san); vi (Mt. Kuwol; Sinmi-do); vii (Baekdu-san; Chonma-san; Jueul). South Korea: 20-29.vi (Ulleung-do). Japan: 14.v-3.vii (Honshu; Shikoku); 15.vi-27.vii (Hokkaido). Russia: 8.vi-18.vii (Khabarovskiy Krai); 15.vi (Primorskiy Krai); 3-28.vii (Primorskiy Krai); 12-18.vii (Khabarovskiy Krai); 2-6.viii (Primorskiy Krai).
Univoltine in northern China, with adults flying between May and July (Yang, 1978; Chu et al., 1979). Farther south, the species is bivoltine. Larvae are most frequently encountered around Beijing in July and August (Chu et al., 1979).
Park et al. (1999) give mid May until mid August as the flight period in Korea.
EARLY STAGES
OVUM: Oval (1.22 x 1.59mm). Pale olive-green when freshly laid.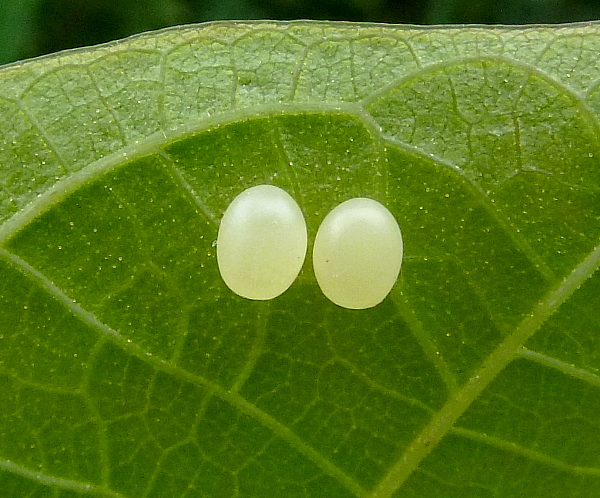 LARVA: Full-fed 65--85mm. Very sedentary, feeding about 2-4m off the ground on the leaves of lower branches. Larvae will lash out laterally and squeak/hiss if molested in a manner similar to that of the related North American Amorpha juglandis (J. E. Smith, 1797). This close relationship is supported by the phylogenetic work of Kawahara et al. (2009). In full-grown larvae the basic body colour may be greenish or reddish-brown (Yamamoto, 1954).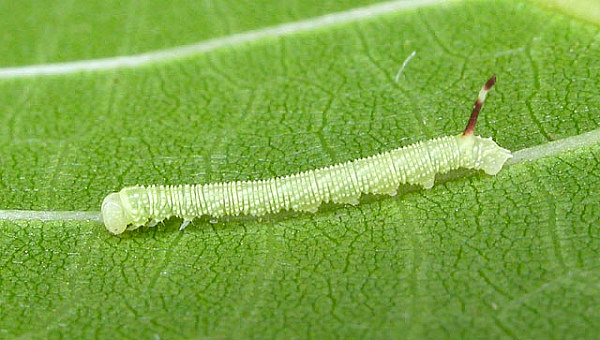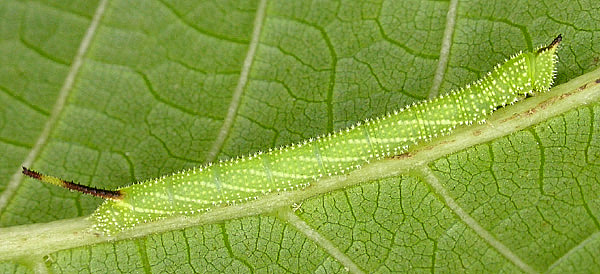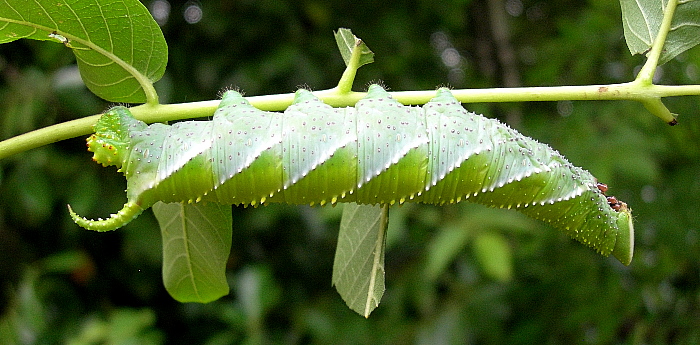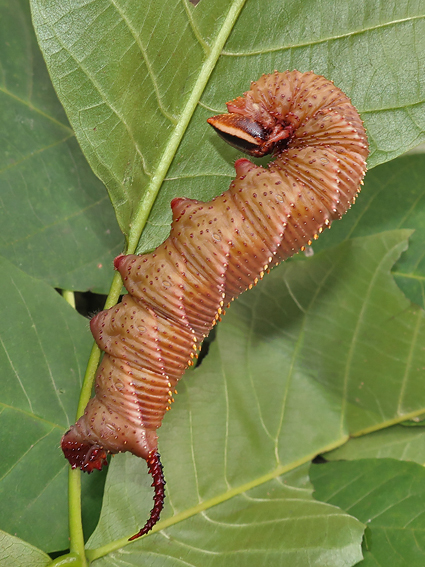 PUPA: 50--60mm. Dark mahogany brown and rugose; not glossy. In fact, the whole elongated body has the texture of sandpaper. Head and thorax blunt, strongly tuberculate; eyes with tiangular projections. Body tapering caudad dorsally, but flattened ventrally. Tongue-case absent. Antennae with a ridge of forward-pointing fine spines. Just before the soft cuticle of each movable abdominal segment there is an encircling ring of sharp conical tubercles. Final segments before cremaster spatulate, with lateral 'wings'. Cremaster broad, square, dorso-ventrally flattened (Yamamoto, 1954). Similar to that of the related North American Amorpha juglandis. Formed in an almost silk-free cell in debris on the soil. The overwintering stage.
The pupae will jerk about and squeak/hiss if molested; this noise appears to made by forcing air through the spiracles. If exposed to light a pupa will remain immobile until nightfall, relying on its similarity to a piece of bark or large twig to remain undetected. However, once night has fallen the pupa will 'come to life' and, with much hissing and puffing, will burrow back under debris using wriggling and undulating motions (Pittaway, pers. obs. 2003; 2011).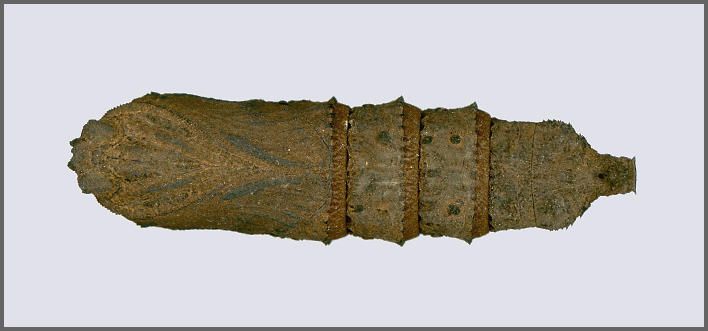 Larval hostplants. Recorded in China on Carya cathayensis (Chu et al., 1979; Chu & Wang, 1980), Juglans mandschurica (Oberthür, 1886) and Juglans regia (Yang, 1978; Chu & Wang, 1980; Pittaway, pers. obs. 2003). Monophagous on Juglandaceae in the wild. The record for Salix (Wang, 1992) is highly suspect.
Recorded in Taiwan on Engelhardtia roxburghiana, Juglans mandshurica [syn. Juglans cathayensis] and Platycarya strobilacea.
Recorded in Primorskiy Krai, Russia, on Juglans mandschurica (Derzhavets, 1984).
The Korean record for Prunus serrulata var. spontanea Park et al. (1999) may well be correct as the related North American Amorpha juglandis will take Prunus.
[In captivity this species can be reared on Alnus glutinosa and may take other species of Alnus, as well as Betula (Mark Boddington, pers. comm. 2005).]
PARASITOIDS
Unknown.
LOCAL DISTRIBUTION
China: Found throughout eastern and central China, from Heilongjiang and Nei Mongol to as far south as Qinghai (Nangqian County), Anhui (Mt. Huang Shan), Zhejiang (Tianmu Shan; Kuocang Mountain Nature Reserve), Hubei (Xingshan; Zigui), Guizhou (Jiucai Ling), northern Jiangxi (Jiujiang), northern Fujian (Guangze, 1200m; Longqi Shan), Sichuan (nr. Guangyuan, 1050m; Kangding; Meigu; Xiling Xueshan National Park), Chongqing (Simian Mountain National Scenic Resort) and Yunnan (Gaoligong Shan). (The southern limit of the nominotypical subspecies in mainland China is uncertain (see under Phyllosphingia perundulans)).
Taiwan. Hualien Hsien (Taroko National Park); Nantou Hsien (Renluen).
North Korea: South Hwanghae Province (Mt. Kuwol, 950m); North Pyongan Province (Sinmi-do; Chonma-san); North Hamgyong Province (Baekdu-san; 2500m; Jueul, 1500m). Park et al. (1999) also list 'Pärchen', but this is the German word for 'pair', i.e. a pair in-copula, and not a location.
South Korea: Seoul; Kyonggi Province (Suri-san; Gwangleung; Yumyong-san; Myungji-san); Kangwon Province (Cheolwon; Daeryong-san; Gwangduk-san; Seolak-san; Yangyang; Bangtae-san; Sogumgang-san; Baekduk-san; Taebek-san; Hwancheon; Chuncheon; Bongmyung-ri; Hongcheon; Odae-san; Chiak-san; Wolak-san); North Cholla Province (Jiri-san; Namwon); South Cholla Province (Baekyang Temple; Dolsan-do; Duryun-san; Gwangyang; Gurye; Yeocheon; Haenam); North Kyongsang Province (Eorae-san; Naeyon-san; Mungyungsaejae; Seongju; Youngcheon; Uiseong; Cheongdo; Ulleung-do); South Kyongsang Province (Pusan; Hamyang; Yeohang-san; Muhak-san; Jinju; Geoje-do; Goseong; Namhae; Milyang; Sacheon; Sancheong; Ulsan; Uichang; Tongyoung; Hadong; Hapcheon); Cheju Province (Cheju-do; Sunheul; Topyung; Gwaneum Temple; Suakbong; Ipseok-dong; Seoguipo; Orimok; Sungpanak).
Japan: Hokkaido; Honshu (Tokyo; Mikaboyama, 750m; Namezawa Spa, 700m; Kiyosato, 1300m; Otsuki; Akashina); Shikoku (Shioemachi); Kyushu; Tsushima (Sasuna).
Russia: Yevreyskaya (Bastak Nature Reserve); Khabarovskiy Krai (Bolshekhekhtsyrskii nature reserve, Khabarovsk suburbs; Slavyanka; Bychikha; Lidoga); Primorskiy Krai (Andreevka; Khasan; Kedrovaya Pad Nature Reserve; Novovladimirovka; Anuchino; Ussuriysk; Vityaz Bay; near Kalinovka; near Zanadvorovka; Anisimovka; Dalnegorsk).
GLOBAL DISTRIBUTION
Southeastern Russian Far East, eastern and central China, Taiwan, the Korean Peninsula (Kim et al., 1982) and Japan. Inoue (1996) has also recorded a single specimen from the Philippines island of Luzon.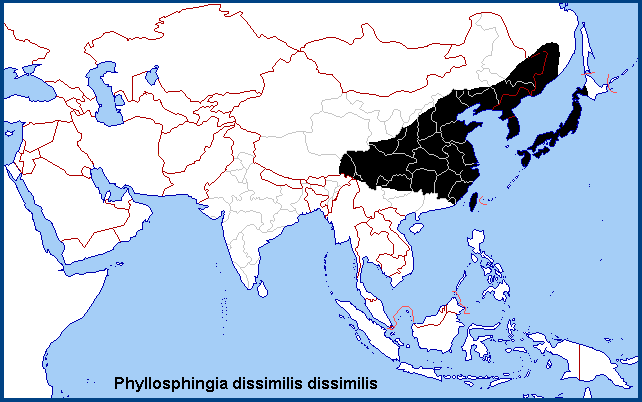 BIOGEOGRAPHICAL AFFILIATION
Holarctic; eastern Palaearctic region. Pleistocene refuge: Polycentric -- Japanese and Sinopacific refugia.
---

Return to Sphingidae of the Eastern Palaearctic species list
---
© A. R. Pittaway & I. J. Kitching (Natural History Museum, London)