---
OPISTOCLANIS HAWKERI (Joicey & Talbot, 1921)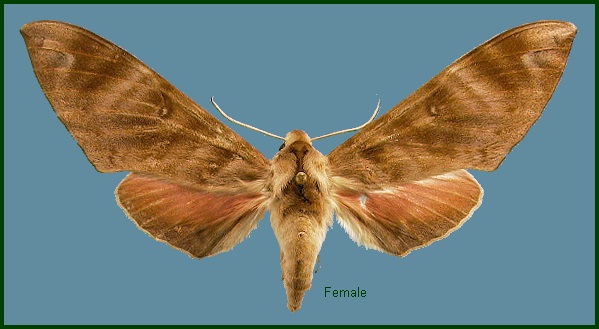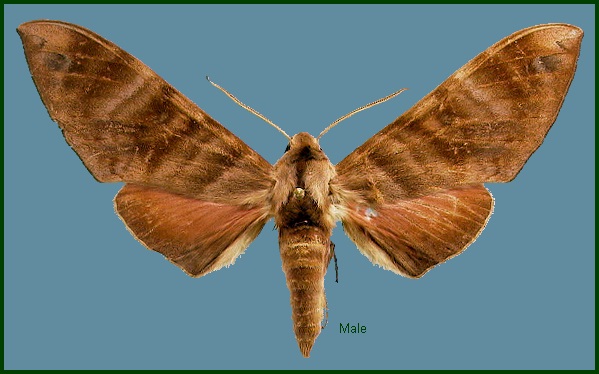 TAXONOMY
Clanis hawkeri Joicey & Talbot, 1921, Entomologist 54: 106. Type locality: French Indo-China [Laos/Cambodia/Vietnam].
Synonym. Clanis hawkeri Joicey & Talbot, 1921.
ADULT DESCRIPTION AND VARIATION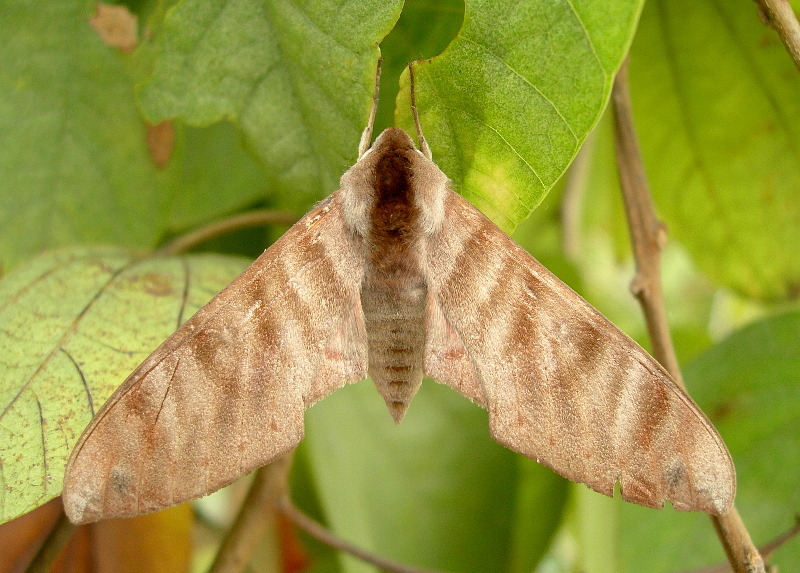 ADULT BIOLOGY
Found at altitudes between 888 and 2800m.
FLIGHT-TIME
China: 7.vi (Yunnan; Hainan).
In Thailand, O. hawkeri flies between late March and early May at the end of the dry season (I. J. Kitching, unpublished data).
EARLY STAGES
OVUM: Unknown.
LARVA: Two final instar colour forms are illustrated by Eitschberger & Ihle (2019). In the paler form, ground colour medium grey-green, with a continuous pale yellow (above) and black (below) spiracular line running from segments 4 to 11. Body paler (more yellowish-white) above this, more so dorsally; duller below this. Horn and head the same colour as the body, the horn more yellow, the head with pronounced black cheeks. A yellow oblique side stripe runs down and forward from the base of the horn to the spiracular line. Clypeus outlined in yellow, with fine spots of the same colour covering the entire body. True legs dull red; spiracles white, ringed with black.
In the darker form more black pigmentation is noticable, with black at the base of the horn, along the oblique lateral stripe, and ventrally. The body above the spiracular line paler, almost white. Head and anal claspers almost entirely black (Eitschberger & Ihle, 2019).
PUPA: Rugose, dull mahogany brown, tapering both dorsally and ventrally. Similar to that of Mimas tiliae (Linnaeus, 1758) (Eitschberger & Ihle, 2019).
Larval hostplants. In Thailand on species of Dalbergia (Eitschberger & Ihle, 2019).
PARASITOIDS
Unknown.
LOCAL DISTRIBUTION
China: Yunnan (Shuangjiang, 888m); Hainan (Limu Ling).
GLOBAL DISTRIBUTION
China (Yunnan, Hainan), northern Thailand, Laos (Khammouan Province) and northern Vietnam (Inoue, Kennett & Kitching, [1996] 1997).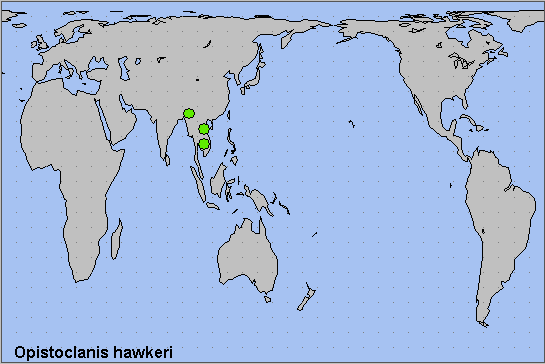 BIOGEOGRAPHICAL AFFILIATION
Holarctic; eastern Palaearctic region. Pleistocene refuge: Monocentric -- Yunnan refugium.
---

Return to Sphingidae of the Eastern Palaearctic species list
---
© A.R. Pittaway & I.J. Kitching (The Natural History Museum, London)