---
MACROGLOSSUM OBSCURA Butler, 1875 -- Obscure hummingbird hawkmoth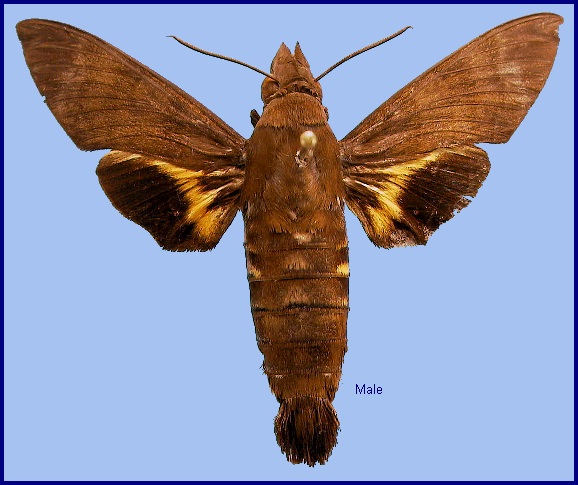 TAXONOMY
Macroglossum obscura Butler, 1875, Proc. Zool. Soc. Lond. 1875: 5. Type locality: [Indonesia:] Java.
Note. Synonymized with Macroglossum sylvia Boisduval, 1875, by Rothschild & Jordan, 1903, Novit. zool. 9 (suppl.): 658. However, following recognition that the syntypes of Macroglossum sylvia (q.v.) were specimens of two different subspecies of Macroglossum corythus, Macroglossa obscura becomes the oldest available name for the species long referred to as Macroglossum sylvia. Macroglossum sylvia Boisduval, 1875, is now a synonym of Macroglossum corythus pylene C. Felder, 1861.
ADULT DESCRIPTION AND VARIATION
Wingspan: 60--66mm.
ADULT BIOLOGY
FLIGHT-TIME
China: 22.viii (Yunnan); 18.x (Hong Kong).
EARLY STAGES
OVUM: Unknown.
LARVA: Unknown.
PUPA: Unknown.
Larval hostplants. Unknown.
PARASITOIDS
Unknown.
LOCAL DISTRIBUTION
China: Yunnan (Simao/Pu'er); Guangdong; Hong Kong (Lantau Island) - only recorded once (Kendrick, 2010).
Taiwan.
GLOBAL DISTRIBUTION
Sri Lanka, India, Thailand, southern China, Taiwan, Vietnam, Malaysia (Peninsular, Sarawak, Sabah), Indonesia (Sumatra, Java, Kalimantan, Sulawesi, Maluku), the Philippines.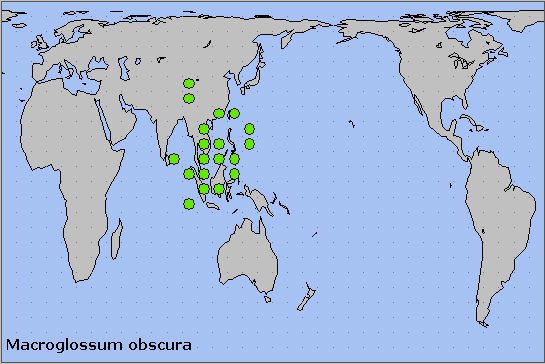 BIOGEOGRAPHICAL AFFILIATION
---

Return to Sphingidae of the Eastern Palaearctic species list
---
© A. R. Pittaway & I. J. Kitching (Natural History Museum, London)