---
MARUMBA JANKOWSKII (Oberthür, 1880)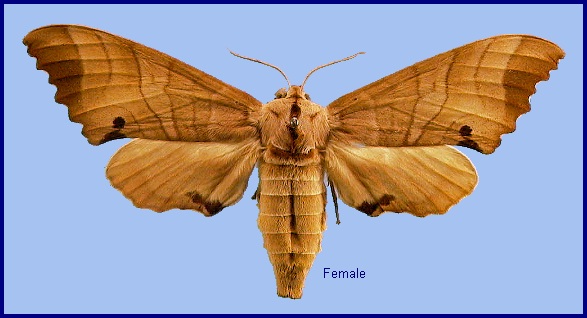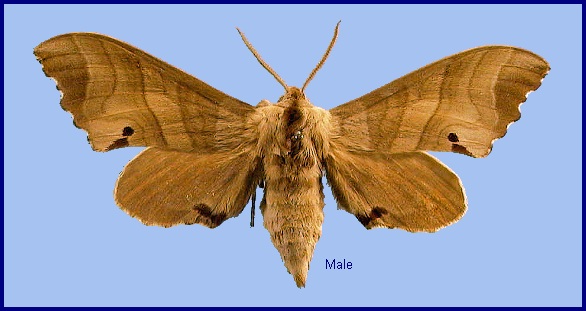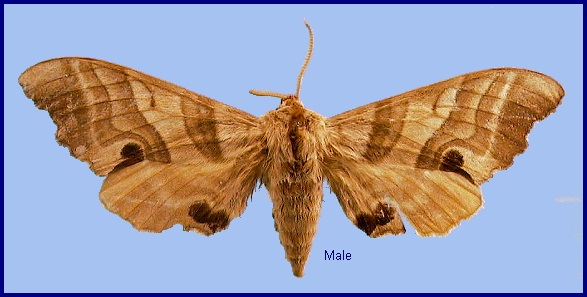 TAXONOMY
Smerinthus jankowskii Oberthür, 1880, Etud. ent. 5: 26. Type locality: [Russia, Primorskiy Kray,] Askold Island.
Synonym. Smerinthus jankowskii Oberthür, 1880.
Synonym. Marumba jankovskii Kuznetsova, 1906.
Synonym. Marumba jankowskii bergmani Bryk, 1946.
ADULT DESCRIPTION AND VARIATION
Wingspan: 68--80mm. Similar to Marumba maackii, but hindwing upperside costal and distal areas not yellow. In the male genitalia, uncus broader in middle than in M. maackii, with the medial division less deep, the lobes notched laterally, with a tooth proximally on the notch, nearly as in M. sperchius. Gnathos nearly as broad as in M. maackii, suddenly narrowed to a short hook the sides sometimes sharply angled. Valva as in M. maackii, the dorso-apical lobe rather more pointed; processes of subdorsal basal fold similar to M. maackii, but slightly more slender. Harpe shorter than in M. maackii. In the female genitalia, sterigma anterior part triangular, thickened before ostium bursae, with a small smooth, medial tubercle proximal to thickened ridge.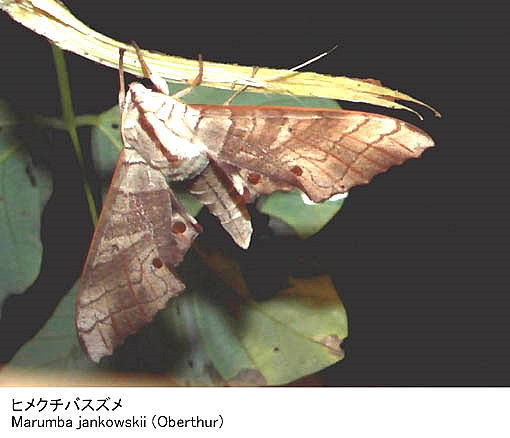 ADULT BIOLOGY
In the Russian Far East, a lowland species of mixed and pure deciduous woodland characterized by Quercus mongolica (Izerskiy, 1999b).
FLIGHT-TIME
China: 28.vi-vii (Nei Mongol; Heilongjiang). North Korea: 15-29.v (North Pyongan Province); 1-12.vii (North Pyongan Province). Japan: 1.vi-18.vii (Hokkaido); 3.vi-7.vii (Honshu); 23.vii-10.viii (Hokkaido); 26.viii (Honshu). Russia: 28.v-23.vi (Primorskiy Kray); 29.v-6.vii (Khabarovskiy Kray); 12-18.vii (Primorskiy Kray); 16.vii (Khabarovskiy Kray); 10-24.viii (Primorskiy Kray).
Park et al. (1999) give early June until late August as the flight period in Korea.
EARLY STAGES
OVUM:
LARVA: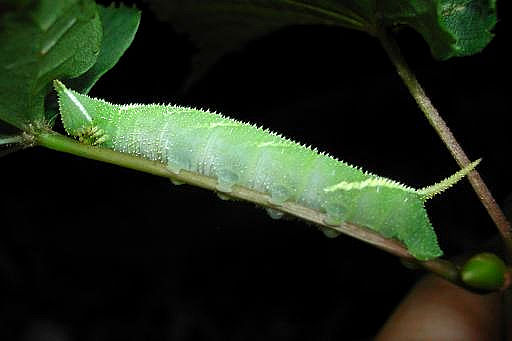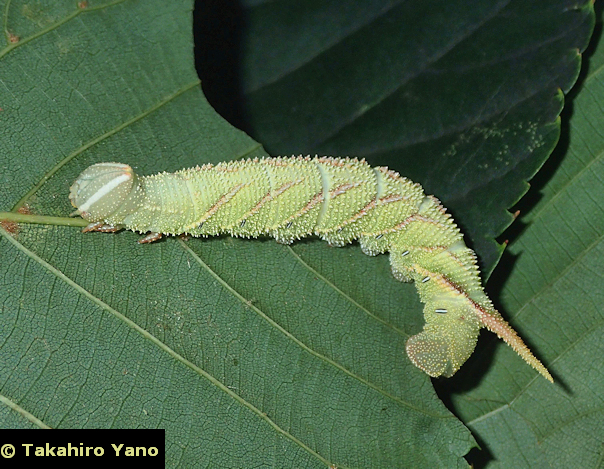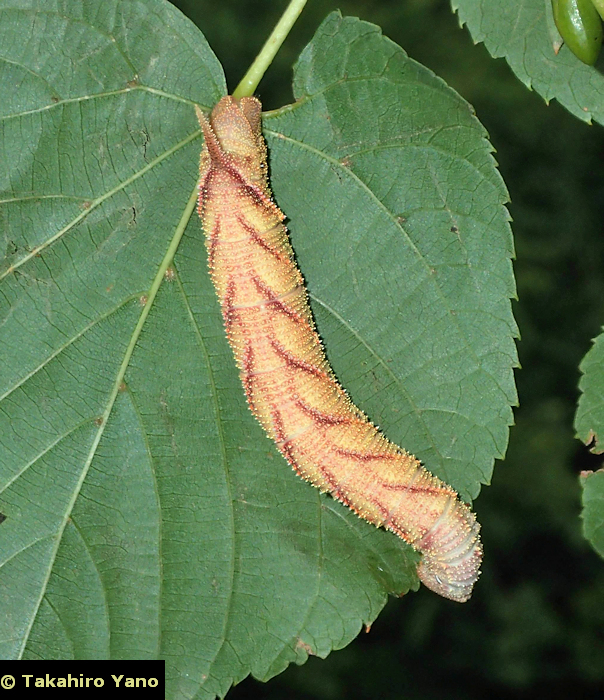 PUPA:
Larval hostplants. Recorded in 'Manchuria' on Tilia (Oberthür, 1886), such as Tilia amurensis. Chu & Wang (1980) also listed Ficus religiosa and Ziziphus mauritiana, but these are certainly erroneous. Records for Japan (Sugi, 1987) and Primorskiy Kray (Graeser, 1888; Derzhavets, 1984) are restricted to species of Tilia, such as Tilia mandshurica (Izerskiy, 1999b) and Tilia amurensis.
PARASITOIDS
Unknown.
LOCAL DISTRIBUTION
China: Nei Mongol (Zalantun/Butha Qi; Chifeng/Ulanhad, Daguangdingzishan, 2061m); Heilongjiang (Yichun); Liaoning (Changhai, Dachangshan Island).
North Korea: Kyonggi Prov. (Gaeseong/Kaesong); North Hamgyong Prov. (Jueul); North Pyongan Prov. (Chonma County, Chonma-san).
South Korea: Kyonggi Prov. (Yongmun-san; Asan Bay; Suwan; Gwangleung); Kangwon Prov. (Seolak-san; Odae-san; Sogumgang; Jodong-ri; Chiak-san; Baekduk-san; Taebek-san; Bongmyung-ri; Gyebang-san; Jeombong-san; Jungseon); North Cholla (Mujugucheondong; Daedun-san; Jiri-san; Namwon); South Cholla Prov. (Baekyang Temple; Gurye); North Kyongsang Prov. (Sobaek-san; Mungyungsaejae; Juwang-san; Seongju); South Kyongsang Prov. (Geoje-do; Namhae; Sancheong; Tongyoung; Hadong; Hamyang); Cheju Prov. (Cheju-do; Gwaneum Temple; Topyung; Sungpanak; Ipseok-dong; Andeok; Donnaeko).
Japan: Hokkaido (Kushiro; Tokachi; nr Sapporo; Sounkyo); Honshu (Kirizumi Spa, 1080m; Karuizawa; Kisojihara, 1200m; Nakanoyu Spa; Norikura Kogen, 1500m; Shinbo; Ohnogawa Azumimura, 1000m; Hinoemata; Fujinomiya; Tanzawa; Sagashio Yamato; Akiyamago Tsunan-cho); Shikoku; Kyushu.
Russia: Amurskaya (Uril area; Blagoveshchensk); Yevreyskaya (Bastak); Khabarovskiy Kray (Khabarovsk; Bolshekhekhtsyrskii nature reserve, Khabarovsk suburbs); Primorskiy Kray (Askold Island; Jankowski Peninsula; Vladivostok; Barabash; Khasan; Kedrovaya Pad Nature Reserve; Primor'e; Anisimovka).
GLOBAL DISTRIBUTION
Southeastern Russian Far East, northeastern China, North Korea, South Korea and all major Japanese islands.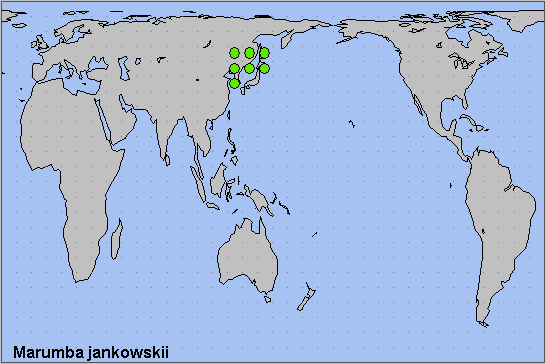 BIOGEOGRAPHICAL AFFILIATION
Holarctic; eastern Palaearctic region. Pleistocene refuge: Monocentric -- Manchurian refuge.
---

Return to Sphingidae of the Eastern Palaearctic species list
---
© A.R. Pittaway & I.J. Kitching (The Natural History Museum, London)