---
MARUMBA GASCHKEWITSCHII GRESSITTI Clark, 1937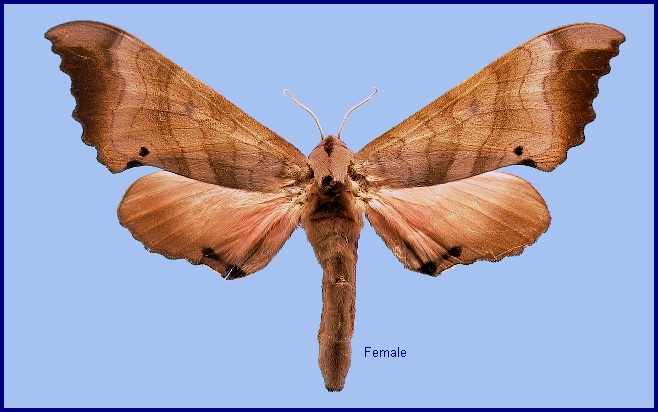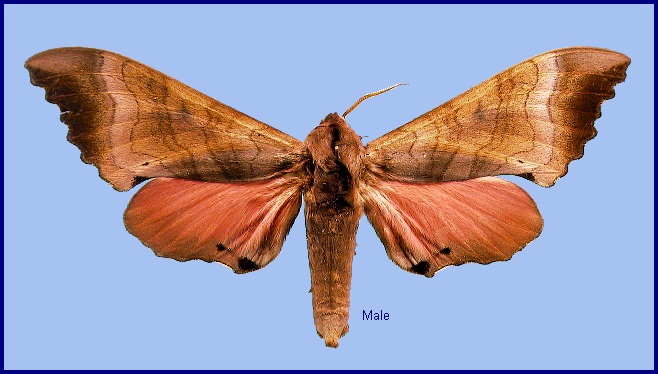 TAXONOMY
Marumba gaschkewitschi [sic] gressitti Clark, 1937, Proc. New Engl. zool. Club 16: 29. Type locality: Formosa [Taiwan, Nantou Hsien], Hori [Puli].
ADULT DESCRIPTION AND VARIATION
Wingspan: 80--85mm.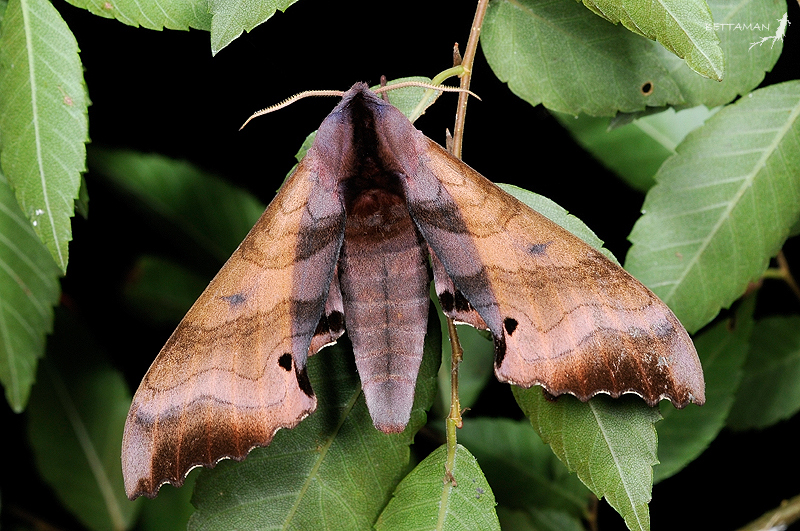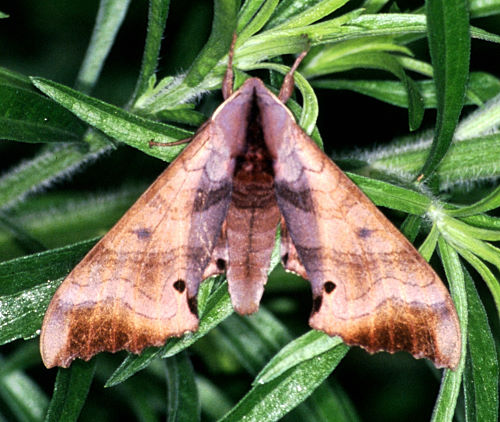 ADULT BIOLOGY
FLIGHT-TIME
Taiwan: v-vi (Hualien Hsien).
EARLY STAGES
OVUM:
LARVA: Full-fed 75--83mm.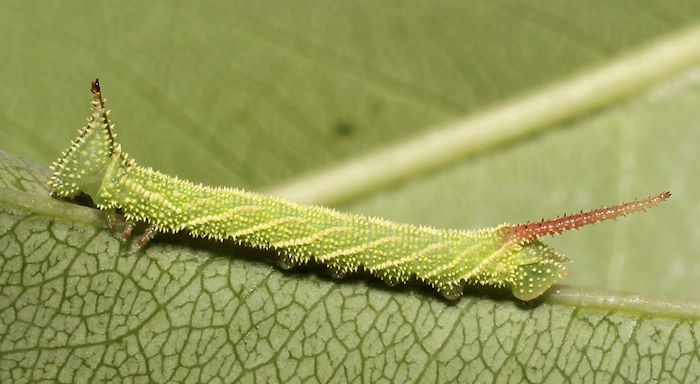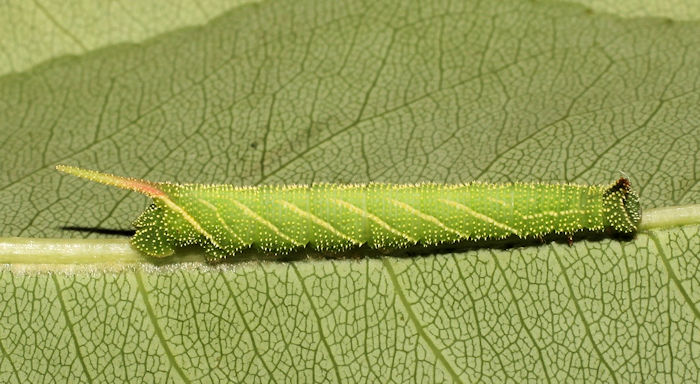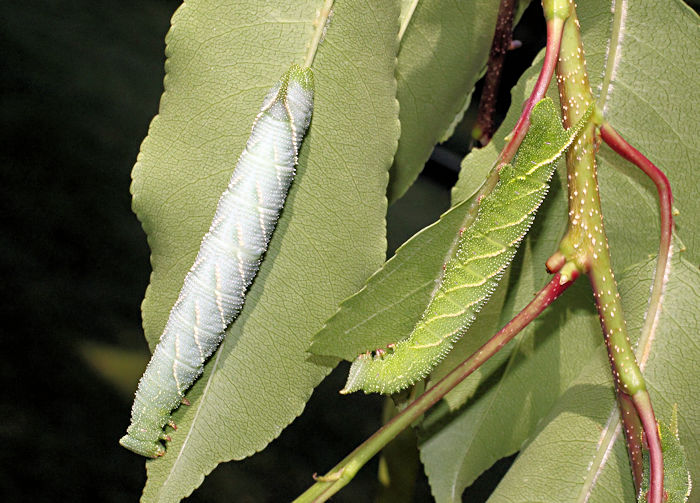 PUPA: 40mm.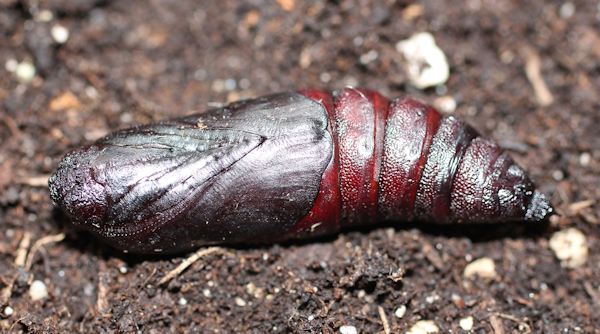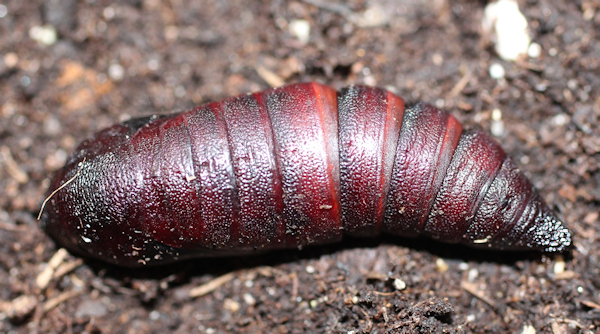 Larval hostplants. On Prunus campanulata and Prunus mume.
PARASITOIDS
Unknown.
LOCAL DISTRIBUTION
Taiwan: Nantou Hsien (Puli; Renluen, 1400m); Hualien Hsien (Taroko National Park).
The core distributions of the current four subspecies of Marumba gaschkewitschii are as follows:
Marumba gaschkewitschii gaschkewitschii: Buryatia (Selenduma); Western Transbaikalia (Derzhavets, 1984; Rudykh & Ekimova, 2005), Chita (Edinenie, Onon River), and central and western Mongolia (Khovd Province (Bulgan River, 10Km E Jarantaj); Övö-Hangaj Province (Khovd); Vostochnyy Province; Bayanhongor Province). Then lowlands of eastern China, from Beijing and Shandong (Weihai; Jinan; Yantai; Qingdao) south to the Yangtze river;
Marumba gaschkewitschii carstanjeni: SE Russian Far East (Transbaikalia (Kyra; Khapcheranga; Undino-Posel'e); Amurskaya (Belogorsk; Blagoveshchensk; Uril area; Zeya); Yevreyskaya (Bastak); Khabarovskiy Krai (Bolshekhekhtsyrskii Nature Reserve, Khabarovsk suburbs; Slavyanka; Komsomolsk-na-Amure; Pivan); Kamchatka; Primorskiy Krai (Kaymanovka; Lesogor'e; Dal'nerechensk; Vityaz Bay; Khasan area; Kedrovaya Pad Nature Reserve; Novovladimirovka; Pogranichniy; near Kalinovka; Anisimovka), the entire Korean Peninsula (including Cheju-do and Ulleung-do) and northeastern China (E Nei Mongol (Balin; Zalantun/Butha Qi; Chifeng/Ulanhad; Ongniud Qi; Uxin Qi; Hulunbuir Region, Sanhaodian); Heilongjiang (Harbin; Lalin); Jilin; Liaoning (Huanren; Dachangshan Island));
Marumba gaschkewitschii gressitti: Taiwan (Nantou Hsien, Puli; Hualien Hsien, Taroko National Park);
Marumba gaschkewitschii complacens: central and southeastern China, from Ningxia and Shaanxi (Yangling; Huangling; Xunyang, 1380m) south to Sichuan (Wolong National Nature Reserve; Pengshui; Emei Shan) and eastern Xizang/Tibet (Baxoi & Gonjo Counties), then east to Shanghai, Zhejiang (Tianmu Shan) and Fujian (Guangze, 1200m) and south through Guangdong, Hong Kong, Hainan and Guangxi to northern Vietnam (at low altitude).
Three former subspecies, namely Marumba gaschkewitschii echephron (Boisduval, [1875]), Marumba gaschkewitschii harutai Eitschberger & Ihle, 2012, and Marumba gaschkewitschii irata Joicey & Kaye, 1917, are now considered to be distinct species (Eitschberger, 2012).
GLOBAL DISTRIBUTION
Endemic to Taiwan.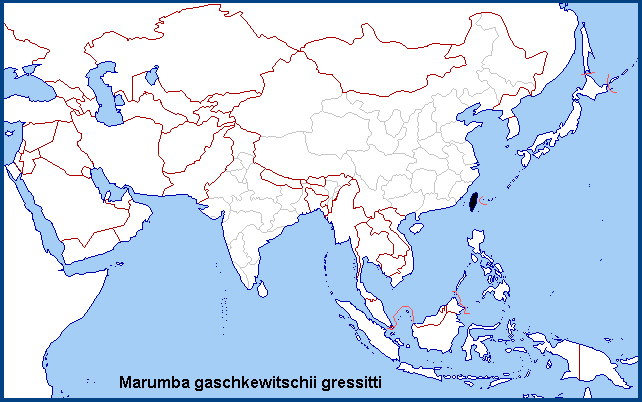 BIOGEOGRAPHICAL AFFILIATION
Holarctic; eastern Palaearctic region. Pleistocene refuge: Monocentric -- Taiwan refugium.
---

Return to Sphingidae of the Eastern Palaearctic species list
---
© A.R. Pittaway & I.J. Kitching (The Natural History Museum, London)