---
MACROGLOSSUM FRITZEI Rothschild & Jordan, 1903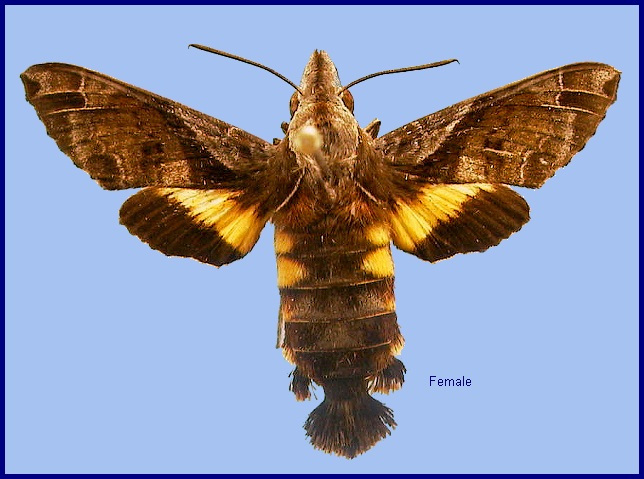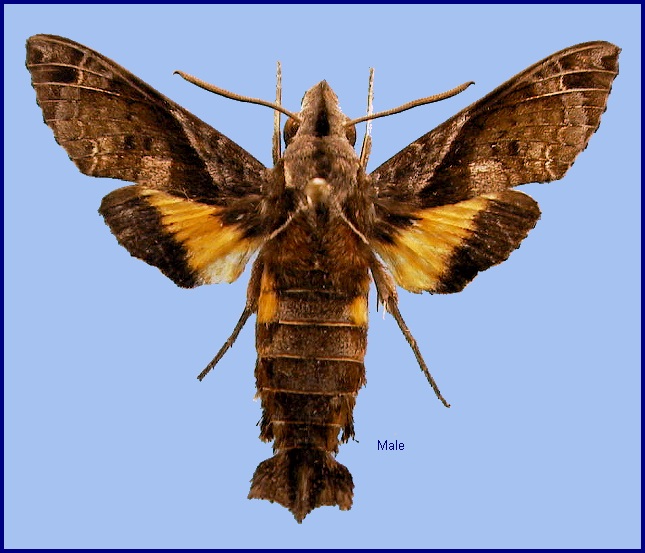 TAXONOMY
Macroglossum fritzei Rothschild & Jordan, 1903, Novit. zool. 9 (suppl.): 618 (key), 654. Type locality: [Japan,] Loo Choo Islands [Ryukyu Islands], Okinawa.
Synonym. Macroglossum hunanensis Chu & Wang, 1980, Acta zootaxon. sin. 5: 420. Type locality: China, Hunan, Heng Shan.
ADULT DESCRIPTION AND VARIATION
Differs from all other species of Macroglossum in the very oblique antemedian band of the forewing. Forewing upperside with antemedian lines much more oblique than in any other species, filled with deep brown to form a band that reaches the costal margin distally to the apex of the discal cell, conspicuously bordered with greyish white proximally; first and second lines irregularly dentate, curved costad anteriorly, the space between not filled; postdiscal line dentate, with a sharply marked buffish border; a pale area present between the second discal and the postdiscal line running from vein Cu1 to [CuP]; subapical spot in cell Rs3 somewhat reddish brown, that in Rs4 blackish. Forewing underside reddish-chestnut, the extreme base yellowish, the blackish-brown border very distinct, due to a series of irregular buff-yellow postdiscal patches, that in cell M1 vestigial; two thin dentate lines present within the postdiscal patches. Hindwing underside yellow band broad; the black marginal area consequently narrow, its inner edge almost straight. Hindwing underside reddish anteriorly, with the base and anal areas yellow gradually shading off on the disc only 1 mm. short of the tip of vein 2A; brown border sharply marked, with indications of pale yellow spots at its proximal edge; discal lines reddish.
Head and thorax uppersides dark grey, with a brown mesial line. Mesothoracic tegula with a large, brown, triangular patch conspicuously edged with grey. Abdomen upperside blackish-brown, large yellow lateral patches on segments two and three, and a smaller one on four. Palpus underside reddish grey, a dark triangular lateral patch not sharply marked. Thorax underside pale red centrally, darker laterally. Abdomen underside bright tawny, the apical margins brown, a lateral series of conspicuous buff-yellow spots.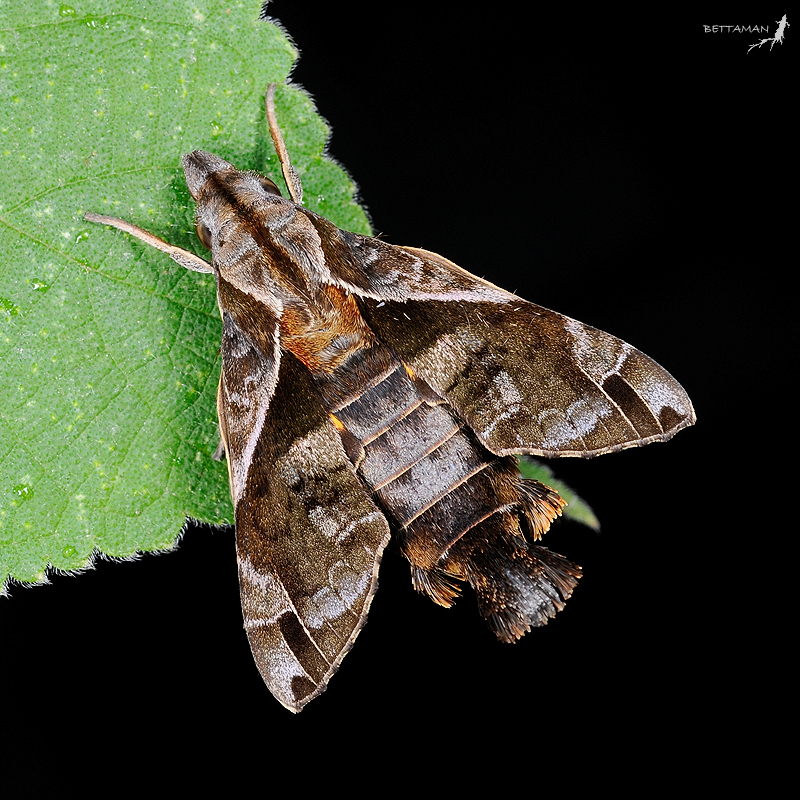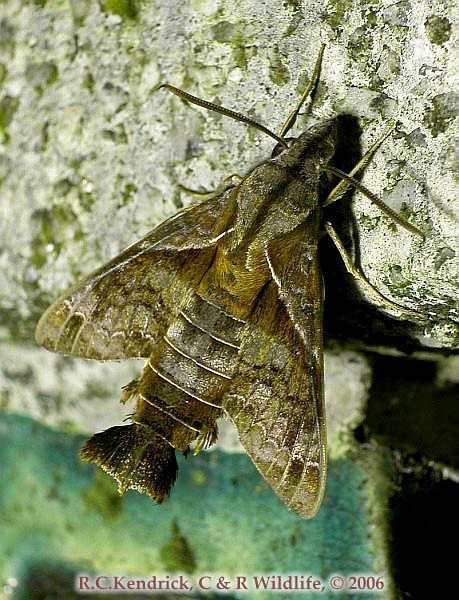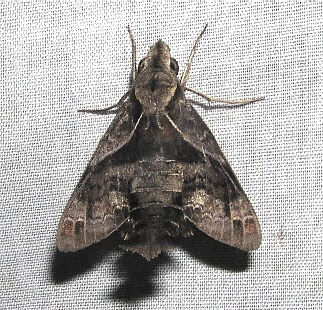 ADULT BIOLOGY
Readily attracted to light at night and seldom flying during the day.
FLIGHT-TIME
China: i-xii (Hong Kong); v (Hunan); 31.v (Guangdong); vi-viii (Guangdong); viii (Fujian). Taiwan: 18.vii. Japan: 1-23.vi (Ryukyu Archipelago); 10-4.viii (Ryukyu Archipelago); 13.vii-29.x (Honshu); vii (Kyushu; Ryukyu Archipelago); 28.x (Shikoku).
EARLY STAGES
OVUM: Pale green, almost spherical (1.3mm), and shiny.
LARVA: Newly hatched larvae are 3mm long, and olive green with a long black horn.

PUPA: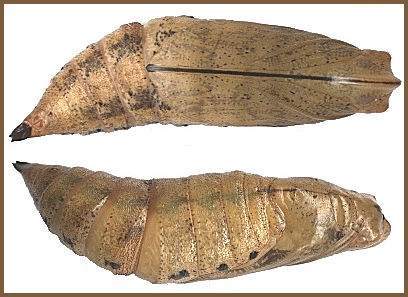 Larval hostplants. Morinda and Paederia (Rubiaceae). In Hong Kong, recorded from Morinda umbellata (David L. Mohn, pers. comm. 2002).
On Taiwan from Morinda parvifolia, Morinda umbellata, Paederia cavaleriei and Paederia foetida.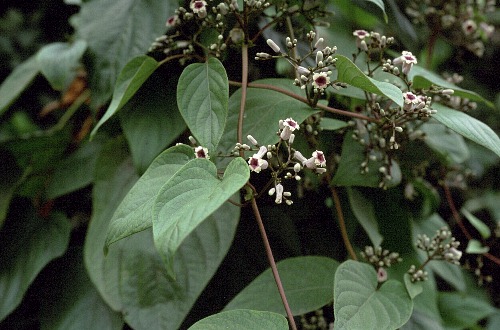 PARASITOIDS
LOCAL DISTRIBUTION
China: Hubei (Xinzhou); Zhejiang (Kuocang Mountain Nature Reserve); Hunan (Dayong; Heng Shan); Fujian (Guangze, 1200m); Guangdong (Lianping; Longtou Shan; Nanling National Forest Park, 1100m); Hong Kong (North Point); Hainan.
Taiwan: Taipei (Neihu); Ilan Hsien (Fushan Botanical Garden); Miaoli Hsien (Tai'an).
Japan: Honshu (Nashimoto; Shinshiro); Shikoku (Matsuyama); Kyushu (Hikosan); Ryukyu Archipelago (Amamioshima; Okinawa; Iriomoteshima; Yakushima).
GLOBAL DISTRIBUTION
Southeastern China, Taiwan, central and southern Japan, Thailand and Borneo.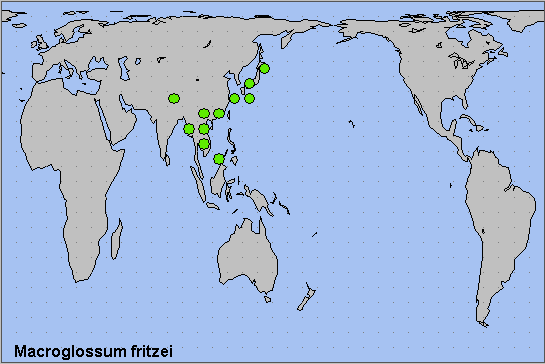 BIOGEOGRAPHICAL AFFILIATION
---

Return to Sphingidae of the Eastern Palaearctic species list
---
© A.R. Pittaway & I.J. Kitching (The Natural History Museum, London)