---
MIMAS CHRISTOPHI (Staudinger, 1887) -- Alder hawkmoth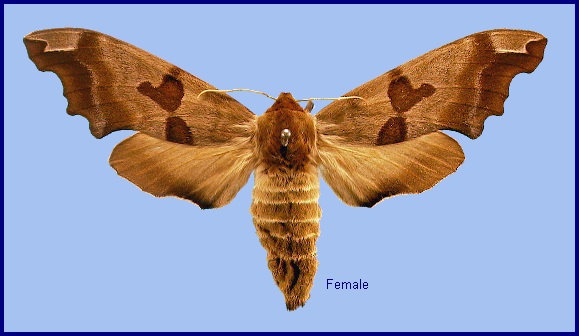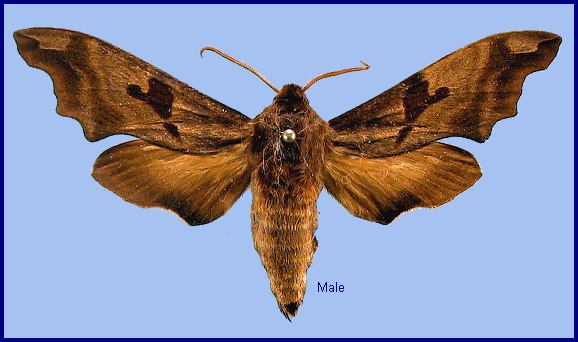 TAXONOMY
Smerinthus christophi Staudinger, 1887, in Romanoff (ed.), Mém. Lépid. 3: 162. Type locality: [Russia, Primorskiy Krai,] Wladiwostok [Vladivostok].
Synonym. Smerinthus christophi Staudinger, 1887.
Synonym. Smerinthus christophi alni Bartel, 1900.
Synonym. Mimas christophi pseudotypica O. Bang-Haas, 1936.
[Further details on this species in Japan, as well as photos of many stages, can be found on Digital Moths of Japan.]
ADULT DESCRIPTION AND VARIATION
Wingspan: 59--77mm. Very similar to Mimas tiliae but smaller and darker (never greenish), and showing a less extensive variation in forewing colour and pattern. Midtibial and hindtibial spurs shorter than in Mimas tiliae. Hindwing upperside with distal edge of submarginal band more distal than in Mimas tiliae.
Male genitalia extremely similar to Mimas tiliae but uncus and gnathos more slender.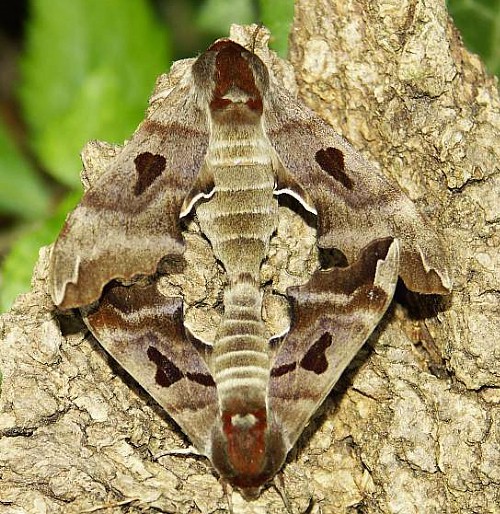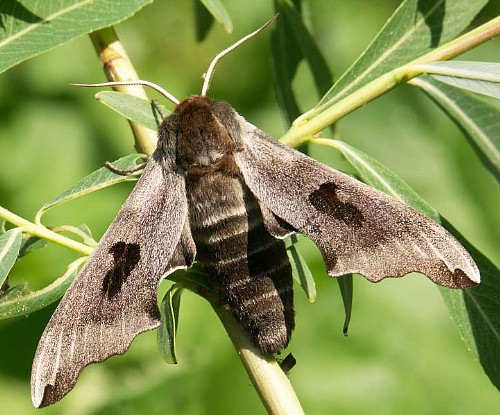 ADULT BIOLOGY
In the Russian Far East, a lowland species of mixed and pure deciduous woodland characterized by Quercus mongolica (Izerskiy, 1999b).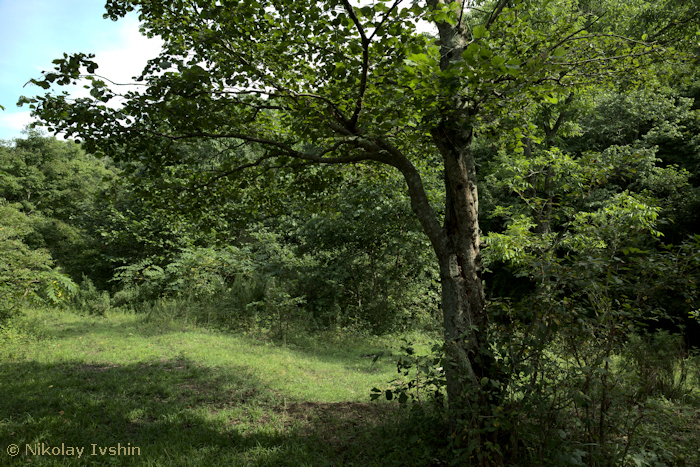 FLIGHT-TIME
China: 8-19.vi (Nei Mongol). Japan: 12.v-21.viii (Honshu); 8.vi-2.viii (Hokkaido). Russia: 27.v (Primorskiy Krai); 4.vi (Primorskiy Krai); 8.vi-20.vii (Khabarovskiy Krai); 22.vi (Sakhalin Island); 26.vi (Amurskaya); 3-21.vii (Khabarovskiy Krai; Kurile Islands); 7-28.vii (Primorskiy Krai); 1-18.viii (Primorskiy Krai).
Park et al. (1999) give late May until late August as the flight period in Korea.
EARLY STAGES
OVUM: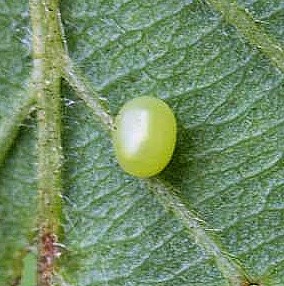 LARVA: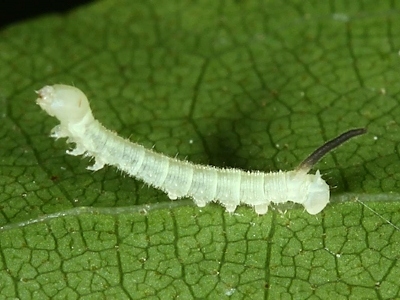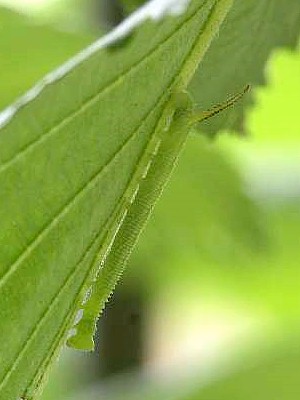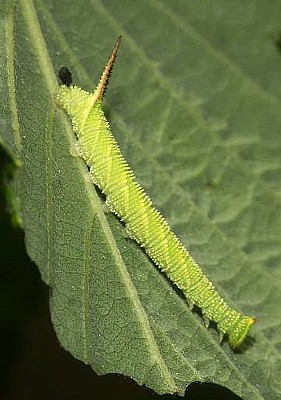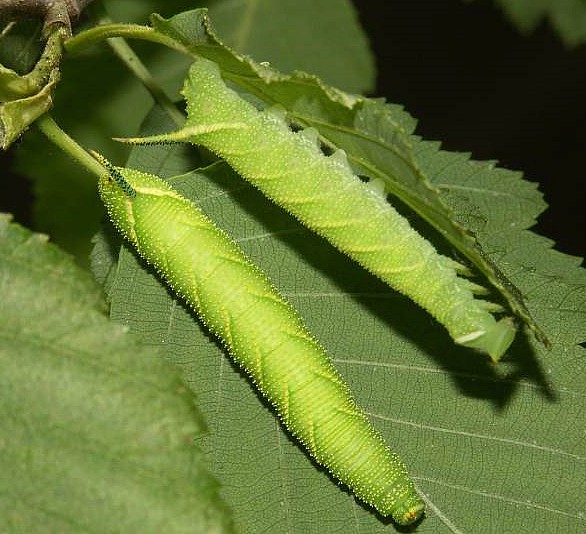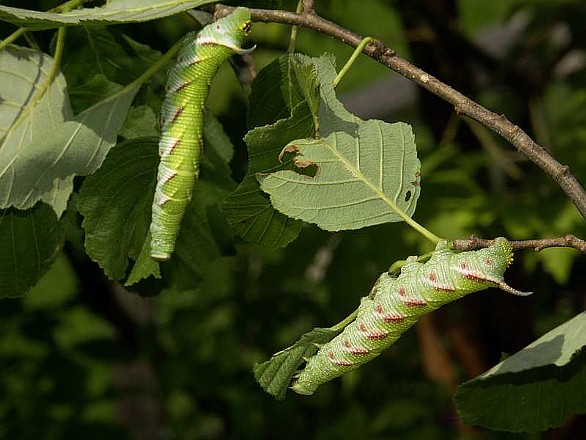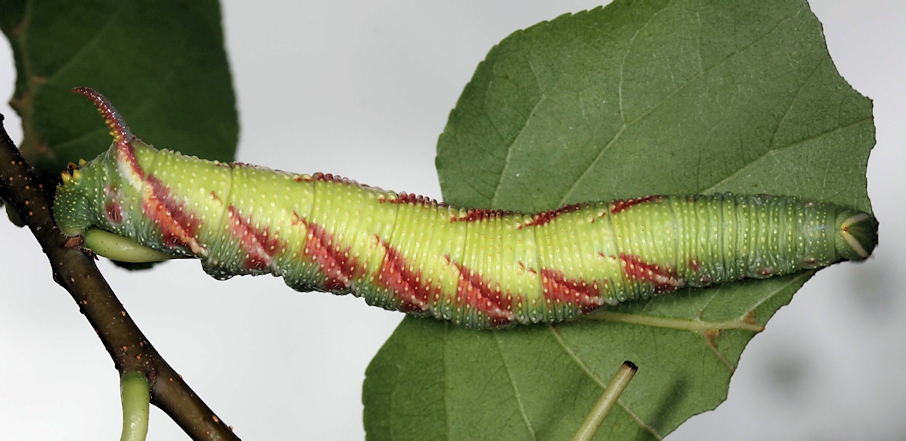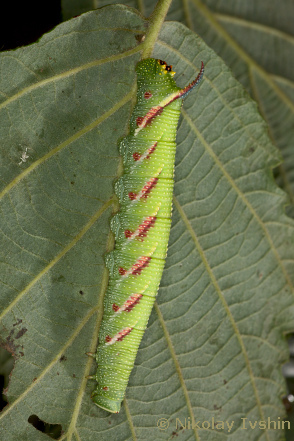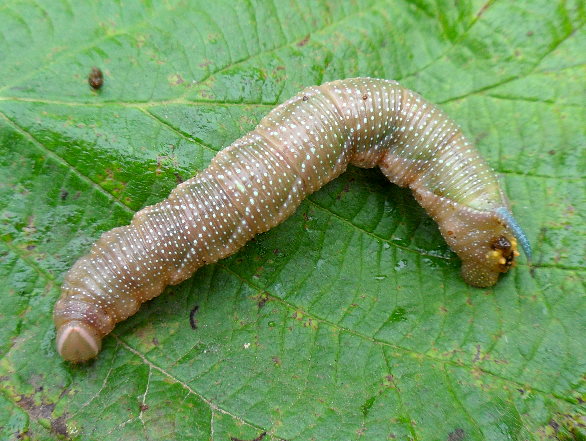 PUPA: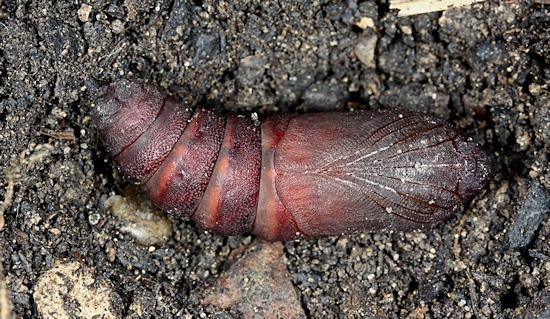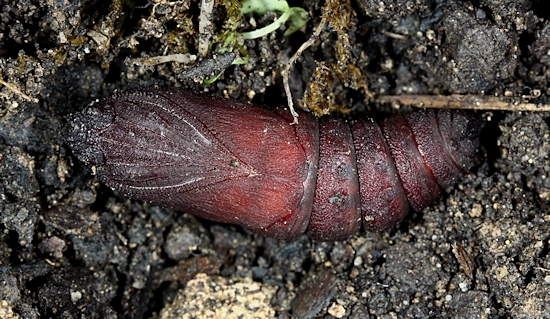 Larval hostplants. Recorded in Primorskiy Krai, Russia, on Alnus hirsuta (Derzhavets, 1984; Nikolay Ivshin, pers. comm. 2020); however, Izerskiy (1999b) also lists Tilia, Acer, Ulmus, Salix and Betula. Streltzov, Osipov & Malikova (2003) give both Tilia and Quercus mongolica from Amurskaya. In August 2013 an immature larva was also found on Corylus heterophylla Fisch. ex Trautv. in the Khasan District of Primorskiy Krai (Vyacheslav Ivonin & Yanina Ivonina, pers. comm. 2022).
Recorded in Korea on Alnus japonica, Quercus dentata, Ulmus davidiana var. japonica and Tilia amurensis (Park et al., 1999).
Larvae from Japan refused species of Tilia, but were successfully reared on Italian alder (Alnus cordata) (Jean Haxaire, pers. comm. 2015)
PARASITOIDS
LOCAL DISTRIBUTION
China: Nei Mongol (Zalantun/Butha Qi); Heilongjiang; Hubei; ?Hunan.
North Korea: South Hamgyong Province (Pulgaemi ridge above Pukchong City, 1500m).
South Korea: Kyonggi Province (Cheongpyong; Mungji-san); Kangwon Province (Seolak-san; Chuncheon); Cheju Province (Cheju-do; Ora-dong).
Japan: Hokkaido (Hakodate; Tesio; Junsai Numa; Tokachi; Obiniro; Kamikawa-cho; Tomakomai); Honshu (Tokyo; Nikko; Bandai Heights; Mt. Akagi; Kirizumi Spa; Kamasawa; Karuizawa; Uchiyama; Kurokawa; Myoko; Bushi; Yamazumi; Ohdaru Spa; Kiyasato, 1300m; Otsuki; Fujinomiya; Tanzawa; Yamanashi Pref.); Shikoku; Kyushu.
Russia: Transbaikalia (Amazar; 60km SE Amazar); Amurskaya (Belogorsk; Blagoveshchensk; Uril area); Yevreyskaya (Bastak Nature Reserve); Khabarovskiy Krai (Slavyanka; Khabarovsk; Bolshekhekhtsyrskii Nature Reserve, Khabarovsk suburbs; Bikin; Boycovo; Innokent'evka; Komsomolsk-na-Amure; Pivan; Botchinskii Nature Reserve; Tumninsky Nature Reserve); Primorskiy Krai (Andreevka; Khasan; Primorskiy; Vladivostok; Narva; Kedrovaya Pad Nature Reserve; Vityaz Bay; near Kalinovka; near Zanadvorovka; Dalnegorsk); Sakhalin Island; Kurile Islands (Kunashir).
GLOBAL DISTRIBUTION
Russian Far East, northeastern China, North and South Korea, and northern and central Japan.
[Mimas tiliae (Linnaeus, 1758) has been recorded from western China, from the Altai (Huang & Wang, 2019). However, as this region is part of the Western Palaearctic this is outside of the coverage of this site.]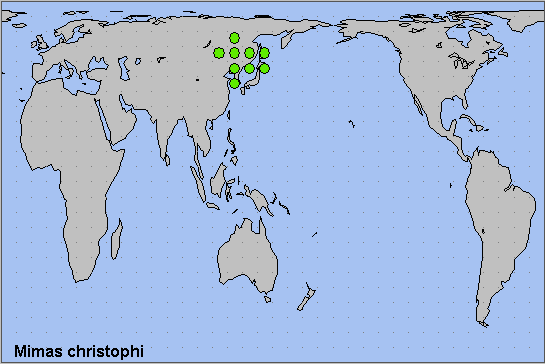 BIOGEOGRAPHICAL AFFILIATION
---

Return to Sphingidae of the Eastern Palaearctic species list
---
© A. R. Pittaway & I. J. Kitching (Natural History Museum, London)