---
MACROGLOSSUM AQUILA Boisduval, [1875]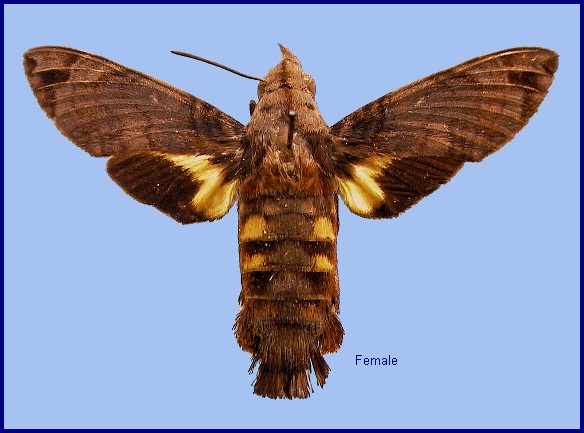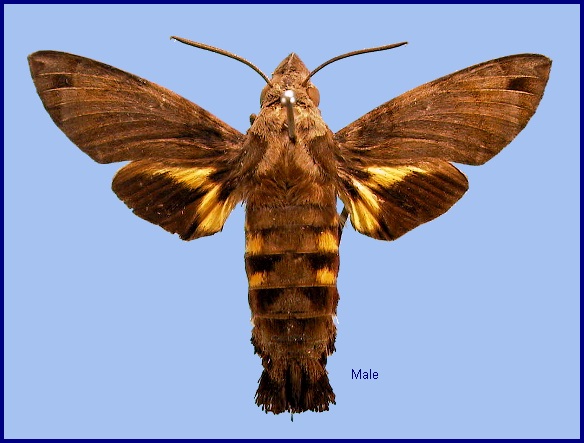 TAXONOMY
Macroglossa aquila Boisduval, [1875], in: Boisduval & Guenée, Hist. nat. Insectes (Spec. gén. Lépid. Hétérocères) 1: 340. Type locality: [Bangladesh,] Silhet [Sylhet]; Cochinchina [Vietnam].
Synonym. Macroglossa interrupta Butler, 1875.
ADULT DESCRIPTION AND VARIATION
Wingspan: 49--54mm. Immediately distinguishable from all other species of Macroglossum by the costal edge of hindwing dilated into a rounded lobe in proximal half. Forewing upperside with antemedian lines placed more basally than in other species of Macroglossum.
In the male genitalia, uncus gradually narrowed, apically obtuse, slightly downcurved. Gnathos rounded apically. Valve with stridulatory scales. Harpe short, stout, upperside excavated, edges dentate, looking like a brush in lateral view. Aedeagus with a patch of teeth near the base of the apical process, which is slender, denticulate basally, along its proximal edge and at the apex, which is obtuse.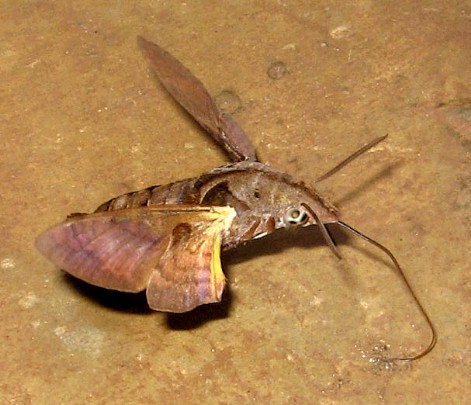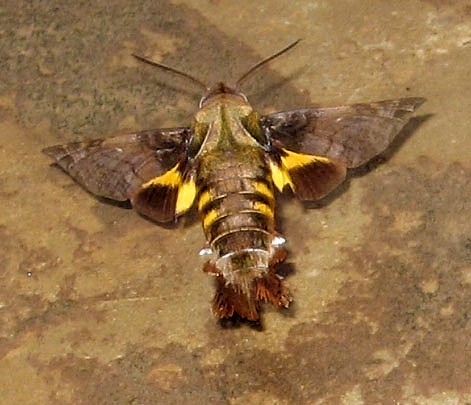 ADULT BIOLOGY
FLIGHT-TIME
Early November in northern Thailand (Chaiyaphum) at 850m altitude.
EARLY STAGES
OVUM: Unknown.
LARVA: Unknown.
PUPA: Unknown.
Larval hostplants. Unknown.
PARASITOIDS
Unknown.
LOCAL DISTRIBUTION
China: Guangdong; Guangxi (Guilin; Longsheng); Hainan (Wanning).
GLOBAL DISTRIBUTION
Northeastern India, Bangladesh, Thailand (Jeenthong, Teawkul & Jaitrong, 2021), southern China, Vietnam, Malaysia (Peninsular, Sarawak), Indonesia (Sumatra, Java, Kalimantan), Philippines (Luzon).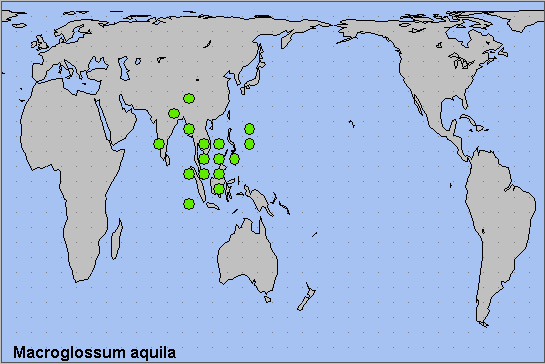 BIOGEOGRAPHICAL AFFILIATION
---

Return to Sphingidae of the Eastern Palaearctic species list
---
© A.R. Pittaway & I.J. Kitching (The Natural History Museum, London)