---
DAHIRA TAIWANA (Brechlin, 1998)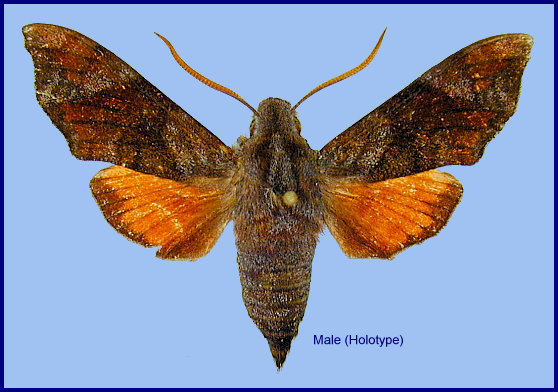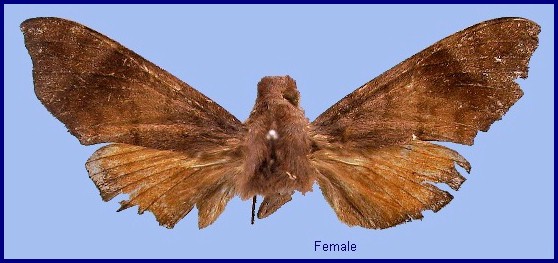 TAXONOMY
Gehlenia taiwana Brechlin, 1998, Nachr. ent. Ver. Apollo (N.F.) 19: 36. Type locality: Taiwan, Taoyuan, 16km east of Fuhsing, 24°50'N 121°24'E, 870m.
Synonym. Gehlenia taiwana Brechlin, 1998.
ADULT DESCRIPTION AND VARIATION
ADULT BIOLOGY
Unknown.
FLIGHT-TIME
Taiwan: 12.iii.2012 (Miaoli Hsien); iv (Taoyuan Hsien).
EARLY STAGES
OVUM: Unknown.
LARVA: Unknown.
PUPA: Unknown.
Larval hostplants. Unknown.
PARASITOIDS
Unknown.
LOCAL DISTRIBUTION
Taiwan: Taoyuan Hsien (16km E Fuhsing, 870m); Miaoli Hsien (Fog Watching Recreation Area, Tai'an township, 2095m).
GLOBAL DISTRIBUTION
Endemic to Taiwan.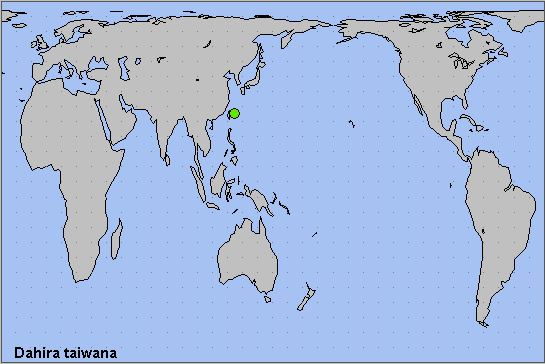 BIOGEOGRAPHICAL AFFILIATION
---

Return to Sphingidae of the Eastern Palaearctic species list
---
© A. R. Pittaway & I. J. Kitching (Natural History Museum, London)