---
DAHIRA OBLIQUIFASCIA (Hampson, 1910) -- Black-striped dahira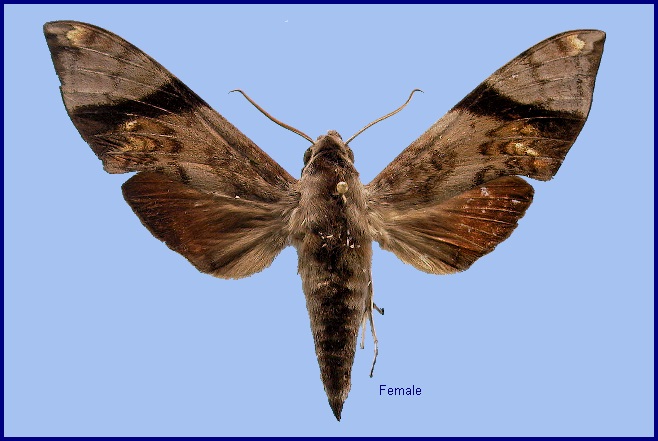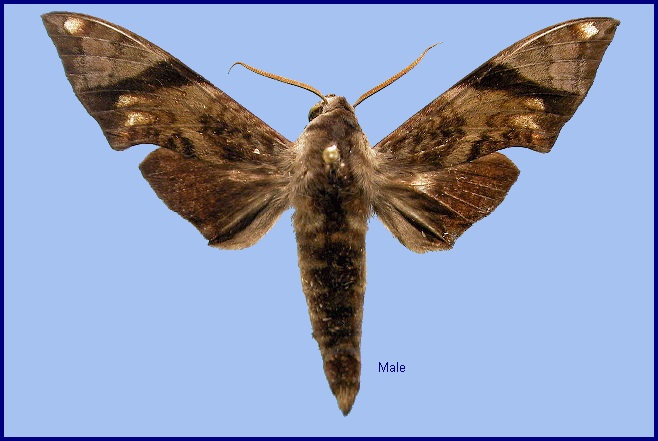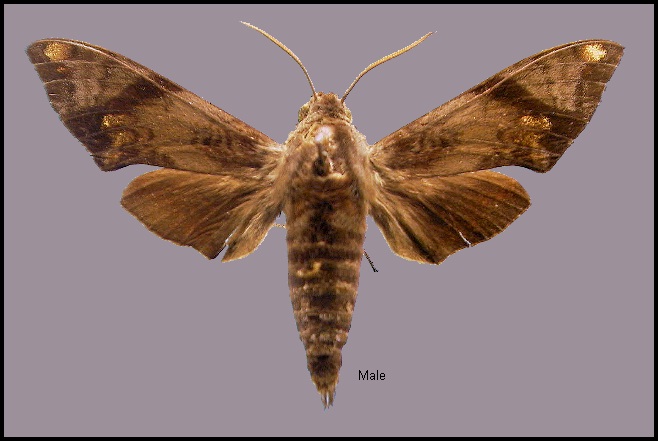 TAXONOMY
Ampelophaga obliquifascia Hampson, 1910, J. Bombay nat. Hist. Soc. 20: 87. Type locality: [India,] Assam [Meghalaya], <<Khásis [Khasi Hills]>>.
Synonym. Ampelophaga obliquifascia Hampson, 1910.
Synonym. Ampelophaga baibarana Matsumura, 1927, J. Coll. Agric. Hokkaido Imp. Univ. 19: 3. Type locality: [Taiwan, Nantou Hsien, Meiyuan,] Baibara.
Synonym. Acosmeryx huangshana Meng, 1982.
Synonym. Ampelophaga fujiana Zhu & Wang, 1997.
ADULT DESCRIPTION AND VARIATION
Wingspan: 78mm. Forewing upperside purplish-grey, tinged in parts with reddish-brown; subbasal diffuse reddish-brown marks in cell and on 2A+3A; three rather indistinct, diffuse, waved, antemedian brown lines; a small discoidal dot; a broad blackish-brown band from middle of costa to outer margin at M3, expanding into a large triangular patch on outer margin extending almost to tornus; a postmedian line slightly dentate from costa to the blackish-brown band, then oblique and more strongly dentate, with some fulvous-yellow on its outer side, a waved line before it from Cu2 to inner margin and two waved lines beyond it from the band to the inner margin; a double brownish, slightly waved submarginal line from costa to M2; a wedge-shaped brown mark on outer margin below apex; cilia blackish-brown. Hindwing dark brown tinged with red, the inner area greyish; cilia rufous, whitish at tips. Underside: breast orange-red; forewing fiery-red, with the outer margin grey, some dark brown suffusion in and below cell; six indistinct waved lines in postmedian area; a pale yellow subapical lunule and two wedge-shaped postmedian marks below Cu1 and Cu2; hindwing fiery-red, the inner area greyish, marginal area brownish; three indistinct, minutely waved, red postmedian lines. Head and thorax grey slightly mixed with reddish-brown, vertex of head and dorsum of thorax reddish-brown; abdomen grey, with broad dorsal, diffuse, reddish-brown bands.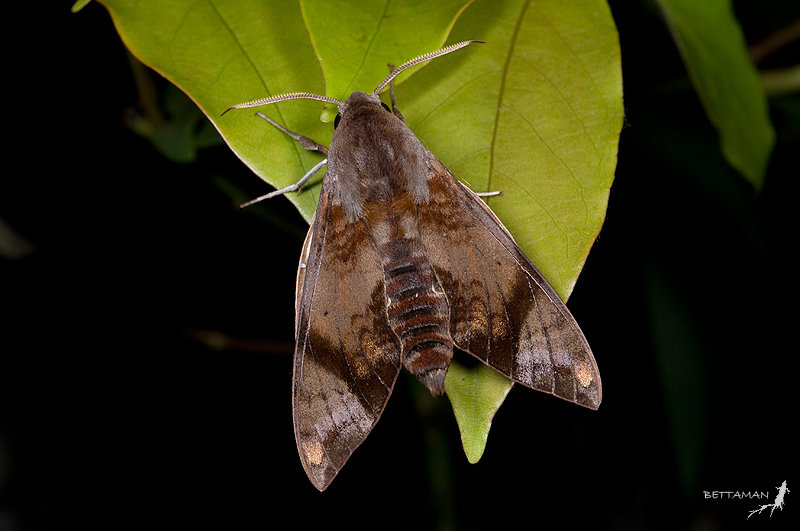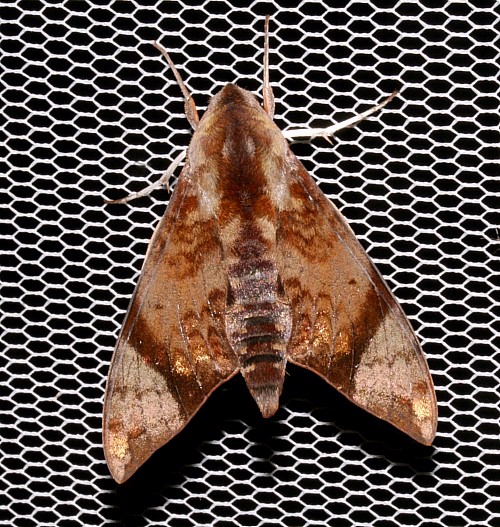 ADULT BIOLOGY
FLIGHT-TIME
China: 24.ii-5.iii (Simao/Pu'er, Yunnan); iv (Guizhou); 8.iv (Lushui, Yunnan); 5.v (Simao/Pu'er, Yunnan); 6.v.2017 (Fujian); 31.v (Guangdong); 13.vi.2015 (Guangxi); 17.vi.2017 (Zhejiang). Taiwan: iv-v (Kaohsiung Hsien).
EARLY STAGES
OVUM: Unknown.
LARVA: Unknown.
PUPA: Unknown.
Larval hostplants. Unknown.
PARASITOIDS
Unknown.
LOCAL DISTRIBUTION
China: Zhejiang (Lin'an, West Tianmushan, 840 m); Yunnan (Simao/Pu'er; Pingdi; Xuanwei; Lushui, 900m); Guizhou (Jiucai Ling); Fujian (Huangkeng; Sanming, Youxi County, 710 m); Guangdong (Nanling National Forest Park, 1100m); Guangxi (Maoer Shan, 1800m; Jinxiu, Dayaoshan, 880 m).
Taiwan: Taichung Hsien (Meiyuan); Kaohsiung Hsien (Shanping, 640m); Taipei (Sindian); Taipei Hsien (Fushan); Taoyuan Hsien (Xicun, 1090m).
GLOBAL DISTRIBUTION
Nepal, Northeastern India (Arunachal Pradesh), Thailand, Laos, southern China, Taiwan, Vietnam and Peninsular Malaysia.
BIOGEOGRAPHICAL AFFILIATION
---

Return to Sphingidae of the Eastern Palaearctic species list
---
© A.R. Pittaway & I.J. Kitching (The Natural History Museum, London)