---
LANGIA ZENZEROIDES NAWAI Rothschild & Jordan, 1903 -- Apple hawkmoth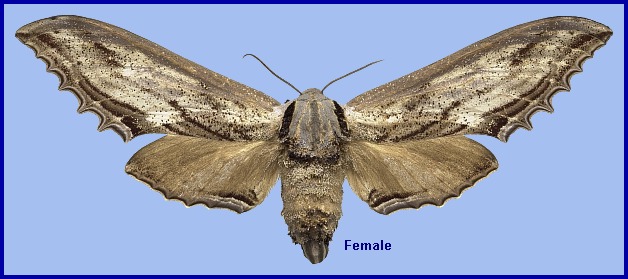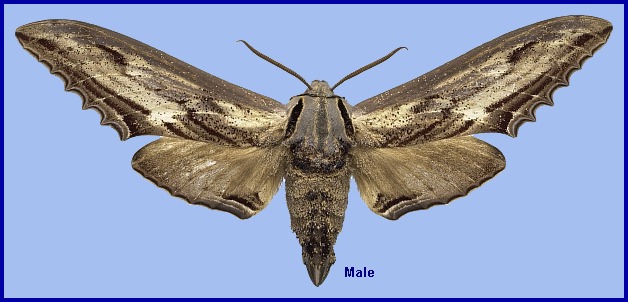 TAXONOMY
Langia zenzeroides nawai Rothschild & Jordan, 1903, Novit. zool. 9 (suppl.): 292. Type locality: Japan: Hondo [Honshu], Lake Biwa.
ADULT DESCRIPTION AND VARIATION
ADULT BIOLOGY
FLIGHT-TIME
Japan: 1.iv-1.v (Kyushu; Honshu); vi (Honshu).
EARLY STAGES
OVUM:
LARVA:
PUPA:
Larval hostplants.
PARASITOIDS
LOCAL DISTRIBUTION
Japan: Hokkaido (Sapporo); Hahajima (Konokiyama); Honshu (Tarui, nr. Lake Biwa; Fukuchiyama, nr. Kyoto; Osaka; Onyu; Takefu City; Shimojyo-mura); Shikoku (Shionoe); Kyushu (Hikosan).
GLOBAL DISTRIBUTION
Endemic to Japan.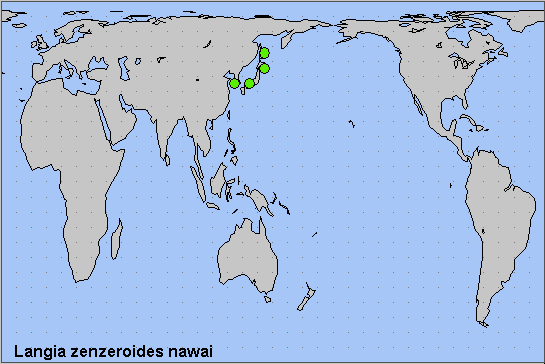 BIOGEOGRAPHICAL AFFILIATION
---

Return to Sphingidae of the Eastern Palaearctic species list
---
© A.R. Pittaway & I.J. Kitching (The Natural History Museum, London)