---
LAOTHOE HABELI Saldaitis, Ivinskis & Borth, 2010 -- Chinese poplar hawkmoth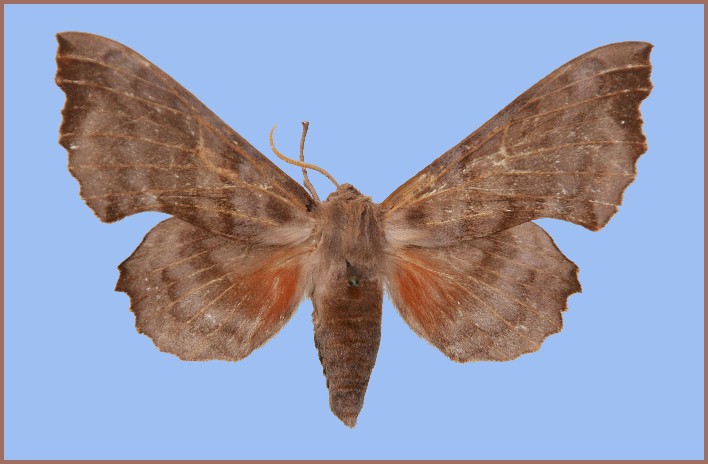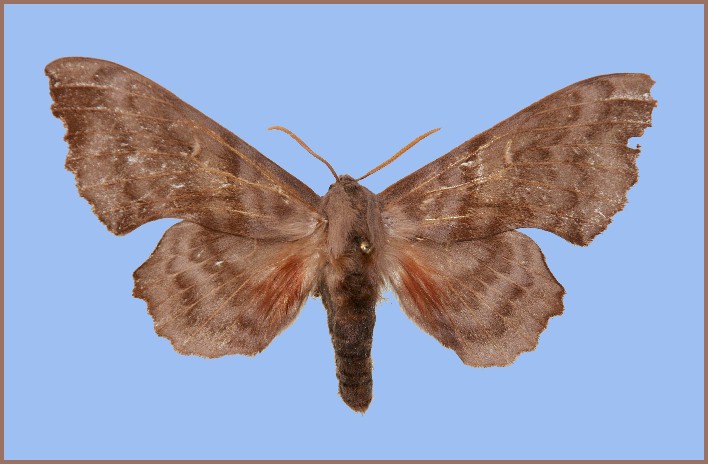 TAXONOMY
Laothoe habeli Saldaitis, Ivinskis & Borth, 2010, Tinea 21(2): 53. Type locality: China, Shaanxi Province, Qinling Mts, south of Baoji, 1600m, 34°13'93.2"N, 106°58'080"E.
Note. Danner et al. (1998) noted a single male of this taxon from Taibai Shan, Shaanxi (collected by H. Höne in 1936), that had genitalia near those of Laothoe populi populi. Pittaway & Kitching (this site) noted that this record was well outside the known distribution of L. p. populi, but probably represented a relict population rather than a labelling error. Saldaitis, Ivinskis & Borth (2010) state that differences in male genitalia, coupled with the barcode of the cytochrome oxidase subunit 5' region in L. habeli differing from that of L. p. populi by 3.5%, is sufficient to consider L. habeli a good species.
ADULT DESCRIPTION AND VARIATION
Wingspan: 60--74mm. Forewing grey-brown, with bluish-grey fascia in the basal, postmedian and subterminal areas; veins yellow; discal spot indistinct. General wing pattern subdued, resembling L. a. amurensis. Terminal wing margin strongly serrate, abrupt. Hindwing of the same ground colour as the forewing, with a large orange basal patch, although this may be reduced in some individuals (Saldaitis, Ivinskis & Borth, 2010). Closely resembles L. p. populi.
Male genitalia typical of the genus Laothoe. However, in L. habeli, when compared with L. p. populi, the processes are of the same width along the entire sacculus rather than widening apically. The saccus is pointed rather than obtuse, and the 30 equal-sized cornuti are grouped into two equal groups. In L. p. populi there are over 40 cornuti in two unequal groups of 30 and 10 (Saldaitis, Ivinskis & Borth, 2010).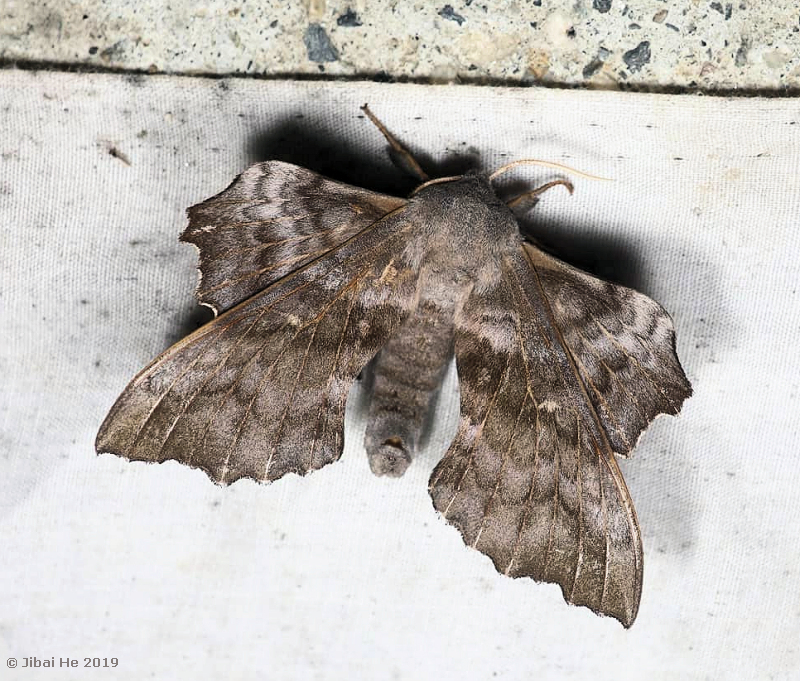 ADULT BIOLOGY
Little is known about the behaviour of this species except that males are strongly drawn to light. In Shaanxi Laothoe habeli occurs at around 1500-1900m altitude; however, in Sichuan it has only been found at 2400-2500m. An inhabitant of deciduous forests.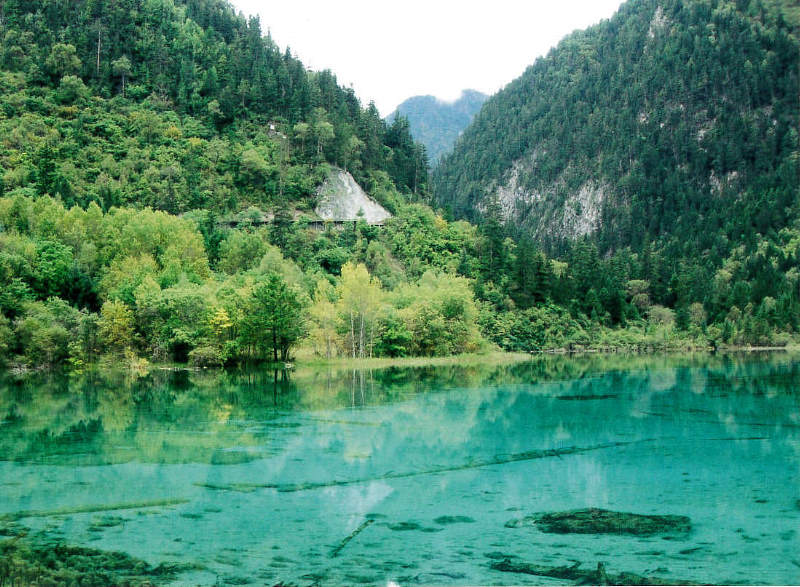 FLIGHT-TIME
China: iv-vii (Shaanxi); vi (Sichuan).
Univoltine; mainly May and June, depending on season and altitude.
EARLY STAGES
OVUM: Unknown.
LARVA: Unknown.
PUPA: Unknown.
Larval hostplants. Unknown.
PARASITOIDS
Unknown.
LOCAL DISTRIBUTION
China: Shaanxi (Daba Shan, Shou-Man, 1800m; Qinling, Taibai Shan, Foping Nature Reserve, 1800-1900m); Sichuan (Jiuzhai Gou, 2400m; Aba/Ngawa, Li county, 2450m).
GLOBAL DISTRIBUTION
Endemic to central China.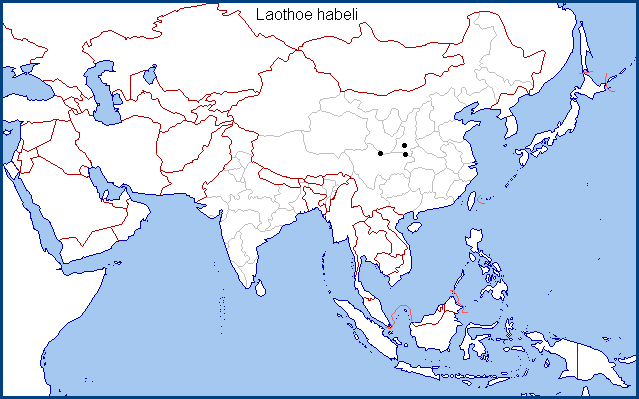 BIOGEOGRAPHICAL AFFILIATION
Holarctic; eastern Palaearctic region. Pleistocene refuge: Monocentric -- Sinotibetan refuge.
---

Return to Sphingidae of the Eastern Palaearctic species list
---
© A. R. Pittaway & I. J. Kitching (Natural History Museum, London)