---
LANGIA ZENZEROIDES FORMOSANA Clark, 1936 -- Apple hawkmoth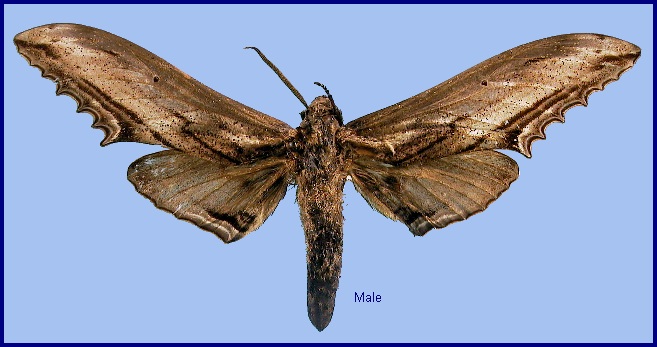 TAXONOMY
Langia zenzeroides formosana Clark, 1936, Proc. New Engl. zool. Club 15: 83. Type locality: Formosa [Taiwan, Nantou Hsien], Hori [Puli].
ADULT DESCRIPTION AND VARIATION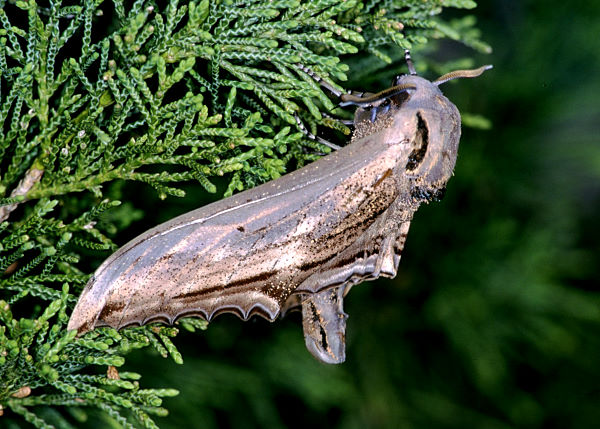 Wingspan: 120--150mm.
ADULT BIOLOGY
FLIGHT-TIME
Taiwan: 20.ii (Taoyuan Hsien); iii-v (Kaohsiung Hsien; Nantou Hsien); iv (Nantou Hsien); 17.iv (Taoyuan Hsien).
EARLY STAGES
OVUM: Unrecorded.
LARVA: Identical to that of Langia zenzeroides zenzeroides Moore, 1872.
PUPA: Unrecorded.
Larval hostplants. Recorded from Photinia serratifolia, Prunus campanulata and Prunus phaeosticta.
PARASITOIDS
LOCAL DISTRIBUTION
Taiwan: Hualien Hsien (Taroko National Park); Nantou Hsien (Jenai; Puli; Renluen, 1400m; Lushan Spa, 1200m); Taoyuan Hsien (Ming Chyr Forest, 1160m; Taoyuan City); Kaohsiung Hsien (Shanping, 640m); Taipei Hsien (Fushan; Wulai); Pingtung Hsien (Shitzu); Chiai Hsien (Alishan, 2100m); Ilan Hsien (Fushan Botanical Garden, 700m).
GLOBAL DISTRIBUTION
Endemic to the mountains of Taiwan.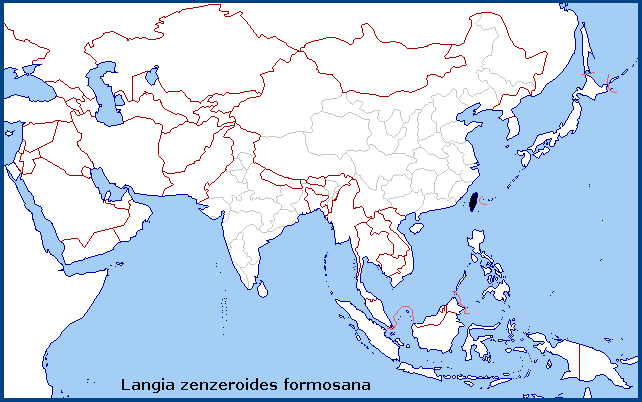 BIOGEOGRAPHICAL AFFILIATION
---

Return to Sphingidae of the Eastern Palaearctic species list
---
© A.R. Pittaway & I.J. Kitching (The Natural History Museum, London)