---
KENTROCHRYSALIS STRECKERI (Staudinger, 1880)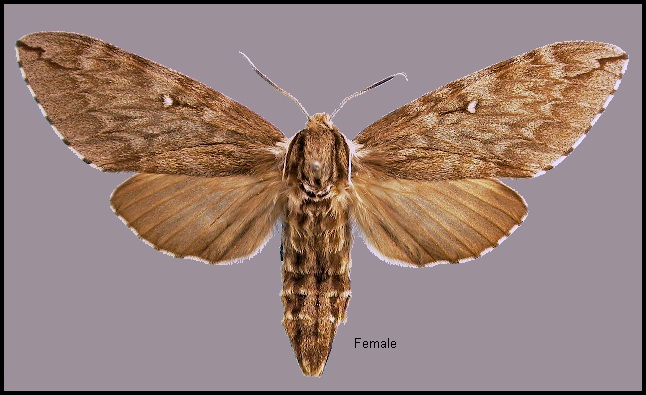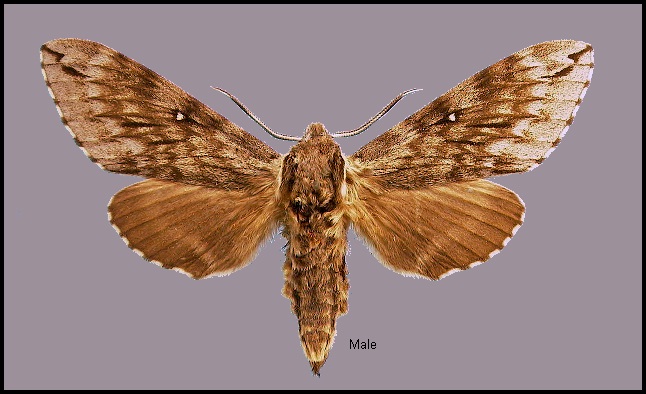 TAXONOMY
Sphinx streckeri Staudinger, [Nov. 15] 1880, Ent. Nachr. 6: 252. Type locality: [Russia, Primorskiy Krai,] Wladiwostok [Vladivostok].
Synonym. Sphinx davidis Oberthür, 1880.
Synonym. Sphinx streckeri Staudinger, 1880.
ADULT DESCRIPTION AND VARIATION
Antennae of both sexes with a large brown patch on the upperside, and with fasciculated cilia on all segments, the cilia long on the terminal segments in the male; segments rounded-dilated dorso-laterally in both sexes, especially the middle ones. Pilifer with a brush of scales and a few bristles. Palpus, especially the first segment, rough with hairs, unlike Kentrochrysalis sieversi.
In the male genitalia, uncus triangular, about twice as long as broad basally, pointed, flat dorsally, downcurved, prismatically compressed distally, carinate ventrally. Gnathos broad, short truncate-sinuate, angles rounded. Valve with dorso-distal margin very oblique. Harpe with a broad, almost flat, dentate, sinuate upper lobe, and a slender, cylindrical, obtuse ventro-distal process. Aedagus terminating in a long, slender, pointed hook curving proximad and sinstrad. In the female genitalia, ostial plate weakly sinuate. Ostial cavity covered proximally by a broad, rounded lobe.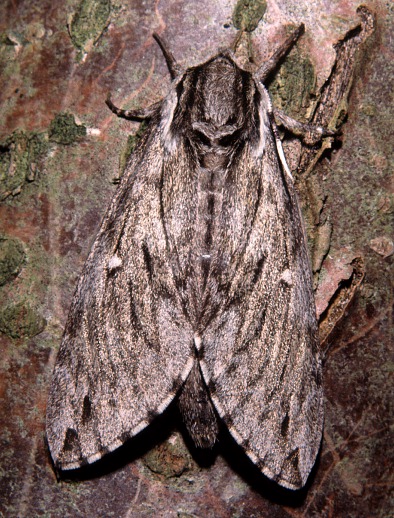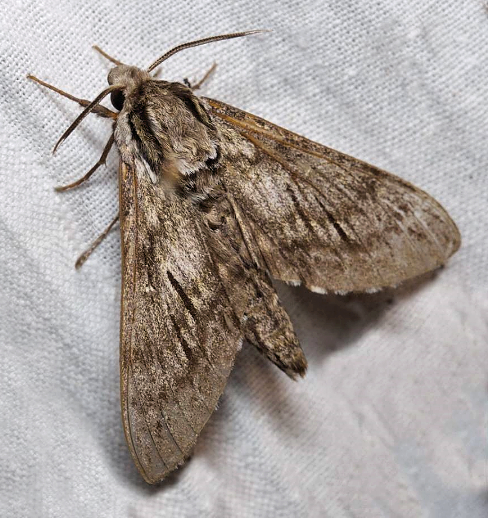 ADULT BIOLOGY
FLIGHT-TIME
China: 16.iv (Baihua Shan, Beijing); 13.v (Baihua Shan, Beijing); 8-19.vi (Nei Mongol); vii (Heilongjiang). North Korea: vii (Jueul, 1500m). Russia: 13.v-20.vii (Khabarovskiy Krai); v-viii (Primorskiy Krai); 23.viii (Khabarovskiy Krai).
Park et al. (1999) give late April until early August as the flight period in Korea.
At Khabarovsk, Russia, there is a full generation in May/June/July, with a partial second generation in August in some years (Dubatolov, pers. comm. 2010)
EARLY STAGES
OVUM: Pale yellow when first laid, almost spherical (2.1 x 1.9mm), shiny and smooth. After 3-4 days turns brownish-purple if fertile. Becomes transparent just before hatching, with the green and purple larva visible within. Laid singly on the underside of a leaf of the hostplant.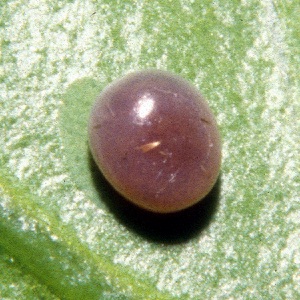 LARVA: Full-fed 60--65mm. On hatching, the 7mm larva is peppermint green with a purple 'core', particularly for the anterior segments. This purple pigmentation appears to be derived from eating the eggshell as it quickly vanishes after feeding on foliage, the body then becoming a uniform translucent peppermint green. However, the thoracic segments acquire a yellowish tint with growth, and a faint, pale, dorso-lateral line appears. The head is spherical and peppermint green, the horn blackish-purple, paler laterally, with a bifurcated tip. (Very similar to that of Sphinx ligustri, apart from the purple coloration.)
Settles down very quickly under a leaf after hatching, resting along the midrib and eating the leaf from it's tip backwards.
The larva remains basically peppermint green in the second instar, but becomes more yellowish dorsally, more greyish ventrally. With growth, the pale dorso-lateral line fades away except for on the thoracic segments. Pale yellow oblique streaks appear laterally, that from the anal horn more pronounced. The peppermint green head becomes more triangular and develops yellow cheek stripes. The horn remains blackish dorsally and ventrally, but becomes pale yellowish-red laterally. The true legs are translucent pale yellow, the spiracles pale. Final size: 20mm.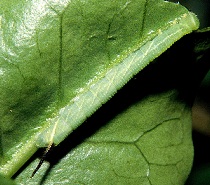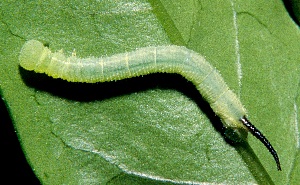 In the third instar the basic body colour becomes more apple green, yellowish dorsally, greyish ventrally, and is sparsely covered with raised yellow tubercles, some of which are sharp. The lateral oblique stripes and thoracic dorso-lateral stripe become lemon yellow, the oblique stripe from the horn is bold. The head is broadly oval-triangular, apple green, with pale yellow cheek stripes which may be edged behind with black in some. The large, conical, mainly straight horn is now more or less pale orange, with some blue dorsally, but with black tubercles along both dorsal and ventral surfaces. Final size: 31mm.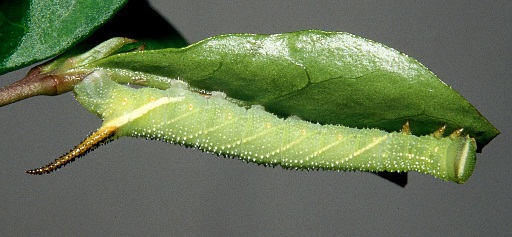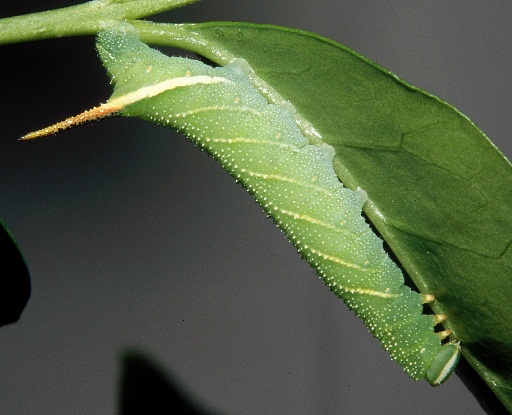 In the fourth instar, which is the last for most, the basic body colour remains the same, i.e. apple green, yellowish dorsally, greyish ventrally. The now lemon yellow body tubercles, which may be raised or mere spots, are arranged in concentric rings, and are paler and smaller ventrally. The lateral oblique stripes and thoracic dorso-lateral stripe are still lemon yellow, but are now 'edged' frontad with clear green. The oblique stripe from the horn is very bold and more creamy, and is often edged along the front with carmine red, as are some of the others. This carmine colour may also appear in many as a diffuse flush around the spiracles, this sometimes joining up below and around the base of the oblique lateral stripes to form an irregular band. The head is still broadly oval-triangular, but now with a blue-green face and creamy-white cheek stripes, which may be edged behind with black in some. Both black and cream stripes are broken at the indented vertex. The long, conical, mainly straight horn is now more orange-to-carmine red, with some blue dorsally, but still with black tubercles along both dorsal and ventral surfaces. The true legs are orange edged with yellow, and darker at the base. Feet of claspers paler than body; anal clasper edged with black above foot. Spiracles orange with a yellow vertical bar centrally. Prior to pupation the dorsal surface becomes plum brown. Final size: 60--65mm.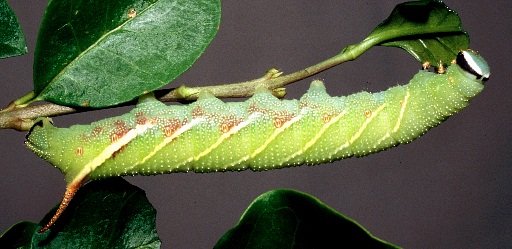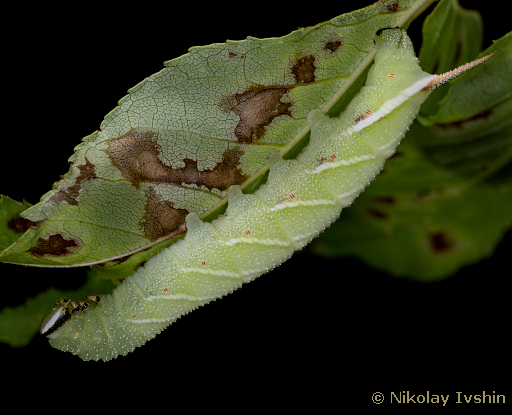 PUPA: 42--47mm. Mid to dark mahogany brown, and rugose, i.e. not glossy; elongate. Head with a pair of forward-projecting ridges, and with tubercular knobs over the eyes and tongue base. Antennae carinate, with a ridge of fine, sharp, backward-pointing spines along their entire length. Wing-cases ribbed. Abdomen weakly carinate dorsally and with spiny tubercles at the shoulders and wing bases. First and second mobile abdominal segments (i.e. abdominal segments 5 and 6) with a twin pair of broad-based spines ventro-laterad. Cremaster long (4mm), conical, sharply pointed, with three pairs of lateral spines and two sharp tubercles at the base ventrally. Formed in an almost silk-free cell in the soil. The overwintering stage.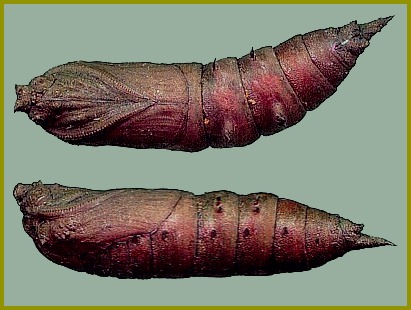 Larval hostplants. Recorded in Primorskiy Krai, Russia, on Fraxinus, Ligustrum and Syringa (Derzhavets, 1984); Izerskiy (1999b) gives Fraxinus mandshurica; Streltzov, Osipov & Malikova (2003) give Syringa reticulata subsp. amurensis. Recorded in Korea on Ligustrum obtusifolium and Fraxinus mandshurica (Park et al., 1999).
PARASITOIDS
LOCAL DISTRIBUTION
China: Nei Mongol (Zalantun/Butha Qi); Heilongjiang (Zhaodong; Harbin; Yichun); Jilin (Changbai Shan); Beijing (Baihua Shan); Shanxi (Wutai Shan); ?Fujian (Longqi Shan); ?Hubei (Lichuan); ?Sichuan (Kangding).
The records from Fujian, Hubei and Sichuan may be miss-labelled specimens which have been at some time confused with Kentrochrysalis sieversi.
Mongolia.
North Korea: North Hamgyong Province (Jueul, 1500m); South Hamgyong Province (Seokwang Temple).
South Korea: Kyonggi Province (Gwangleung; Soyo-san; Myungji-san); Kangwon Province (Gwangduk-san; Samak-san; Daeryong-san; Geonbongryong; Seolak-san; Bangtae-san; Chiak-san; Baekduk-san; Taebek-san; Chuncheon; Geonbong Temple; Bongmyung-ri; Jeombong-san; Odae-san; Yangyang; Hongcheon; Yaksu-san; Jiam-ri; Jang-san); North Chungchong Province (Songni-san); North Cholla Province (Jiri-san); South Cholla Province (Baekyang Temple); North Kyongsang Province (Sobaek-san; Tonggo-san; Youngcheon); South Kyongsang Province (Hamyang; Geoje-do; Namhae; Milyang; Sancheong; Ulsan; Hapcheon); Cheju Province (Cheju-do; Topyung; Youngsil; Hare-ri).
Russia: Amurskaya (Uril area; Blagoveshchensk); Yevreyskaya (Bastak Nature Reserve); Khabarovskiy Krai (Bolshekhekhtsyrskii Nature Reserve, Khabarovsk suburbs; Komsomolsk-na-Amure; Kiselevka; Tumninsky Nature Reserve); Primorskiy Krai (Andreevka; Askold Island; Vladivostok; Narva; Novoselskiy, Lake Chanka; Kedrovaya Pad Nature Reserve; Barabash; Anuchino; Novovladimirovka; Ussuriysk; Kravtsovka).
GLOBAL DISTRIBUTION
Mongolia, Russian Far East (Dubatolov, 2023), northeastern China, North Korea and South Korea.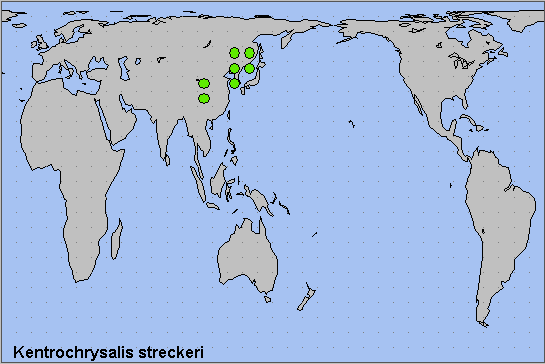 BIOGEOGRAPHICAL AFFILIATION
---

Return to Sphingidae of the Eastern Palaearctic species list
---
© A. R. Pittaway & I. J. Kitching (Natural History Museum, London)