---
KENTROCHRYSALIS HEBERTI Haxaire & Melichar, 2010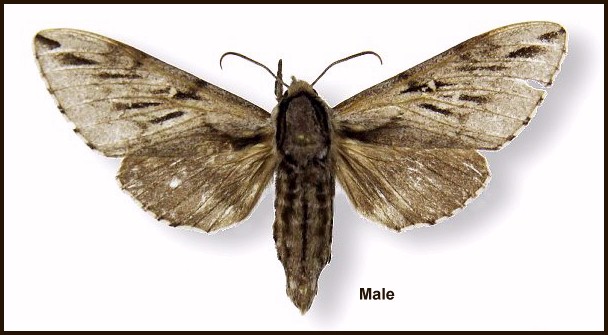 TAXONOMY
Kentrochrysalis heberti Haxaire & Melichar, 2010, European Entomologist 3(2): 103. Type locality: China, Shaanxi Province, Qinling Mountains, Taibai Shan, 1500m, 33° 50'N 107° 44' E, iv.2005.
Note. Visually, apart from size, K. heberti can be very difficult to separate from Kentrochrysalis sieversi Alphéraky, 1897. Records of one may be of the other species.
ADULT DESCRIPTION AND VARIATION
Wingspan: 77mm.
ADULT BIOLOGY
A montane species, generally found between 900 and 2200m altitude (Haxaire & Melichar, 2010).
FLIGHT-TIME
China: 6.iv-16.v (Shaanxi; Hubei); vi-vii (Shanxi; Shaanxi; Jiangxi).
EARLY STAGES
OVUM: Unknown.
LARVA: Unknown.
PUPA: Unknown.
Larval hostplants. Unknown.
PARASITOIDS
LOCAL DISTRIBUTION
China: Shanxi (Taiyue Shan, 1500m); Shaanxi (Qinling, Taibai Shan, 900-2200m; Qinling, Foping Nature Reserve, 1500-1900m; Qinling, Shaliangzi, 1000m); Hubei (Daba Shan, Songluohe, 1200-1800m); Jiangxi (Wuyi Shan, Xipaihe, 1500m).
GLOBAL DISTRIBUTION
Endemic to central China.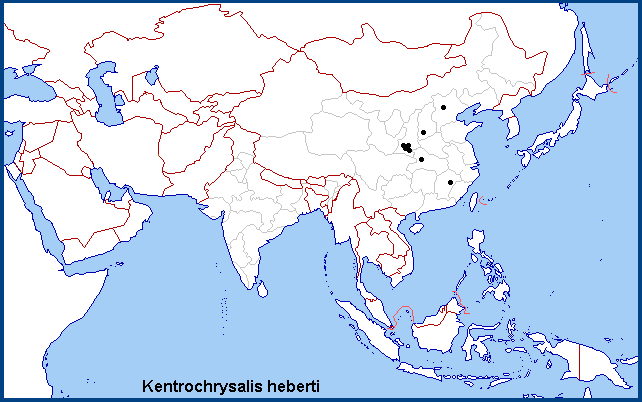 BIOGEOGRAPHICAL AFFILIATION
---

Return to Sphingidae of the Eastern Palaearctic species list
---
© A. R. Pittaway & I. J. Kitching (Natural History Museum, London)