---
HYLES TATSIENLUICA (Oberthür, 1916) -- Tibetan hawkmoth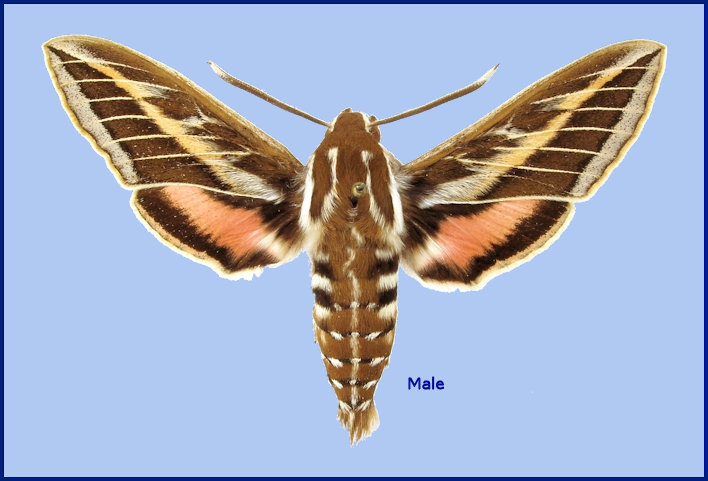 TAXONOMY
Celerio lineata subsp. tatsienluica Oberthür, 1916, Études de lépidoptérolgie comparée 12(1): 202. Type locality: [China,] Tibet [Sichuan,] Tatsien-lu [Kangding].
Synonym. Hyles renneri, Danner, Eitschberger & Surholt, 1998, Herbipoliana 4(1): 269-270. Type locality: Nepal, Annapurna Himal, 4000 m NN, 11 km SE Jomson Noma pasture, 83°48'E, 28°44.5'N.
Note. Hyles renneri was synonymized with Hyles livornica by Kitching & Cadiou, 2000 (Hawkmoths of the World: 51), but reinstated as a species by Eitschberger, 2003 (Neue. ent. Nachr. 54: 70). However, Hyles renneri and Hyles livornica tatsienluica were found to be conspecific by Hundsdoerfer et al. (2017) and distinct from Hyles livornica. They therefore reinstated Hyles tatsienluica as the valid name for this good species, and synonymized H. renneri with it.
ADULT DESCRIPTION AND VARIATION
Very similar to Hyles livornica (Esper, 1780), but darker.
ADULT BIOLOGY
Unknown, except that this is a high altitude species.
FLIGHT-TIME
China: Unknown.
EARLY STAGES
OVUM: Unknown.
LARVA: Unknown.
PUPA: Unknown.
Larval hostplants. Unknown.
PARASITOIDS
Unknown.
LOCAL DISTRIBUTION
China: Gansu (Gangu County, 900m); Sichuan (Kangding); Xizang/Tibet.
GLOBAL DISTRIBUTION
Endemic to the Tibetan Plateau of Nepal (Annapurna and Ganesh Himal areas, 1600-4650m) and southern China.
BIOGEOGRAPHICAL AFFILIATION
---

Return to Sphingidae of the Eastern Palaearctic species list
---
© A. R. Pittaway & I. J. Kitching (Natural History Museum, London)