---
HYLES LIVORNICA (Esper, 1780) -- Striped hawkmoth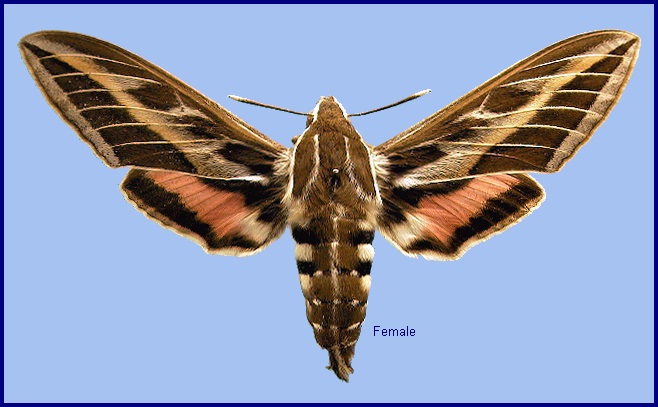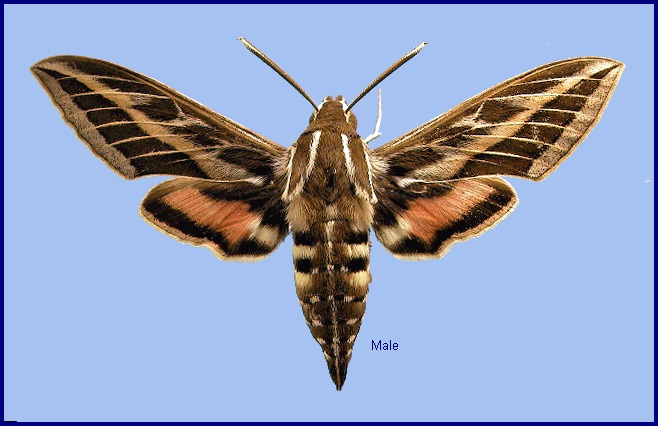 TAXONOMY
Sphinx livornica Esper, 1780, Die Schmetterlinge 2: 87, 88, 196. Type locality: Italy, [Livorno].
Synonym. Sphinx livornica Esper, 1780.
Synonym. Phinx koechlini Fuessly, 1781.
Synonym. Celerio lineata obscurata Niepelt, 1922.
Synonym. Celerio lineata saharae Gehlen, 1932.
Synonym. Celerio livornica perlimbata Abbayes, 1932.
Synonym. Celerio lineata malgassica Denso, 1944, Dt. ent. Z. Iris 57: 98.
Note. The taxa known as Hyles renneri Danner, Eitschberger & Surholt, 1998, and Hyles livornica tatsienluica (Oberthür, 1916) were found to be conspecific by Hundsdoerfer et al. (2017) and distinct from Hyles livornica. They therefore reinstated Hyles tatsienluica as the valid name for this good species, and synonymized Hyles renneri with it.
[Further details on this species in Japan, as well as photos of many stages, can be found on Digital Moths of Japan.]
ADULT DESCRIPTION AND VARIATION
Wingspan: 60--90mm. Similar to many other species of the genus, but with distinctive, white forewing venation. Although extremely variable in size, with some individuals dwarfing others, it exhibits very little other variation except in the intensity of coloration and degree of pattern. Forewing costal area pale olive-brown, shaded behind with dark brown, and with a white patch in and another beyond cell; discal band pale yellow, both edges sharply defined; post-discal band brown; marginal band purplish-grey, dotted with black; cilia of outer and inner margin white; veins white. Hindwing crimson, basal area and a broad submarginal band blackish; marginal band narrow, pink dotted with black; a white patch near anal angle. Antenna brown, tip white. Head and thorax olive-green. Palpus white, with a white lateral stripe running from palpus over eye to base of thorax, met by the white upper fringe of the tegula; abdomen pale olive-brown, with black and white side-patches as in Hyles nervosa; fringe of abdominal tergites chequered black and white. Pulvillus present. Outer spines of fore-tarsus prolonged, at least partly, their number often obviously reduced (Bell & Scott, 1937).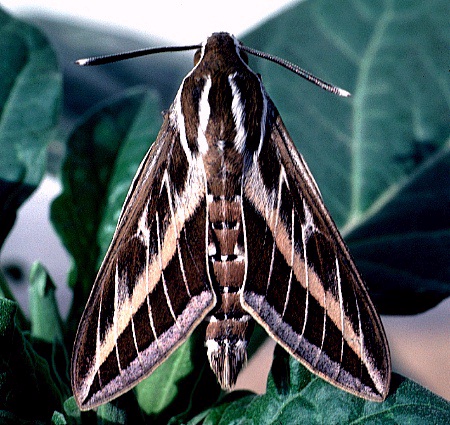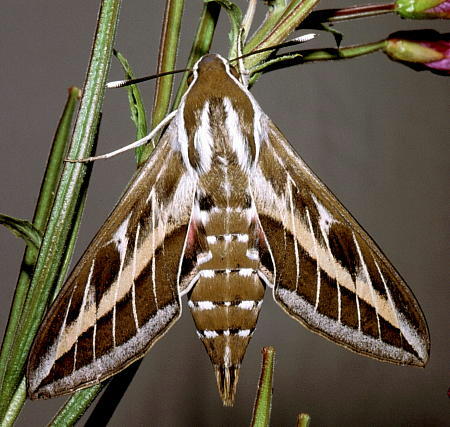 ADULT BIOLOGY
A noted migrant, generally found in open ground with few trees and shrubs, such as rough grazing land, parched hillsides and sand-dunes, or in vineyards. In semi-desert areas, huge numbers can build up during winter and spring, especially after heavy rains.
An extremely active species, normally flying towards evening, when considerable numbers are often attracted to sweet-smelling flowers and to light. Pairing always takes place towards dawn over a period of two or three hours. Thereafter, females can cover considerable distances whilst egg-laying. In southern Europe and North Africa, many are also active during daylight hours, especially when on migration.
FLIGHT-TIME
China: iv-ix ('China'). Japan: 21.vii (Honshu). Mongolia: 26-27.v (Khovd Province); 3-11.vi (Khovd Province; Gov'-Altai Province). Russia: 5.vi (Siberia); 28.vii-3.viii (Siberia).
EARLY STAGES
OVUM: Pale green, slightly oval (1.0 x 1.1mm), shiny and smooth. Laid on the upper and underside of leaves of the hostplant, with four or five to a small plant.
LARVA: Full-fed 65--85mm. Polychromatic. Newly hatched, 4mm long; greenish white, with black head and horn. With feeding, body darkens to olive green; in second instar the final pattern appears, thereafter becoming more brilliant at each moult.
Fully-grown larvae are usually close to the colour form depicted. Head and saddle-shaped mark on segment 2 black or pink. Body varying from green to blackish. There is a yellowish dorsal stripe, sometimes tinged with pink, from segment 3 to base of horn. A dorso-lateral line of eye-spots is usually present. These are yellow tinged or centred with pink and ringed with black, round on 4 to 11, pear-shaped on 12, double on 13; these spots are sometimes replaced by a yellow stripe. Lateral area dotted with yellowish green, with a whitish and dull pink subspiracular stripe. Horn reddish-pink, stout, tubercled, tapering evenly to a blunt tip, nearly straight. Legs and claspers black, prolegs pink with black feet; venter dull pink. Spiracles white. Some, however, have very extensive black markings; green stripes instead of yellow; and a plum-coloured ventral surface. A very different colour form exists commonly in North Africa, i.e. pale apple-green with yellow eye-spots and speckling.
At all stages, larvae feed quite openly on their low-growing hostplants, alternating bouts of frenzied feeding, when large quantities of food are consumed, with spells of basking. When disturbed, young individuals will drop from the plant; older larvae will twitch violently from side to side while regurgitating food.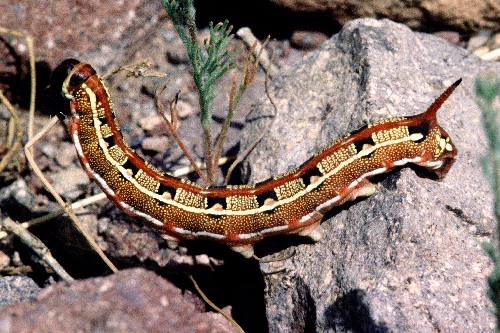 PUPA: 30--45mm. Tongue-case enlarged basally, a tubercle on each side above base of tongue. Surface dull, slightly shagreened. Cremaster a short thin spike. More elongate than most Hyles species and variable in the amount of brown coloration present, some being yellowish or even translucent. Like others of the genus, encased in a flimsy, silk cocoon amongst ground litter or in a grass tussock. Overwinters as a pupa and may diapause for more than one year.

Larval hostplants. Usually Rumex, Polygonum and, in North Africa and the Middle East, the flower- and seed-heads of Asphodelus. Vitis vinifera has also been recorded for China (Li & Guo, 1990). In Pakistan, it has been recorded from Rumex hastatus at Goharabad, Gilgit-Baltistan (Muhammad Ather Rafi, pers. comm. 2014).
PARASITOIDS
Unknown for the region.
LOCAL DISTRIBUTION
China: Beijing; Shanxi (Taiyuan; Taigu; Xiaxian; Yuncheng); Shaanxi; Gansu (Wudu (NHRS-JLKB 000020246)); Sichuan (Kangding; Dadu He; Xiaolou); Yunnan (Yanmen); Tibet/Xizang (Lhasa, 3650m; Zhedang, 3600m; Zhangmu, 850m; Xigazê, 3836m; Bailung, 3900m; Qamdo, 3200); Hunan; Jiangxi (Tiancun, nr. Xingguo).
Taiwan.
Mongolia: Khovd Province (Bodonchiyn River basin, Hundiyin River, 1600m (46°06'N 92°30'E); Dzhungarian Gobi, Uvkhod-Ula (Ovkhood-Uul) Mt., 1250m (45°48'N 91°06'E)); Gov'-Altai Province (Adzh-Bogdo Mts. (NE slope), near Mt. Khalba-Khairkhan, 1700m (45°03'N 94°59'E)).
Japan: Hokkaido (south); Honshu (Asayama, 700m); Kyushu; Okinawa.
Russia: Siberia (Novosibirsk; Bolotnoe).
Yang (1978) records this species as occurring "everywhere" in China; however, many publications and collectors omit this species from their lists. This indicates that Hyles livornica may only be a sporadic mass migrant through much of China to Japan and Taiwan.
Replaced across the Tibetan Plateau, from Nepal north to Gansu, by the very similar high altitude species Hyles tatsienluica (Oberthür, 1916), which was until recently thought to be a subspecies/form (Hundsdoerfer et al., 2017). Thus the above records from Gansu, Sichuan, Yunnan and Tibet/Xizang are probably this species, not Hyles livornica.
GLOBAL DISTRIBUTION
Africa to Europe, the Middle East, Central Asia, Siberia, Mongolia (Yakovlev, Gus'kova, Doroshkin & Titov, 2015; Yakovlev & Doroshkin, 2017), southern India, China and Japan, but only as a sporadic migrant to the cooler north. A single worn migrant female has also been recorded from Chiang Mai, northern Thailand (Inoue, Kennett & Kitching, 1997).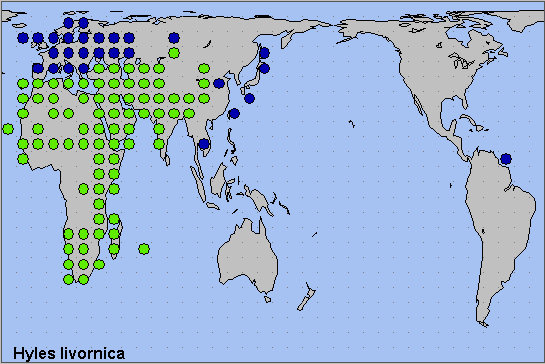 BIOGEOGRAPHICAL AFFILIATION
Palaeotropical (but not rainforest areas of Africa and Asia), Holomediterranean and Saharo-Arabian. Pleistocene refuge: probably the Afrotropical region.
---

Return to Sphingidae of the Eastern Palaearctic species list
---
© A.R. Pittaway & I.J. Kitching (The Natural History Museum, London)