---
HYLES COSTATA (von Nordmann, 1851)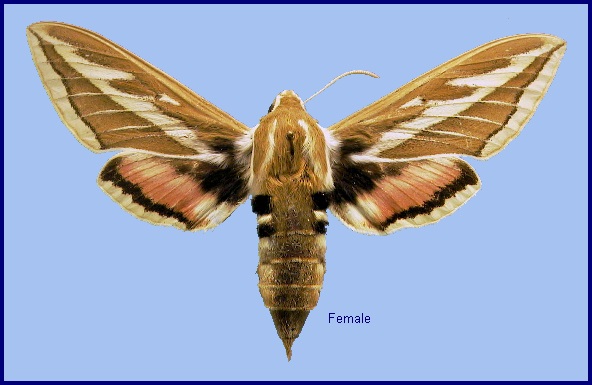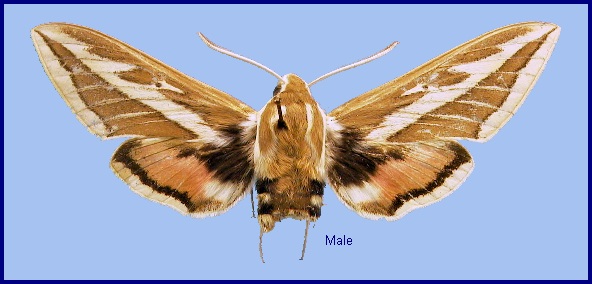 TAXONOMY
Sphinx (Deilephila) costata von Nordmann, 1851, Bull. Soc. imp. Nat. Moscou 24(2): 444. Type locality: [Russia, Buryatia], Kjachta area [Kyachta].
Synonym. Sphinx costata von Nordmann, 1851.
Synonym. Celerio costata confusa (Gehlen, 1928).
Synonym. Hyles costata solida Derzhavets, 1979, Nasekomye Mongolii 6: 408, figs. 1b, 2b. Type locality: [Russian Far East, Amurskaya], Blagoveshchensk.
Note. Although the adults are visually very similar, Danner et al. (1998) separated Hyles costata from Hyles exilis Derzhavets (1979) using small differences in colour pattern and male genitalia. With the discovery of the very dissimilar larvae of both species (V. Dubatolov, pers. comm. 2010; Zolotuhin & Saldaitis, 2011), this separation is justified.
ADULT DESCRIPTION AND VARIATION
Wingspan: 70--82mm. On the lateral side of the first segement of the foreleg there are up to 9 spines (instead of 12 as in Hyles exilis) (Derzhavets, 1979).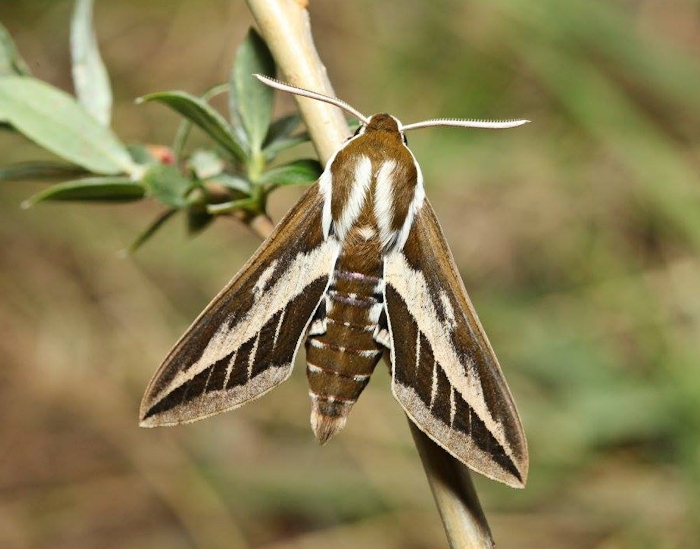 ADULT BIOLOGY
A species of dry meadows, steppe and woodland margins. In Transbaikalia, steppe along wide river valleys is preferred (Zolotuhin & Saldaitis, 2011).
FLIGHT-TIME
China: vii (Heilongjiang). Mongolia: vi (Bulgan Province; Sèlèngè Province; Dornod Province; Ömnögov' Province; Khovd Province); vii (Uvs Province; Bayanhongor Province; Bulgan Province; Gov'-Altai Province; Khovd Province; Töv Province); viii (Hèntiy Province). Russia: vi-vii (Transbaikalia; Amurskaya); vii (Khakasskaya SSR; Tuva ASSR; Buryatia); viii (Transbaikalia).
EARLY STAGES
OVUM: Unknown.
LARVA: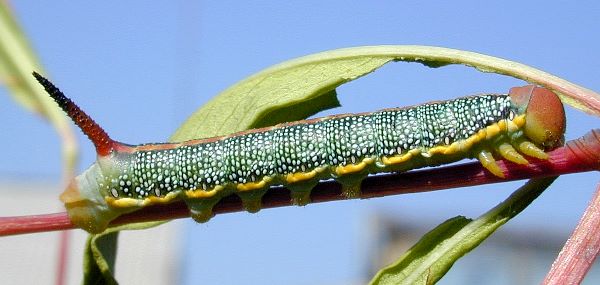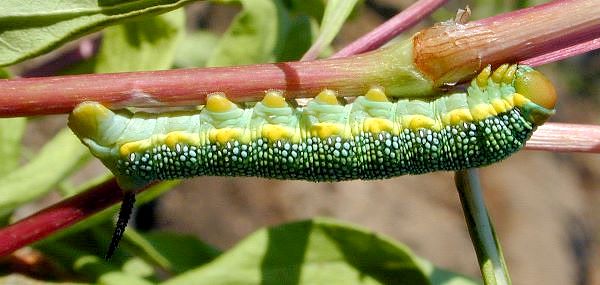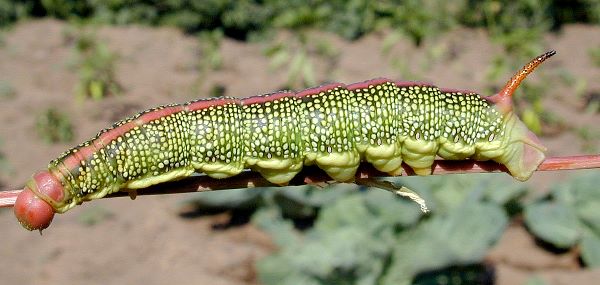 PUPA: Unknown.
Larval hostplants. Unlike Hyles exilis, the only known hostplants of Hyles costata are species of Aconogonon (syn. Polygonum), Rumex and Polygonum (Zolotuhin & Saldaitis, 2011). The larvae illustrated were found on Aconogonon divaricatum (V. Dubatolov, pers. comm. 2010). In Mongolia it has also been found on Aconogonon chaneyi (Zagorinskiy, Gorbunov & Puntsagdulam, 2010).
PARASITOIDS
Unknown.
LOCAL DISTRIBUTION
China : Nei Mongol (Chifeng/Ulankhad); Heilongjiang (??Buchalu, Xiao Hinggan Ling, 1100m); Shandong (Qingdao).
Mongolia: Hèntiy Province (90km N Öndörhaan); Uvs Province (NW Tere-Khol Nuur [lake], on border of Tuva ASSR, Russia, 1100m; 50km E Ulaangom, Uvs Nuur [lake]); Bayanhongor Province (8km ESE Bayanleg village, 1350m; Bogd Sum, 33km SW Bogd, Orog Nuur [lake]); Bulgan Province (63km W Erdenecogt, 1500m; 11 & 20 km W Bayannuur village on Bayan Nuur [lake] (near Suuz), 1000m; Khogno Khan Uul (Mts.), 22km W of Rasaant, 1270m); Sèlèngè Province (SE Bayanzogt village, 1600m); Dornod Province (Matad(stariy)); Gov'-Altai Province (SE corner of Dolgon Nuur [lake], 1200m; 10km SE Chechmort village, 1600m); Khovd Province (6km SW Khovd; Shurag River Valley, near Erdene-Buren Village, 1400m; near Mankhan, 1400m; Dzun-Dzhargalant-Khairkhan, Ar-Shatyn-Gol River valley, 2130m (47°44'N 92°27'E)); Ömnögov' Province; Töv Province (20km S Ulaan-Baatar); Uvurkhangai Province (Arvaikheer Sum, 20km SW Arvaikheer (46°06'N 102°36'E)).
Russia: Altai; Khakasskaya SSR (25km S Abakan); Tuva ASSR (Tere-Khol Nuur [lake], 995m); Buryatia (Kyachta; Onokhoy village; Chita region; Beloozersk); Transbaikalia (Nizhniy Casuchey; Dahursky Nature Reserve; Kyra District, 990m; Solovyovsk; Sokhondo Nature Reserve, near Kyra; Undino-Posel'e); Amurskaya (Blagoveshchensk); Yevreyskaya (Radde).
GLOBAL DISTRIBUTION
Recorded from Mongolia (Puntsagdulam et al., 2005; Knyazev, Makhov, Matov & Yakovlev, 2020) and adjacent areas of Russia (where it co-occurs with Hyles exilis), with a few (suspect) records from farther east and south in China, in Heilongjiang and Shandong.
This species is probably much more widely distributed in northern China, as adults, which could be either this species or Hyles exilis, have been recorded from the Chinese Altai (Xinjiang), across Gansu, northern Shaanxi and Nei Mongol, to several more locations in Heilongjiang.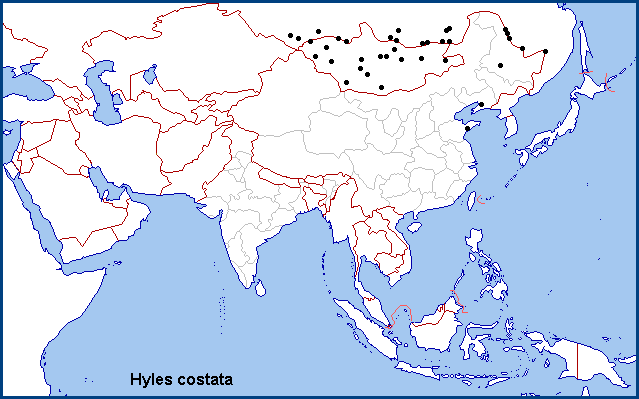 BIOGEOGRAPHICAL AFFILIATION
Holarctic; eastern Palaearctic region. Pleistocene refuge: Monocentric -- Sinopacific refugium.
---

Return to Sphingidae of the Eastern Palaearctic species list
---
© A.R. Pittaway & I.J. Kitching (The Natural History Museum, London)