---
GRISEOSPHINX PREECHARI Cadiou & Kitching, 1990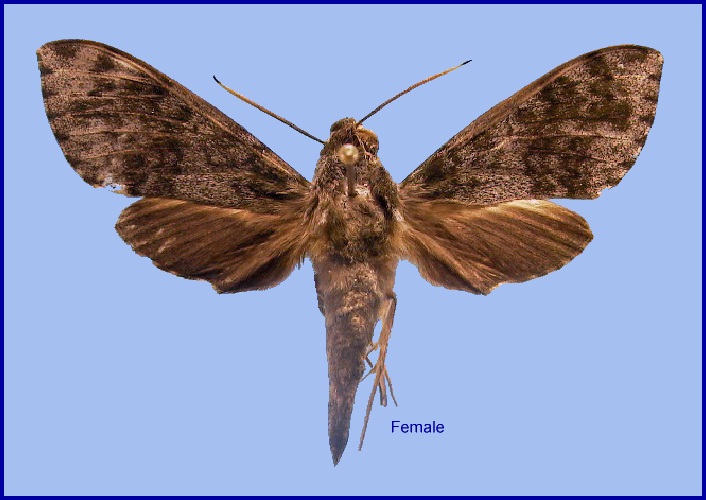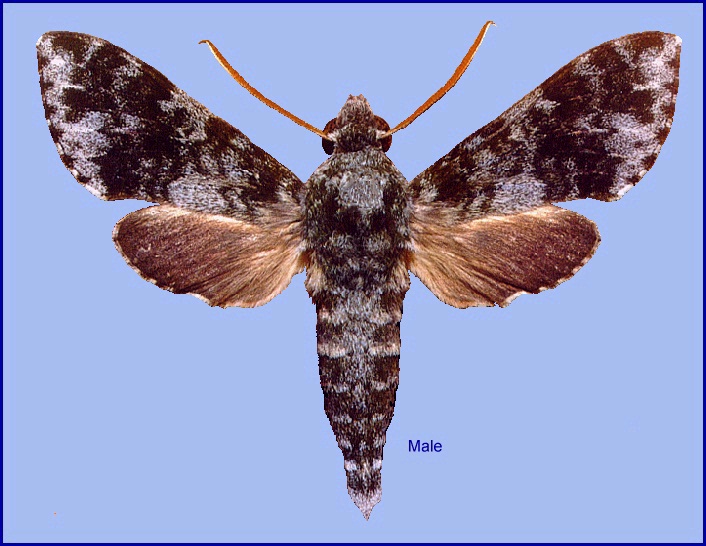 TAXONOMY
Griseosphinx preechari Cadiou & Kitching, 1990, Lambillionea 90(4): 17. Type locality: Thailand, Kanchanaburi, Sangkhla Buri, Thung Yai Wildlife Sanctuary, Mae Kasa, 15°25'N 98°44'E, 750m.
ADULT DESCRIPTION AND VARIATION
Superficially similar to Pseudodolbina fo fo, but immediately distinguishable by the presence of a field of microtrichia on the inner surface of the labial palp segment one and the choerocampine pilifer-palp hearing organ. Male notable for its very long, slightly clubbed, antennae, which are over half the length of the forewing. Scales of head and body narrow, semi-erect, giving a hairy appearance. Labial palp segment one with apical cavity well defined. Base of proboscis exposed (as in Rhagastis and Cechenena). Outer apical hindtibial spur approximately half as long as hindbasitarsus and about twice as long as inner apical hindtibial spur. Hindwing upperside uniform brownish-grey.
In the male genitalia, uncus simple, apically truncate. Gnathos simple, apically slightly spatulate and rounded, with a small median dorsal point when viewed apically. Juxta cordate. Valves oval, with 16-18 stridulatory scales arranged in four irregular rows. Transtillae triangular, dorsally produced as two acutely pointed processes. Harpe sickle-shaped, dorsal edge concave, ventral edge convex, apex rounded in ventral view. Aedeagus with apical bilobed process; left lobe projecting ventrally, short, apically dentate; right lobe lying dorsally, broad, anterior margin dentate, surface with a number of small spines. Vesica linear, membranous, with a short sac distally on the left side, and a longer sac on the right, both projecting laterally and slightly dorsally; area around these sacs with lightly sclerotized granules.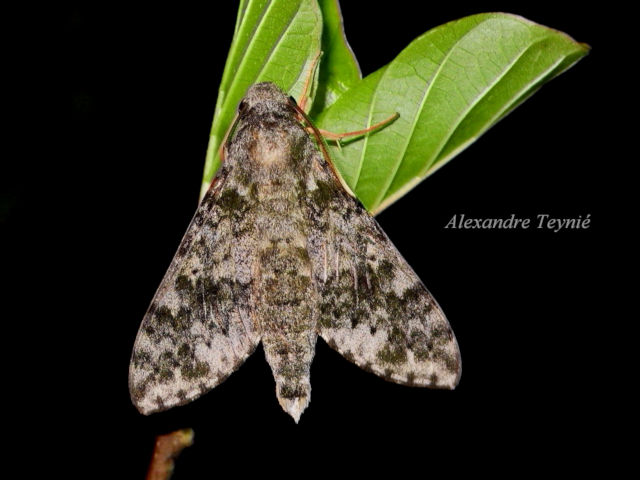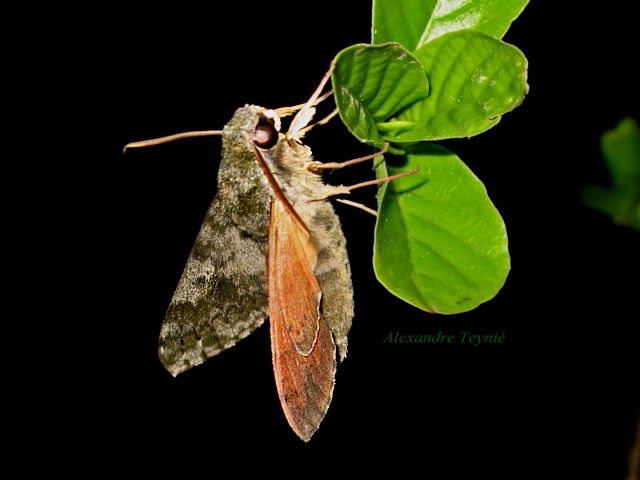 ADULT BIOLOGY
In Thailand, occurs from sea level to 1700m altitude (Inoue, Kennett & Kitching, 1997).
FLIGHT-TIME
China: 22.v (Yunlong).
In Thailand, from April until October (Inoue, Kennett & Kitching, 1997).
EARLY STAGES
OVUM: Unknown.
LARVA: Unknown.
PUPA: Unknown.
Larval hostplants. Unknown.
PARASITOIDS
Unknown.
LOCAL DISTRIBUTION
China: Yunnan (Yunlong).
GLOBAL DISTRIBUTION
From southern China to Laos (Eitschberger, 2007), northern, western and central Thailand (Cadiou, 1996; Inoue, Kennett & Kitching, 1997), and into Myanmar/Burma.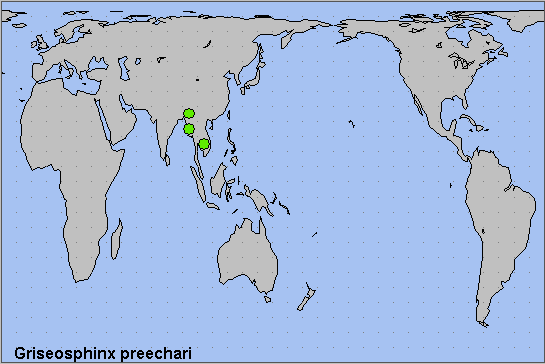 BIOGEOGRAPHICAL AFFILIATION
Holarctic; eastern Palaearctic region. Pleistocene refuge: Monocentric -- Yunnan refugium.
---

Return to Sphingidae of the Eastern Palaearctic species list
---
© A. R. Pittaway & I. J. Kitching (Natural History Museum, London)