---
EUPANACRA WALOENSIS Brechlin, 2000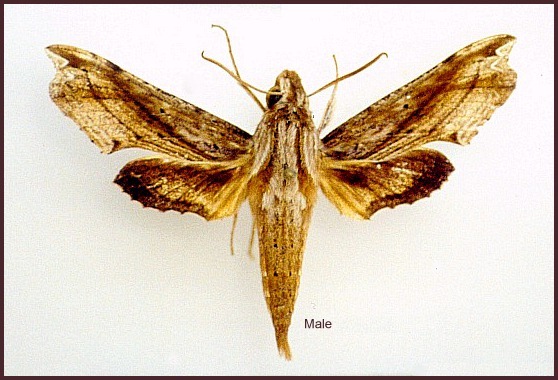 TAXONOMY
Eupanacra waloensis Brechlin, 2000, Nachr. entomol. Ver. Apollo (N.F.) 21: 72. Type locality: China: Yunnan, Nijiang & Dulong Autonomous Prefecture, Fugong County, 42km north of Fugong, Lishadi (= Walo), 27°15'N 98°55'E, 1390m.
ADULT DESCRIPTION AND VARIATION
Similar to Eupanacra malayana but forewing apex more acute and excavation below apex deeper. Forewing upperside similar to Eupanacra malayana but: ground colour pale grey; postmedian lines lacking vein dots; area beyond submarginal line much paler than rest of wing. Forewing underside ground colour sooty-grey, against which the transverse lines are only obscurely visible. Hindwing upperside similar to Eupanacra malayana but median band dirty white (rather than yellowish or reddish-brown), extending into a paler and more extensive area on the inner margin. Upperside of abdomen lacking dorso-lateral longitudinal gold bands.
In the male genitalia, Similar to Eupanacra malayana but: uncus broader and apically more sclerotized; gnathos apically bifid (as in Eupanacra malayana) but the points rounded and strongly upcurved; harpe very short, acutely triangular, apically bluntly pointed; aedeagus apical process right lobe shorter, strongly sclerotized, with three or more apical teeth; left lobe strongly sclerotized, also with three apical teeth; angle between the lobes obtuse and rounded (almost a right-angle in Eupanacra malayana).
ADULT BIOLOGY
Unknown.
FLIGHT-TIME
China: iii-iv (Yunnan); vi (Guizhou).
EARLY STAGES
OVUM: Unknown.
LARVA: Unknown.
PUPA: Unknown.
Larval hostplants. Unknown.
PARASITOIDS
Unknown.
LOCAL DISTRIBUTION
China: Yunnan (Walo; Puwen); Guizhou (Fanjingshan, Tongren County).
GLOBAL DISTRIBUTION
Endemic to Yunnan, China.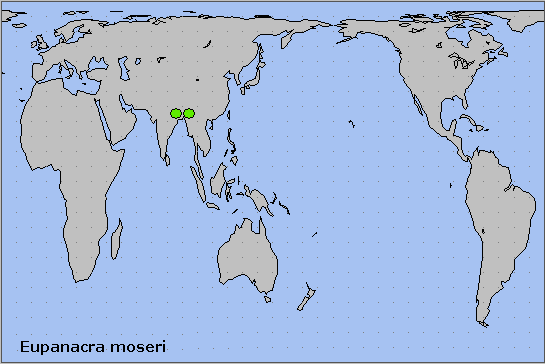 BIOGEOGRAPHICAL AFFILIATION
---

Return to Sphingidae of the Eastern Palaearctic species list
---
© A. R. Pittaway & I. J. Kitching (Natural History Museum, London)