---
ENPINANGA VIGENS (Butler, 1879)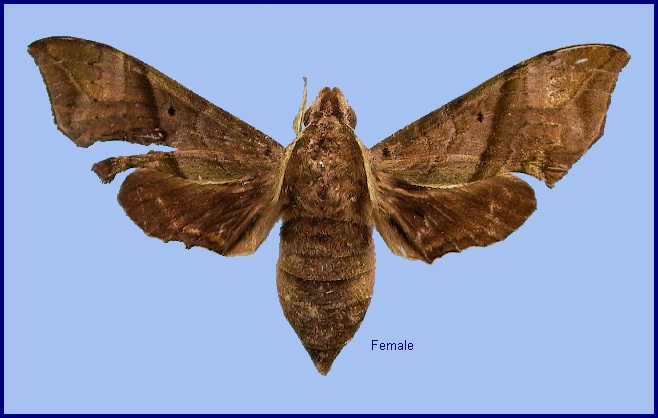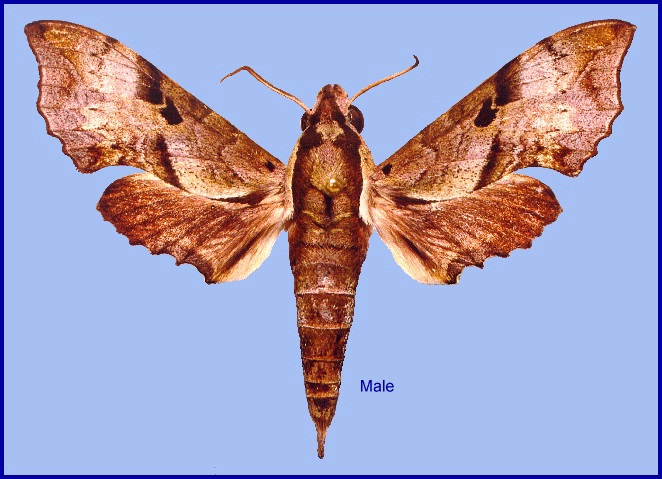 TAXONOMY
Angonyx vigens Butler, 1879, Trans. ent. Soc. Lond. 1879: 262. Type locality: Philippines.
Synonym. Angonyx vigens Butler, 1879.
Synonym. Enpinanga vigens javanica Roepke, 1941.
Synonym. Enpinanga vigens sirani Roesler & Küppers, 1975.
Note. Other than the lectotype, and despite intensive collecting since 1980, no further specimens of E. vigens have been found in the Philippines, casting doubt on the veracity of the type locality.
ADULT DESCRIPTION AND VARIATION
The male very similar to Enpinanga assamensis but grey ground colour overlain with greenish scales when fresh (fades to brown with age); antemedian lines more conspicuous; outer margin of dark brown rectangular patch distad of discal spot diffuse. Forewing somewhat scalloped posteriorly (as in Enpinanga assamensis and unlike Enpinanga borneensis). Hindwing more distinctly dentate than in Enpinanga borneensis. Hindwing upperside inner margin narrow, only slightly lighter than rest of wing, not prominent as in Enpinanga borneensis. Upperside of head and thorax with a broad, brown, lateral stripe, lighter than in Enpinanga assamensis or Enpinanga borneensis so much less prominent.
In the female, forewing upperside similar to Enpinanga assamensis but ground colour darker grey-brown (as in Enpinanga borneensis) and dark brown median line half as broad. Hindwing upperside more uniform in colour than Enpinanga assamensis, without a darker marginal area; inner margin paler than rest of the wing, but not as bright or prominent as in Enpinanga borneensis.
In the male genitalia, uncus slightly longer than gnathos, slightly spatulate, weakly curved. Gnathos shallowly sinuate distally. Valve with a patch of stridulatory scales. Harpe produced into a slender, acute, curved process. Aedeagus process spatualte, four times as long as wide, narrower basally, rounded apically, bearing teeth along the margin.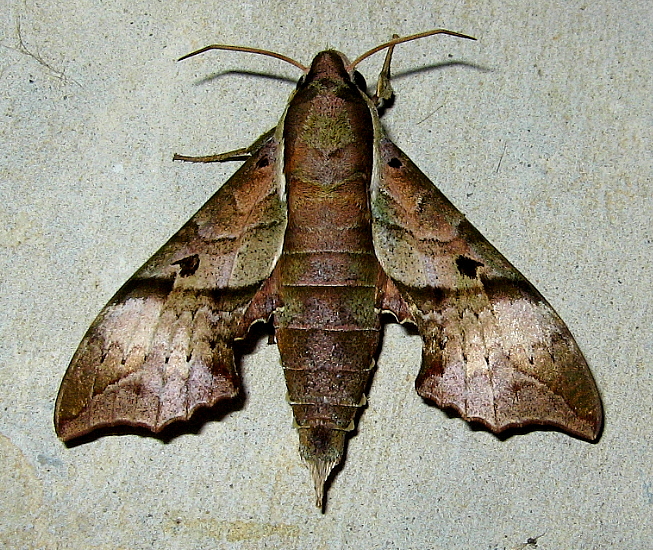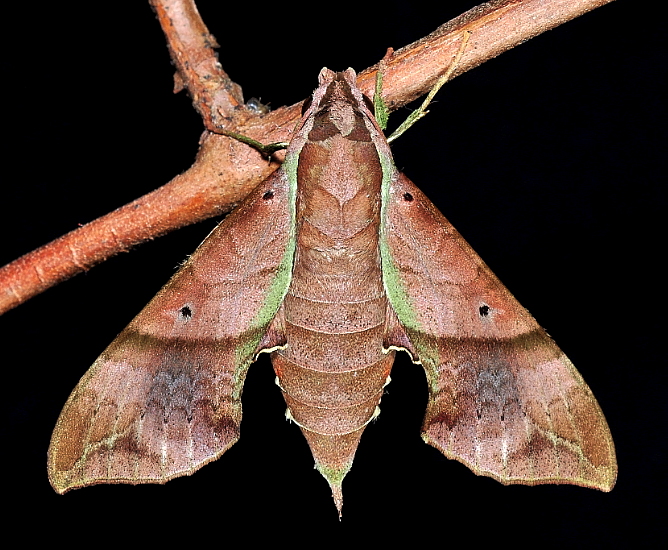 ADULT BIOLOGY
FLIGHT-TIME
China: Not present. Records are the result of misidentifications.
EARLY STAGES
OVUM: Unknown.
LARVA: Full-fed 58mm long, horn 8mm. On 8.xii.2013, a final instar larva was found among the foliage of Tetracera indica growing on a garden fence along Kew Drive, Singapore. It was well camouflaged and blended convincingly with the leaves on which it was feeding. Body predominantly leaf-green, with a pair of thin dorsal stripes extending from the head to the base of the tail horn. From this pair of dorsal stripes, a series of diagonal stripes branched off towards the ventral side, just passing below the black abdominal spiracles between A2 and A7 (Leong & D'Rozario, 2014).
Along the anterior segments, a prominent ventrolateral expansion was noticeable at T3 and A1. The width of this thoracic flange was 15mm, while the body width (measured at mid-section) was 8mm. The margins of this flange were ornamented with closely spaced tubercles, which were conical, yellow basad and tipped in white. At T2, there is also a ventrolateral row of tightly spaced tubercles (yellow base with white tips), although these tubercles were smaller than those along T3 and A1. At T1, there is a single row of white granules beneath the spiracle. Head and anterior segments (T1 to A3) with an even distribution of well-spaced, small, white granules. The posterior tail horn robust and curved backwards, purplish-brown and uniformly adorned with low tubercles. The tubercles tipped with short, fine setae. The appearance of this final instar caterpillar agreed well with earlier published illustrations for that of Enpinanga vigens by Dupont & Roepke (1941) (Leong & D'Rozario, 2014). There is also a brown form of the larva.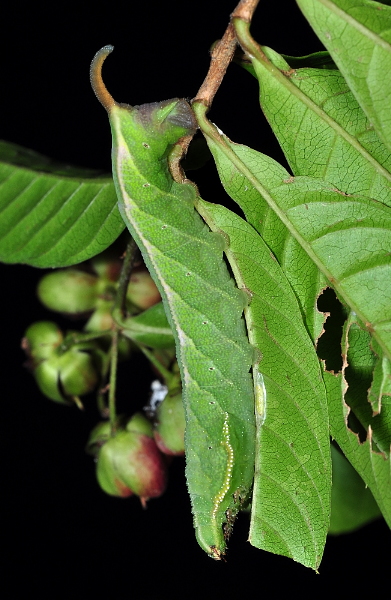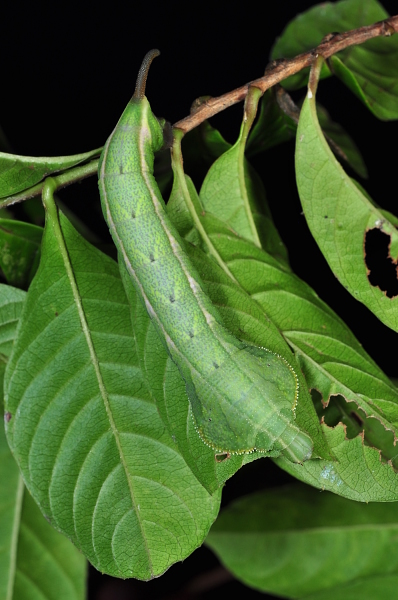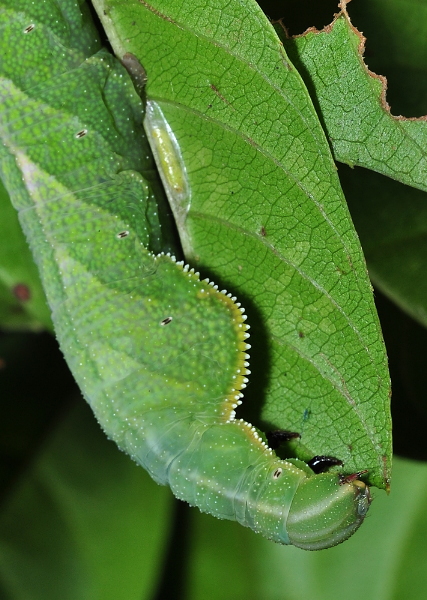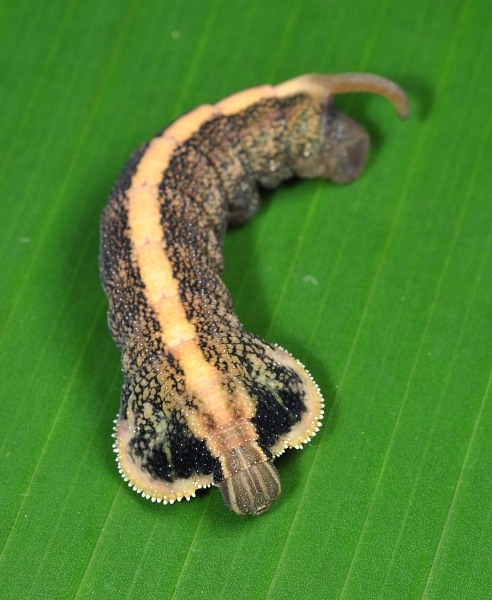 PUPA: 33mm long by 9mm wide. Mostly light brown with three orange-brown inter-segmental rings encircling the abdomen. The wing discs were mostly dark brown. Head distinctly granular, with protruding knobs and raised ridges (Leong & D'Rozario, 2014).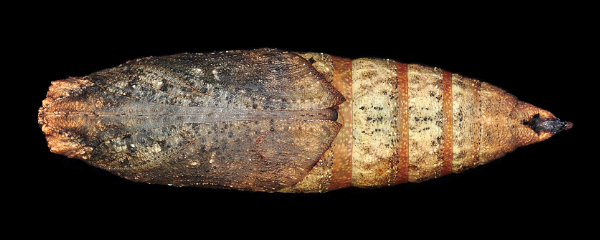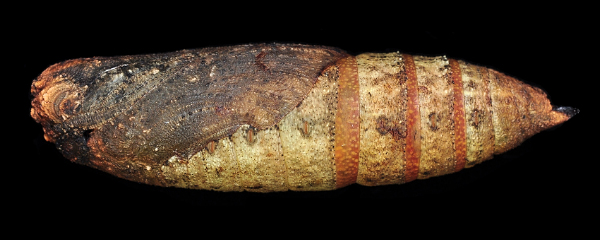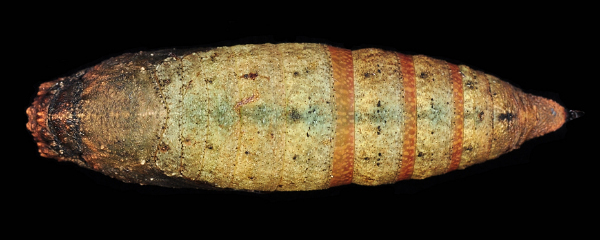 Larval hostplants. Recorded from Tetracera indica (Dilleniaceae) in Singapore (Leong & D'Rozario, 2014).
PARASITOIDS
None recorded.
LOCAL DISTRIBUTION
China: Not present. Records are the result of misidentifications.
GLOBAL DISTRIBUTION
Southern Thailand, Malaysia (Peninsular, Sarawak), Indonesia (Sumatra, Java, Kalimantan) and the ?Philippines. Records from elsewhere are the result of misidentifications.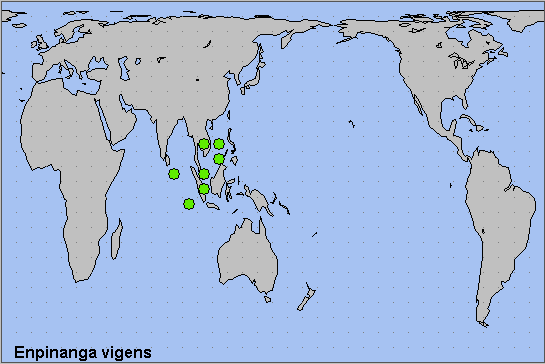 BIOGEOGRAPHICAL AFFILIATION
---

Return to Sphingidae of the Eastern Palaearctic species list
---
© A.R. Pittaway & I.J. Kitching (The Natural History Museum, London)