---
EUPANACRA PERFECTA PERFECTA (Butler, 1875) -- Model rippled hawkmoth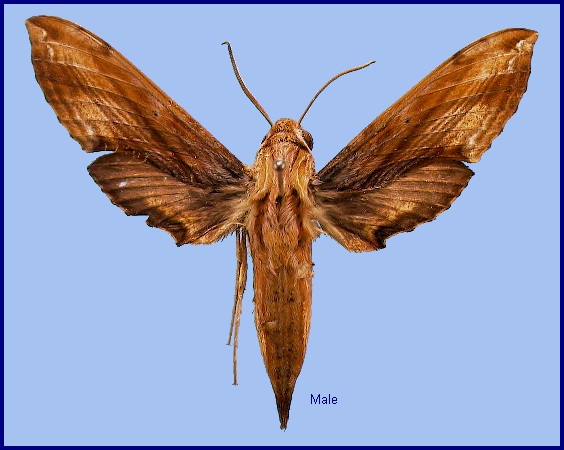 TAXONOMY
Panacra perfecta Butler, 1875, Proc. zool. Soc. Lond 1875: 391. Type locality: [India, West Bengal,] Darjeeling [Darling].
Synonym. Panacra perfecta Butler, 1875.
ADULT DESCRIPTION AND VARIATION
Wingspan: 56--64mm. Forewing upperside with postmedian lines more longitudinal than in Eupanacra sinuata, parallel to the outer margin, the first postmedian line closer to the base on the inner margin, the three outer postmedian lines not reaching Rs4, first and second postmedian lines obsolescent near costal margin; a distinct double submarginal line present parallel to outer margin. Similar in colour to Eupanacra metallica, but forewing outer margin not or only very slightly excavate posterior to apex. Forewing underside similar to Eupanacra metallica but postmedian line more oblique and abbreviated; a pair of more distinct submarginal lines present, space between them whitish; brown submarginal patch between M1 and M3 smaller and less extended proximad. Hindwing upperside with pale median band slightly wider than in Eupanacra sinuata, nearly reaching costa but obscured by brown scaling anteriorly. Hindwing underside with third postmedian line as heavy or heavier than the first, accentuated by vein dots.
In the male genitalia, uncus broader than in Eupanacra sinuata and Eupanacra metallica, less convex dorsally, apex more broadly sinuate. Harpe more slender than Eupanacra metallica, more similar to Eupanacra automedon but shorter.
ADULT BIOLOGY
FLIGHT-TIME
China: vii (Yunnan).
EARLY STAGES
OVUM: Unknown.
LARVA: Unknown.
PUPA: Unknown.
Larval hostplants. Unknown.
PARASITOIDS
Unknown.
LOCAL DISTRIBUTION
China: Yunnan (Songzishanding, Changing County, 2500m).
GLOBAL DISTRIBUTION
Northeastern India, Bhutan (Irungbam & Irungbam, 2019), Burma/Myanmar, southwestern China, northern Thailand, Vietnam.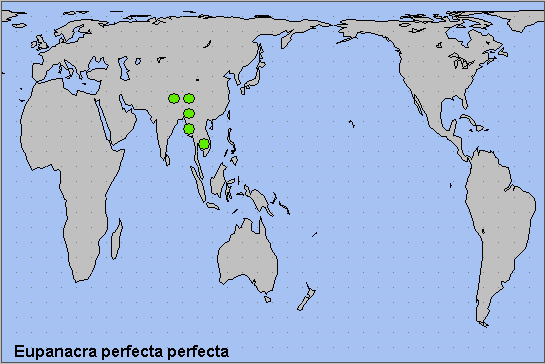 BIOGEOGRAPHICAL AFFILIATION
---

Return to Sphingidae of the Eastern Palaearctic species list
---
© A. R. Pittaway & I. J. Kitching (Natural History Museum, London)