---
ELIBIA DOLICHOIDES (R. Felder, [1874]) -- Green banded hawkmoth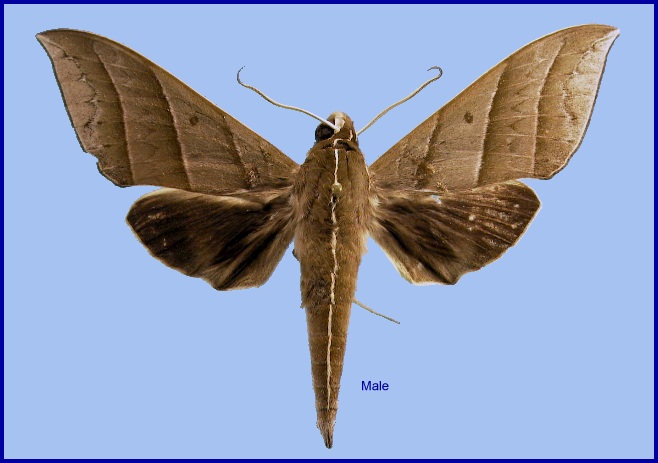 TAXONOMY
Philampelus dolichoides Felder, R., [1874], in Felder, Felder & Rogenhofer, Reise öst. Fregatte Novara (Zool.) 2 (Abt. 2): pl. 76, fig. 8. Type locality: [India], Sikkim [West Bengal], <<Darjeeling>> [Darling].
Synonym. Philampelus dolichoides Felder, R., [1874].
Synonym. Ampelophaga dolichoides (Felder, R., [1874]).
Note. With the discovery of the early stages, it is very apparent that this species belongs in the genus Elibia, not Ampelophaga, a conclusion supported by the phylogenetic work of Kawahara et al. (2009). However, the pupa lacks the free, jug-handle tongue-case found in Elibia dolichus. This is not significant as such variation is also present in the genus Sphinx.
ADULT DESCRIPTION AND VARIATION
Wingspan: 80--100mm. Forewing upperside distinctive, with four grey lines forming the proximal borders of tawny-olive bands; A weakly-marked, brown zigzag line present between the two discal lines. Hindwing veins M3 and Cu1 less close together than in Ampelophaga rubiginosa, the cross-vein m2–m3 not being longer than m3–Cu1. Midtarsus with spines of the fourth row elongated.
In the male genitalia, uncus sinuate in distal view. Valve with about 16 large stridulatory scales that are rounded-truncate, broad at the ends. Harpe with process short, not dentate. Aedeagus with apex asymmetrical, both processes dentate.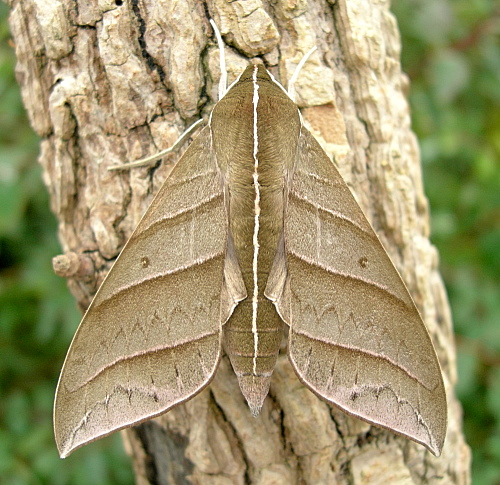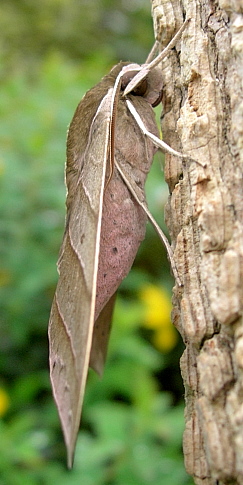 ADULT BIOLOGY
A rainforest species in southern China, frequenting small clearings. It breeds in these on woody Vitaceae hanging from the canopy.
FLIGHT-TIME
China: 31.iii.2013 (Yunnan); vii (Xizang/Tibet); ix (Yunnan).
EARLY STAGES
OVUM: Unknown.
LARVA: Present in the rainy season. Up until the final instar the larva rests along the midrib on the underside of leaves. In the final instar it retreats by day to brown woody stems, generally only feeding at night on mature leaves. Not a very active species. Eats very little compared to other larvae of similar size.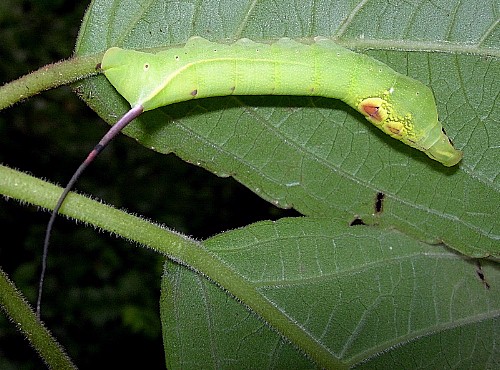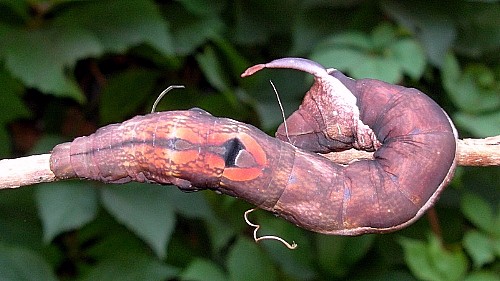 PUPA: Similar in shape to that of Acosmeryx, and almost immobile. Formed in cell of leaves held together with silk strands.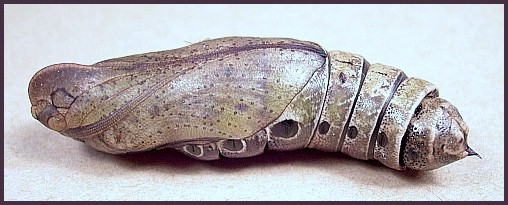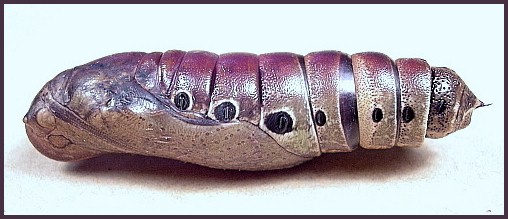 Larval hostplants. Species of Vitaceae, particularly the mature leaves. A larva found on Tetrastigma in Xishuangbanna was reared on Parthenocissus inserta.
PARASITOIDS
Unknown.
LOCAL DISTRIBUTION
China: Yunnan (Cangyuan; Yexianggu, Xishuangbanna; Simao/Pu'er); Xizang/Tibet (Xiachayu, Zayu County).
GLOBAL DISTRIBUTION
From Nepal, Bhutan (Irungbam & Irungbam, 2019) and northeastern India (Subhasish Arandhara, 2017), across Thailand and southwestern China to Selangor, Peninsular Malaysia.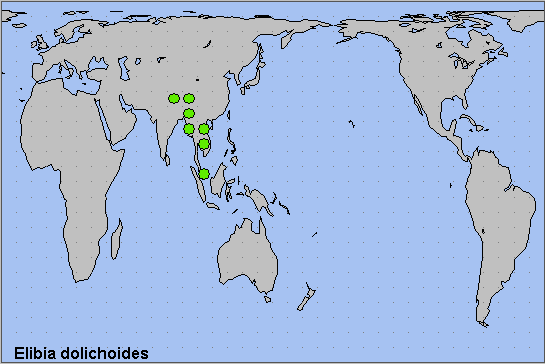 BIOGEOGRAPHICAL AFFILIATION
---

Return to Sphingidae of the Eastern Palaearctic species list
---
© A. R. Pittaway & I. J. Kitching (Natural History Museum, London)