---
EURYPTERYX DIANAE Brechlin, 2006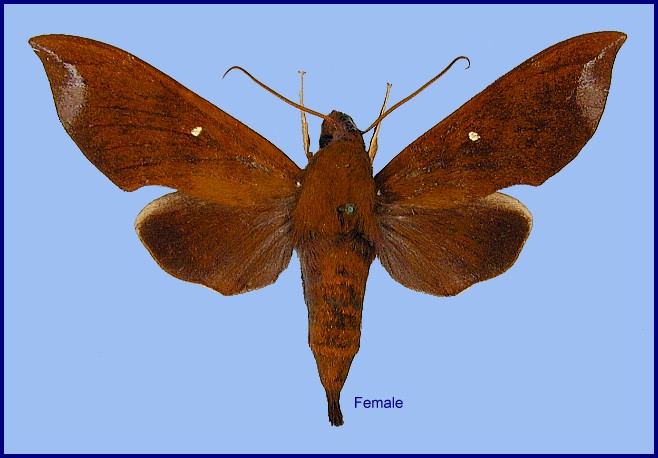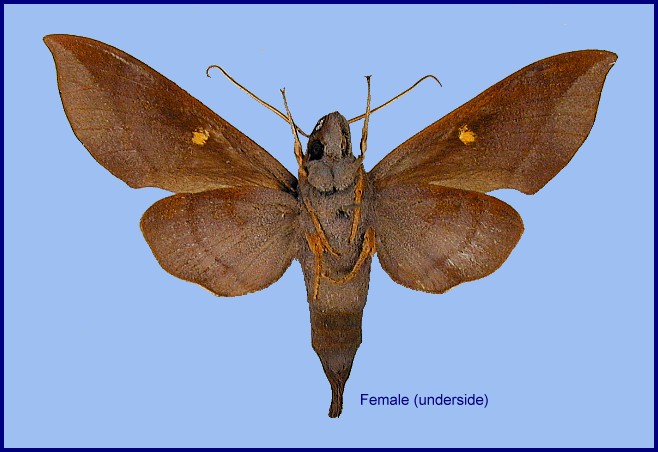 TAXONOMY
Eurypteryx dianae Brechlin, 2006. In: Brechlin & Melichar, 2006, Nachr. ent. Ver. Apollo (N.F.) 27(4): 211. Type locality: China, Guangxi, Dayao Shan, Jinxiu, 100km SE Liuzhou, 24°06'N 110°10'E, 1200m.
ADULT DESCRIPTION AND VARIATION
In the female, forewing upperside with a small round stigma and greyish semicircular marginal area between apex of wing and M3 Forewing underside with a round yellowish discal spot; submarginal line dark brown almost straight, separating the lighter marginal area from the darker rest of the wing. Hindwing underside with a dark brown postmedian line. Male similarly marked, although forwing discal spot smaller. Wings narrower and a rich chestnut brown, much darker than in the female. Similar to Eurypteryx geoffreyi (Cadiou & Kitching, 1990) from Thailand, but with more elongated forewings, the apex of which is more pointed. The post-meridial line on the wing undersides is totally missing in E. geoffreyi.
ADULT BIOLOGY
Evergreen broad-leaf forest (Jiang & Wang, 2020b).
FLIGHT-TIME
China: 15-30.iii (Dayao Shan).
EARLY STAGES
OVUM: Unknown.
LARVA: Unknown.
PUPA: Unknown.
Larval hostplants. Unknown.
PARASITOIDS
Unknown.
LOCAL DISTRIBUTION
China: Guizhou (Maolan National Nature Reserve); Guangxi (Dayao Shan, Jinxiu (100km SE Liuzhou, 24°06'N 110°10'E), 1200m).
GLOBAL DISTRIBUTION
Endemic to China.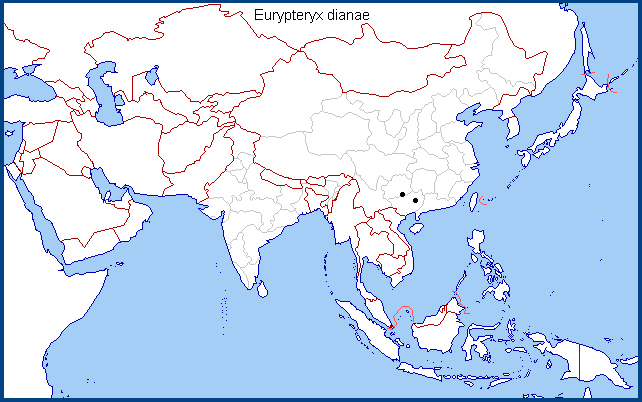 BIOGEOGRAPHICAL AFFILIATION
Holarctic; eastern Palaearctic region.
---

Return to Sphingidae of the Eastern Palaearctic species list
---
© A.R. Pittaway & I.J. Kitching (The Natural History Museum, London)