---
DOLBINA TANCREI Staudinger, 1887 -- Amur grizzled hawkmoth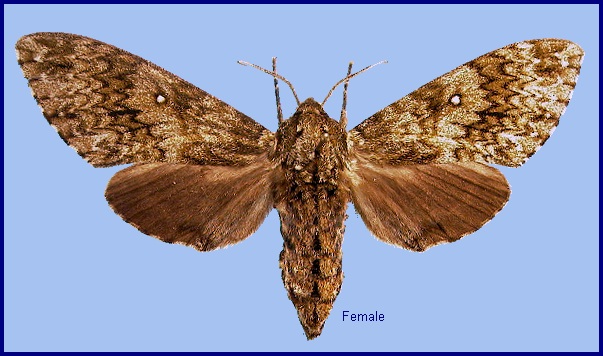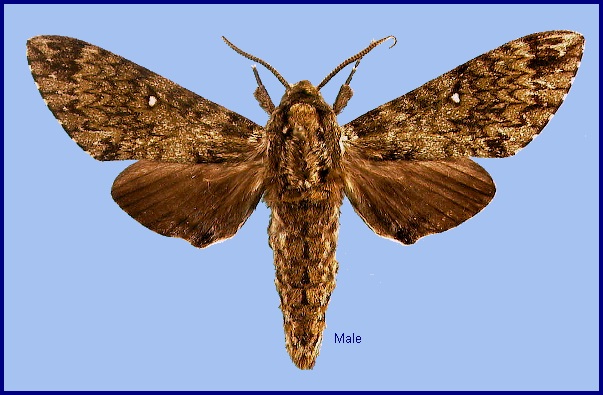 TAXONOMY
Dolbina tancrei Staudinger, 1887, in Romanoff (ed.), Mém. Lépid. 3: 155. Type locality: [Russia,] western Amur-region [Amurskaya], near Blagoweschtschensk [Blagoveshchensk], "Rückbeil"; [Russia,] eastern Amur-region [Amurskaya/Khabarovskiy Krai] (Ussuri?).
Synonym. Dolbina curvata Matsumura, 1921.
Synonym. Dolbina lateralis Matsumura, 1921.
Note. To maintain current usage, the male must be selected as lectotype; the female syntype is also a syntype of Dolbina exacta.
[Further details on this species in Japan, as well as photos of many stages, can be found on Digital Moths of Japan.]
ADULT DESCRIPTION AND VARIATION
Wingspan: 50--82mm. Generally recognisable by the wings and body being infused with green, but this is not totally reliable as some Dolbina exacta may be greener than some Dolbina tancrei. The most reliable character separating the two is the presence of large black patches on the underside of the abdomen, nearly as large as in Dolbina inexacta, but absent from Dolbina exacta. Abdomen and wing undersides brownish grey. Abdomen underside with large black mesial patches. Pilifer with a few bristles, and with long, white hair scales, unlike Dolbina inexacta.
Male genitalia similar to Dolbina exacta, but harpe with the 2 proximal lobes farther apart. In the female genitalia, ostial plate with processes wider apart than in Dolbina inexacta, much less slender than in Dolbina exacta.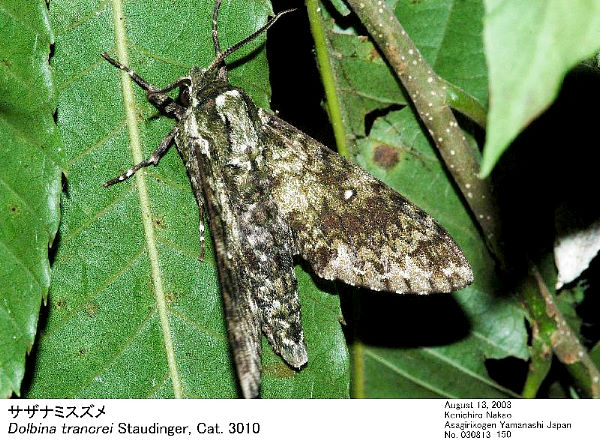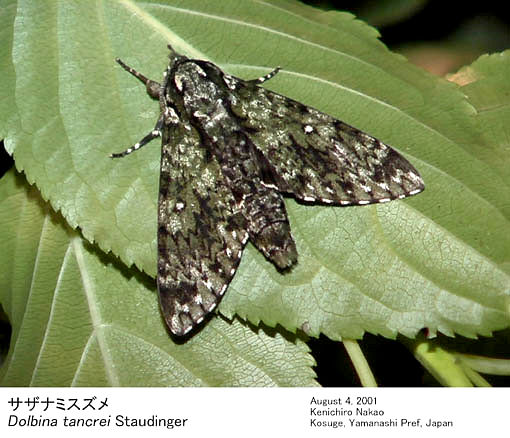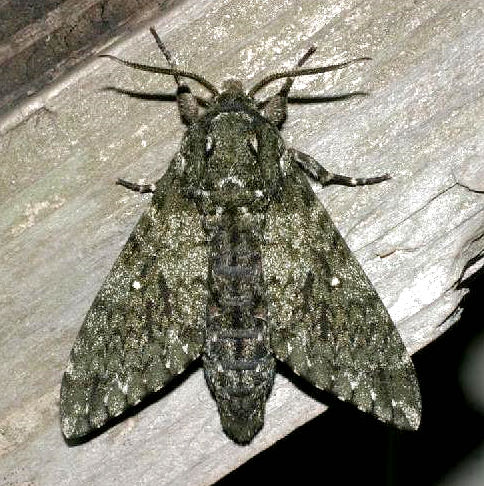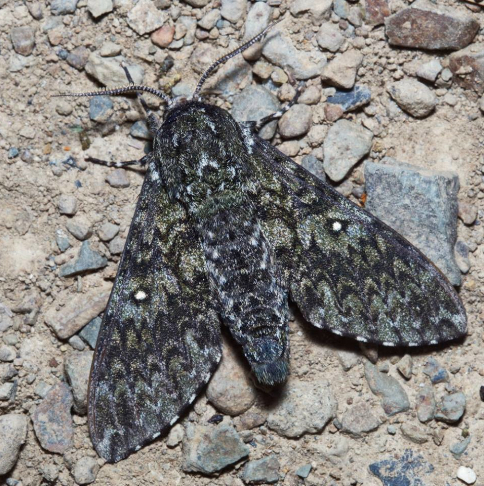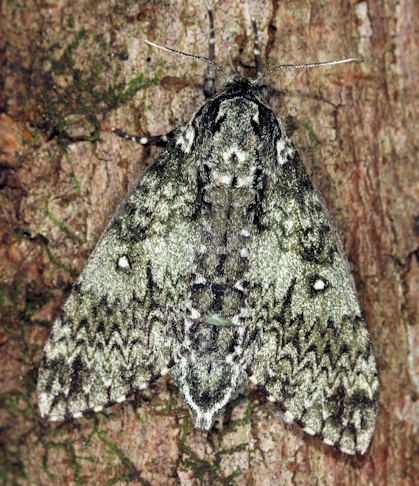 ADULT BIOLOGY
FLIGHT-TIME
North Korea: vii (Baekdu-san). Japan: 28.ii-28.iii (Ryukyu Archipelago); 28.v (Honshu); vi (Honshu; Hokkaido); 6.vii-6.ix (Honshu); 16.vii-20.viii (Hokkaido). Russia: 30.v-20.viii (Khabarovskiy Krai, Khabarovsk); 30.vi-16.vii (Primorskiy Krai, Khasan); 8-23.vii (Kurile Islands); 1-2.viii (Khabarovskiy Krai, Botchinskii Nature Reserve); 16.viii (Primorskiy Krai, Khasan); 20.viii (Amurskaya); 1-4.ix (Primorskiy Krai, Khasan).
In northern China there are two generations per year, with adults flying in May and September (Yang, 1978). At Khabarovsk there are also two generations, in May/June and August (Dubatolov, pers. comm. 2010).
Park et al. (1999) give late May until late August as the flight period in Korea.
EARLY STAGES
OVUM: 2.3 x 1.9mm.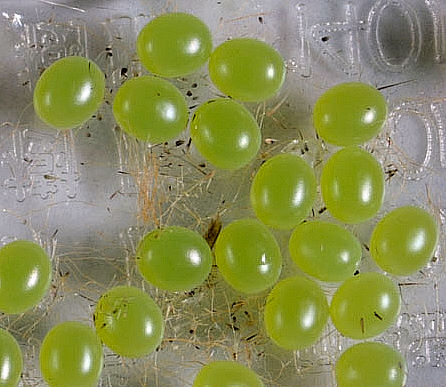 LARVA: Full-fed 64--70mm.
Generally feeds at about 1-4m from the ground, with larger larvae hanging suspended from the petiole of a leaf. Young larvae rest along the leaf underside mid-rib, nibbling that same leaf from the tip down. Not a very active species, although larger larvae will move to a new location most nights.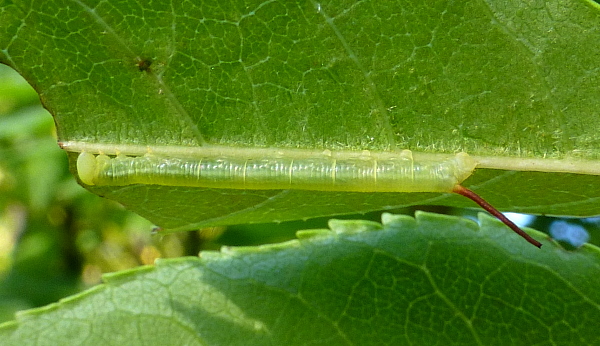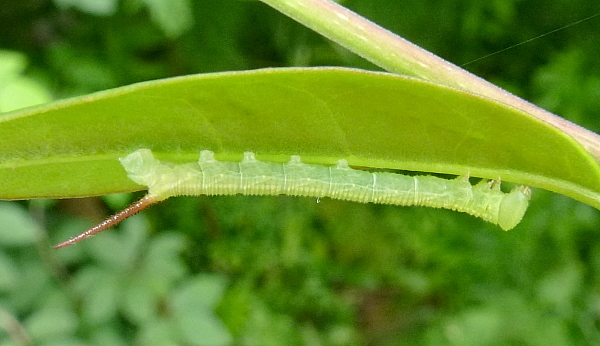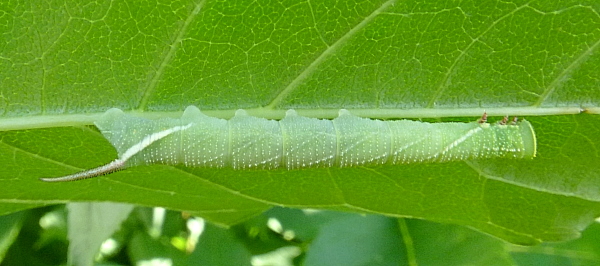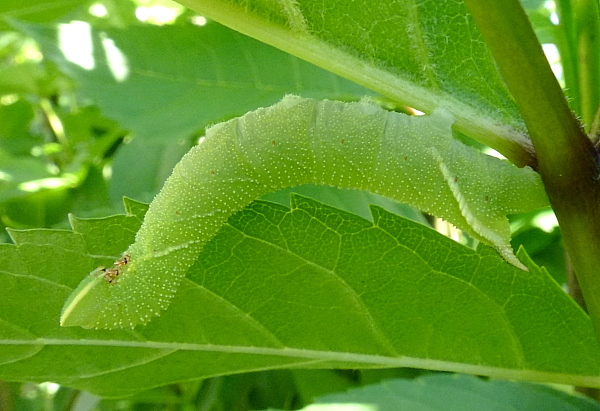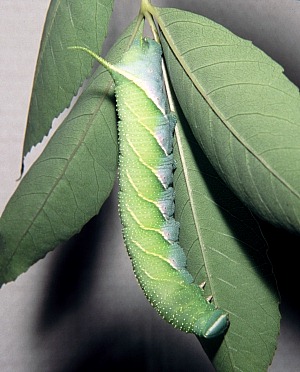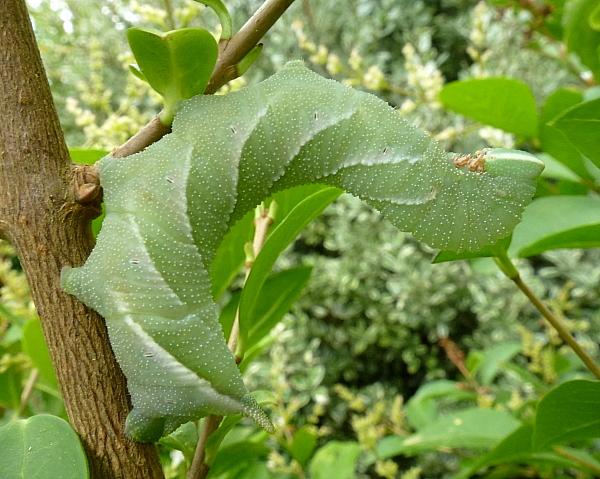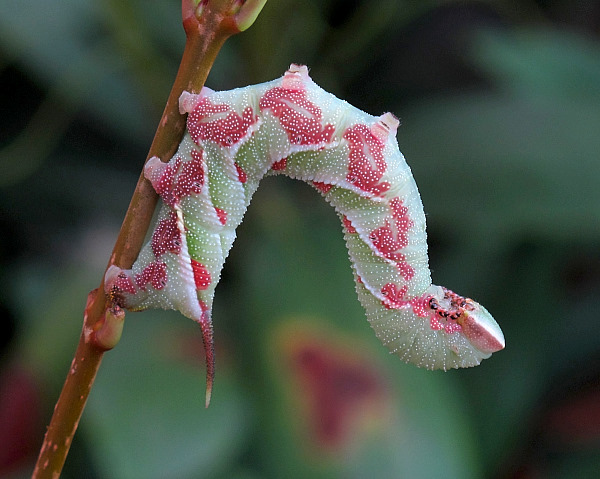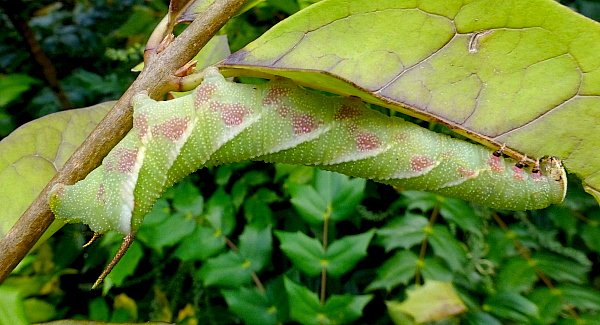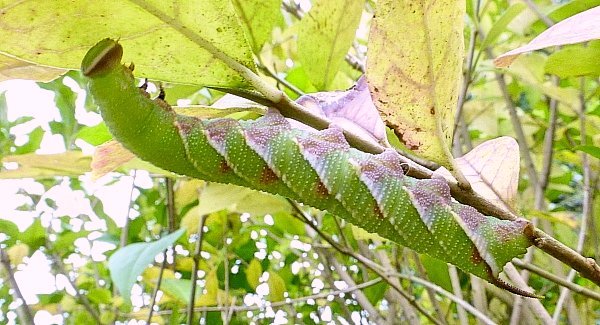 PUPA: 41-44mm.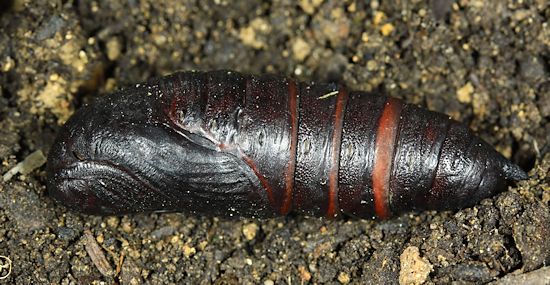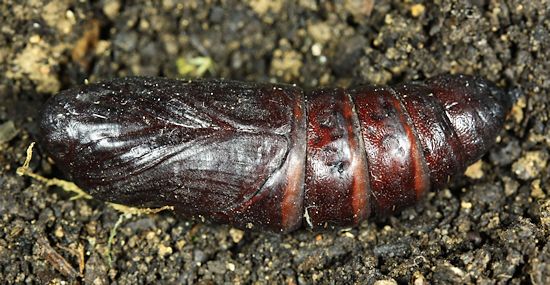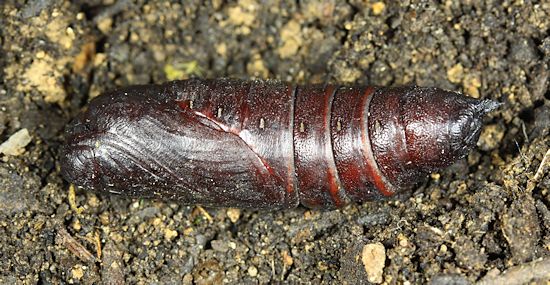 Larval hostplants. Recorded in China (Chengde) from Fraxinus (probably Fraxinus chinensis subsp. rhynchophylla) (Pittaway, pers. obs. 2003), and on Fraxinus chinensis and Fraxinus pennsylvanica around Beijing. In fact, species of Fraxinus appear to be the only host in the Haidian District of Beijing (Vyacheslav Ivonin & Yanina Ivonina, pers. comm. 2022). Recorded in Primorskiy Krai, Russia, on Fraxinus (especially Fraxinus mandshurica) and Syringa (Derzhavets, 1984); in Amurskaya from Syringa reticulata subsp. amurensis (Streltzov, Osipov & Malikova, 2003).
Recorded in Korea on Ligustrum japonicum, Ligustrum obtusifolium, Fraxinus sieboldiana and Fraxinus chinensis subsp. rhynchophylla (Park et al., 1999).
In Japan, recorded from Ligustrum japonicum, Ligustrum obtusifolium, Olea europaea and Osmanthus fragrans.
PARASITOIDS
Tachinidae: Winthemia angusta Shima, Chao & Zhang, 1992, Exorista sorbillans (Wiedemann, 1830).
LOCAL DISTRIBUTION
China: Heilongjiang (Lesser Khingan Mountains, Fengling Forest); Liaoning; Hebei (Chengde); Beijing.
North Korea: North Hamgyong Province (Baekdu-san, 2500m; Gyungsung).
South Korea: Baengnyeong-do & Daecheong-do; Seoul (Nam-san); Kyonggi Province (Suwon; Gwangleung; Cheongpyong; Yongmun-san; Soyo-san; Myungji-san); Kangwon Province (Gwangduk-san; Samak-san; Daeryong-san; Dosol-san; Seolak-san; Sogumgang; Gyebang-san; Hoengsung; Taebek-san; Chuncheon; Bongmyung-ri; Younhwa-san; Odae-san; Yaksu-san; Jungseon; Hongcheon; Chiak-san; Jang-san); North Chungchong Province (Songni-san; Chupungryung; Jecheon; Wolak-san); South Chungchong Province (Gyeryong-san); North Cholla Province (Jiri-san; Daedun-san; Namwon); South Cholla Province (Baekyang Temple; Wolchul-san; Gwangyang; Gurye); North Kyongsang Province (Palgong-san; Sobaek-san; Juwang-san; Mungyungsaejae; Uiseong); South Kyongsang Province (Pusan; Gudeok-san; Namhae-do; Geoje-do; Milyang; Sancheong; Ulsan; Uiryong; Hadong; Hamyang); Cheju Province (Cheju-do; Halla-san; Sunheul; Mokseokwon; Gwaneum Temple; Napeup-ri; Ora-dong; Andeok; Youngsil; Hare-ri; Uygui-ri; Seoguipo; Topyung; Suakbong).
Japan: Hokkaido (Hakodate; Sapporo; Kushiro; Tokachi; Inasato); Honshu (Kawaguchi; Tokyo; Nashimoto; Mikaboyama, 750m; Nii-jima; Gozaishodake; Shinbo; Iruma; Kiyosato, 1300m; Yokohama); Shikoku; Kyushu; Ryukyu Archipelago (Ishigaki).
Russia: Amurskaya (Blagoveshchensk; Uril area; Kirov); Yevreyskaya (Bastak; Obluch'e); Khabarovskiy Krai (Khabarovsk; Komsomolsk-na-Amure; Pivan; Kiselevka; Slavyanka; Botchinskii Nature Reserve); Primorskiy Krai (Khasan; Ussuriysk; Narva; Novovladimirovka; Vladivostok; Primor'e; Kirovskiy; near Zanadvorovka; Livadia, near Anisimovka); Kurile Islands (Kunashir).
GLOBAL DISTRIBUTION
The Russian Far East, northeastern China, the Korean Peninsula and Japan (Komatsu & Inoko, 2000).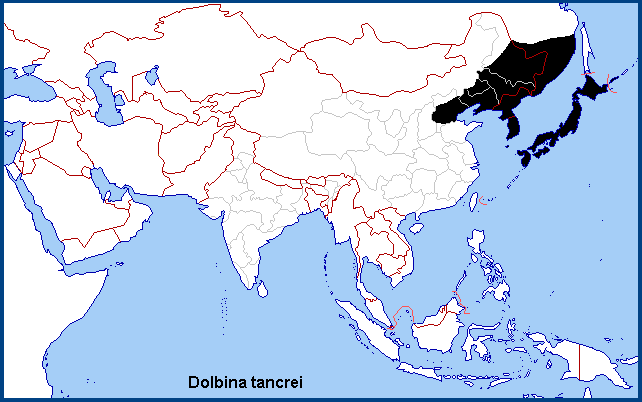 BIOGEOGRAPHICAL AFFILIATION
Holarctic; eastern Palaearctic region. Pleistocene refuge: Polycentric -- Japanese and Sinopacific refugia.
---

Return to Sphingidae of the Eastern Palaearctic species list
---
© A. R. Pittaway & I. J. Kitching (Natural History Museum, London)