---
DOLBINA FORMOSANA Matsumura, 1927 -- Formosan grizzled hawkmoth
TAXONOMY
Dolbina formosana Matsumura, 1927, J. Coll. Agric. Hokkaido Imp. Univ. 19(1): 1-91. Type locality: [Taiwan, Nantou Hsien, Meiyuan,] Baibara.
Note. This species has until recently been treated as a subspecies of Dolbina inexacta (Walker, 1856).
[Further details on this species in Japan, as well as photos of many stages, can be found on Digital Moths of Japan under Dolbina inexacta.]
ADULT DESCRIPTION AND VARIATION
Wingspan: 55--86mm.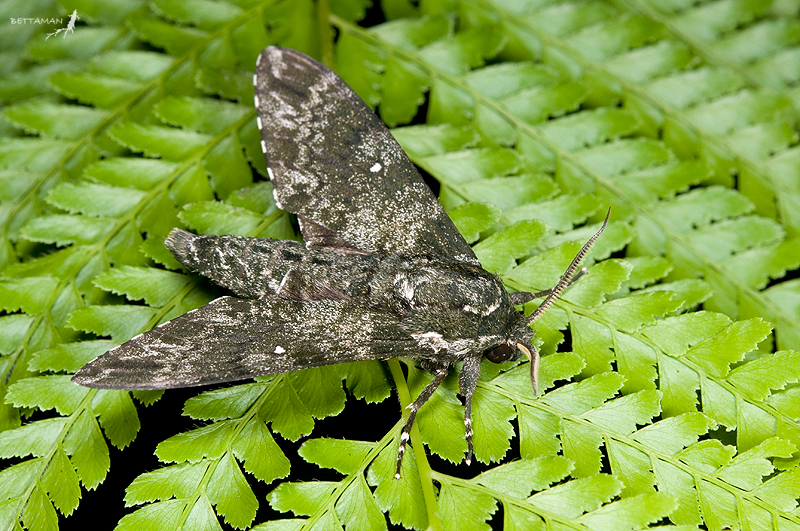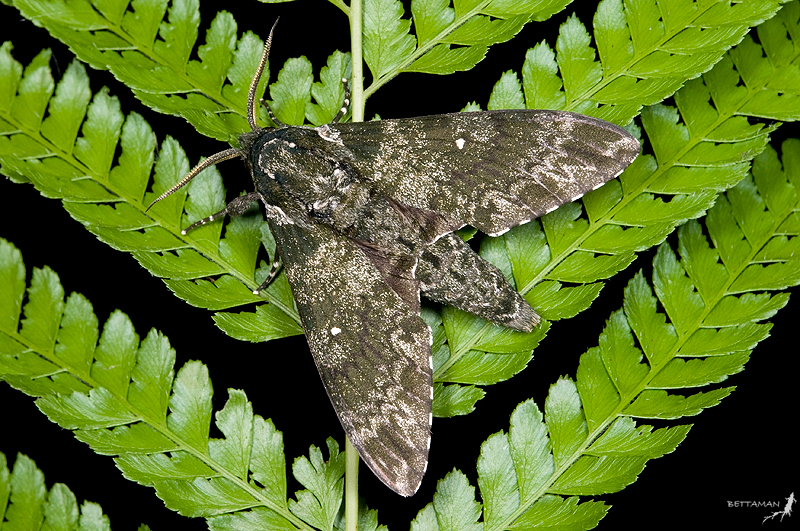 ADULT BIOLOGY
Unknown.
FLIGHT-TIME
Taiwan: iv-v (Kaohsiung Hsien); vi (Hualien Hsien); vii (Pingtung Hsien; Taoyuan Hsien; Taipei City); viii (Nantou Hsien); 3-5.xii (Hualien Hsien).
EARLY STAGES
OVUM: Unrecorded.
LARVA: Very similar to those of Dolbina inexacta (Walker, 1856).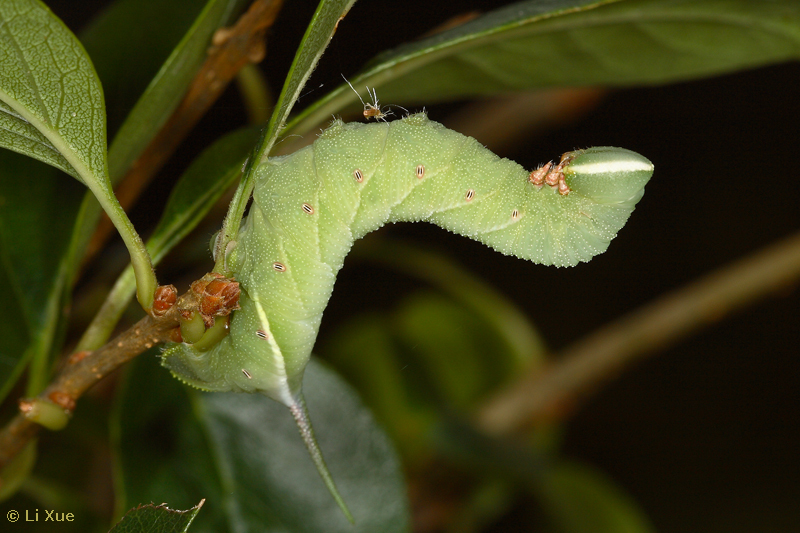 PUPA: Unrecorded.
Larval hostplants. Recorded from Chionanthus retusus, Fraxinus griffithii, Fraxinus insularis, Ligustrum liukiuense and Osmanthus fragrans.
PARASITOIDS
Unknown
LOCAL DISTRIBUTION
Taiwan: Hualien Hsien (Tianxiang Recreation Area, Taroko National Park, 2000m); Nantou Hsien (Puli; Lianhuachih; Meiyuan, 500m); Pingtung Hsien (Kenting); Kaohsiung Hsien (Shanping, 640m); Taipei Hsien (Fushan); Taoyuan Hsien (Galahe; Taoyuan City, 223m; Dongyanshan National Forest Recreation Area, 859m); Taipei City (Neihu District).
[It should be noted that Meiyuan was formally known as Hsin-sheng [Hsinseng], and before that as 'Baibara', the type locality of many species of insect collected in Taiwan.]
GLOBAL DISTRIBUTION
Endemic to Taiwan, although individuals of Dolbina inexacta recorded from the Ryukyu islands of Ishigaki-jima and Iriomote-jima, Japan, will probably turn out to be Dolbina formosana (Kishida, 1975). [More details given in An Identification Guide of Japanese Moths]. There are also reports of similar-looking individuals from central Honshu, Japan (Matsumoto, Nagano Prov.).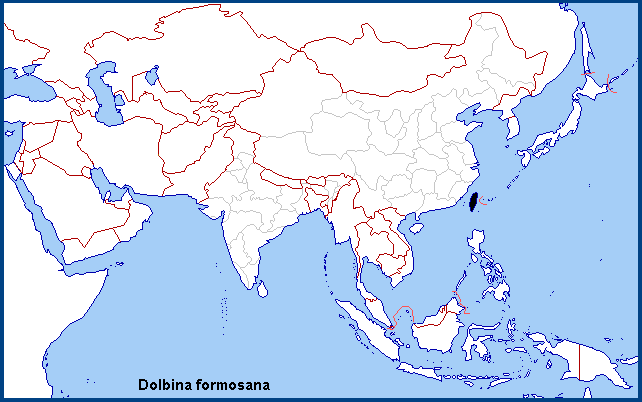 BIOGEOGRAPHICAL AFFILIATION
---

Return to Sphingidae of the Eastern Palaearctic species list
---
© A. R. Pittaway & I. J. Kitching (Natural History Museum, London)