---
CEPHONODES XANTHUS Rothschild & Jordan, 1903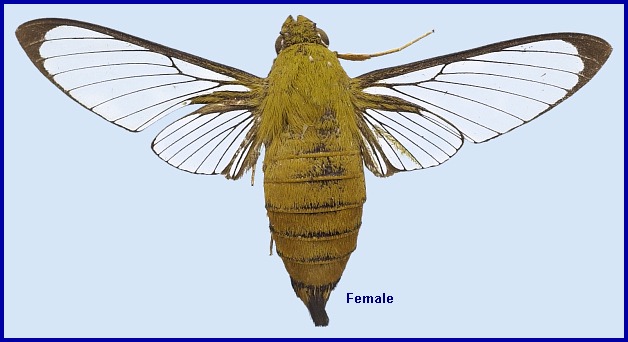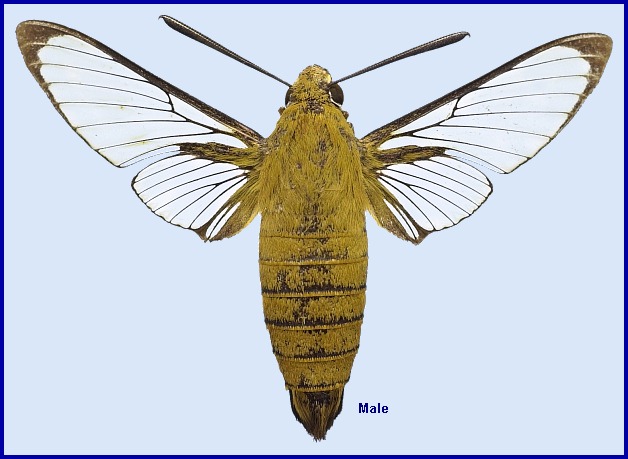 TAXONOMY
Cephonodes xanthus Rothschild & Jordan, 1903, Novit. zool. 9 (suppl.): 463 (key), 465. Type locality: [Japan:] Loo Choo Islands [Nansei Shoto, Ryukyu Archipelago], Okinawa.
[Further details on this species in Japan, as well as photos of many stages, can be found on Digital Moths of Japan.]
ADULT DESCRIPTION AND VARIATION
Resembles Cephonodes janus janus and Cephonodes trochilus in the unicolorous buff-green upperside of the abdomen, and the latter especially in the somewhat deeper tint posteriorly. Distinguishable from both by the broader forewing apical patch and the black abdominal tuft. Forewing upperside with marginal band more than 3mm broad at Rs4. Underside of head, thorax and abdomen orange. Easily separable from Cephonodes armatus armatus by the absence of a foretibial claw. With a prominent black side line in front of and a white line around the eye.
ADULT BIOLOGY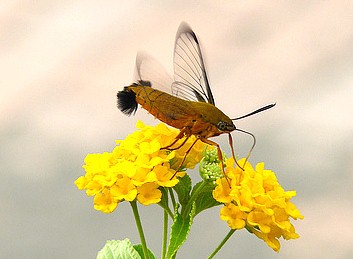 FLIGHT-TIME
Japan: 13.v-5.vi (Kyushu); 26.vii (Yakushima).
EARLY STAGES
OVUM: Unknown.
LARVA: Unknown.
PUPA: Unknown.
Larval hostplants. Rubiaceae, such as Gardenia (Tanahara, 1998a).
PARASITOIDS
LOCAL DISTRIBUTION
Japan: Shikoku; Kyushu (Cape Sata; Nichinan); Tanegashima; Yakushima; Tokara Islands; Ryukyu Archipelago (Amamioshima; Okinawa (Tanahara, 1998a); Ishigaki-jima, Iriomote-jima).
GLOBAL DISTRIBUTION
Endemic to Japan.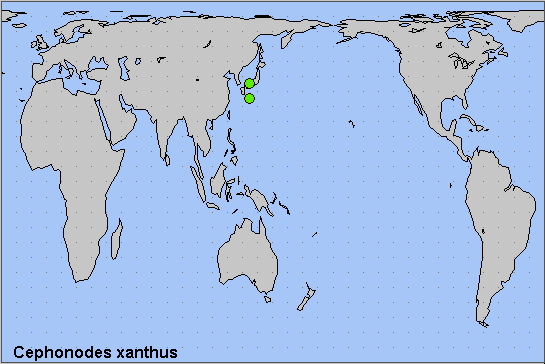 BIOGEOGRAPHICAL AFFILIATION
---

Return to Sphingidae of the Eastern Palaearctic species list
---
© A. R. Pittaway & I. J. Kitching (Natural History Museum, London)