---
CLANIS UNDULOSA UNDULOSA Moore, 1879 -- Wavy velvet hawkmoth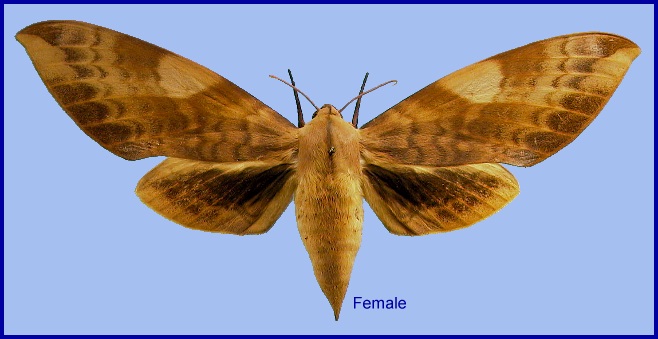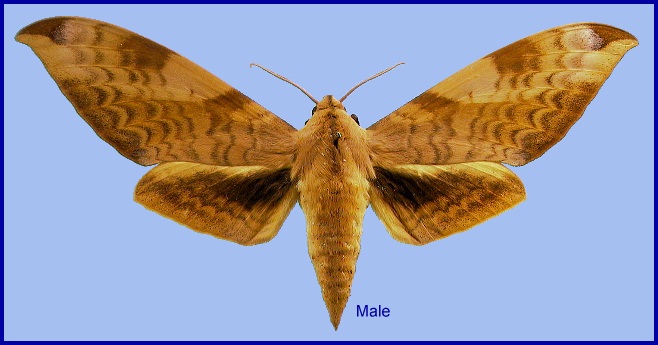 TAXONOMY
Clanis undulosa Moore, 1879, Proc. zool. Soc. Lond. 1879: 387. Type locality: North China.
Synonym. Clanis undulosa jankowskii Gehlen, 1932.
Note. Rothschild & Jordan, 1903, Novit. zool. 9 (suppl.): 214, incorrectly stated that the 'type' was a female.
ADULT DESCRIPTION AND VARIATION
Wingspan: 100--120mm.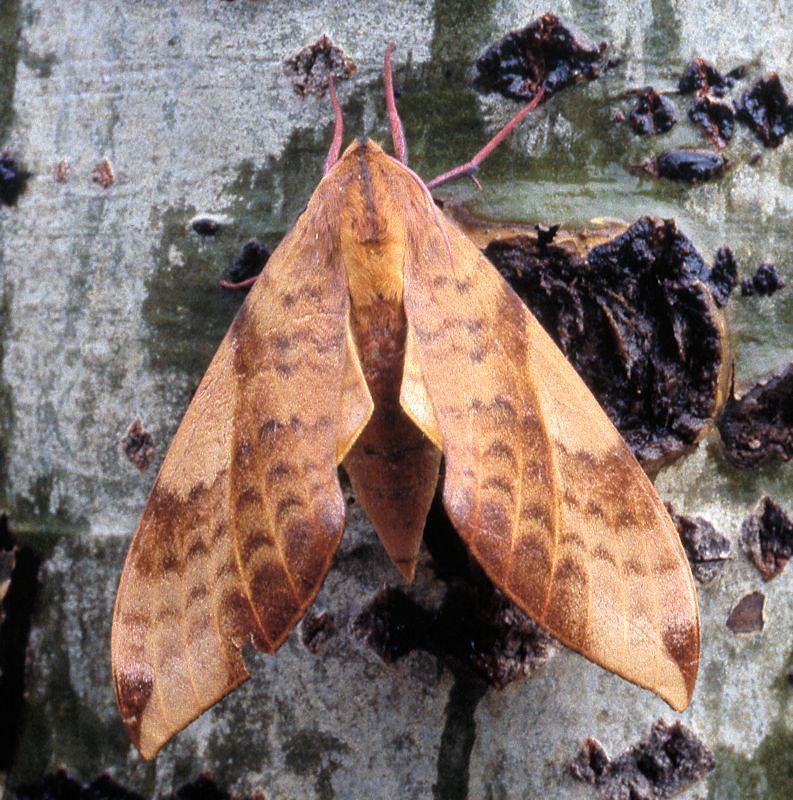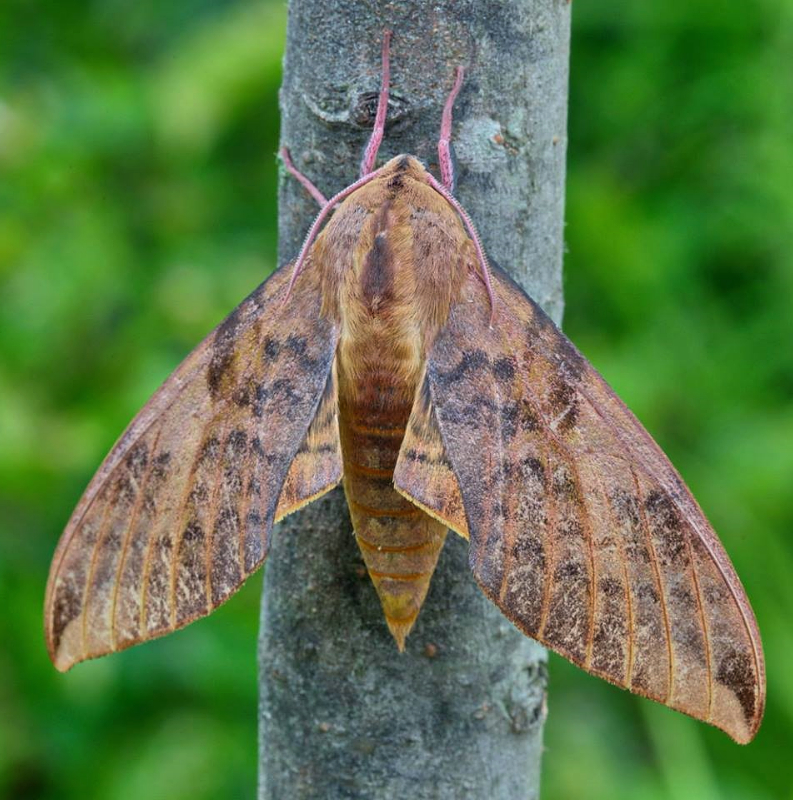 ADULT BIOLOGY
In the Russian Far East, a lowland species of deciduous woodland dominated by Quercus mongolica (Izerskiy, 1999b).
FLIGHT-TIME
China: 14-15.vi (Beijing); 14.vii (Beijing); 24.vii (Shaanxi); ix (Shaanxi). North Korea: vi (Pukchong; Mt. Kuwol); vii (Baekdu-san); vii (Jueul); 14-27.vii [(unstated locality)]. South Korea: 20-28.vi (Ulleung-do); 26.vii [(unstated locality)]. Russia: 3.vii-24.viii (Primorskiy Krai); 26-27.vii (Khabarovskiy Krai).
The last two weeks of July is the main flight period in the Russian Far East (Koshkin et al, 2015). Park et al. (1999) give early June until early August as the flight period in Korea.
EARLY STAGES
OVUM: Ivory-yellow, slightly oval (2.00 x 2.50mm), shiny and smooth (Bell & Scott, 1937).
LARVA: Full-fed 80--90mm. Polymorphic, with green (commonest), pink and yellow forms.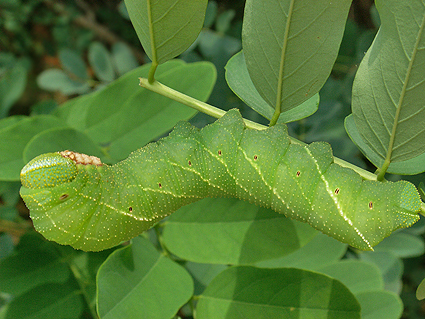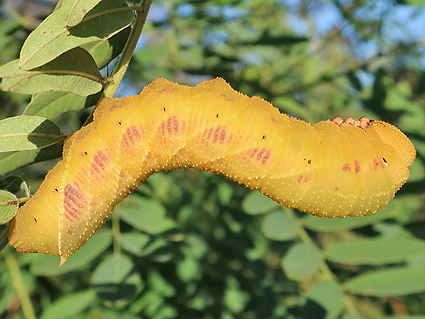 PUPA: 50mm.
Larval hostplants. The introduced Robinia pseudoacacia and Amorpha fruticosa seem to be the preferred hosts in northern China around Beijing (Vyacheslav Ivonin, pers. comm 2022). However, Clanis undulosa gigantea has been recorded on Lespedeza in Guangdong (Mell, 1922b) and northeastern India (Bell & Scott, 1937). Monophagous in Guangdong on Lespedeza viatorum (Mell, 1922b) (which Mell, 1935, erroneously listed as Lespedeza formosa), which is also the favoured larval hostplant in the Yangtze Valley (Yang, 1978). In Primorskiy Krai, larvae feed on Lespedeza bicolor Turcz., which is widespread in the nemoral zone of the Russian Far East (Zolotuhin & Yevdoshenko, 2019). The record on Ligustrum (Mathur & Balwant Singh, 1960) is almost certainly an error for the North American species Ceratomia undulosa (Walker)
PARASITOIDS
Unknown.
LOCAL DISTRIBUTION
China: Liaoning (Changhai, Dachangshan Island); Hebei; Beijing (Baihua Shan; Badaling National Forest Park; Haidian); Shaanxi (30km north of Huangling; Xunyang, 1380m).
Taiwan.
North Korea South Hwanghae Province (Mt. Kuwol, 950m); North Hamgyong Province (Jueul, 1500m; Cheongjin; Baekdu-san, 2500m; Chongjin); South Hamgyong Province (Pulgaemi ridge above Pukchong City, 1500m).
South Korea: Kyonggi Province (Gwangleung; Cheongpyong; Soyo-san; Myungji-san); Kangwon Province (Seolak-san; Odae-san; Hoengsung; Chiak-san; Baekduk-san; Taebek-san; Chuncheon); North Chungchong Province (Jecheon); South Chungchong Province (Gyeryong-san; Chilgab-san); North Cholla (Jiri-san; Namwon); South Cholla Province (Jogye-san; Gwangyang; Gurye); North Kyongsang Province (Daegu; Gunwi; Naeyon-san; Juwang-san; Cheongyang-san; Youngcheon; Ulleung-do); South Kyongsang Province (Hamyang; Jinyang; Yeohang-san; Muhak-san; Jinju; Geoje-do; Namhae; Goseong; Sacheon; Sancheong; Ulsan; Hadong; Hapcheon).
Russia: Khabarovskiy Krai (Khabarovsk City; Bikin area); Primorskiy Krai (Andreevka; 2km S Andreevka; Yakovlevka; Vityaz Bay; Khasan; Primorskiy; Gamov Peninsula; Furugelma Island; Zanadvorovka; Kedrovaya Pad Nature Reserve; Ryazanovka; Hvalynka; Anuchino; Oktyabrskiy area (Sinel'nikovo-1); Kaimanovka; 5km NE Kaimanovka; Vozdvizhenka; Ussuriisky Reserve, Suvorovskoe lesnichestvo, 20km NNE Mnogoudobnoe; Taezhnyi, near Kiparisovo; Mirnyi; Gusevskiy mine).
This species was first collected in the Russian Far East in 1975 by Velezhanin, on Furugelma Island near the border with North Korea. In 1979, V. Dubatolov found it at Vityaz Bay by the Gamov Peninsula, where it is now common. It has since spread farther north, to Yakovlevka, north of Andreevka, where it was collected by P. Ustyuzhanin (Dubatolov, pers. comm. 2010). In 2014 it was recorded even farther north, from Khabarovsk City (Koshkin et al, 2015; 2021).
There is a record of one male specimen collected in northwestern Yevreyskaya (Jewish Autonomous Oblast'), Russian Far East, from the Jean Haxaire collection (labelled «Amurland, Maly Khingan Mt., Oblutchie, 48.2 N, 130.767 E, 600 m, 1993-08-01, S. Andreev»). According to S. A. Andreev, this label is erroneous, since he did not collect this species in Obluchye town, only in the Khasan area of Primorskiy Krai (Koshkin et al, 2021).
GLOBAL DISTRIBUTION
The nominotypical subspecies occurs in the southern Russian Far East, the Korean Peninsula and northeastern China, as far as south and west as Shaanxi and Hebei. South from Sichuan (Baoxing), Hubei, Jiangxi (Guling) and Zhejiang (Tianmu Shan), it is replaced by Clanis undulosa gigantea (Rothschild), which ranges west to Nepal and south, through Thailand, Laos and Vietnam, to Peninsular Malaysia.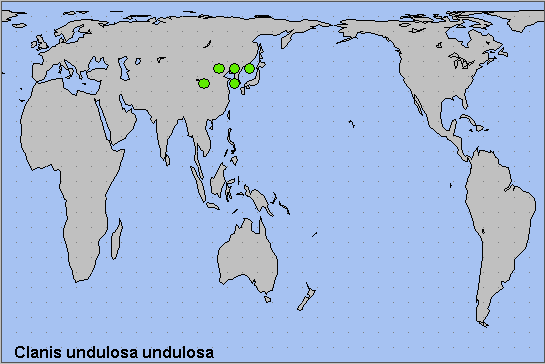 BIOGEOGRAPHICAL AFFILIATION
Holarctic; eastern Palaearctic region. Pleistocene refuge: Monocentric -- Sinopacific refugium.
---

Return to Sphingidae of the Eastern Palaearctic species list
---
© A.R. Pittaway & I.J. Kitching (The Natural History Museum, London)