---
CLANIS SCHWARTZI Cadiou, 1993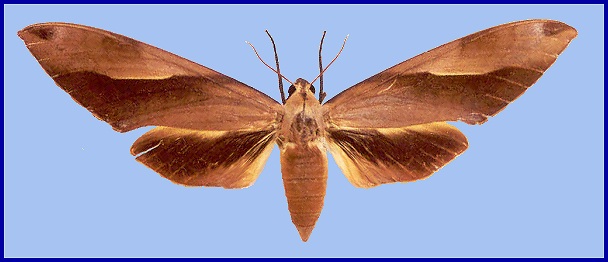 TAXONOMY
Clanis schwartzi Cadiou, 1993, Lambillionea 93: 445. Type locality: Laos, ??Ban Kheun, 800m.
Synonym. Clanis bilineata f. acuta Mell, 1922, Beitr. Fauna Sinica 2 (Biol. Syst. sudchin. Sphingiden): 115. Type locality: China, Guangdong, 'Siu dsau'.
ADULT DESCRIPTION AND VARIATION
ADULT BIOLOGY
Unkown.
FLIGHT-TIME
China: vi (Hainan); vii (Jiangxi); viii (Hubei, Hunan, Guangdong); ?xi (Shaanxi).
EARLY STAGES
OVUM: Unkown.
LARVA: Unkown.
PUPA: Unkown.
Larval hostplants. Unkown.
PARASITOIDS
Unkown.
LOCAL DISTRIBUTION
China: Shaanxi (Ankang, Suburn); Hubei (Wudang Shan, 1500m); Hunan (Huaihua, Lianfeng Shan, 1600m); Jianxi (Xingguo, Yiaoton Shan); Guangdong (Nankunshan, NE of Guangzhou; Nanling National Forest Park, 1100m); Hainan (Duowen Ling, nr Lingao).
GLOBAL DISTRIBUTION
Central and southern China to northern Laos and northern Vietnam (Eitschberger, 2004).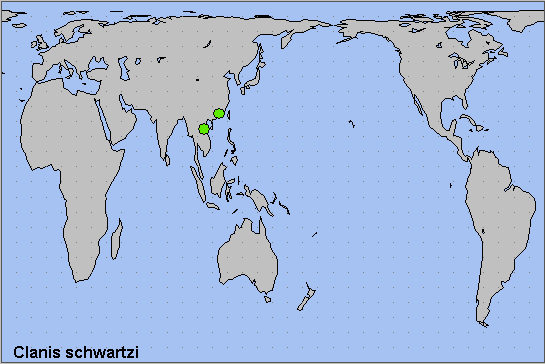 BIOGEOGRAPHICAL AFFILIATION
---

Return to Sphingidae of the Eastern Palaearctic species list
---
© A.R. Pittaway & I.J. Kitching (The Natural History Museum, London)