---
CRASPEDORTHA PORPHYRIA PORPHYRIA (Butler, 1876) -- Purple hawkmoth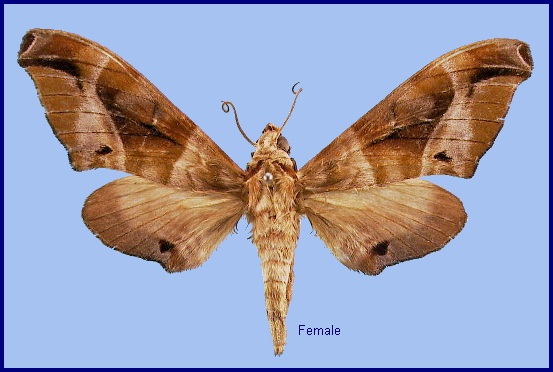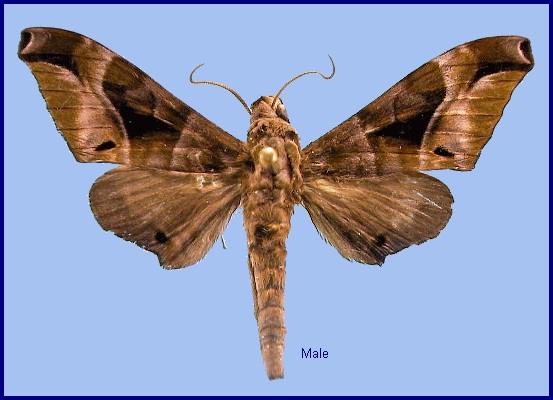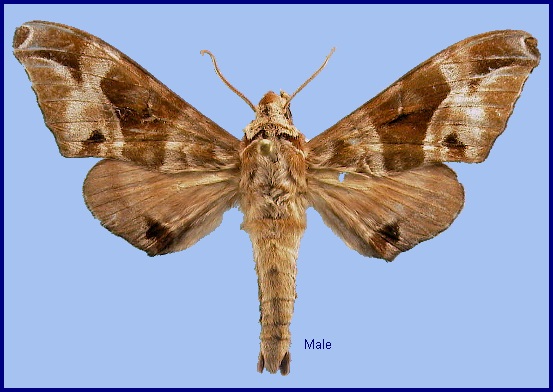 TAXONOMY
Daphnusa porphyria Butler, 1876, Trans. zool. Soc. Lond. 9: 640. Type locality: [India, West Bengal,] Darjeeling [Darling].
Synonym. Daphnusa porphyria Butler, 1876.
Synonym. Craspedortha inapicalis Mell, 1922.
ADULT DESCRIPTION AND VARIATION
Wingspan: 60mm. Brown; forewing upperside variegated with ferruginous and olive-brown; a dark patch below end of cell; another at apex enclosed by a white lunule, with a dark streak below it; a spot near outer angle. Hindwing upperside brown, with a dark spot above the lobe at anal angle. Underside with a submarginal pale line to both wings; apex of forewing dark, with the apical lunule as above (Bell & Scott, 1937).
Head with high broad crest of scales. Antenna thinner than in Parum colligata, palpus larger. Pilifer prolonged, resembling a tooth-brush. Retinaculum and frenulum normal. Proximal pair of spurs absent from hind tibia. Abdominal tergites with the under scales mostly long spiniform but very weak, spines at the edges also prolonged, not strong, scarcely different from pointed scales (Bell & Scott, 1937).
In the male genitalia, tenth abdominal tergite long, slender, triangular, gradually narrowing to a point and curving downwards; sternite represented by a low transverse ridge, which is feebly sinuate mesially. Valva (clasper) sole-shaped, rounded apically hairy on the inner surface; harpe pointed distad, slightly curved mesiad, surface somewhat concave, edge irregularly sinuate. Aedeagus with the apical edge bent proximad and produced into a denticulate lobe on one side (Bell & Scott, 1937).
In the female genitalia, eighth abdominal tergite mesially less strongly chitinized than at the sides. Lamella vaginalis (vaginal plate) without special armature, lateral edges of orifice somewhat raised (Bell & Scott, 1937).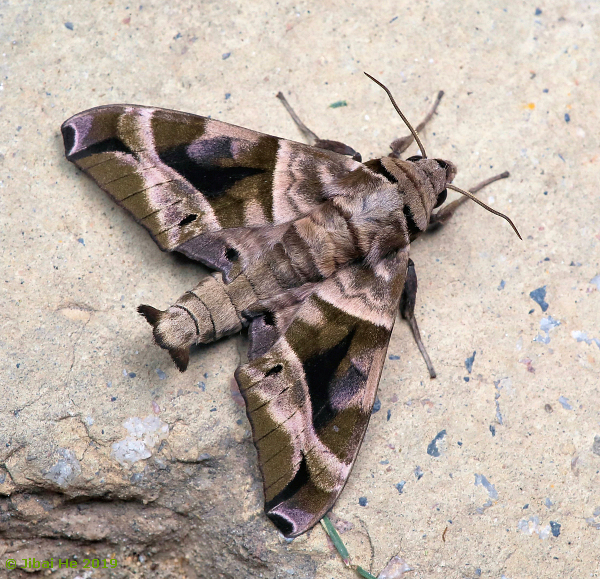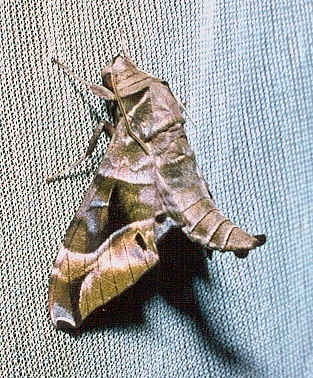 ADULT BIOLOGY
FLIGHT-TIME
China: v (Guangdong; Hubei); 20.v (Yunnan); 15.vii (Sichuan).
EARLY STAGES
OVUM:
LARVA:

PUPA:
Larval hostplants. Recorded by Chu & Wang (1980) on various (unspecified) Moraceae.
In Laos and Thailand, recorded from Vitex canescens (Eitschberger & Ihle, 2008).
PARASITOIDS
Unknown.
LOCAL DISTRIBUTION
China: Zhejiang; Hubei (Lichuan; Luotian; Wuhan); Sichuan (Emei Shan); Yunnan (Weiyuan Jiang, 960m; Gaoligong Shan); Fujian (Longqi Shan); Guangdong; Hainan.
Taiwan: Kaohsiung Hsien (Shanping).
GLOBAL DISTRIBUTION
Nepal, Bhutan, northeastern India, Burma/Myanmar, southern China, and south to Vietnam and central Thailand. A second subspecies, C. p. basale (Dupont), occurs in Java, Indonesia.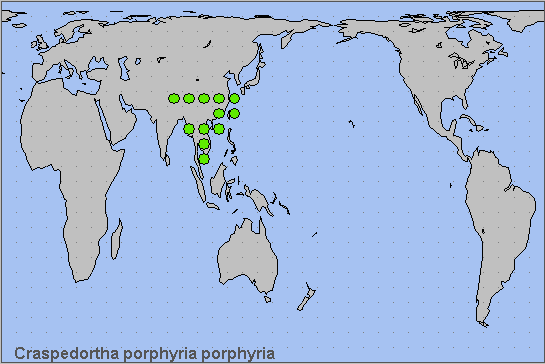 BIOGEOGRAPHICAL AFFILIATION
Holarctic; eastern Palaearctic region. Pleistocene refuge: Monocentric -- Yunnan refugium.
---

Return to Sphingidae of the Eastern Palaearctic species list
---
© A.R. Pittaway & I.J. Kitching (The Natural History Museum, London)